Road Trip to Lansdowne - The Less Explored Hill Station of Uttaranchal
The below travelogue is our first weekend Road Trip to Lansdowne from Delhi. The trip was done during July 2006 and we drove about 500 km (to and fro) in 3 days.
When we bought our first car – a Maruti Alto in February 2006, the initial few months were spent in learning to drive on the busy roads of Delhi's – Green Park and Chanakyapuri. After a couple of months (July 2006), when we got a hold on basic manoeuvring, we decided to venture out for our first road trip.
We Googled for nearby excursions and came across Lansdowne which is 250 km from Delhi and is located in the Pauri Garhwal region of Uttaranchal. It was founded by a British – Lord Lansdowne in 1780, who had established Garhwal Rifles cantonment here. It is at an elevation of 1700 meters which is comparatively at a lower altitude as compared to other nearby hill stations like Nainital or Mussoourie. This was going to be our first weekend road trip and both – distance and altitude  seemed manageable, so we zeroed in for Lansdowne as destination for our first road trip.
On this trip, we were accompanied by my colleague and a good friend – Aman and his wife Deepa. Aman was an experienced driver and was to take turns to drive.
The route to Lansdowne is simple, Delhi-Meerut-Bijnor-Najibabad-Kotdwar-Lansdowne. It follows NH34 and the road conditions were good for most part.
Note: In 2019, Delhi-Meerut Highway has been opened for public. This takes the Dasna-Hapur route to reach Meerut. Though, it is 20 km longer but keeping in view the 8-laned expressway, it should definitly save time.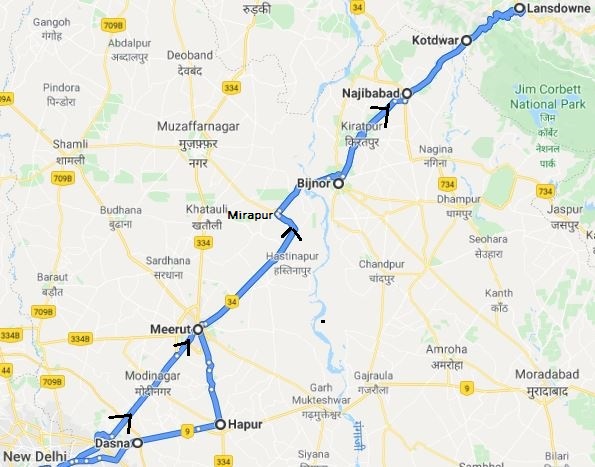 We started from Delhi on Saturday at 6 am to escape early morning rush hour traffic and reached Anand Vihar.  Opposite to the bus terminal, we took a turn for Meerut and were soon driving our way through Sahibabad and Mohannagar. We passed Modinagar and then reached Meerut in about 45 minutes to stop for breakfast. After quick refreshments, we headed off for Bijnor. On the way at Mirapur, we missed the right turn for Bijnor and drove a few kilometres towards Muzaffarnagar. We realized our mistake when the road signs stopped reading directions for Bijnor and Kotdwar. With help from locals for directions, we took a U-turn and progressed towards  Bijnor (In 2006 you had to rely on road signs, paper maps and help from locals in order to get directions. GPS navigators were not commonly available)
From Bijnor it took about an hour and a half to reach Najibabad. We soon entered Garhwal district of Uttarakhand and reached Kotdwar.  The drive from Kothdwar to Lansdowne is amazing. It was the first time we were driving through Himalayan range. July is when monsoons starts to enter the Northern part of the country. We drove through the dense mist of clouds with frequent spills of rains lashing though the wind screen. We stopped at several places on the way to have the spectacular view of the mountains and clouds. 
Note: All the the pictures in this blog are scanned photographs of film camera. We were yet to own a good resolution affordable digital camera in 2006 :-)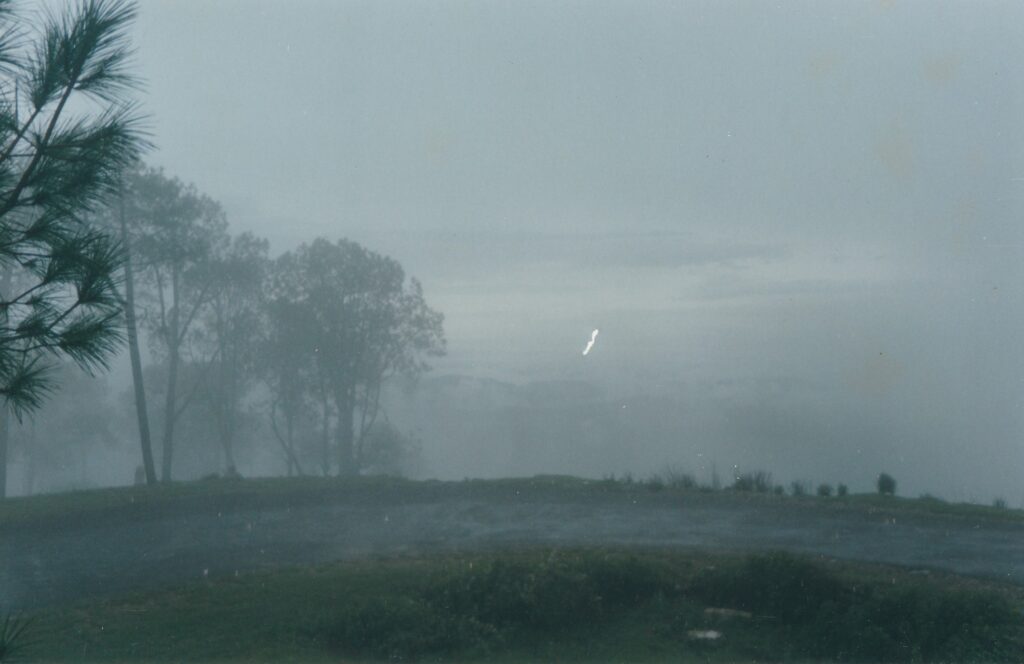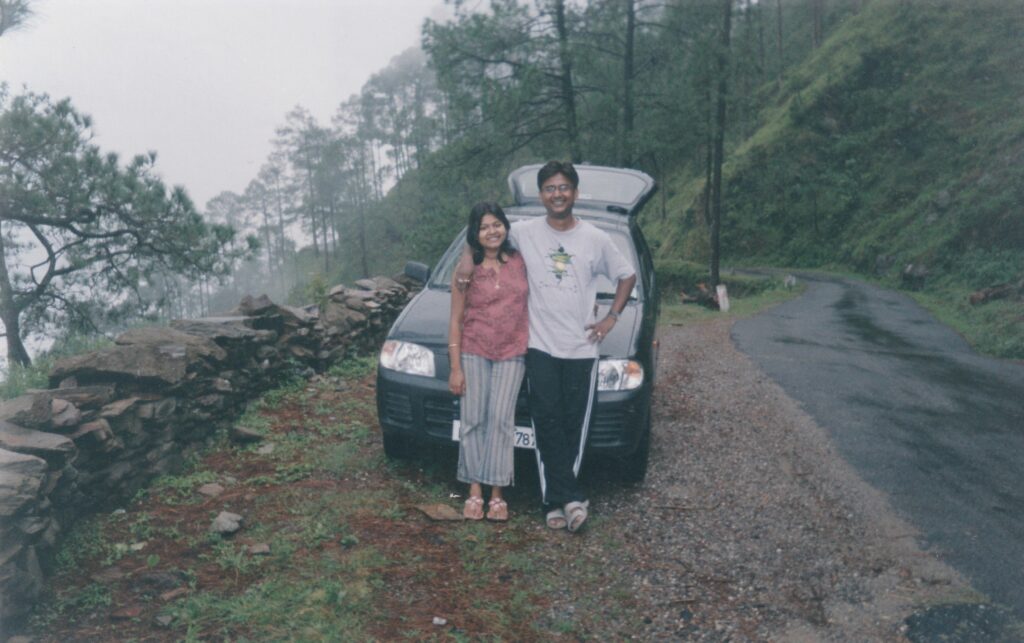 About 30 odd kms of drive through hilly roads led us to Lansdowne. By the time we reached there it was 1:30 pm. The first task in hand was to search for a temporary abode for our stay. We had read good reviews for Tourist Bungalow run by Garhwal Mandal Vikas Nigam. (Can be booked online from this link ). Unfortunately it did not have any room available. We then checked a couple of options in the main market area and came across – Mayur Hotel. It is a decent budget hotel with an in-house restaurant.  We booked it for 2 days. The rest of the evening was spent visiting the local market and cantonment area.
We woke up to a rainy Sunday morning. After refreshing ourselves, we had breakfast at the hotel's restaurant. We waited for some time for rain to subside and then ventured out to visit the beautiful town of Lansdowne, which is set amidst lovely surroundings – tall oaks and blue pines trees along the mountainside. Most of the time they were covered with clouds. The forests are lovely, dark and deep.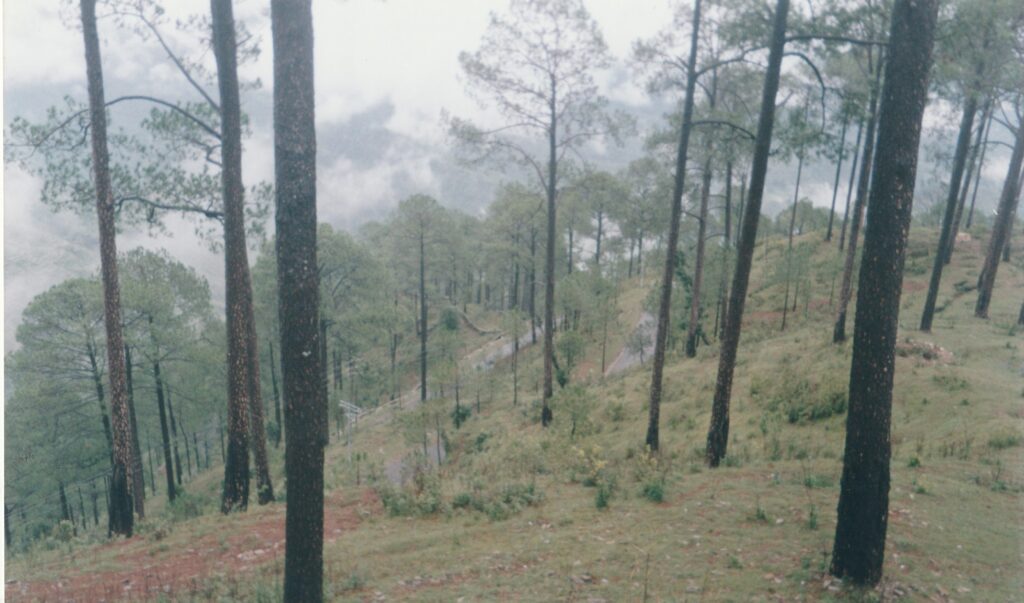 We started with visit to Tip-in-top (also known as Tiffin Top) which is about 2 km from the main market. It is the most popular tourist destination of Lansdowne and offers a wonderful view of Himalayas.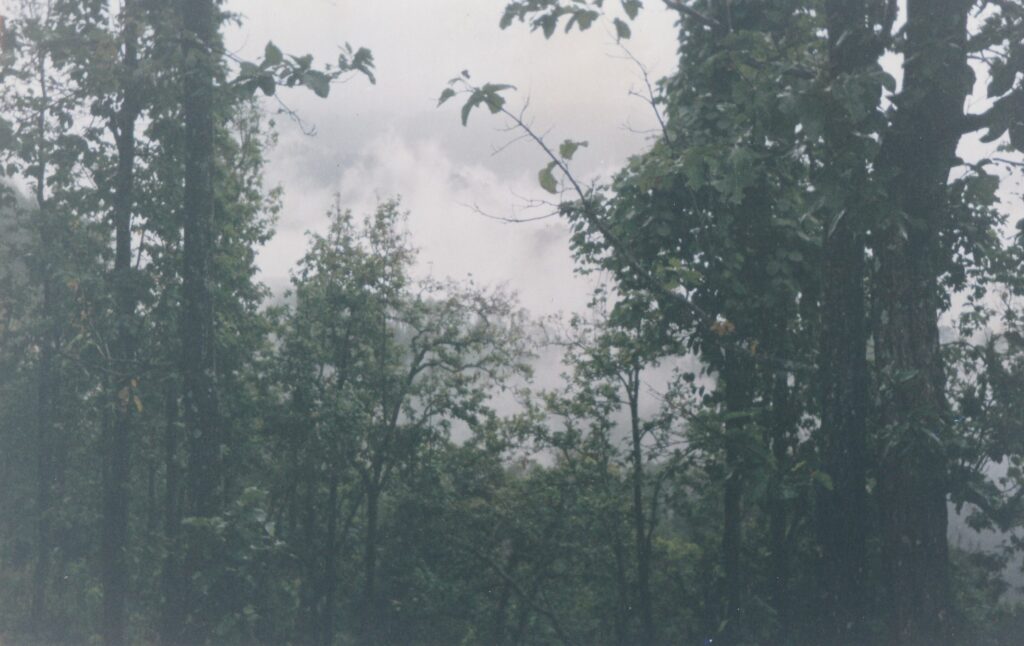 At this height we were surprised to discover that our car radio suddenly started playing "radio mirchi" being broadcasted from Delhi.
Very close to Tip-in-top is – 'Santoshi Mata Mandir'. We drove and parked our car by the roadside which had an ample parking space.  A steep climb on foot takes you to the temple.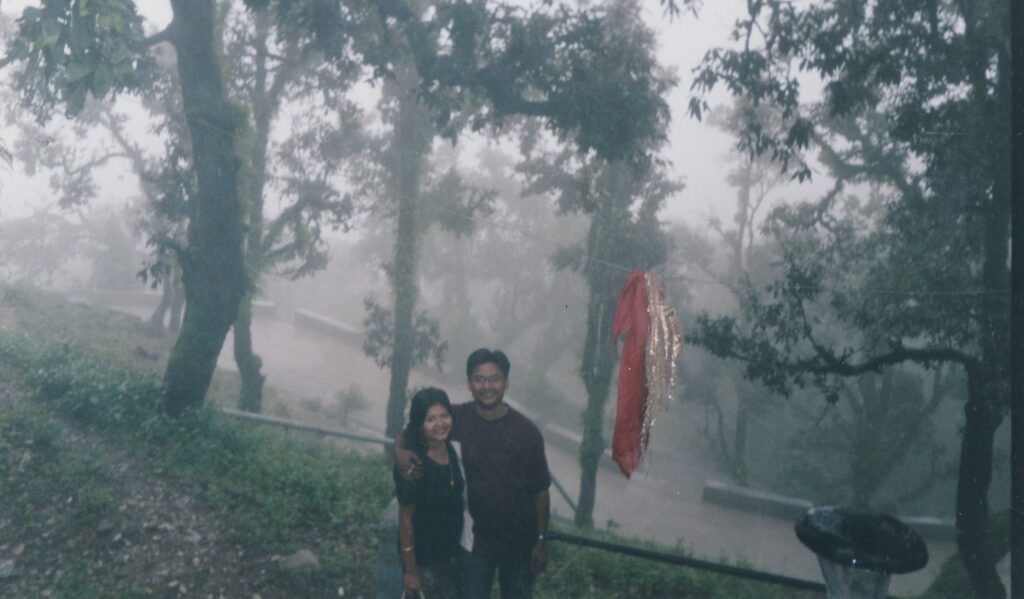 The temple is small, quite and clean. If you visit the Tip in Top then you should not give this temple a miss.
After spending a few hours at the beautiful Tip-in-top, we started to drive back to our hotel. We stopped at several places on the way offering scenic beauty of the hill station.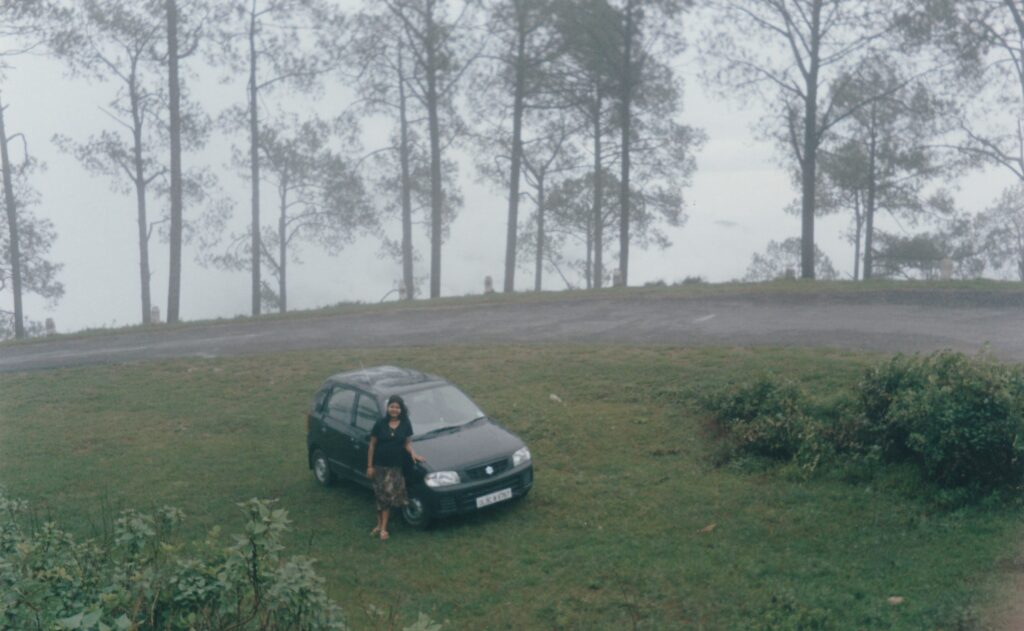 After some rest, we ventured out to explore the Lansdowne market in the evening. The market is located near the Garhwal Rifles Camp and is a good place to buy souvenirs.
Monday morning, we checked out at 7 am and drove our way back to Delhi. We stopped for lunch at 'Vyanjan Vatika' which is on the highway close to Bijnor. The monsoons had finally made inroads and it was raining heavily around Meerut. We cautiously drove on the rain drenched highway and by 2:00 pm entered Delhi. This is one drive that remains fresh in our minds till date. After all it was our first road trip. I would recommend all travel enthusiasts, especially one living in Delhi and NCR to pay a visit to Lansdowne. It's worth visiting once.