The below travelogue is a weekend Road Trip to Diveagar. We included visit to Harihareshwar & Bankot Fort which is 35 km South and Murud Jangira Fort which is 25 km North of Diveagar in the 4 days trip.
Where is Diveagar and Harihareshwar?
Diveagar and Harihareshwar are located in the Raigad district of Maharashtra which is in the northern part of the Konkan belt.
Diveagar is just like any other small sleepy Konkan village with beautiful beach, traditional homes surrounded by Coconut, Banana and Supari Garden which makes it an ideal weekend gateway away from city crowd. Don't expect luxury hotels and typical city joint here but be prepared to be surprised by the simplicity and calmness offered by this place. Blessed with a long 5 km beach, it is about 170 kilometers from Mumbai and 159 kilometers from Pune and is a perfect weekend destination.
What to See in Diveagar and Harihareshwar ?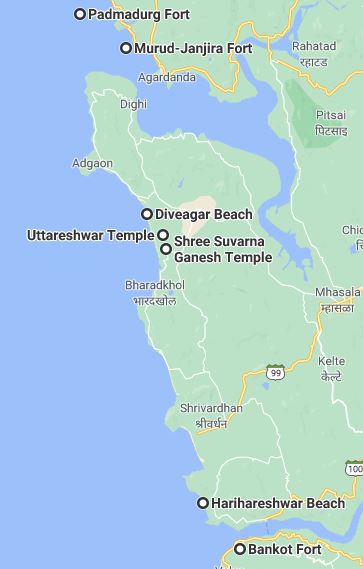 Diveagar is a quiet town with narrow roads and limited options for eating and dining. Besides a long serene beach, Diveagar has 2 temples – Uttareshwar (Shiva) Temple and Suvarna Ganesh Temple.
If you can extend trip to Diveagar by a day or two, you can explore a couple of nearby attractions. Some popular nearby tourist spots near Diveagar are – Harihareshwar beach & Bankot Fort in South and Murud-Jangira & Padmadurg Fort in North.
Best Time to Visit Diveagar and Harihareshwar?

Like any other sea beaches in the Konkan region, best time to visit Diveagar is between October – March as summers are too hot and humid in this region and the sea currents are strong during Monsoons. We visited Diveagar during the first week of January in 2021 when Covid restrictions were bit eased up.
Where to Stay in Diveagar?
Most of the local residents offer home stays along with arrangements for home cooked food. Besides there are several hotels which can be booked online. We had booked Mudra Beach Resort via MakemMyTrip.  The resort is located at the walking distance from the beach.
How to Reach Diveagar by Road?

The best road route from Pune to Diveagar is via Lavale – Tamhini Ghats – Mangaon – Mhasala. It is about 163 km and is a 5 hour drive. On our return journey, we decided to visit the Murud-Janjira fort and take the Mandad and Indapur route to drive back to Pune.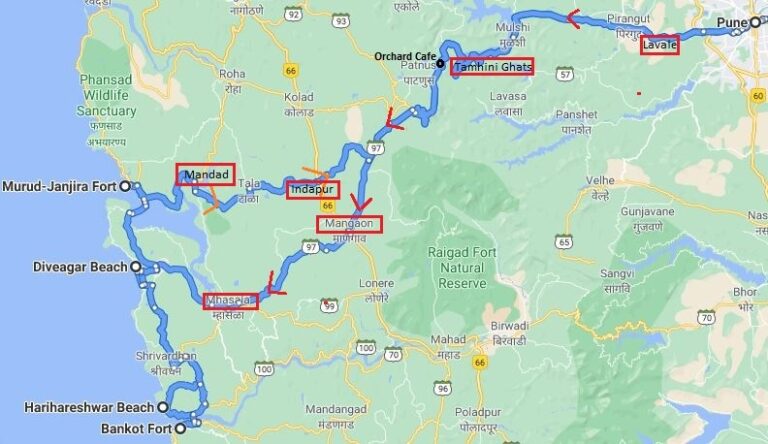 We clubbed 2 additional days (Monday and Tuesday) along with the weekend to make it a 4 day trip, though Diveagar can easily be explored in 2 days as well.
Note:There are a few things to keep in mind before venturing for a road trip in India and my blog can be referred for a few tips – https://travel-memoirs.com/travel-tips
While planning, I have taken inputs on road conditions from various threads on Team BHP and would like to thank the community for their contribution. Most of my online hotel bookings are done via makemytrip and yatra
Day 1: Drive from Pune to Diveagar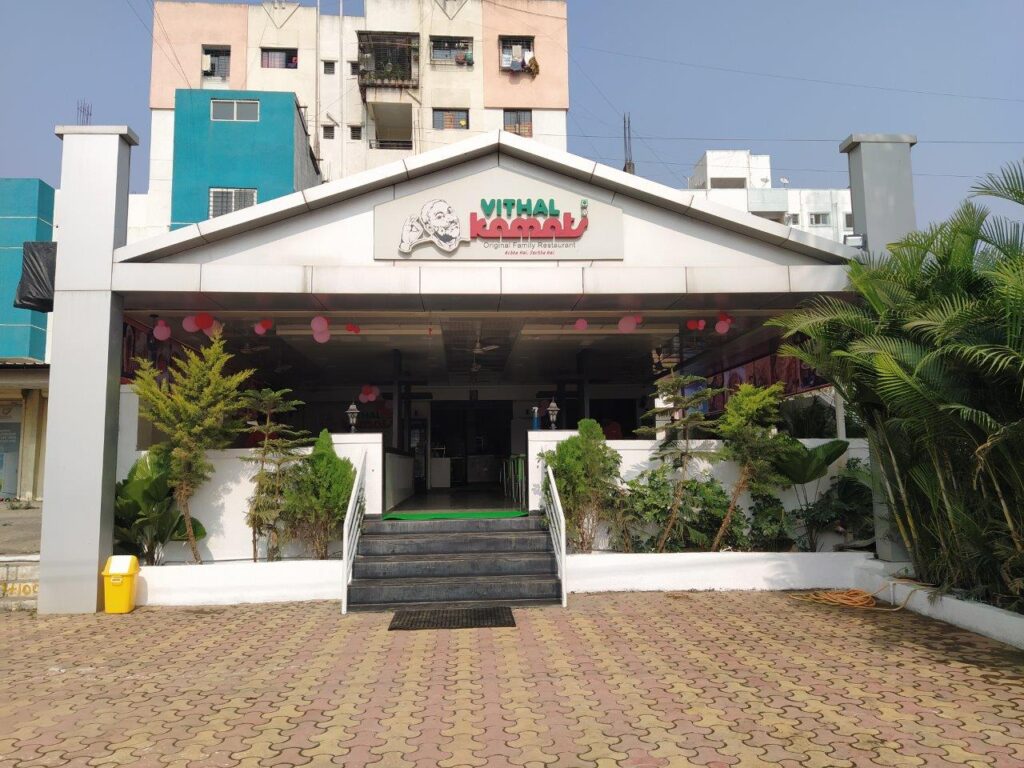 We left Pune at 9 am on Saturday. We drove through Shivajinagar and passed Kothrud. Out first stop was for Breakfast at Vithal Kamath in Bhukum. The hotel is located on the highway opposite to Shell Petrol Pump.
The restaurant is clean and offers ample parking space.  Service was a bit slow in spite of we being the only guests. The price of most of the items are reasonable. We ordered a South Indian breakfast comprising of Dosa, Idli &  Uttapam which costed us ₹280.
We carried on our journey and within an hour's drive were driving thought Western Ghats. On the way, before passing thought Tamhini Ghats, we halted at the Mulshi Lake to take a few snaps. The lake is created out of the backwater of Mulshi dam, which is on the River Mula.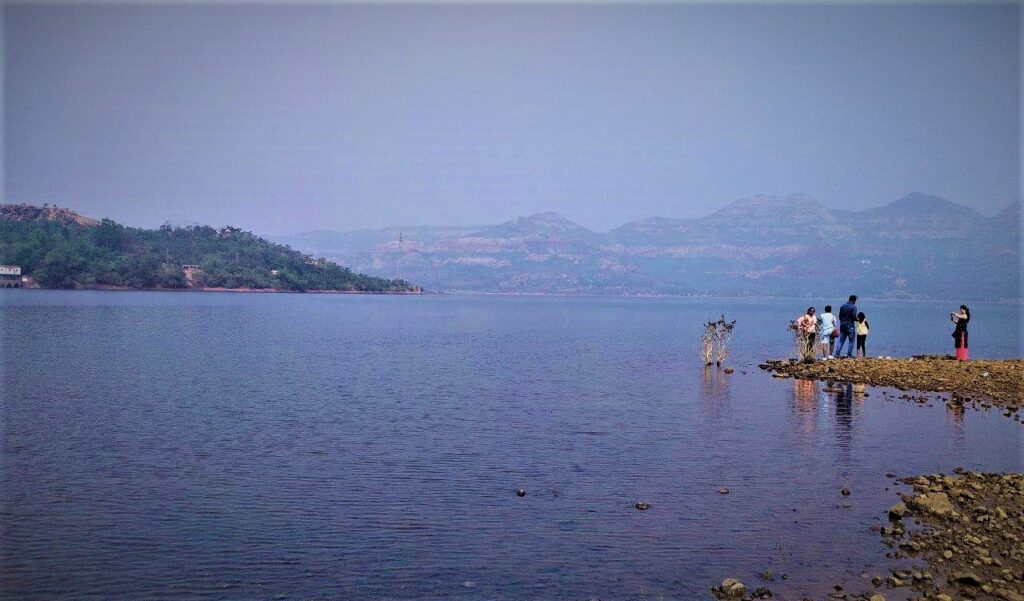 Driving through the Sahradris is always a pleasure. The mountains are not steep and the roads are less treacherous. In a few hours of drive, we bypassed Mangaon and drove further. Most the road on this route is in a good condition, except at a stretch at Sai, where the road was dug up and construction work was ongoing. After we passed Sai, it was 2:30 pm and was time for lunch. You do not find many options on this stretch. 
After rejecting a few options, we came across Vichare Family Restaurant in Deoghar, which seemed to have a decent ambience. 
The restaurant has an ample parking space, clean washrooms and is run by a friendly and helpful staff. We ordered dal, chana masala, Rotis and rice. The service was quick and the food costed us ₹480.
By the time we finished having lunch, it was 3:30 pm and Diveagar was still 25 kms. We drove further and crossed Mhasala. By 4:15, we entered Diveagar. On entry, you need to pay tax to local governing bodies (Panchayat) for ₹30 which is valid for 3 days.
The roads in Diveagar are very narrow. A few sections of the roads are barely enough to let pass another vehicles. Our hotel – Mudra Beach resort was close to the beach and had an ample parking space. The property has limited availability of rooms (12 in total) but they are spacious. The hotel has an in-house restaurant which offers good options.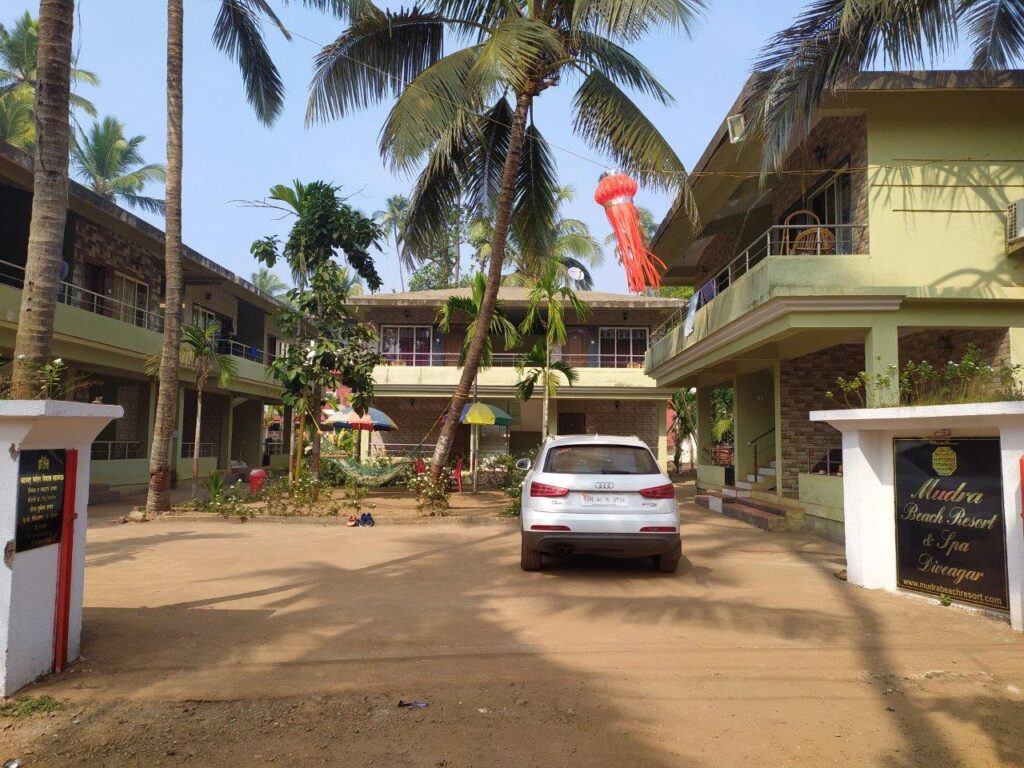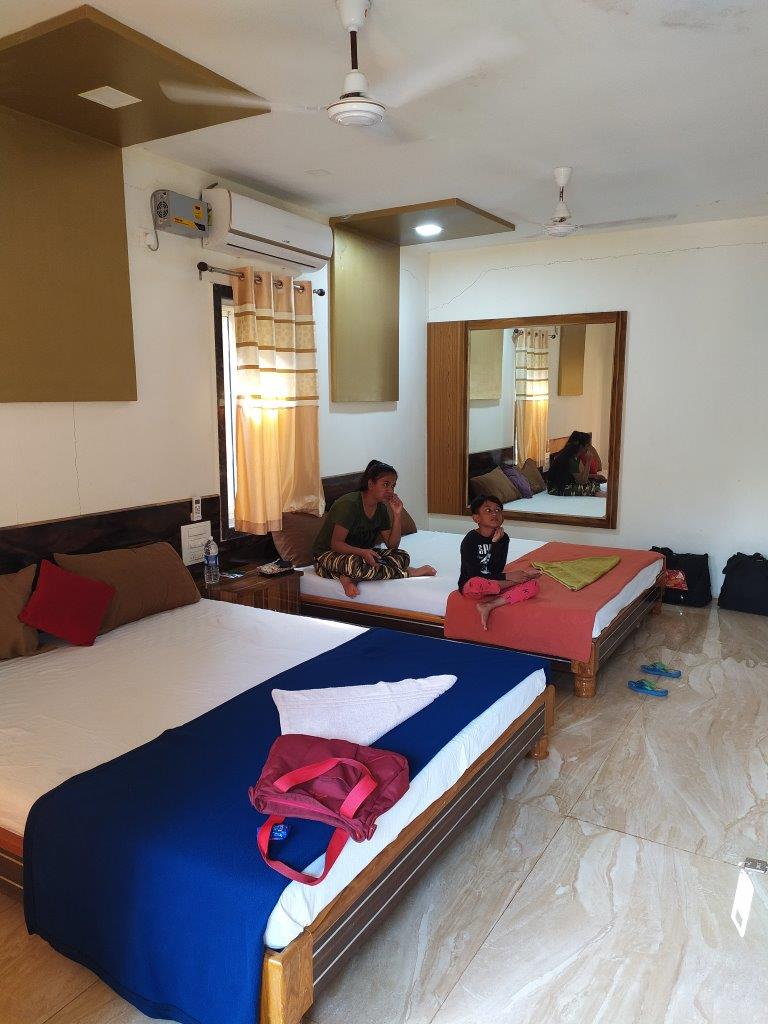 After checking in the hotel, we took some rest and then walked to the beach which was walking distance from the hotel.
Diveagar beach stretches to a vast coastline of about 6 km and is lined by Suru trees (pine like trees) which are unique to this place. The beach does not have shacks or restaurants like Goa but has a few cart vendors selling food items like – coconut, tea and bhajiyas. You can also indulge in limited water sports options like banana ride, Jet Sking. We spent the rest of the evening enjoying onion bhajiyas with tea in the backdrop of sun set at the Arabian sea.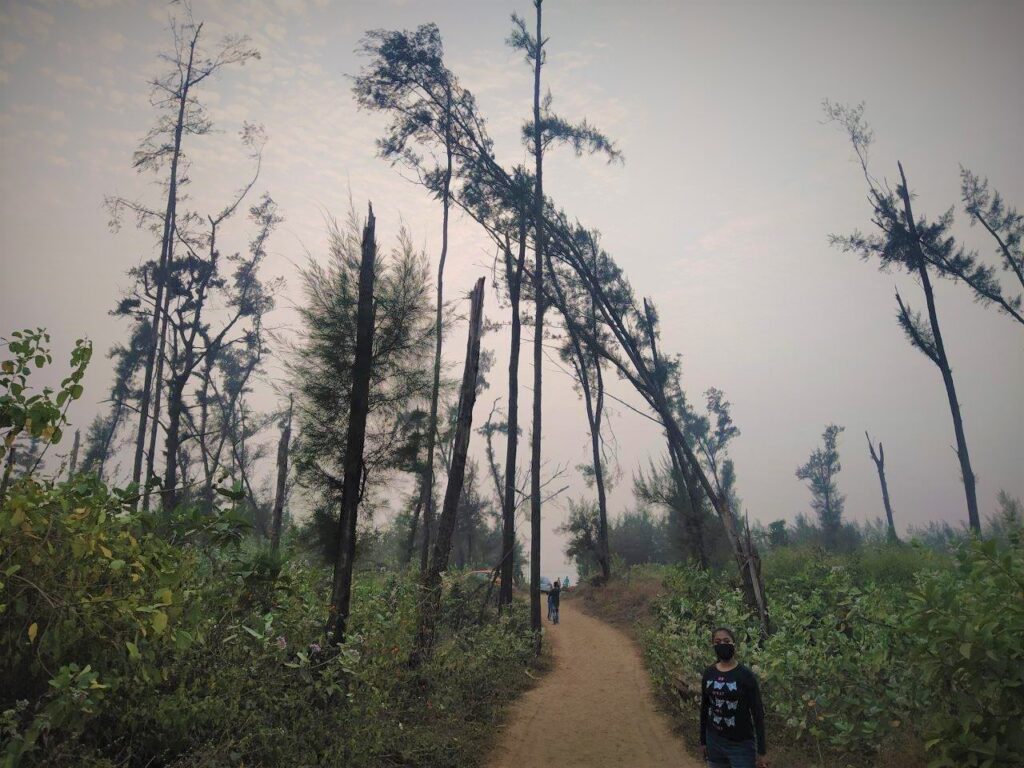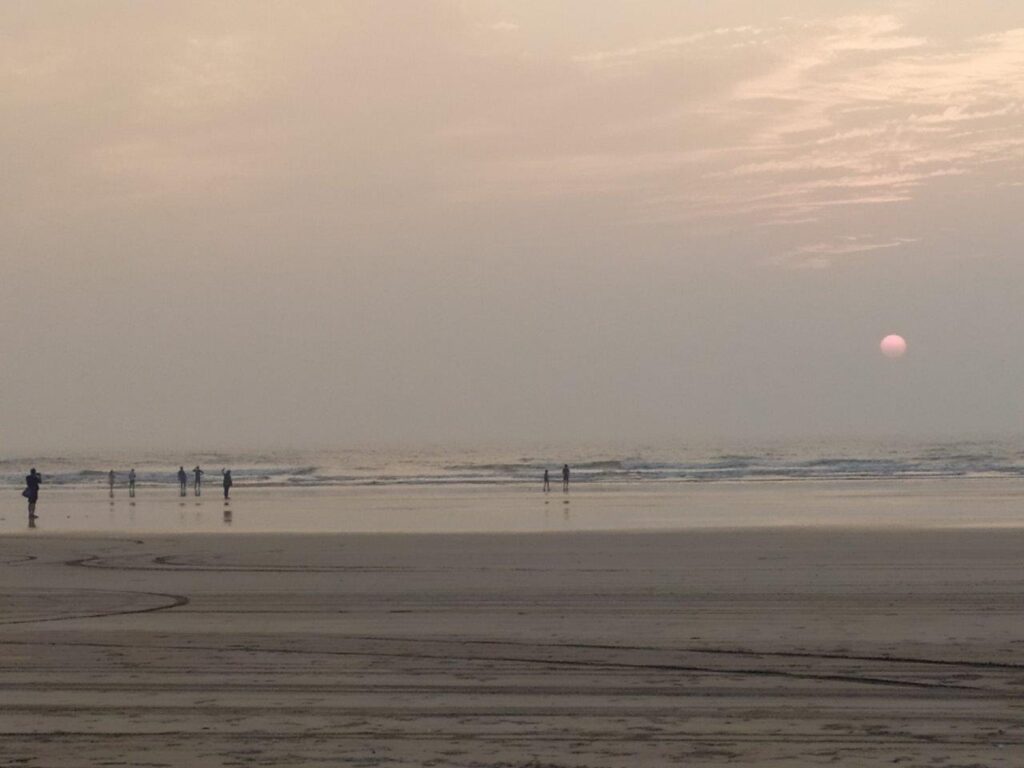 Day 2 was to be spent on the beach bathing in the sea and exploring a few famous temples of Diveagar. After freshening ourselves in the morning, we had a complimentary breakfast at the hotel's restaurant and then we headed for the beach. The beach was not crowded in spite of being a peak season, probably due the ongoing Covid pandemic. The beach is back sandy with shallow and safe waters. I did not find any life guards on the beach so one has to be careful and not venture too deep into the sea.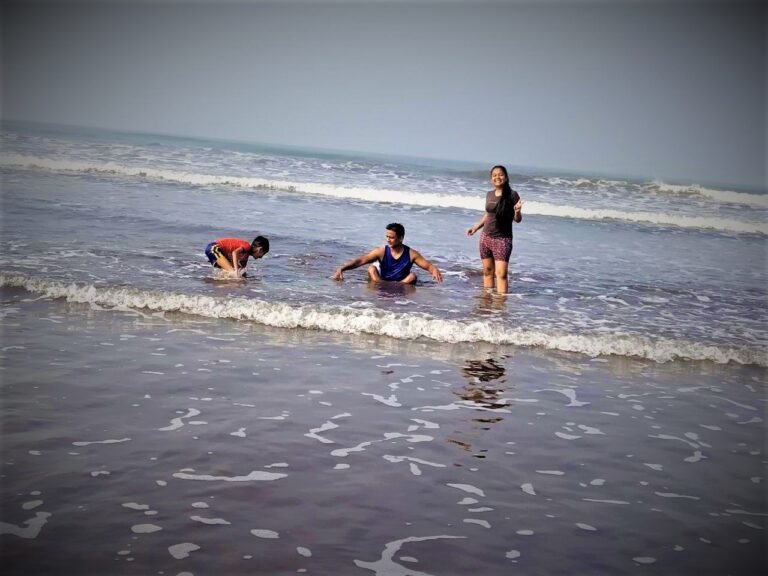 After enjoying a couple of hours at the beach we returned back to our hotel and refreshed ourselves. It was time for lunch but before that we drove to visit to the famous – Suvarna Ganesha Temple. The temple was 3 km from the resort and as evident from the name, it housed a Lord Ganesha idol made of pure Gold (until 2012 when it was stolen).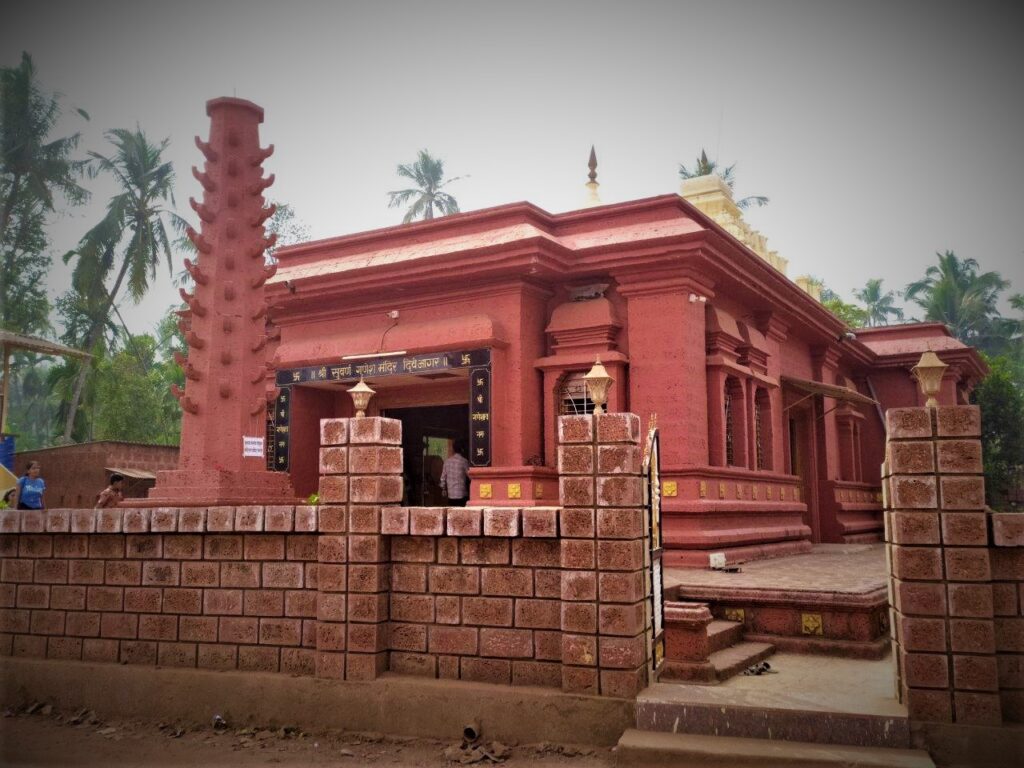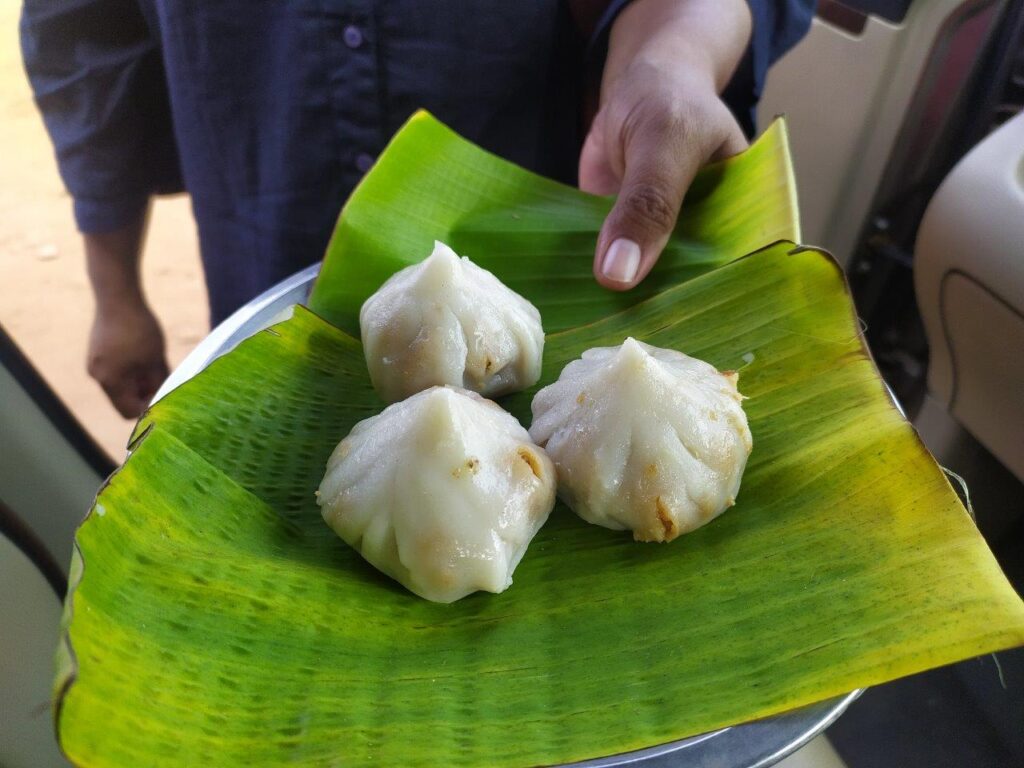 At present the temple still serves the memory of that idol and is still dedicated to Lord Ganesha, however you cannot witness the Gold idol anymore. The small and simple temple is still worth visiting for it's religious sanctity and emotional reverence amongst the locals. There are several vendors which sell coconut moduk (locally known as 'ukadiche modak') as 'prasad' near the temple and are worth a try. It is a steam cooked delicacy made from coconut and jaggery stuffed in rice floor.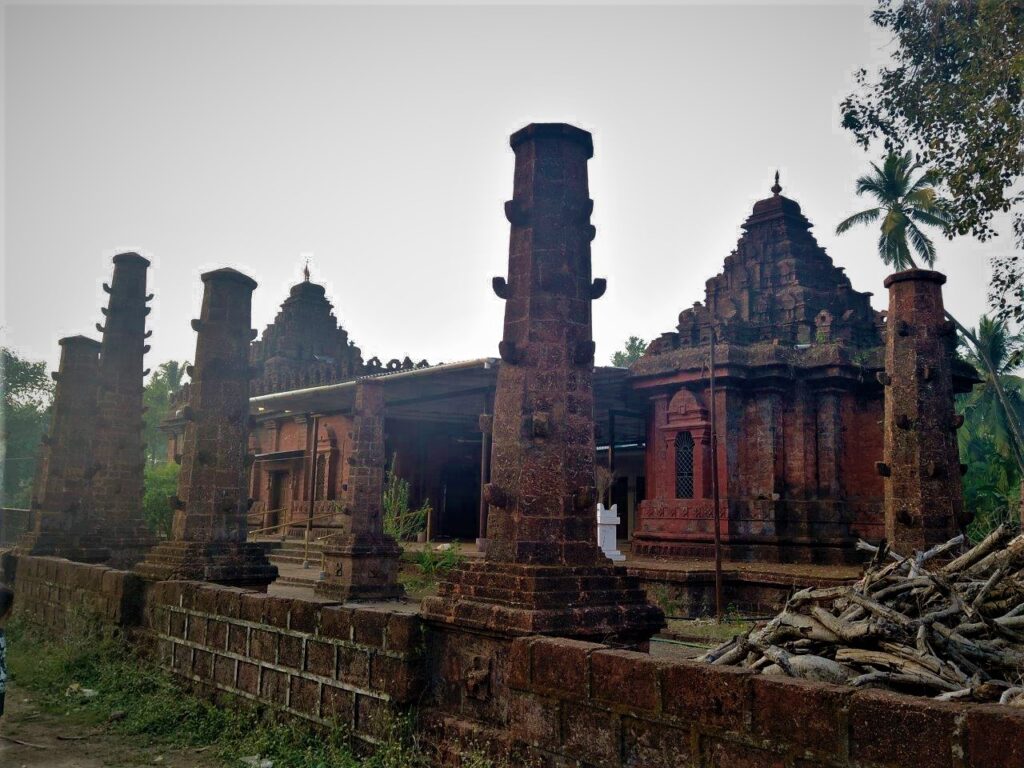 We ordered dinner at the in house restaurant of the hotel. The best part of the Konkani food is the non-vegetarian food and specially sea food. If you are a non-vegetarian, don't forget to include sea-food in your order. I ordered fried Pomfret and downed it with solkadhi. I liked it so much that I decided to order it for the next two days of my stay at the hotel.
Day 3: (Monday) Visit Harihareshwar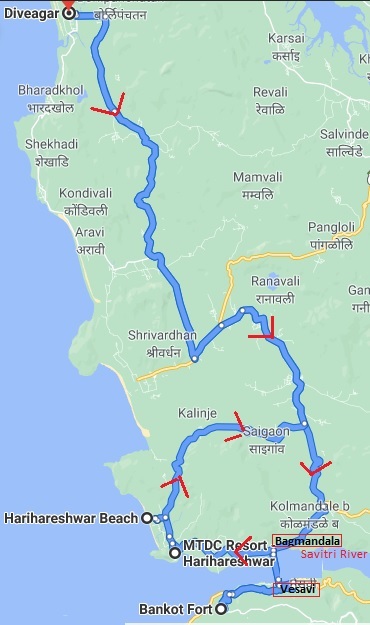 35 km south from Diveagar, Harihareshwar is a coastal town on the Konkan coast. It is surrounded by four hills and is home to the Harihareshwar temple dedicated to Lord Shiva. It has two beaches – first one is in front of Harihareshwar Temple, and the other one is next to MTDC Resort.
The plan was to visit the Bankot Fort and while returning have lunch at the MTDC  resort and visit the Harihareshwar beach and temple.
In order to reach Bankot fort, one needs to cross the creek formed by river Savitri joining the Arabian Sea. Since there is no bridge to cross it, you need to take a ferry boat at Bagmandala to reach the other side at Veshavi. This cuts the distance by about 100 km. We had never been into a ferry with car before. This was the first time we were to experience it and were looking forward to it.
We reached Bagmandala at 10:45 am and bought tickets for the ferry. Ticket for car was ₹190, ₹16 for adults above 12 years and ₹8 for children. The ferry service is offered by Suvarnadurga Shipping & Marine Services Pvt. Ltd and the below banner at the booking counter shows the services offered by them across various other creeks in Maharashtra.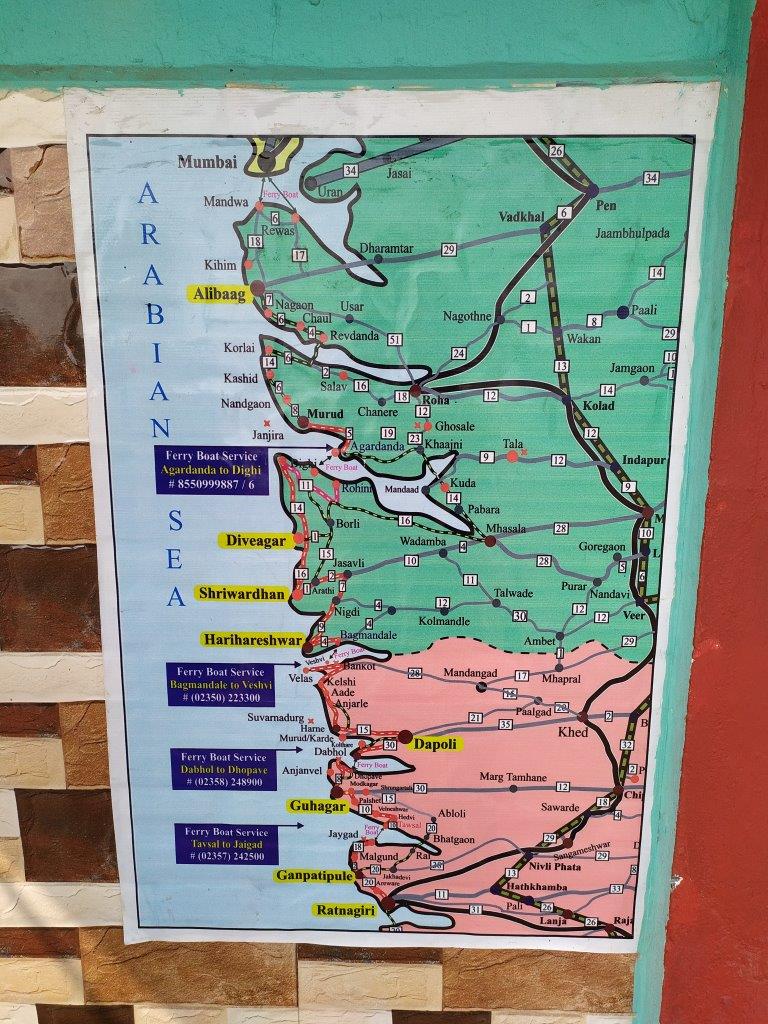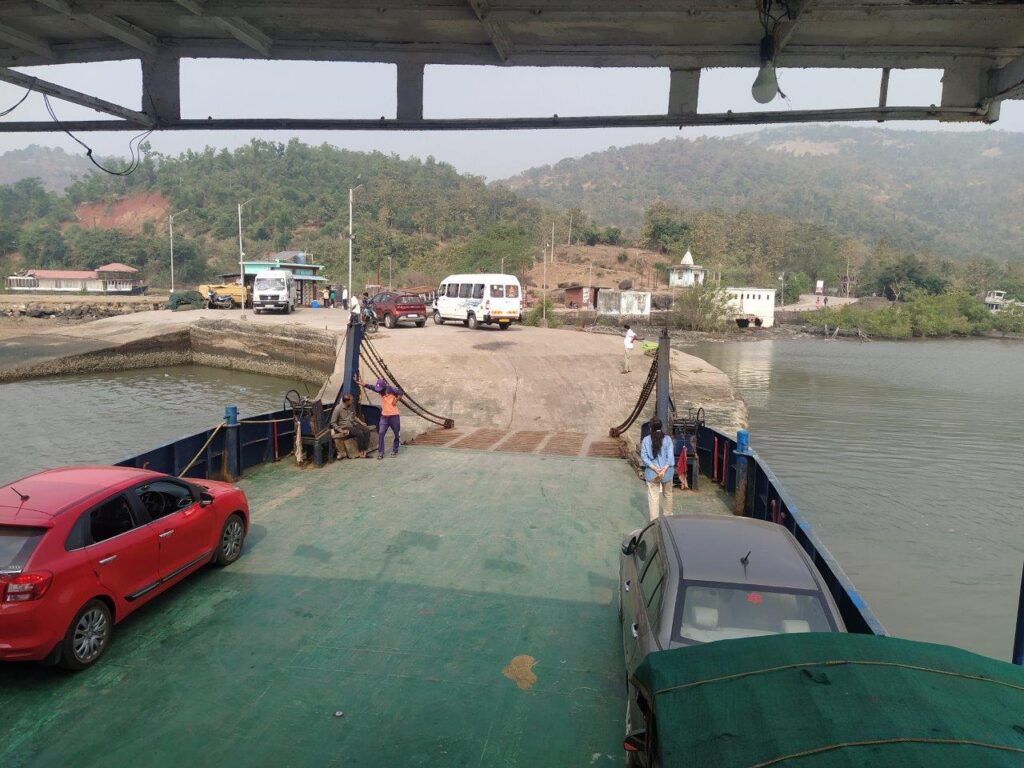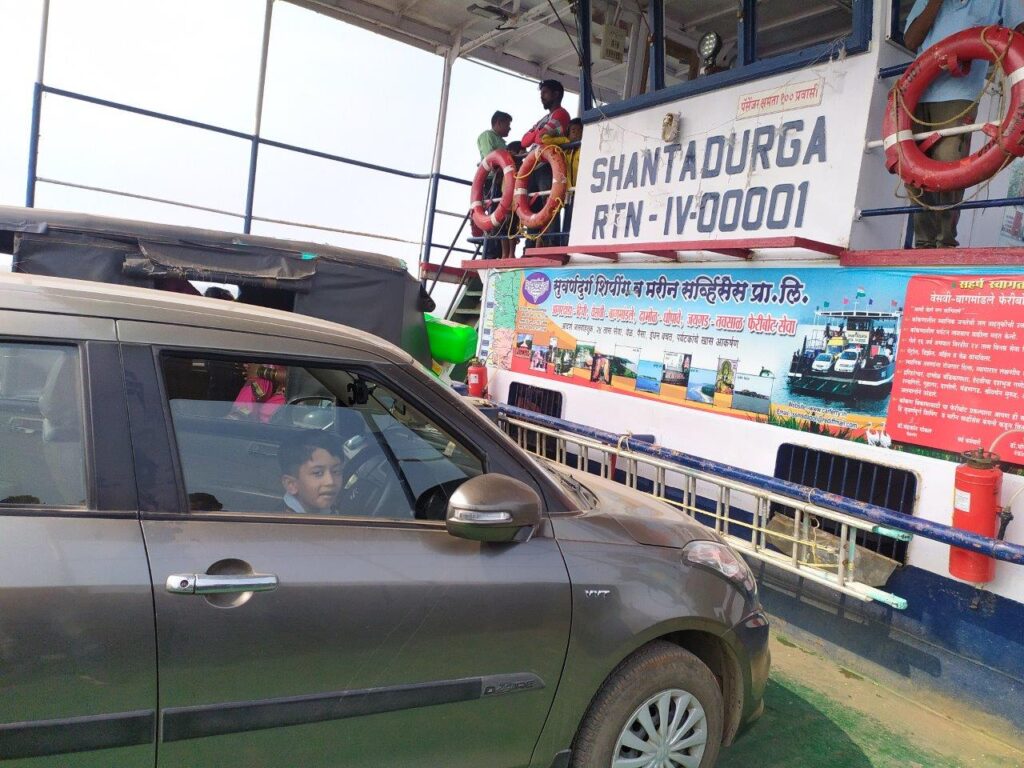 Loading your car on the ferry is an experience in itself and requires some skill in driving in reverse to load your car on the ferry. Within 20 minutes of the ride, we were dropped at the other end of the creek at Veshavi.
Bankot fort is about 5 km from the Vesvi port and is situated on a hill close to where river Savitri meets the sea. The road to the fort is narrow and steep and requires careful maneuvering. Most of the Fort is in damaged condition and there is nothing much to see. Maintenance work was ongoing by ASI when we visited it. There are no toilets or options for food & water here, so come prepared. Only good thing was the view from the top. You can see the Sahayadri hills, Saviti River, Arabian Sea & ongoing construction of Bagmandla- Bankot Bridge from here.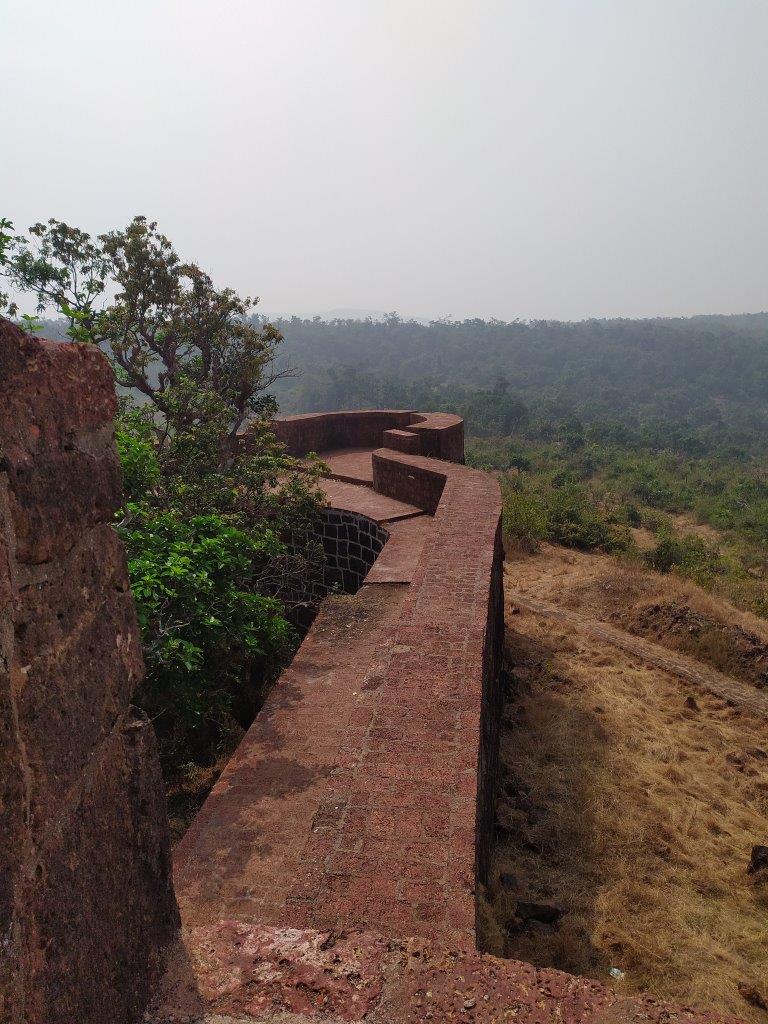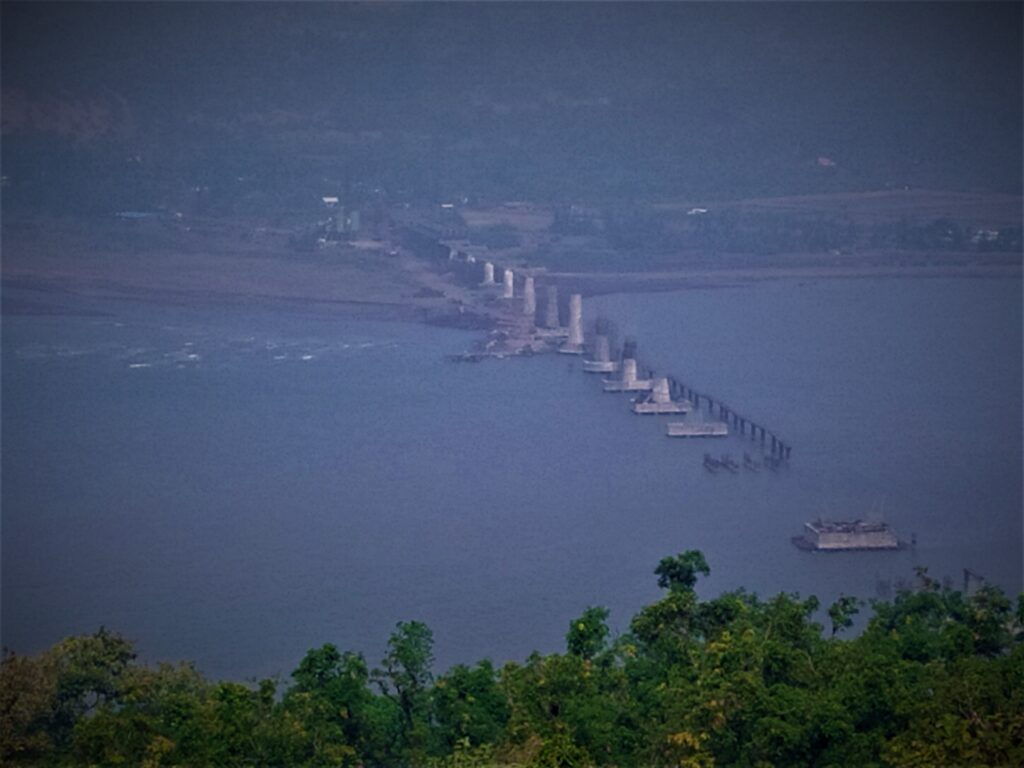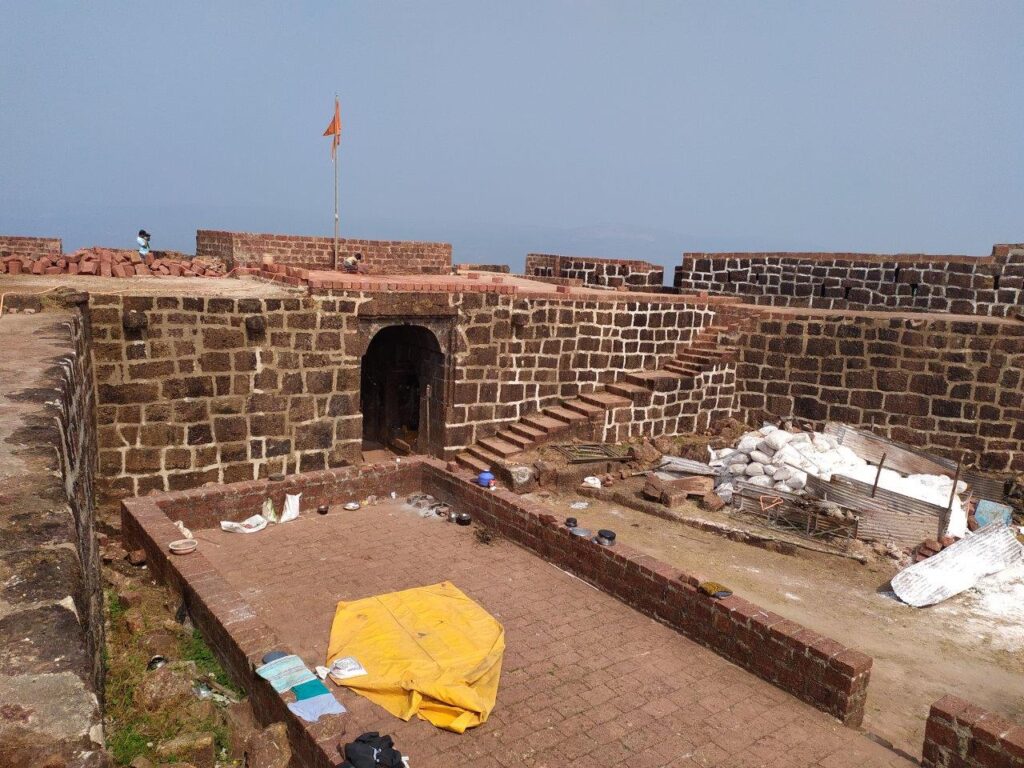 After spending a few minutes at the fort, we drove down to Vesvi port and took the ferry back to Bagmandla. It was time for lunch, so we headed to MTDC (Maharashtra Tourism Development Corporation) – Harihareshwar resort for which had very good reviews for its property and the restaurant. The resort is 5 km from the Bagmandala port and is a beautiful and serene. The approach road to the resort needs repair. It also needs a sign board as we missed the turn and then had to ask for directions. The property has a few cottages made of wood with all the basic amenities. It also has its own small beach and can be accessed through a flight of stairs. If you are planning to stay at Harihareshwar, this is the place I would strongly recommend.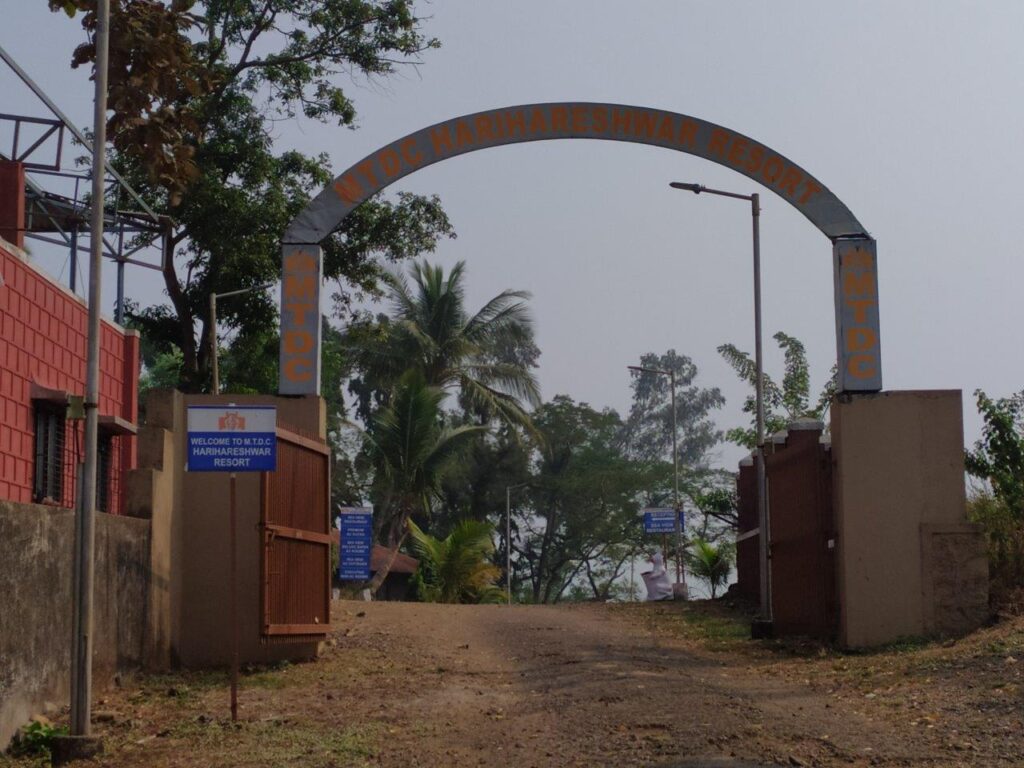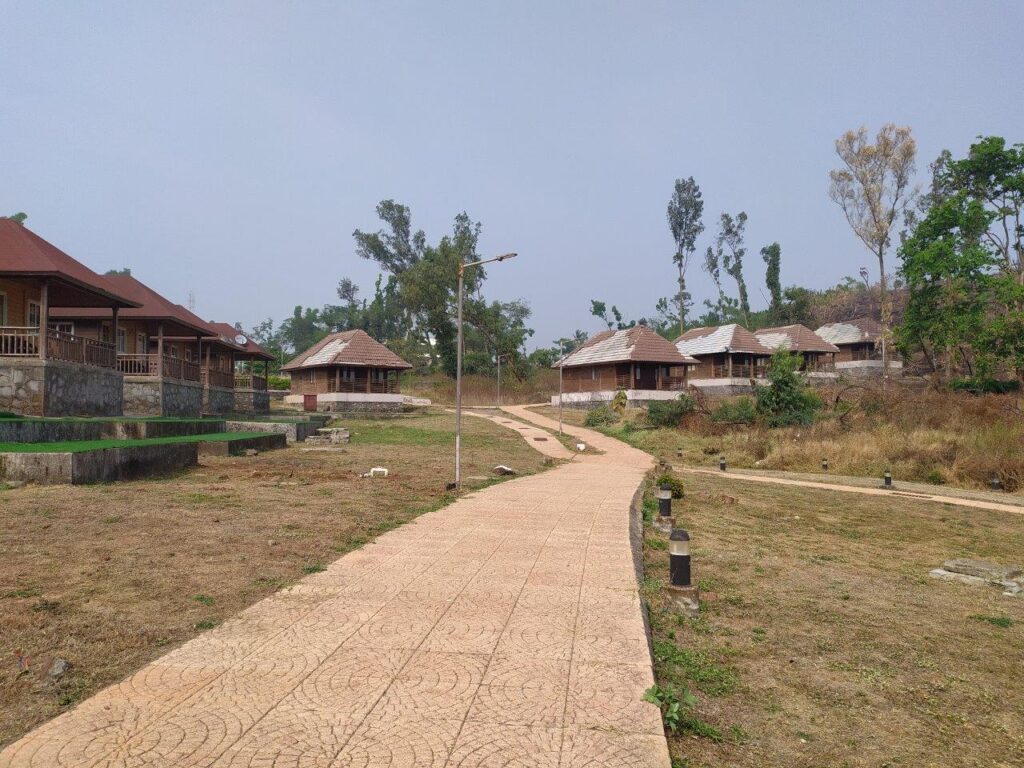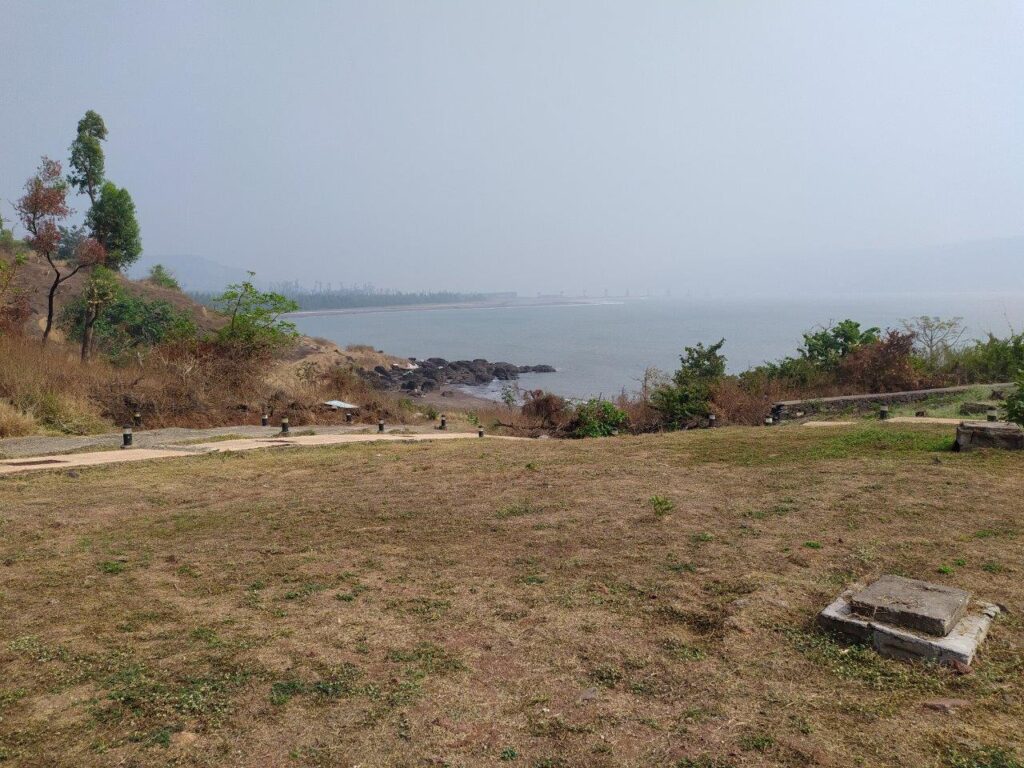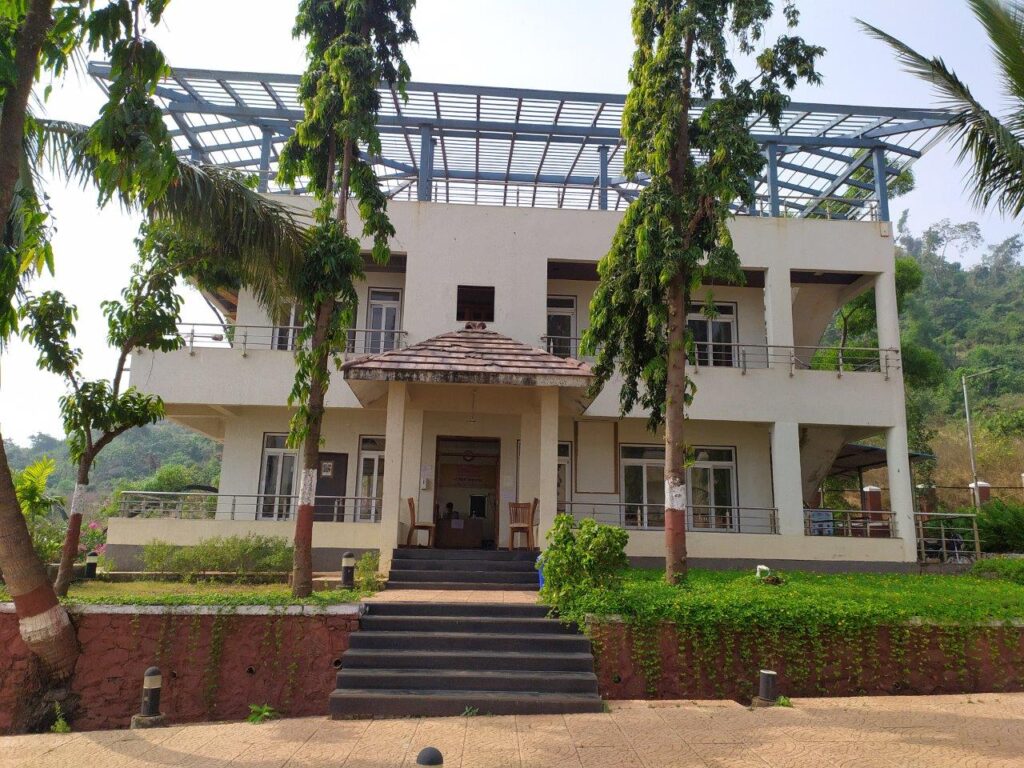 The restaurant was clean and the service was good. The price of most of the dishes were reasonable and the staff was courteous. Even if you are not staying in the resort, you can surely visit their restaurant for a lunch or dinner.
Our next stop was Harihareshwar temple which is 5 minutes' drive from the resort. It is one of the ancient temple, dedicated to Lord Shiva and reckoned as 'Kashi of the South'. The temple complex comprises two adjacent temples. One of them is a small Kalbhairav temple that needs to be visited first and the other is the main Harihareshwar temple dedicated to Lord Shiva. Nearby are two high stone light-pillars (deepmalas)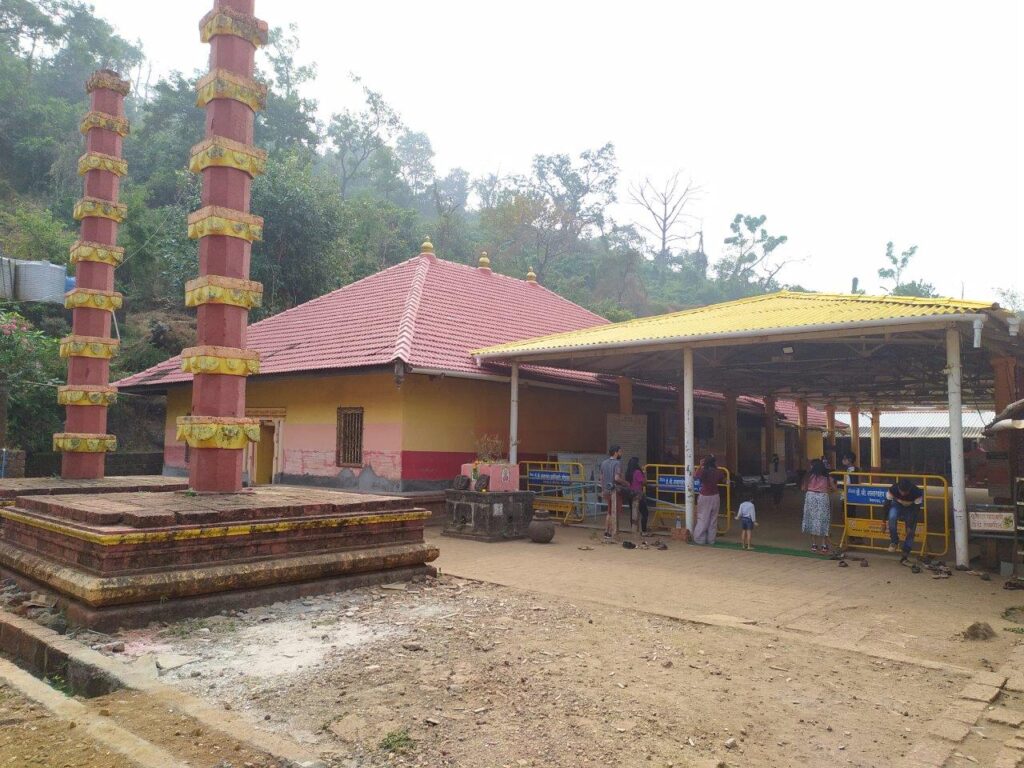 After paying our tributes to Lord Shiva, we spent a few minutes strolling at the Harihareshwar beach. The beach is lined with brown and black sand and was not too crowded.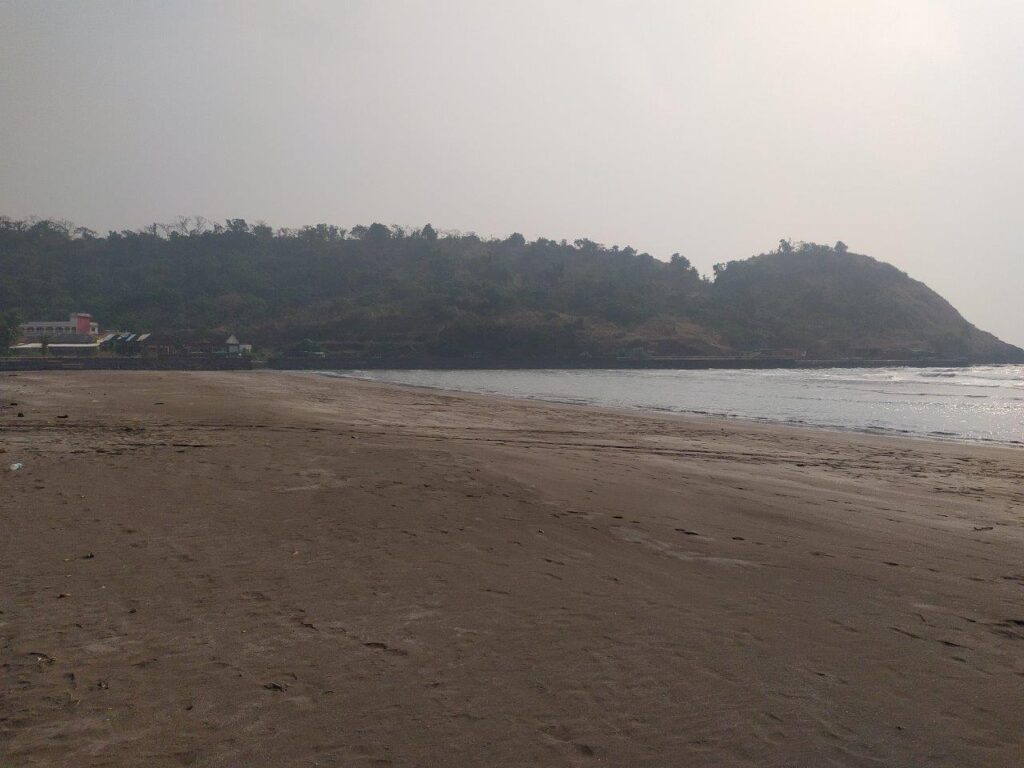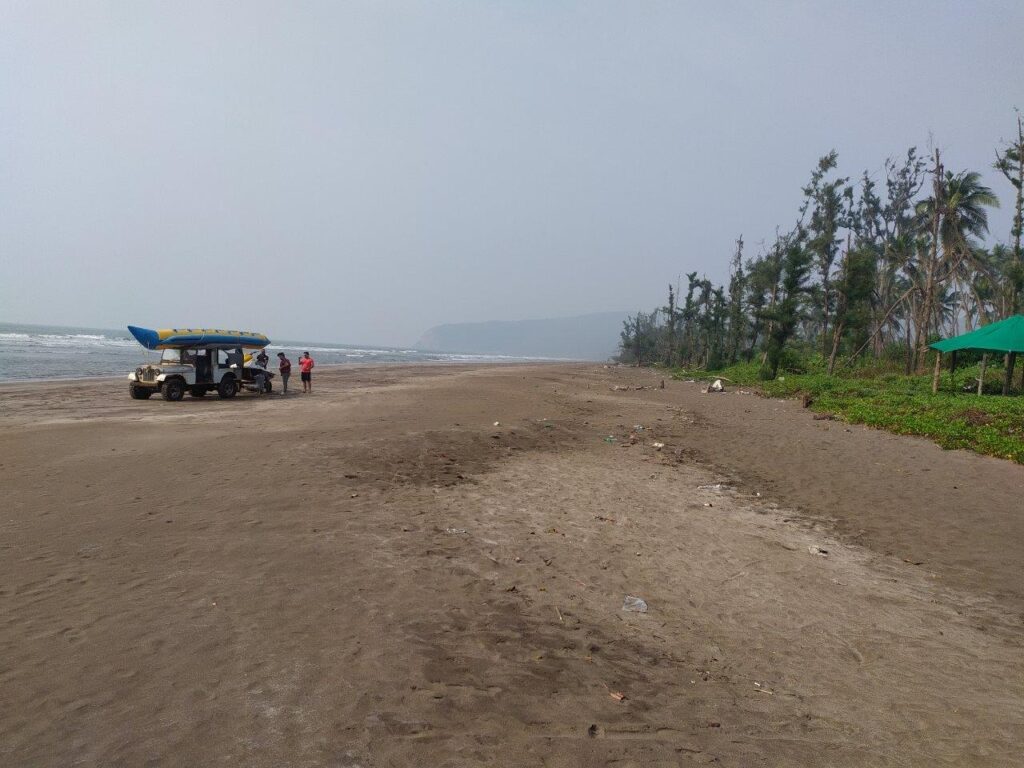 By 3 pm, we started our journey back and were back to Diveagar in the evening by 5. After some rest at our hotel room, we drove to the Diveagar beach to have tea and snacks.
Day 4: (Tuesday) Visit Murd Janzira and drive back to Pune
This was the last day of our trip to Diveagar and we were to travel back to Pune after visiting the famous Murud-Janjira Fort which is about 25 km North of Diveagar. We checked out of our hotel early in the morning and drove to the Dighi. The road between Diveagar and Dighi was severely pot holed and 15 km drive took almost an hour.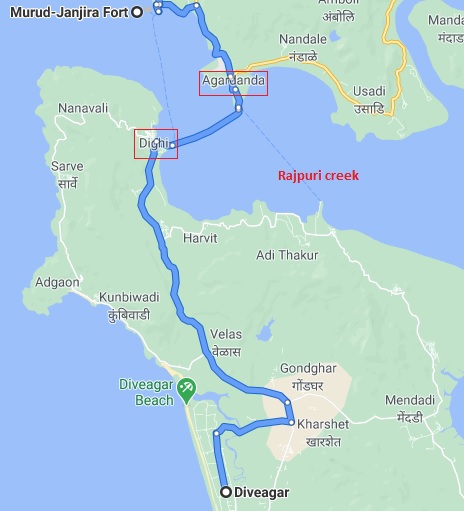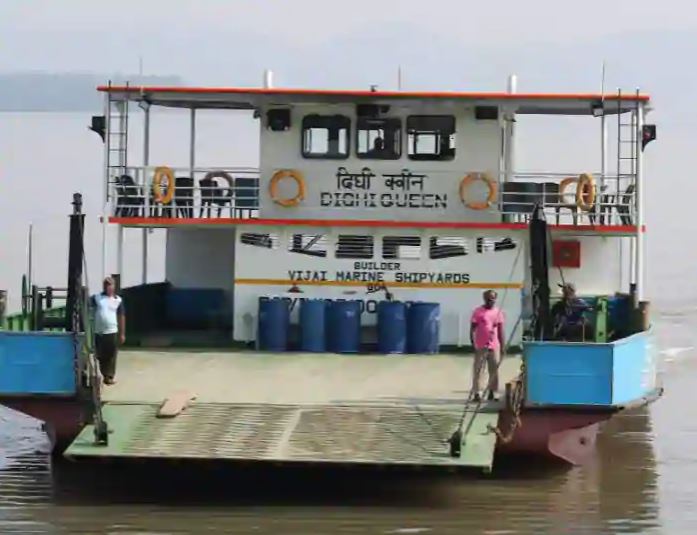 At Dighi you have to cross Rajpuri creek via ferry.  The ferry service available at Dighi port drops you at Agardanda port. From Agardanda, a short drive of 20 minutes takes you to the Janjira car parking. The parking had a huge space which charges ₹80 per car which I found to be costly.
Janjira is derived from the Arabic word 'Jazeera' which means Island. The fort is located on a rock island in the Arabian sea and can be reached via sail boats from the ferry point. Centuries ago, a wooden fort was originally built by a local Maratha Fisherman Chief to protect his people from pirates. During Mughal empire, a Siddhi (a Sufi Muslim group of African descent) commander sent by the Sultan of Ahmadnagar captured the fort and built a much bigger stone fort sometime in 16th century. Despite repeated attempts, the Portuguese, the British and the Marathas failed to subdue the power of the Siddi's. The fort remained unconquered for decades. Finally, post-independence, the Fort became a part of the Indian Territory. Now in ruins, the fort in its heyday was a full-fledged living fort with all the necessary facilities, e.g., palaces, quarters for officers, mosque, two big fresh water tank, etc
When we reached the ferry point of the fort, we came to know that the fort was closed due to Covid restrictions. So the only option left was to take a round trip boat ride till the main gate – also known as "Sher Darwaza" (Tiger's Door). The boat ride costs ₹80 for adults and ₹40 for kids till 12 years.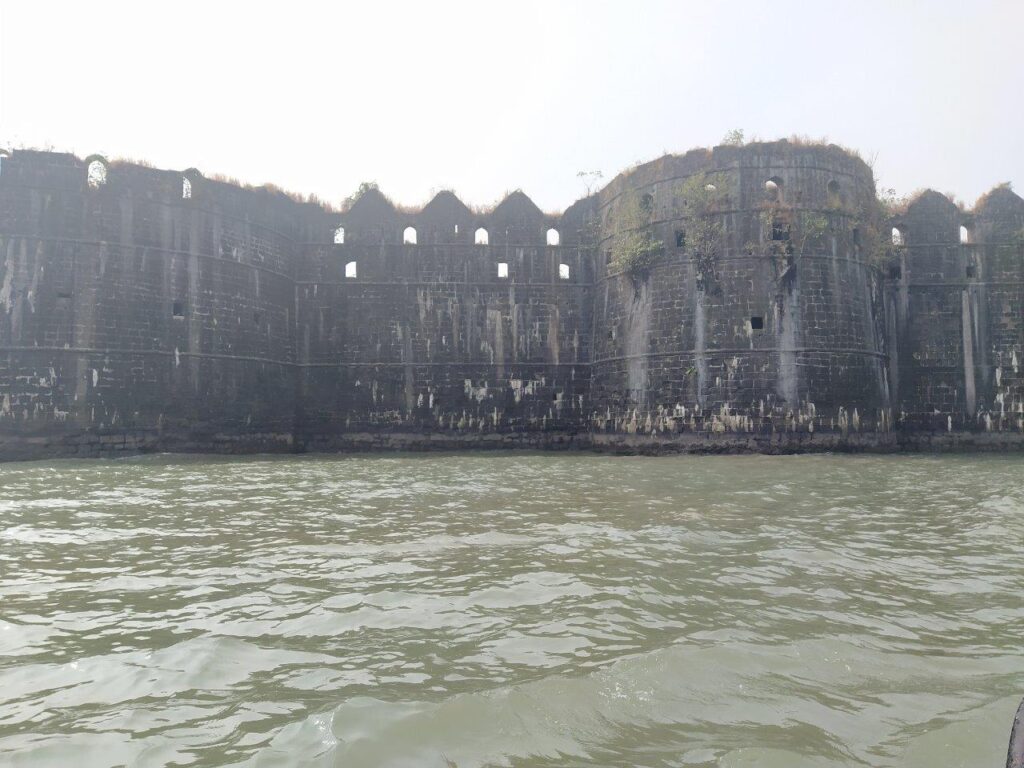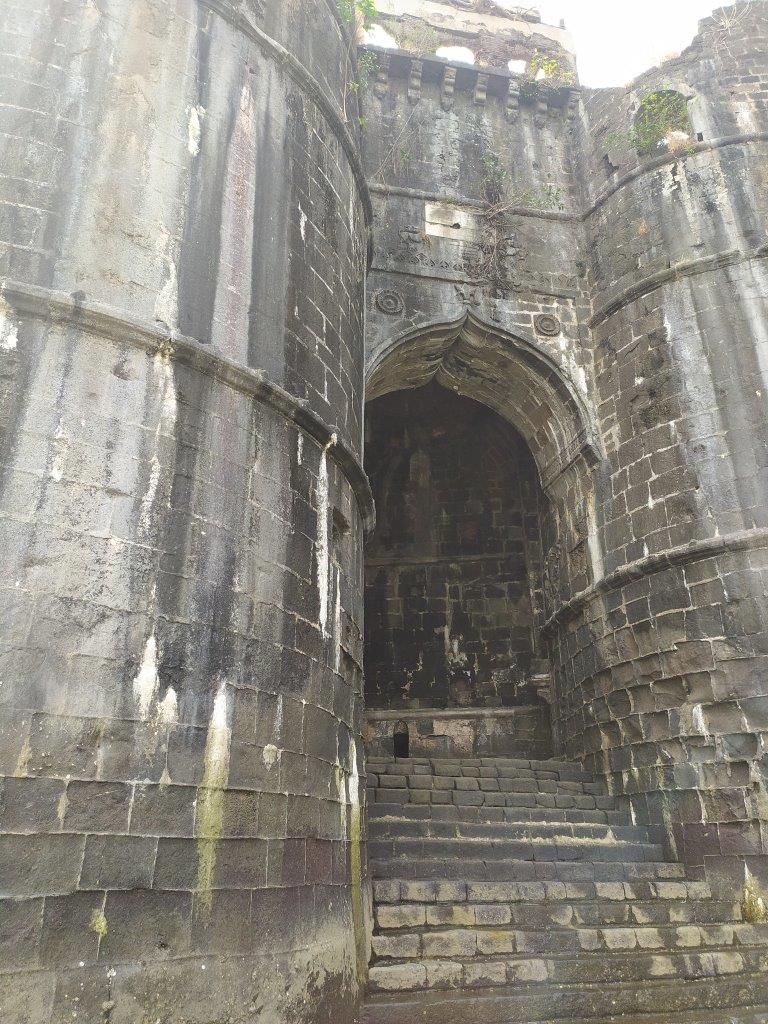 The boat ride is quite interesting as it is first rowed using long bamboo sticks as then the sail is hosted to use the wind to steer it close to the Fort. The boat man plays a 'double-role' of guide. He explained the brief history of the fort and what is inside the Fort. The signs of erosion due to salt water are clearly visible on the lower walls of the fort.
It was 12:30 in the noon by the time we back to the port. We left Murud and were soon driving towards Mandad. We crossed NH66 at Indapur. National Highway – NH66 runs roughly along the western coast of India, parallel to the Western Ghats and connects Mumbai to Kanyakumari. Road after Indapur is narrow at a few stretches and the Google GPS keeps on missing the road. This route was not available on my satellite based "MapMyIndia" GPS. We soon joined State highway 97 which we took while driving to Diveagar from Pune. From there onwards the roads are in a good condition.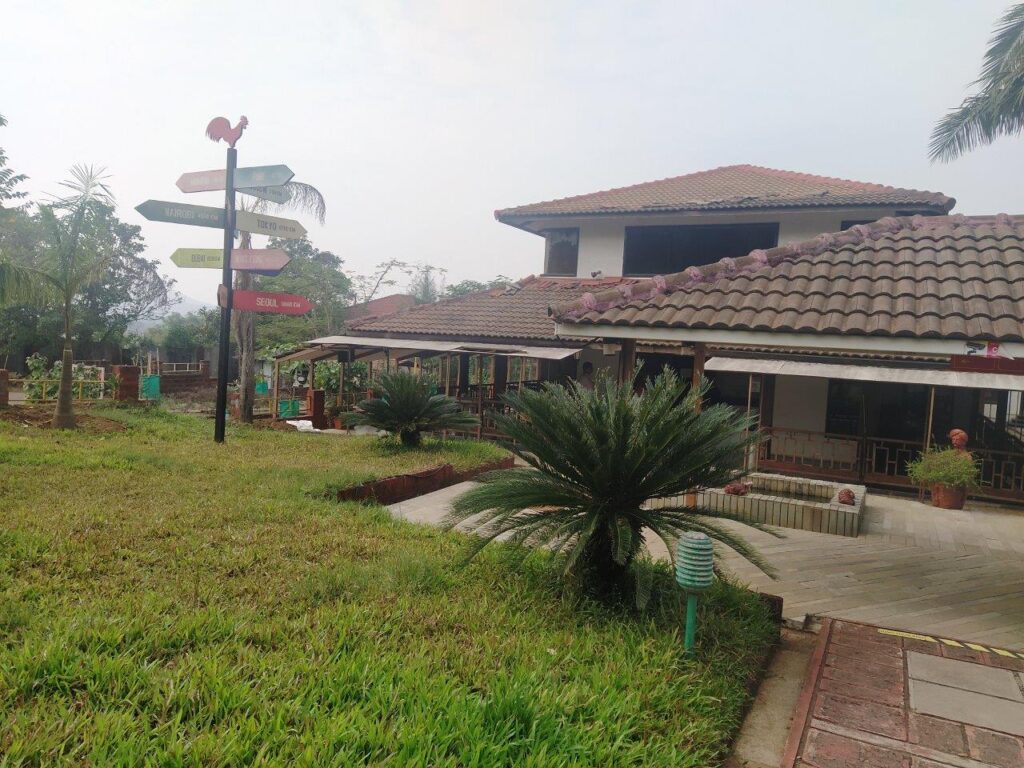 We stopped at 'Orchard Café' for lunch. The resort is at the beginning of Tamhini Ghats (while returning from Konkan). It has got an excellent ambience, parking space at the entrance, clean toilets, good food and excellent service. They only offer buffet meal but can get you 'la carte' on request. The prices of the dishes are on a bit expensive side. Please be careful of monkeys in this area.
After a hefty lunch and a few clicks of the resort, we carried on with our drive through the Tamhini Ghats. The traffic at Mulshi was slow due to ongoing road construction work. We reached Pune by 7 pm. This was indeed one of the memorable weekend trips to the Konkan.