Chail – A Scenic and Quieter Alternative to Shimla
The below travelogue is an itinerary of Road Trip to Chail from Delhi. The trip was done during June 2011 and we drove 700 km (to-and-fro) in the span of 5 days.
Chail, along with Kufri and Shimla is part of a popular tourist triangle on the Shivalik Range of the Himalayas in Himanchal Pradesh. Despite being close to Shimla, Chail is a bit off-beat hill station and is comparatively free from the crowds that throng Shimla. Surrounded by lush greenery of pine and deodar trees and mesmerizing views, Chail offers a completely different experience when compared with other more popular and prominent hill stations of India.
There is an interesting story behind Chail's establishment. It is said that during the British era, Maharaja Bhupinder Singh of Patiala was romancing daughter of Lord Kitchener, who was a British army commander. This did not go well with the British and led to Maharaja's banishment from Shimla. The Maharaja decided to give the British a fitting reply and established his own summer capital in Chail at much higher altitude than Shimla. However; as per another sources, Chail was 'gifted' by British to the Maharaja to recognize his assistance in the Anglo-Nepalese war.
Irrespective of the historical reasons, Chail seemed to be a perfect weekend destination from Delhi, so we planned a road trip to this beautiful and sleepy hill station during June of 2011. We extended the weekend by 3 more days to make it a 5 days trip.
There are a few things to keep in mind before venturing for a road trip in India. Refer to my below blog for details.
https://travel-memoirs.com/travel-tips/
Note: While planning for trips, I take inputs for road conditions from Team BHP (https://www.team-bhp.com/forum/travelogues/) and hotel booking was done via MakeMyTrip (https://www.makemytrip.com/)
Chail is about 350 km from Delhi is about 8 hours of drive. Half of the drive till Ambala is via NH44, which is the longest highway of India connecting Srinagar to Kanyakumari. It was formed by merging seven national highways, in full or part. Starting with NH 1A (Jammu-Srinagar), former NH 1 (Punjab – Delhi), part of former NH 2 (Delhi – Agra), part of former NH 3 (Agra-Bombay), former NH 75 & NH 26 till Jhansi and former NH 7 via Nagpur, Hyderabad, Bangalore, Madurai and terminating at Kanyakumari.
From Ambala, we were to take NH152 till Zirakpur (Chandigarh) and then follow NH5 (Old NH22) till Kandaghat. From Kandaghat, we were to drive via a state highway till Chail.
We booked a Semi-deluxe room at 'Hotel – Chail Inn' for 5 days which costed us ₹ 5334 (₹1000/day).
Our ride was Maruti Alto with 796 cc engine. My fellow passengers were my wife and daughter. Me and my wife were to take turns to drive.
Day 1: Drive from Delhi to Chail (350 km, 8 hrs)
We left Delhi early at 7 am on a Friday to beat the early morning rush hour.  We soon bypasses Azadpur and joined NH44.
The section of NH44 between Delhi – Ambala (former NH1) is part of  "Grand Trunk Road" (GT Road) which is one of the oldest and longest roads cutting across South Asia and extended from Kabul (Afganistan) – Lahore (Pakistan) – Amritsar – Ambala – Delhi – Kolkata and Chittagong (Bangladesh). Travelling on such a busy and significant route is an experience in itself. The expressway is in an excellent condition and is a driving pleasure. As in 2020, Delhi to Panipat section was being upgraded to a tolled 8 lane expressway.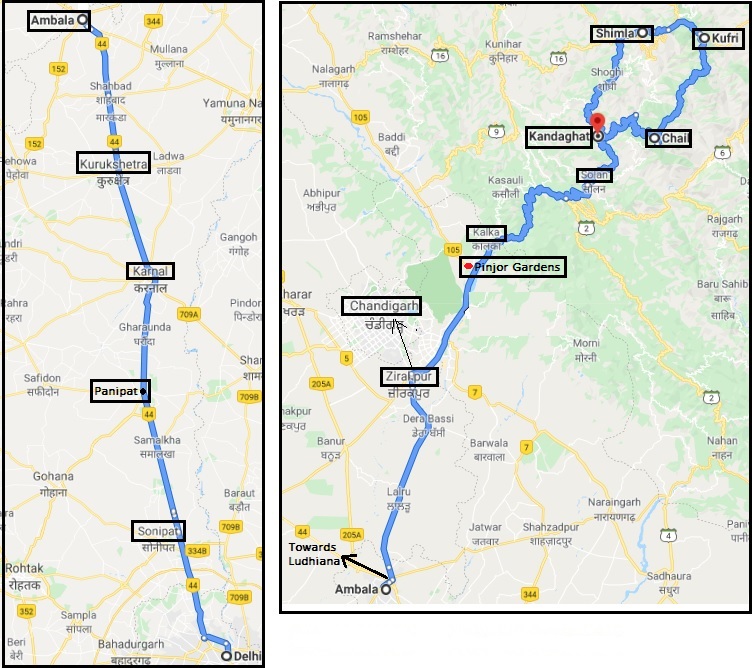 After a drive of 2 hours, we stopped on the way at Murthal (Near Sonipat) for breakfast. Murthal is famous for its Dhabas which serve amazing tandoori parathas. In addition, they serve a wide variety of vegetarian North and South Indian dishes. Murthal being at an hour's drive, is frequented by Delhiite's and is generally crowded during the weekends. If you are traveling on NH1, I strongly recommend a food break at one of the dhabhas at Murthal. Some of the most popular ones are – Amrik Sukhdev Dhaba, Gulshan Dhaba and Royal Murthal Dhaba.  To read more about murthal dhabas click here
After a hefty breakfast, we carried on our journey further. We soon breezed by Panipat, Karnal, Kurukshetra and by the time we reached Ambala, it was 12:30 pm. Ambala borders Punjab and is the gateway to most of the famous tourist destinations of North India.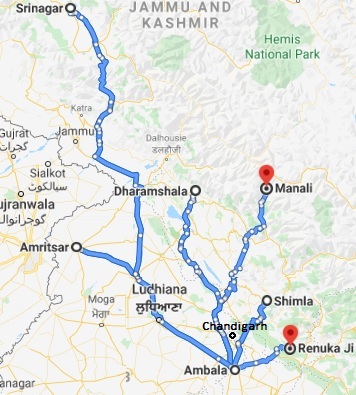 It is at Ambala from where you can travel West via NH44 to Amritsar (NH44) and also to Jammu & Kashmir via Ludhiyana. Drive up towards North takes you to Dharamshala and Kullu/Manali. The road towards Chandigarh takes you to Chail/Shimla and driving East takes you to yet another hill station – Renukaji.
You have to be careful with driving directions at Ambala as the roads are connected with major cities of North India. Since we did not have a GPS in 2011, we had to rely on road signs and stop of directions from locals. We took NH152 towards Chandigarh and joined NH5 at Zirakpur (before Chandigarh) to reach Kalka, which is at the foothills and onsets the mountainous trek to the Himalayas.
The plan was to stop on way at Solan to meet one of our friends – Yugam and his family. It was 2:30 pm By the time we reached Yugam's home, which was beautifully set on the slope of a hill.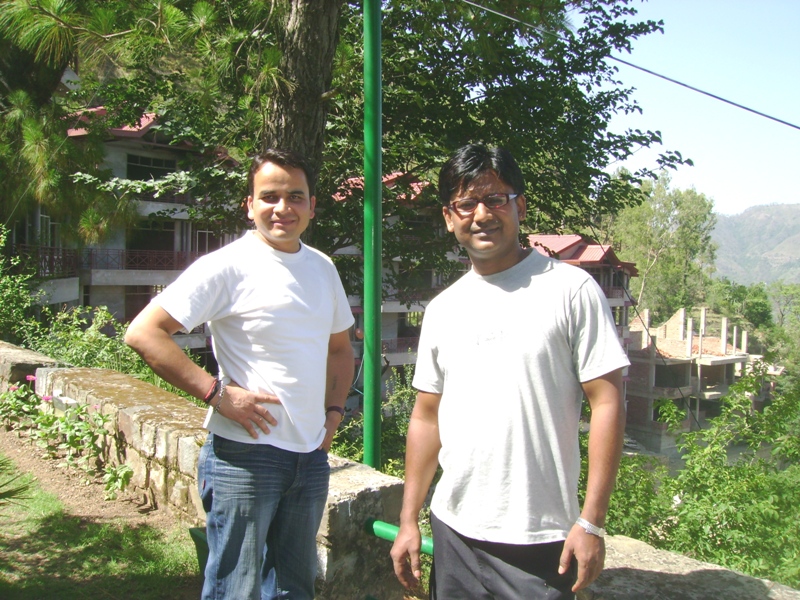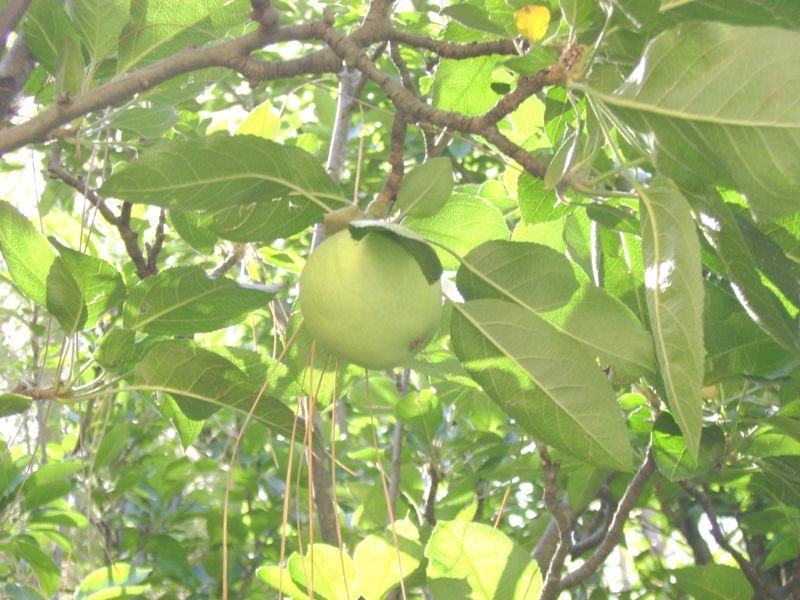 We had lunch along with his family and after spending some time we left for Chail. 30 minutes of drive took us to Kandaghat, from where we were to take a right turn towards Chail. From here on, the road turns into a single lane narrow passage with very thin traffic. You have to be careful when you overtake any vehicle and it is safe to stop to let a heavy vehicles pass through. We reached Chail by 5 pm and checked in to our hotel.  The evening was spent strolling at the nearby market. We had dinner at the in-house restaurant of our hotel and called it a day.
Our sleep was interrupted in the middle of the night when our room's TV automatically switched on and started playing a Hindi movie track. Thinking that we might have accidently pressed the remote, I switched off the TV and returned to my bed.
Day 2: Explore the Jungle Trails of Chail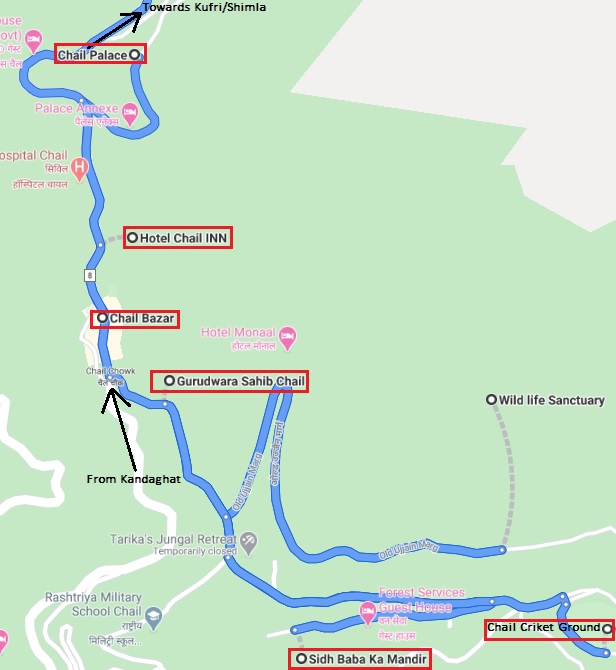 Day 2 was scheduled for exploring the beautiful town and jungle trails of Chail. Chail being a relatively small hill station offers limited points of interests. Some of the prominent ones are – The Palace, Gurudwara, Sidh Baba Temple and Cricket ground.
After having breakfast at the hotel, we left for the market. Chail Bazaar is a centrally located small market with a few shops selling woollen garments, decorative artefacts, pickles, juices, jams and local wine. It also has 2 to 3 small restaurants. A little of further from the market leads you to 'Chail Chowk', from where a left turn takes you uphill to a narrow road through beautiful lush green forests.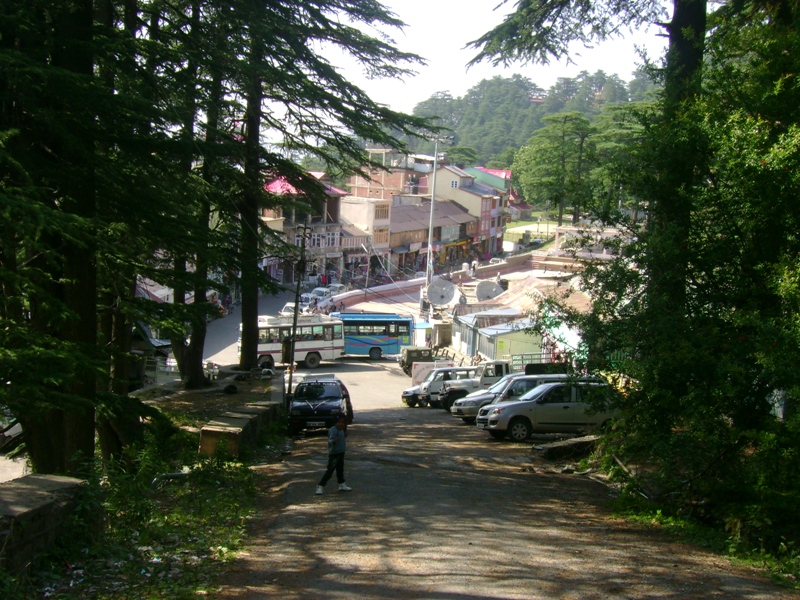 The first thing which you get to see on this trail is a church like building which is actually a Gurdwara. Called Chail Gurudwara Saheb, this place was built by Bhupinder Singh – the maharaja who established Chail.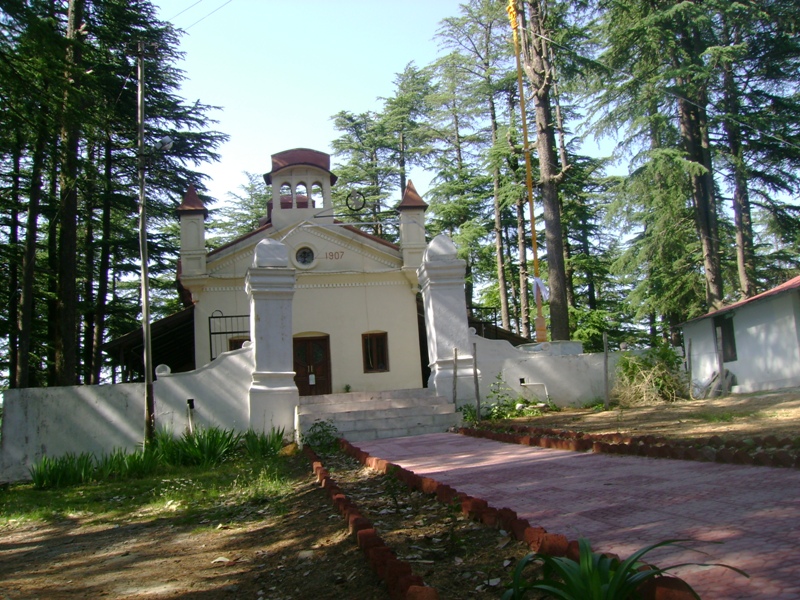 Chail has a vast forest cover which comprises of dense cover of Oak, Pine and Devdaar trees. The forest is home to a large variety of mammals which include monkeys (langures), Himalayan black bear, wild boar and sambar. The Chail Wildlife Sanctuary is one of the popular attractions in Chail and preserves several species of birds and mammals. We had given the Wildlife Sanctuary a miss but you can go for it if you have a liking for it.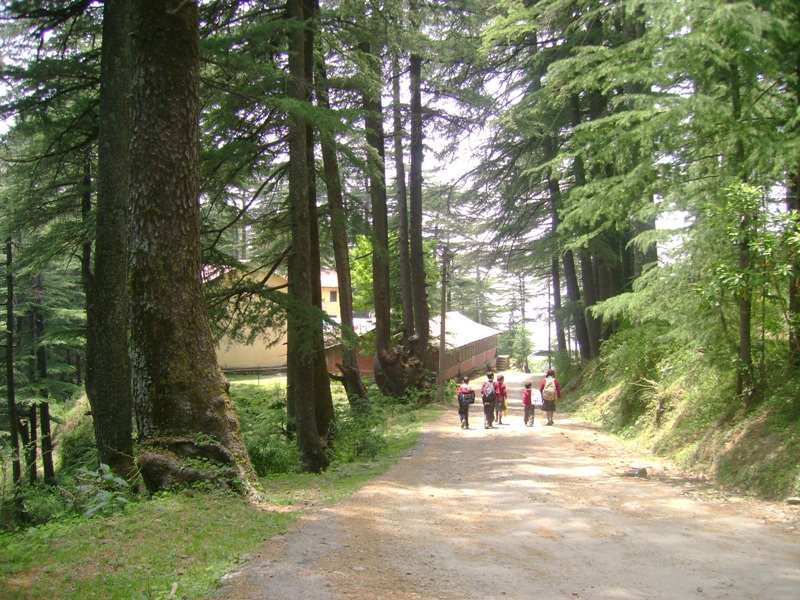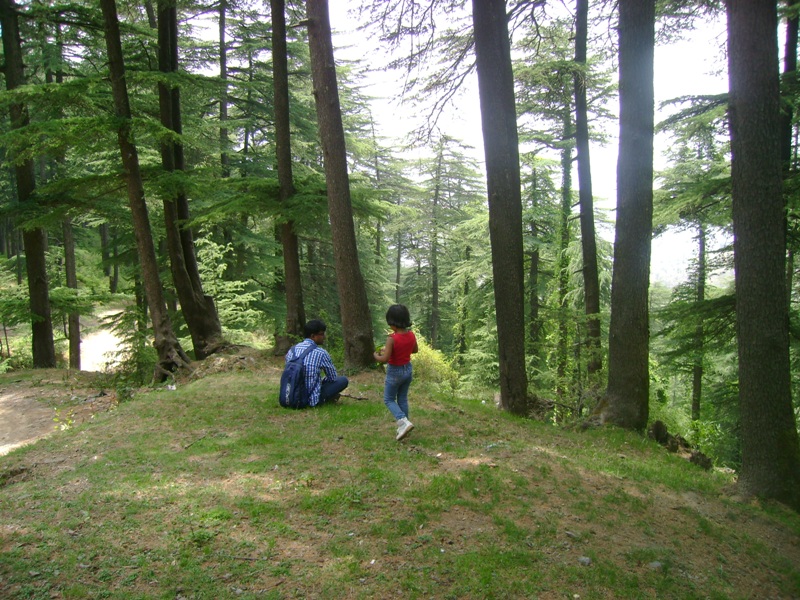 By noon, we walked back to the market and had lunch at Anand Bhojnalaya. After lunch we turned back to our hotel and took some rest. Later in the evening, we again went for stroll to the lovely town when the sky started to get cloudy. Within a few minutes it was all dark and it started to rain heavily. We enjoyed the lovely rains by taking shelter at a tea shop in the market where we treated ourselves with warm cup of tea and hot crispy pakodas.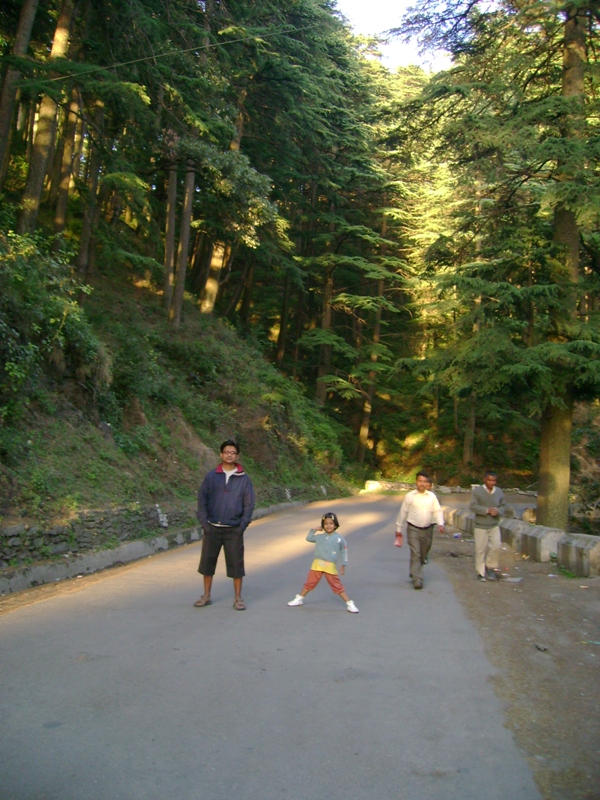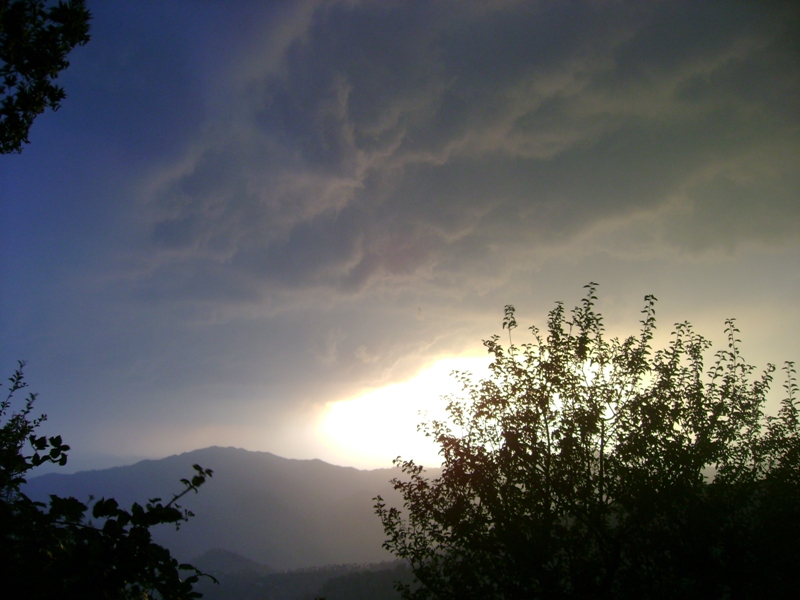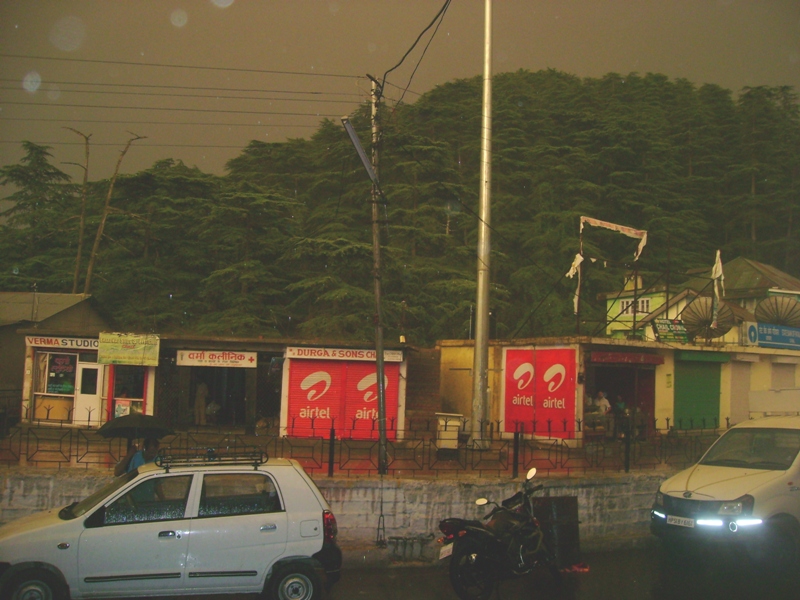 Rains on mountains don't last long. The sky got cleared within a few minutes of hails and heavy rains and we walked back to our hotel. We had dinner at the in-house restaurant and then retired to our beds.
Our sleep was interrupted when our room's TV turned on, yet again, in the middle of the night. This was happening for the second consecutive night and made a cold shiver run down our spines (after all, we all have grown up hearing ghost stories set in backdrop of hill stations 🙂 ).  This time, I decided to be logical and went ahead to check the 'paranormal behaviour' of the TV. Going through the settings, I found the timer set to turn on at 12 every night. Not sure if it was deliberately done, but after turning off the timer, the TV did not start automatically during the rest of our stay at the hotel 🙂
Day 3: Day trip to Kufri & Shimla
Day 3 was Sunday and we had planned a day's excursion to Kufri and Shimla. Shimla is 45 km and takes about 2 hours of drive. After a hefty breakfast, we took the Chail-Kufri highway to drive through the mountainous terrain to Kufri.
Note: Sharma-Vaishnao Dhaba – which is on the Chail-Kufri highway is about 8 km from Chail is good option to have vegetarian food. This is a family run restaurant and has got excellent reviews. It was visited by Rocky and Mayur (from NDTV's popular show - 'Highway on my plate' ) in 2013 and came highly recommended from them. Click here to watch more details.
We had planned to explore Kufri on our return journey, so we bypassed Kufri and joined NH5 for a 15 km further drive to Shimla. It took us 45 more minutes to reach Shimla. Mall road is perhaps the most popular destination in Shimla but cars are not allowed there. We therefore parked our car at the multilevel car parking and took a lift to the Mall road. The lift is walking distance from the multilevel car parking and is operated by the Tourism Department. It charges ₹10/person one way to ferry you up till the Mall road. During peak seasons, you generally get to find a queue and have to wait for your turn. Once you step out of the lift complex, the beautiful view of Shimla town greets you at the Mall road.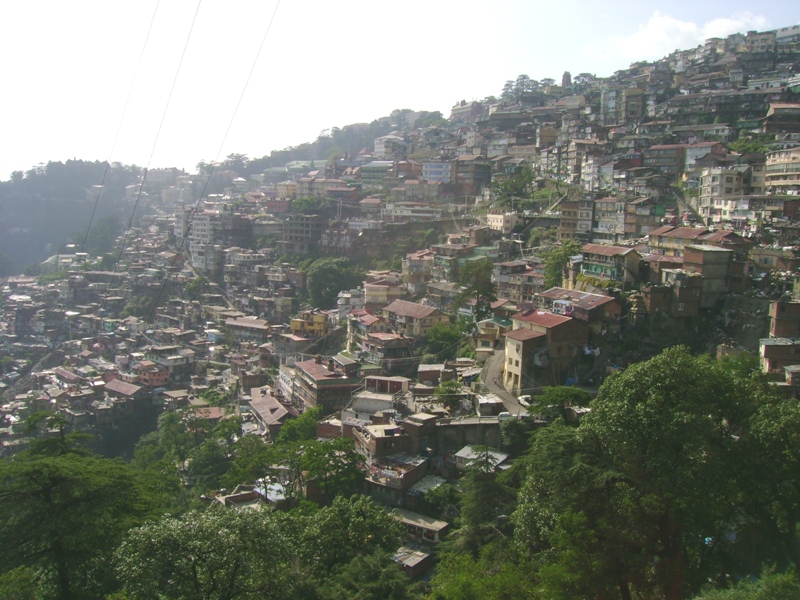 Shimla was buzzing with tourists in wake of the ongoing Summer Festival. We spent a couple of hours strolling through the mall road and ordered lunch at Chinese restaurant 'Dim-sum'.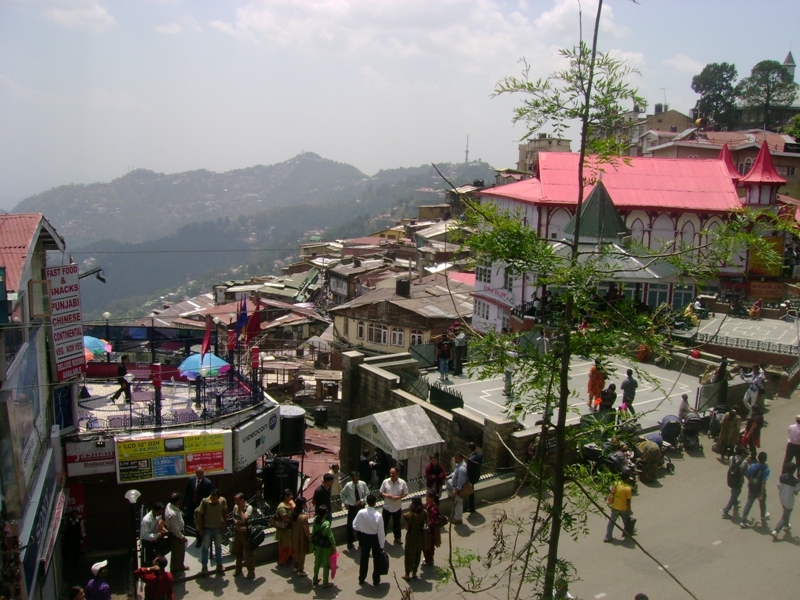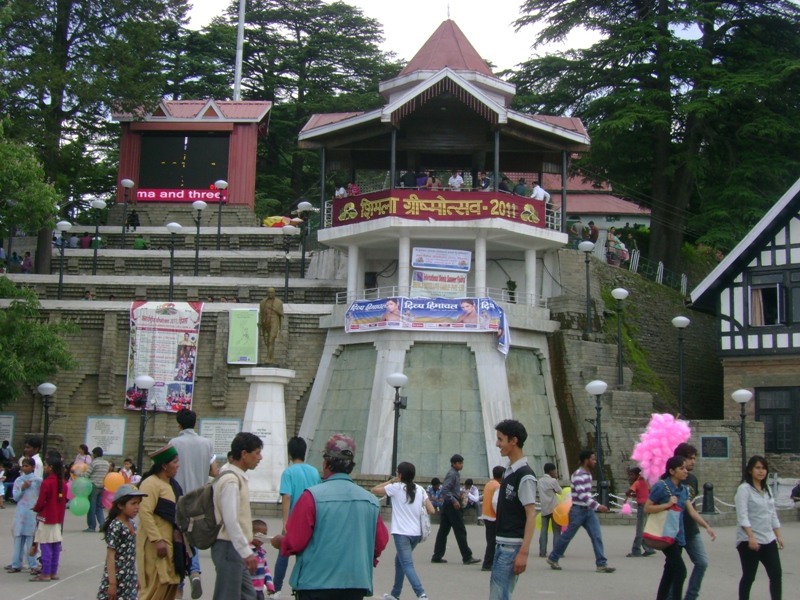 A trip to Shimla is incomplete without a visit to narrow alleys of Lakkar Bazaar (wood market).This market is popular for wooden decorative items and souvenirs made from deodars and walnut wood.
By noon, we took the lift to drop us back to the car parking complex. We drove back to Chail and stopped to pay a visit to Himalayan Nature Park. The park is spread in huge area and takes about 1.5 hour to take about 4 km round. The zoo houses Himalayan species of animals like – Deers,  Snow Leopard, Tibetan Wolves, Himalayan bear. All of the animals are kept in huge enclosures to let them live in natural habitat which makes sighting of the animals a bit difficult. There is a nominal entry fee of ₹10/person. I did not find anything fascinating about this place and will recommend only if you have ample spare time in your itinerary. I have read that this place is covered with snow during Dec-Jan and it an altogether different experience. So do pay a visit to this place if you happen to be here during winters.
By the time we finished exploring the Nature Park, it was 5 pm. Since Chail from Kufri is a drive though mountainous terrain and we wanted to avoid driving after sunset, we left Kufri without any further delay. An hour's drive got us to our hotel before the sun set. We had dinner at our hotel and called it a day.
Day 4: Explore Chail Palace, Sidh Baba Temple and Cricket ground
Day 4 was to explore the left over attractions of Chail – Palace, Word's highest Cricket Ground and Sidh Baba ka Mandir.
Chail palace was walking distance from our hotel so we left for after having breakfast. Chail Palace was constructed by the Maharaja of Patiala (founder of Chail) as his summer palace. It was later bought and converted into a heritage hotel by Himachal Tourism Corporation. The palace is furnished with royal furniture, huge paintings, beautiful carpets and a royal restaurant. It has well maintained huge lawn is surrounded by dense lush green forests and has a small weather data collection facility in its vicinity. This palace was featured in the hit Hindi movie – "3 Idiots" in the scene where Sharman Joshi (Raju) and Madhavan (Farhan) go to Shimla to meet Aamir Khan (Rancho) and instead meet Javed Jaffrey (the real Ranchor Das) at his father's funeral. This whole sequence has been shot in Chail Palace. There was an entry fee of  ₹100/person, which I found to be a bit too expensive.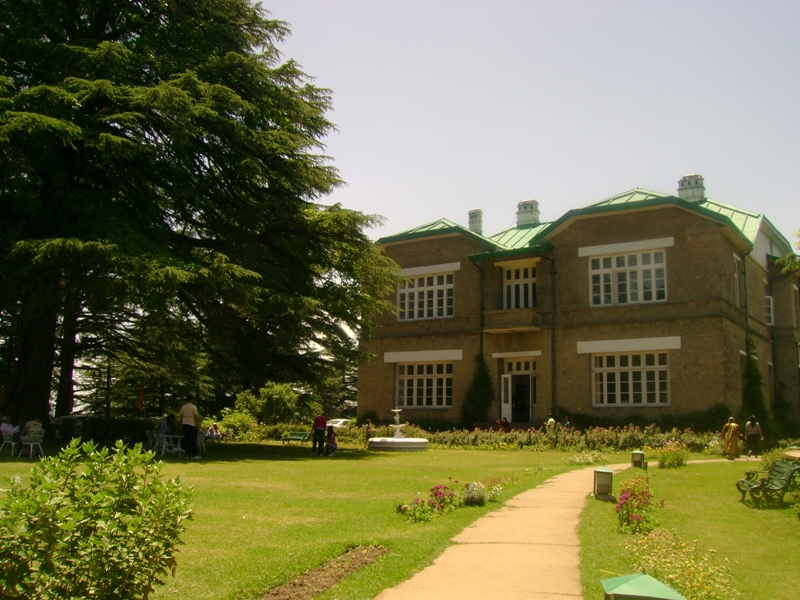 After spending a couple of hours in the palace and walking through the nearby jungle trails, we returned to our hotel and took some rest. We then drove to the next destination in our list – Cricket Ground. Chail is the proud home to the highest cricket ground in the world. Since Maharaja Bhupender Singh was a cricket enthusiast, he built a cricket ground here on top of a hill. In addition to holding a cricket pitch, it also has a basketball court.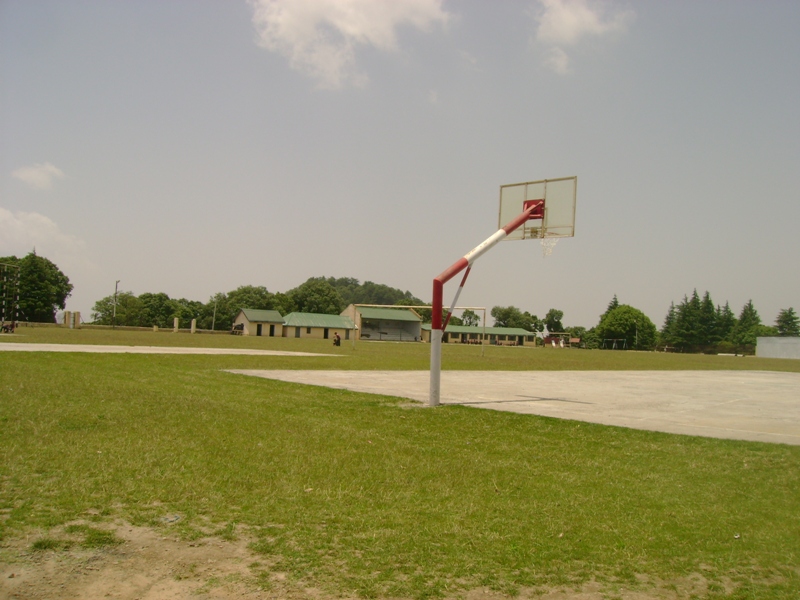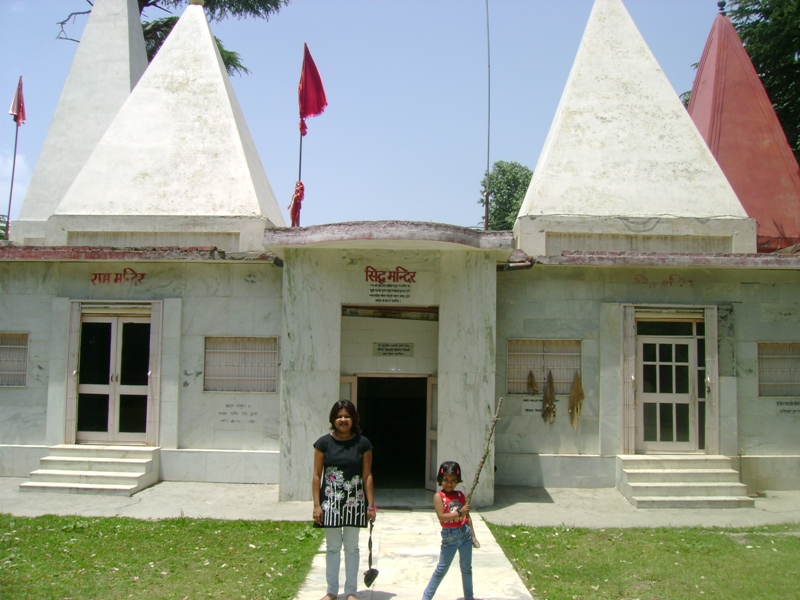 A careful and slow descend from the temple led us back to the main road and led us back to our hotel. The rest of the evening was spent leisuring around the market.
We had an early dinner and retired to our beds as it was our last day at Chail and we wanted to check out early so that we could visit the famous Pinjore Gardens on our way back to Delhi.
Day 5: Travel back to Delhi and visit Pinjore Gardens on the way
This was our last day of the trip. We were scheduled to drive back to Delhi and on the way visit Pinjore gardens. We checked out of our hotel at 9 am and were soon descending down through the hills. The entire highway from Kandaghat till Solan is lined with shops selling wide variety of juices, jams and fruit wines. We bought a few bottles of jam and fruit wines. If one has a liking for light spirits, I will recommend to try Apple Cider – which is kind of local bear made from Apple. It has a light alcohol content and tastes good.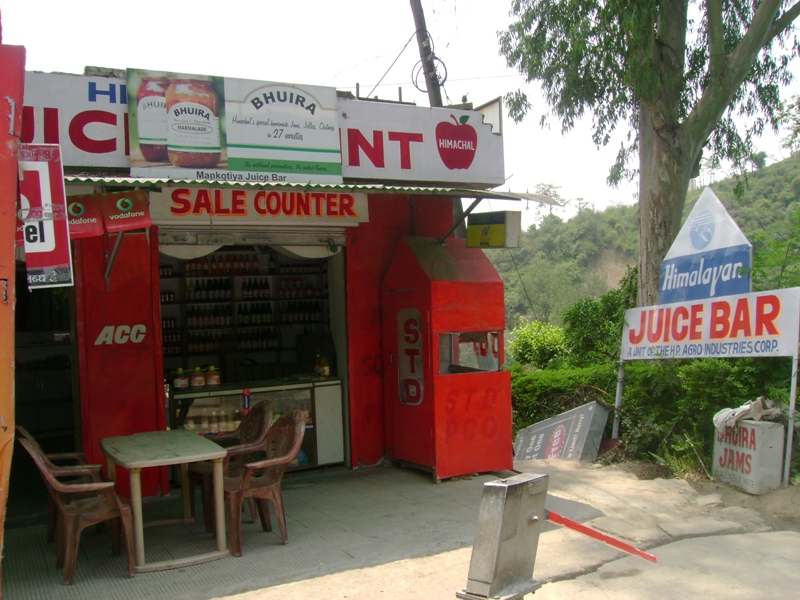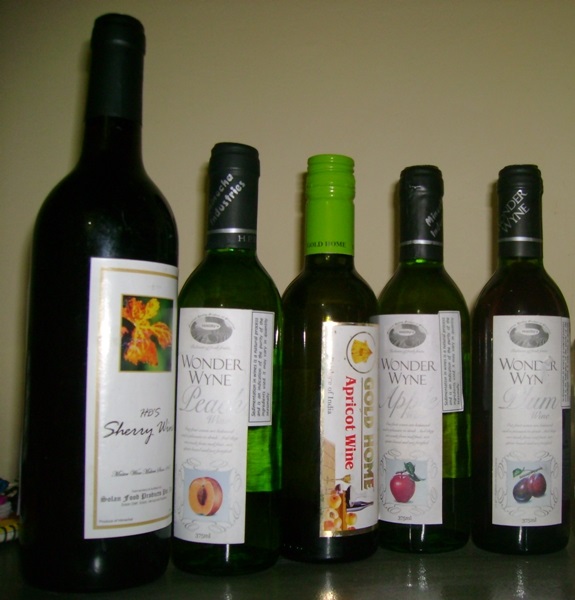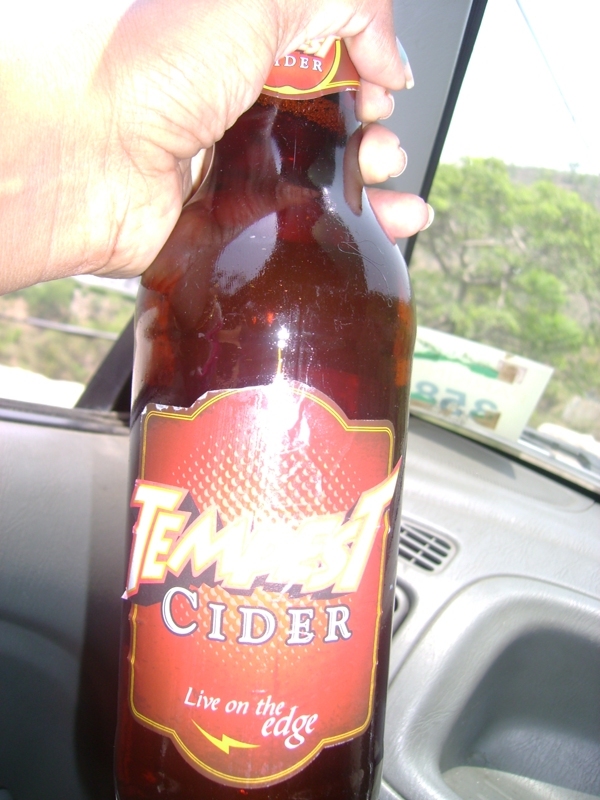 After driving for about 90 kms we reached Pinjore Gardens. It is a few meters drive from the highway and is an exemplary example of the Mughal style garden. The design was conceived during the Mughal era but it was later refurbished by ruler from Patiaya – Yadvindra Singh. The architecture of the garden has been done in the form of seven descending terraces with a central water way.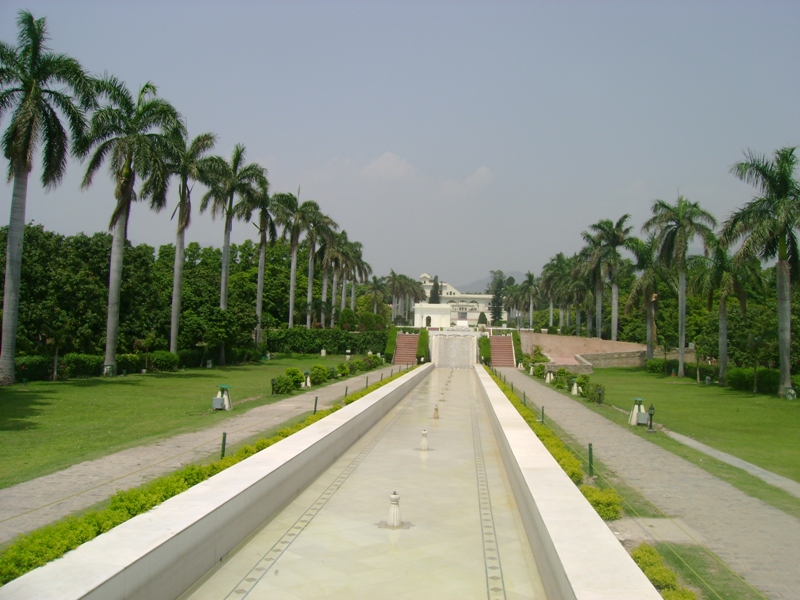 The waterway has fountains set at multiple places and there are walkways on both sides for visitors to walk through. The gardens have a wide variety of fruit trees like – Mango, Jaamun and Leechi.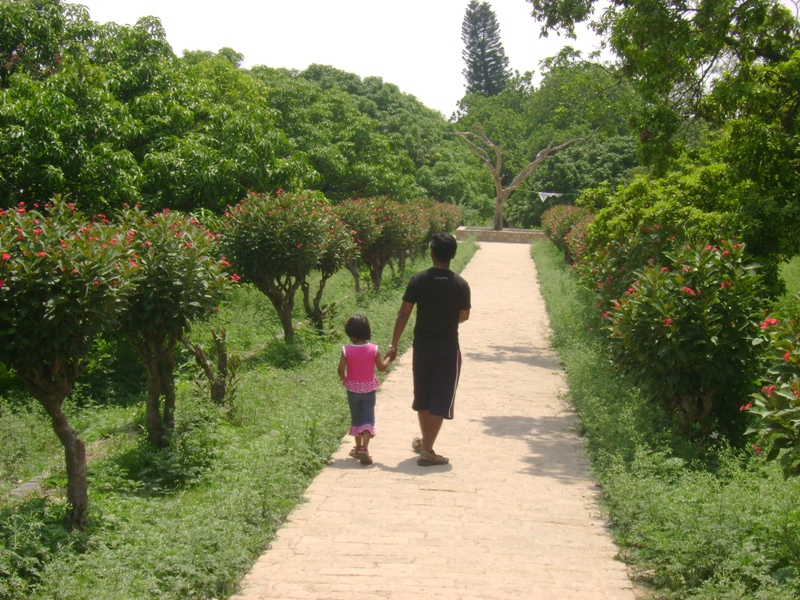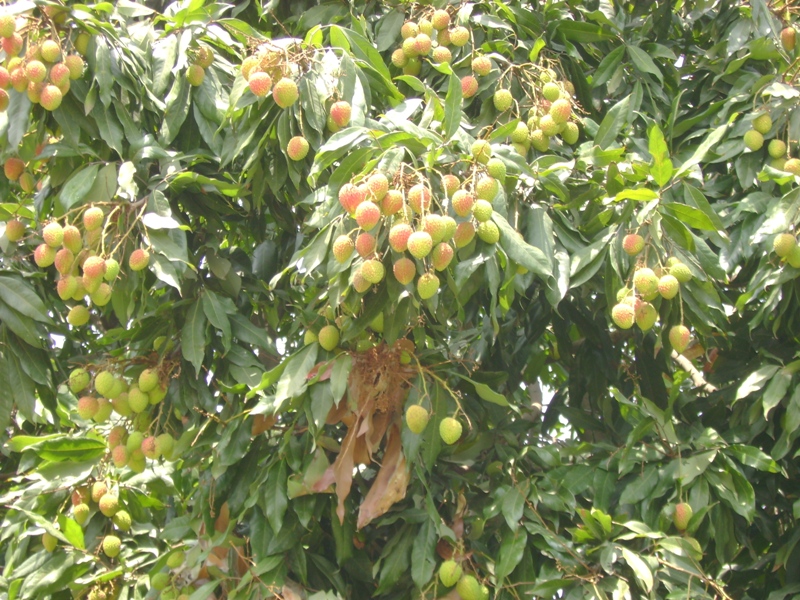 The gardens a small food court which serves snacks and variety of other options. We had a South Indian lunch at of the restaurants and after spending about an hour at the Garden, we walked back to the parking and were soon back on the highway driving towards Delhi. You can read more details on this lovely historical garden on Wikipedia
We bypassed Zirakpur and Ambala and were soon breezing through NH44.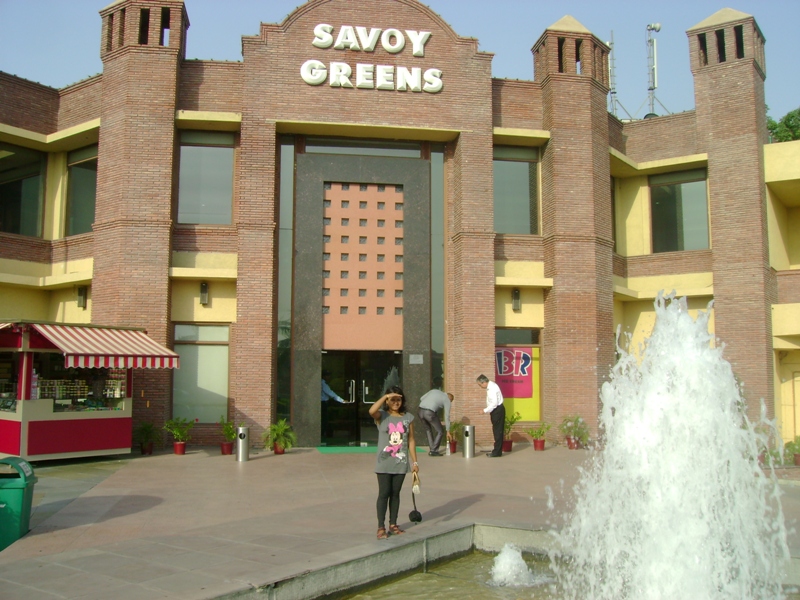 By evening, we took a short break in Karnal at 'Savoy Greens' for tea and snacks. This place offers an amazing food court with popular food chains like – McDonalds, Dosa plaza, Domino's, Subway under one roof. It has clean and tidy washrooms and is a great stopover if you are travelling on NH44.
By the time we entered Delhi, it was 7 pm. The busy late office hour traffic took us almost an hour to reach our home.