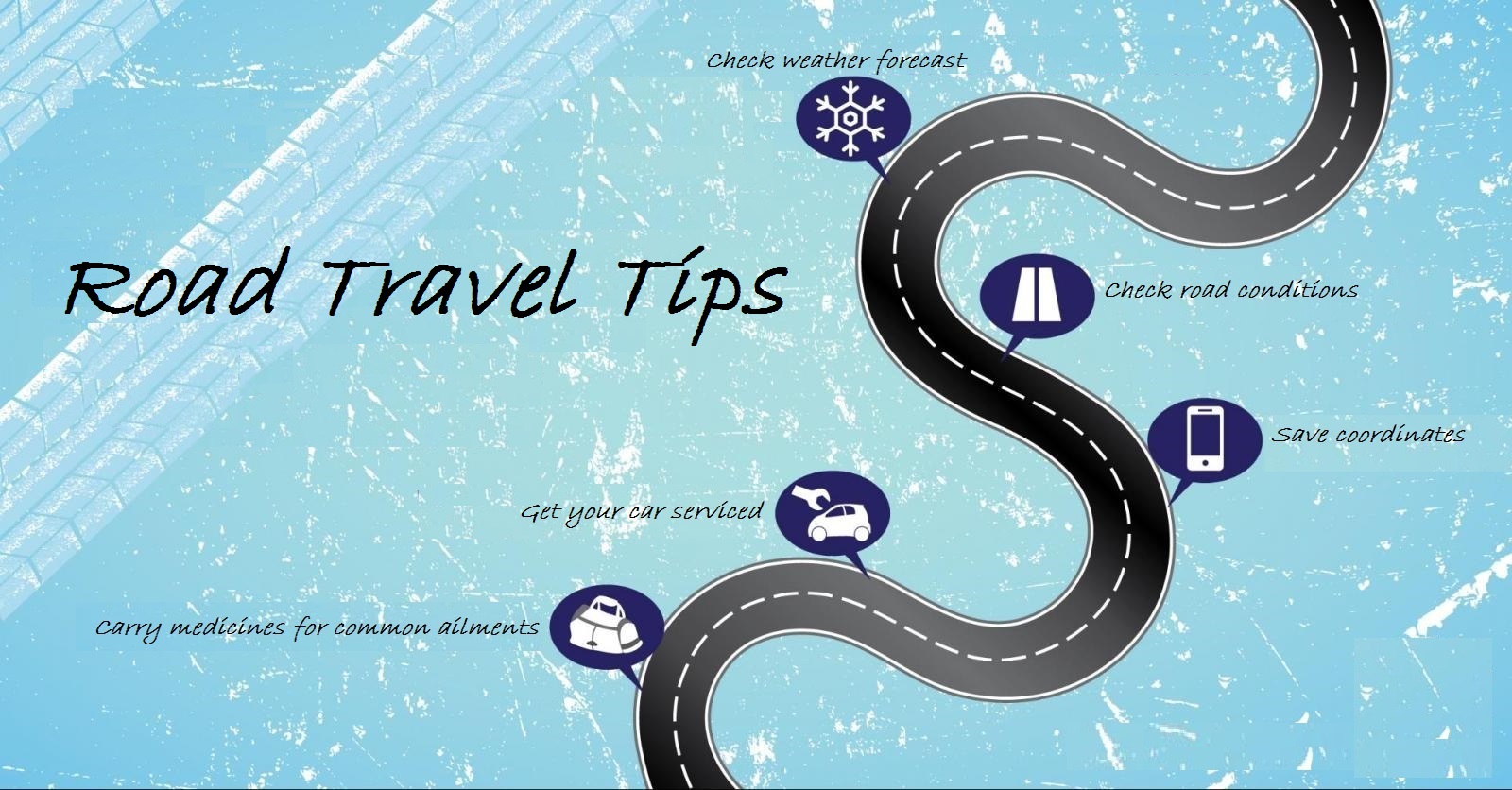 Ranging from the Thar desert, lofty mountains and  serene beaches, India has a huge list of destinations waiting to be explored by road. A road trip to these destinations doesn't mean taking your car out and hitting the road. There's a lot of planning involved before heading out. Below are a few travel tips based on my experiences before venturing out on an Indian road trip:
If you are travelling with family plan your travel during day time. Target to start early in the morning and reach the hotel/destination by evening. Maximum distance to travel should be ideally be within 500-600 km in a day considering an average speed of 80-90 km/hour.
When you are venturing to a new destination, I strongly recommend for a satellite based navigation device (eg- MapMyIndia, TomTom). I do not rely on phone's GPS as it is dependent on availability of signals, which might an issue in remote locations.
Research and identify the point of interests (POI's) of every destination. Get details on distance from the hotel, average time required to explore them and availability of parking.
Research on best route and road conditions. Route suggested by Google is not always the best/shortest one. Check different forums (eg-

Team BHP

) for that.
Search and save the hotels, POI's and restaurants in a chronological order of travel on the GPS in advance. Some of the destinations might not be available on your GPS and you might need coordinates (latitude & longitude) to find them.
Hotel bookings should be done at least 4 months in advance to get a better deal. 

Most of my online hotel bookings are done via

makemytrip

and

yatra. Criteria of selecting and booking hotel online is: 
 Should be within the budget 

Positive user reviews (negatives should not be more than good)

It should be near the selected POIs.

Car parking should be available.

Hotel should be listed on Google, so that locating it on GPS is easy.

Give preference to hotels offering complimentary breakfast. This saves money and time spent in hunting of a good restaurant in the morning.

Research and identify good restaurants as per your food preference in that area.
Don't try to cover each and every point of interest. You cannot see everything unless you have ample time. It's better to visit the selected ones as per your interest.
 If the POI is located in congested area (most of them in India are in old parts of the city), where driving your own car is a hassle, leave your car at the hotel and use a public transport.
Get the car serviced. If it requires a new battery or tires, replace them. Get tires filled with Nitrogen. Nitrogen keeps the tires cool and minimizes air leaks, reducing frequent air checks.
Ensure that car papers (RC, insurance & PUC) are in order. Retain toll receipts till the end of the journey in case you are travelling to a different state. This might come handy in case of RTO checks.
Most of the monuments in India are associated with religious believes. You will need to remove your shoes before entering them. It is better to wear slipons or sandles when visiting them, so that you don't waste time in untying and tying shoe laces.
Top up the fuel tank as soon as the car's fuel gauge reaches the half mark. Don't wait for it to hit the reserve unless you know how far the next fuel station is. It is a good to check the fuel rates in the state you are visiting. You can plan your refills accordingly and save money.
During these trips, there is a high possibility of getting stomach infections. Ensure you drink bottled/filtered water and sanitize your hands before eating anything.
Carry medicines for common ailments like – headache, stomach upset, acidity, fever, body ache etc. Also have a few rolls of bandage, cotton and disinfectant in case of minor bruises/scratches.
If you have a Medical Insurance, carry the policy document/i-cards with you. God forbid but you never know when you might need it.
Call the hotels and confirm your bookings a month in advance before starting off with the trip. There have been instances with me when hotels have refused affiliation with the booking portals at the time of checking in.
Inform near and dear ones of your itinerary. Share the phone number of hotels you will be staying. Ensure to update them of your status once you reach your destination.
Carry printout of the itinerary and hotel booking vouchers.
Don't carry more than 2 cards (preferably a debit and a credit). Avoid carrying too much cash as it's a hassle to manage it and kills the fun of travelling.
Note down your expenses every day. Its keeps your expenses under your budget and also helps you to plan for your future trips efficiently.
Be flexible to change the travel plans as and when required. Remember that things always do not go as per plans.