The below travelogue is an itinerary of Weekend Road Trip to Dapoli from Pune. The trip was done during June 2018 and we visited the Raigad Fort on our return journey.
Dapoli lies in the Ratnagiri district of Maharashtra and is one of the popular tourist destinations in the Konkan belt (narrow region which extends through the western coasts of Maharashtra, Goa and Karnataka and is sandwiched between Western Ghats (Sahyadri) in the East and the Arabian Sea in the west). Dapoli is located at an altitude of 800 ft and is often referred to as "Mini Mahabaleshwar" because of its relatively cooler weather.
Dapoli itself does not offers much except that it is home of one of the largest Agriculture University – Konkan Krishi Vidyapeeth. It is recommended to stay in Dapoli only if you plan to spend some time in cool weather. If you want to spend time in sand and sun, it is better to look for an accommodation near any of the several nearby sea beaches.
With pristine beaches, temples, caves and forts scattered around, Dapoli makes a preferred weekend destination from Mumbai and Pune. Some popular tourist spots near Dapoli are: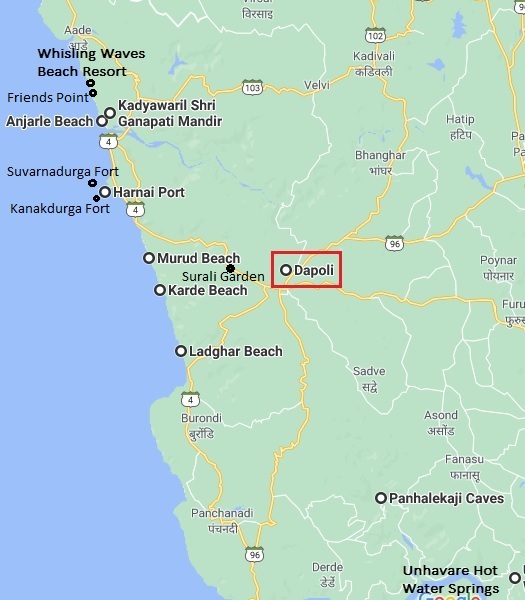 Beaches– Some of the popular beaches close to Dapoli are – Murud, Karde, Anjarle and Ladghar. Murud beach is one of the most popular one.
Harnai port – Harnai Fish market is famous for rich and fresh fish at cheap rate. Harnai Port consists of two forts – Suvarnadurg and Kanakdurga. During regime of Shivaji, Suvarnadurga was used as navy's shipbuilding facility by Marathas. Kanakadurg is in ruined condition with two broken bastions and old lighthouse. The lighthouse offers beautiful view of the sea. Suvaradurga fort is in the inside the sea, and can only be reached via a boat
Kadyavarcha Ganapati – The Ganesha temple is situated in Anjarle village. It is particularly known for Ganesha's trunk curved towards right which is rare. The temple is located on a hill and the view from atop is magnificent.
Panhalakaji Caves – The Panhalakaji caves are a bit far and off beat location and can be covered if you have a few days in your itinerary. It is situated deep in the valleys and is surrounded by jungle and river. There are close to 29 caves and many sculptures around. It is the best place for a history buff of adventure enthusiast.
Unhavare Hot springs – The Unhavare hot springs are situated in Unhavare Village which is 35 km from Dapoli. The hot springs are rich in sulphur which is said to be good for skin. This is the only attraction in the area and people come from nearby villages to take a bath in the hot springs.
Raighad Fort -The Fort is not in or near Dapoli but rather on the way to Pune. If you have time, you should include this fort in your Itinerary. (Check Road map under Itinerary for location)
When did we Visit Dapoli?
We visited Dapoli during June 2018. Though it's a bit hot and humid during this time of the year, we planned our visit as its relatively less crowded and you get a good bargain while booking hotels at prime locations. Another major reason of travelling during this time was to savour the famous Ratnagiri 'Hapus' mango, which is grown in abundance in this region and is available during this time of year only.
Note: While planning, I have taken inputs on road conditions from various threads on Team BHP and would like to thank the community for their contribution. Most of my online hotel bookings are done via makemytrip and yatra
There are a few things to keep in mind before venturing for a road trip in India and my blog can be referred for a few tips – https://travel-memoirs.com/travel-tips
We identified – Whistling Waves Beach Resort (Latitude: 17.866976 Longitude: 73.082391) for our stay. It's a budget resort on Savane Beach (North of Anjarle Beach) and is about 25 km from Dapoli. We booked a Delux non AC room via MakeMyTrip for 3 nights and costed us ₹ 4000. It is not very big resort and has limited availability of rooms but is managed well by Mr. Vinod and his family. The USP of this resort is tasty home cooked food and a private beach which is 5 minutes walking distance from the resort. You hardly get any mobile signals in this area so if you are looking for solitude, this is a place for you.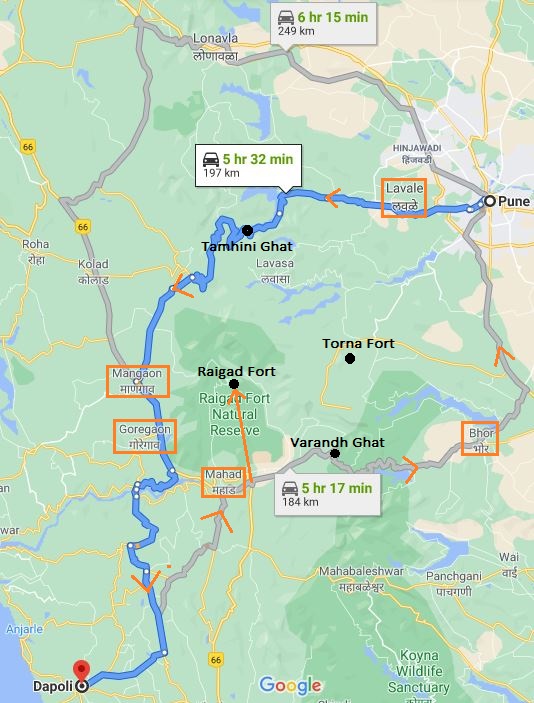 There are several routes to reach Dapoli from Pune. Out of them, two are most preferred as they are the shortest.
The first one passes via Lavale – Tamhini Ghats – Mangaon – Goregaon (197 km)
The second one is via Bhor – Varadh Ghats – Mahad (184 km).
We decided to try both the routes. The first one for reaching Dapoli and the second one while returning to Pune. We included Raighad Fort in our itinerary during the return journey from Dapoli.
We clubbed 2 additional days (Friday and Monday) along with the weekend to make it a 4 day trip, though Dapoli can easily be explored in 2 days as well.
Day 1: Drive from Pune to Dapoli
We left Pune after having breakfast. Drive till Dapoli takes about 6 hours. The plan was to have lunch at our booked resort in Anjarle. The drive though this route passes though beautiful Tamhini Ghats. When we reached the ghats, it had started raining which gave a beautiful background to the surroundings. We stopped at a few places to enjoy the scenic beauty of the Sayadris.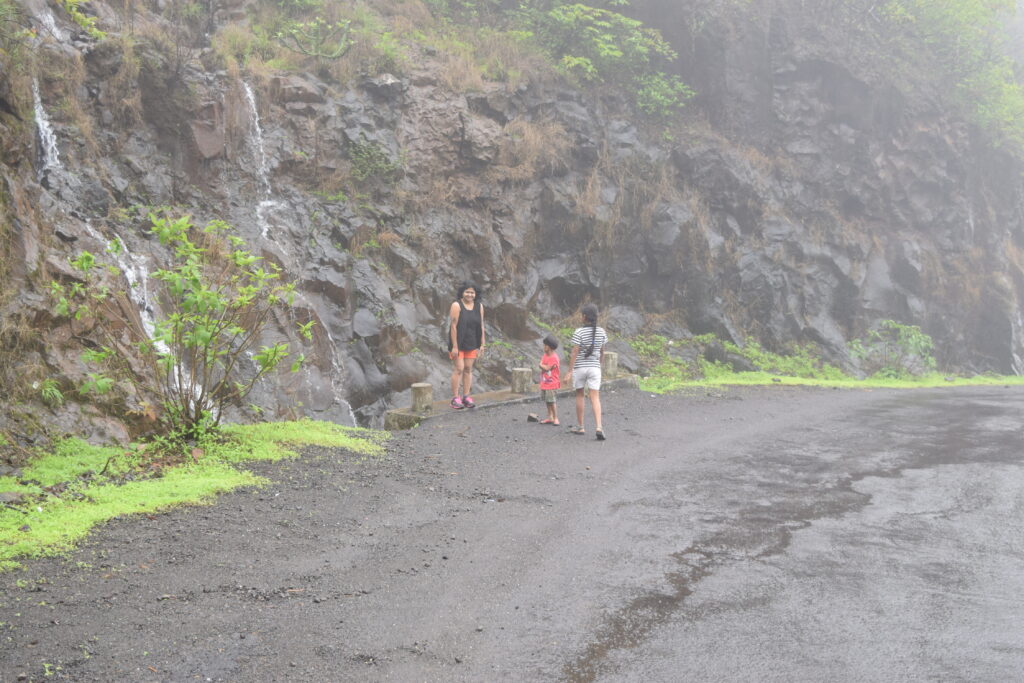 We had set our Resort as destination on our GPS. This caused us navigation issues as the GPS bypassed the main route to Dapoli and took an alternate short route passing via some very narrow and unmetalled roads. This delayed our destination by an hour. If you plan to visit Anjarle or any other nearby location, make sure that you drive via Dapoli. It adds a few kilometres but roads are wider and better.
By the time we reached Whistling Waves Resort, it was 3 pm. The caretakers had already made lunch for us which was getting cold. Without wasting much time, we had our food and took some rest. The evening was spent strolling through the narrow stretch of road which runs along the beach opposite to the resort.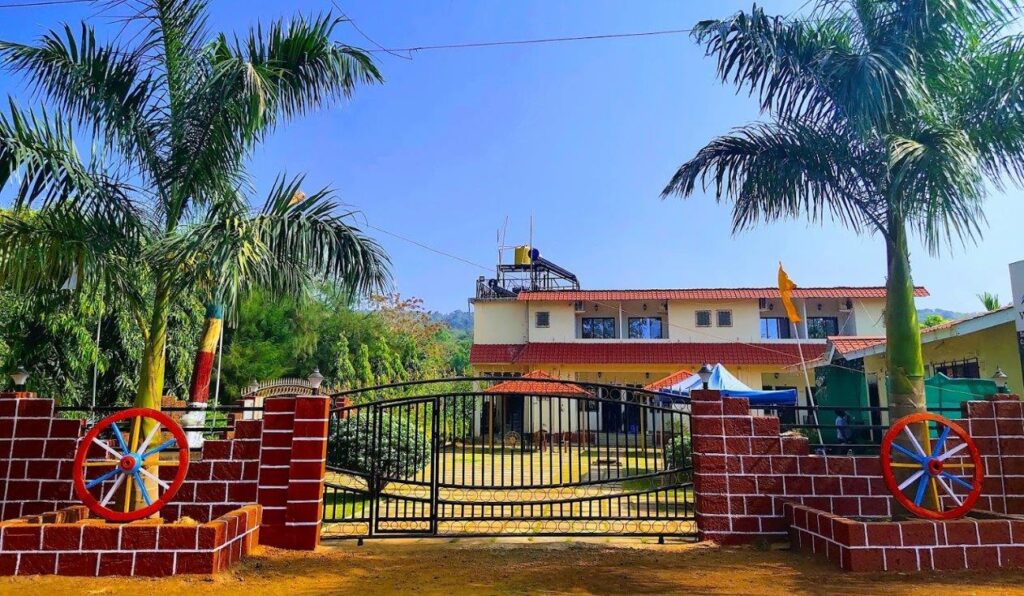 June is relatively hot and humid in the Konkan region. Needless to say, if you have lived in Pune for quite some time, you are not used to hot and humid weather of this region. The only saving grace was the pre-monsoon showers, which lashed almost every day in the evening and brought the temperature to normal.
The plan for 2nd day was to spend the day at the beach. We had of Poha and Upma in breakfast with a touch of Konkani taste.
We then headed towards the beach which is walking distance from the resort. The passage to the beach passes through a well-maintained garden maintained by the resort.
The USP of the resort in my view is proximity to a beach which gives you the feel of a 'private beach'. This was the first time that got to enjoy on a beach, where we were the only ones. The view from the beach is amazing. To your west is the vast never ending Arabian sea and on the East you have a backdrop of beautiful Sahyadris.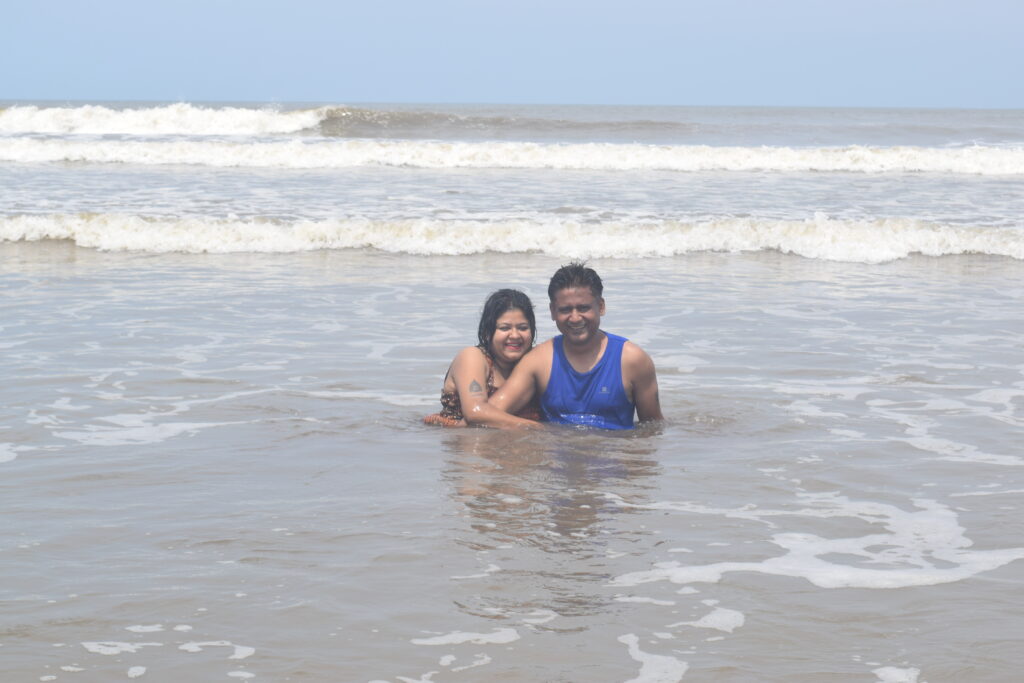 After spending a few hours, it was time for lunch so we got back to our hotel and washed ourselves to get rid of sand and salt. The lunch was spread of lentils and topped up with amazing solkadi which is a speciality of Konkan region and is made from coconut milk, kokam and curry leaves.
In the evening we drove to Kadyavarcha Ganapati. The Ganesh temple is situated in Anjarle village and can be reached by driving to a small Hillock. It's about 5 km from the resort and takes 15 minutes of drive. Though it's a relatively small temple, but view of Arabian sea from hill top is mesmerizing.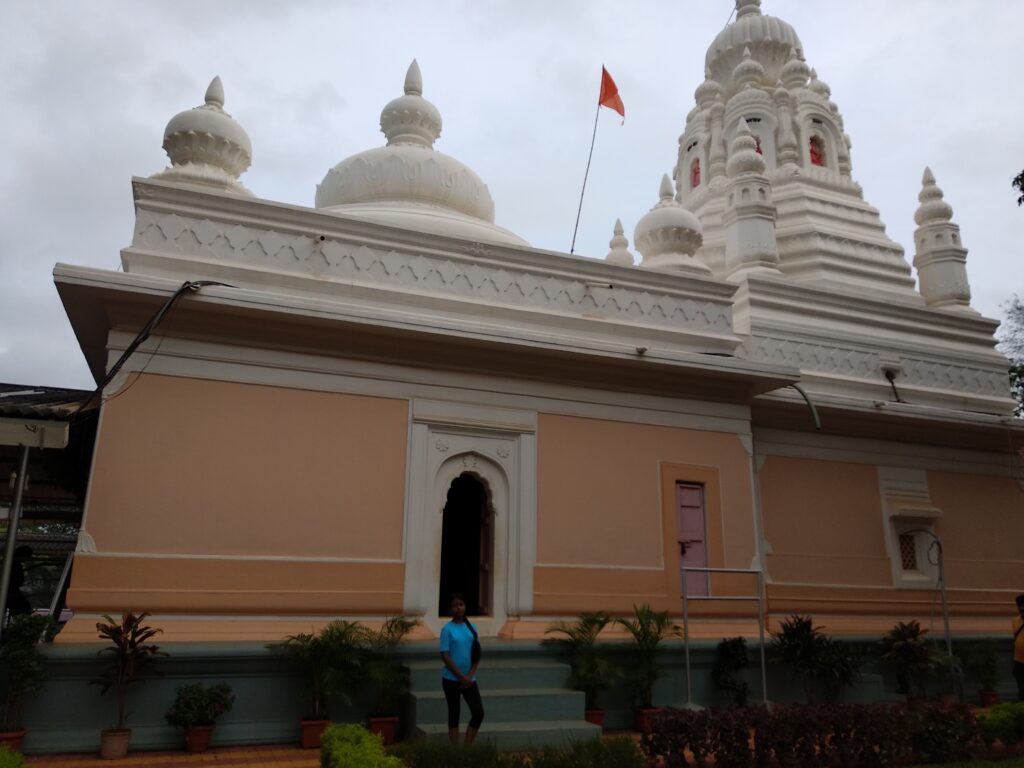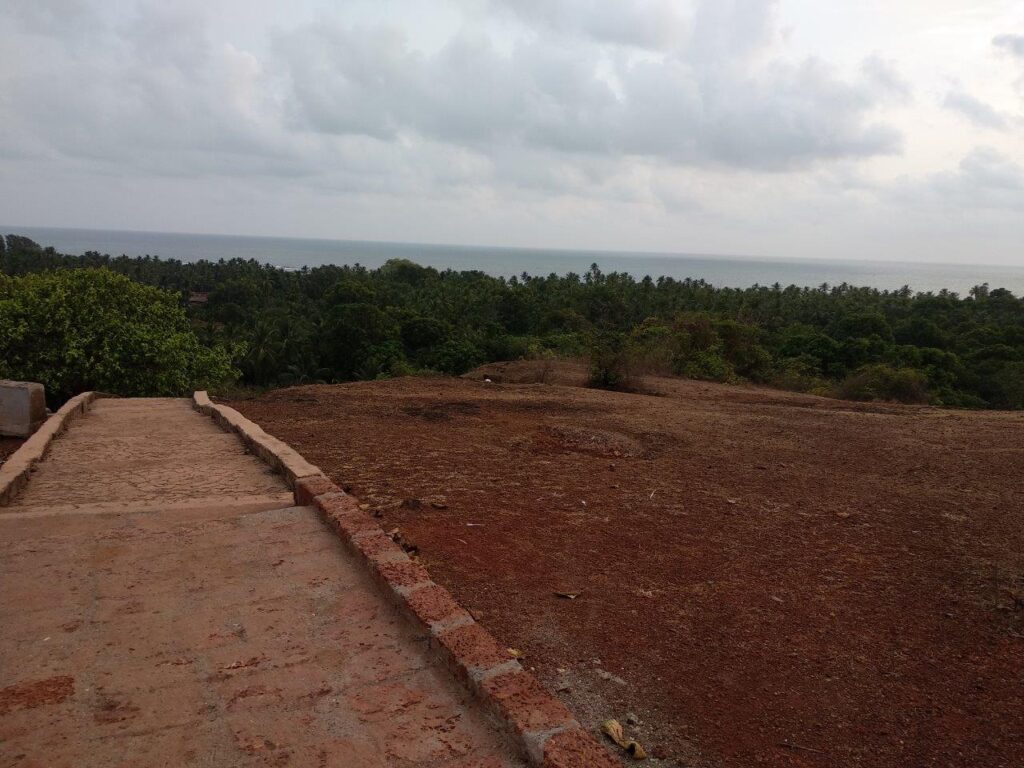 After offering our prayers, we spent some time in the vicinity of the temple and watched the sun set in the sea. Soon it started to get dark and we drove back to our hotel. By the time we reached there, the sky was covered with clouds and started raining heavily bringing respite to heat and humidity.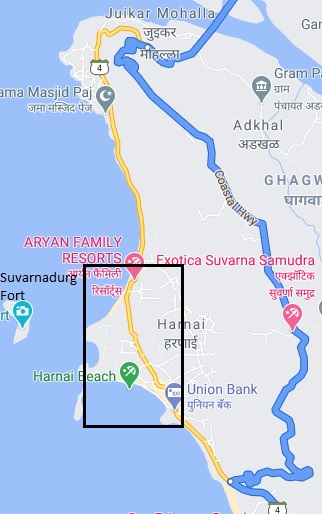 Day 3 was scheduled for visit to the Harnai port and visit the Suvarnadurg and Kanakdurga forts. Unfortunately, we had to skip the idea of driving through Harnai as the road passing through the city was too congested and narrow to drive through. We took an alternate route via – the Coastal Highway to bypass Harnai. If you plan to visit Harnai and the Forts, I would recommend to take a public transport instead.
The Coastal Highway passes through a mountainous region and is a driving delight. We got to view Harnai city from the hills while passing thought the highway.  Suvarnadurg fort was also visible from here.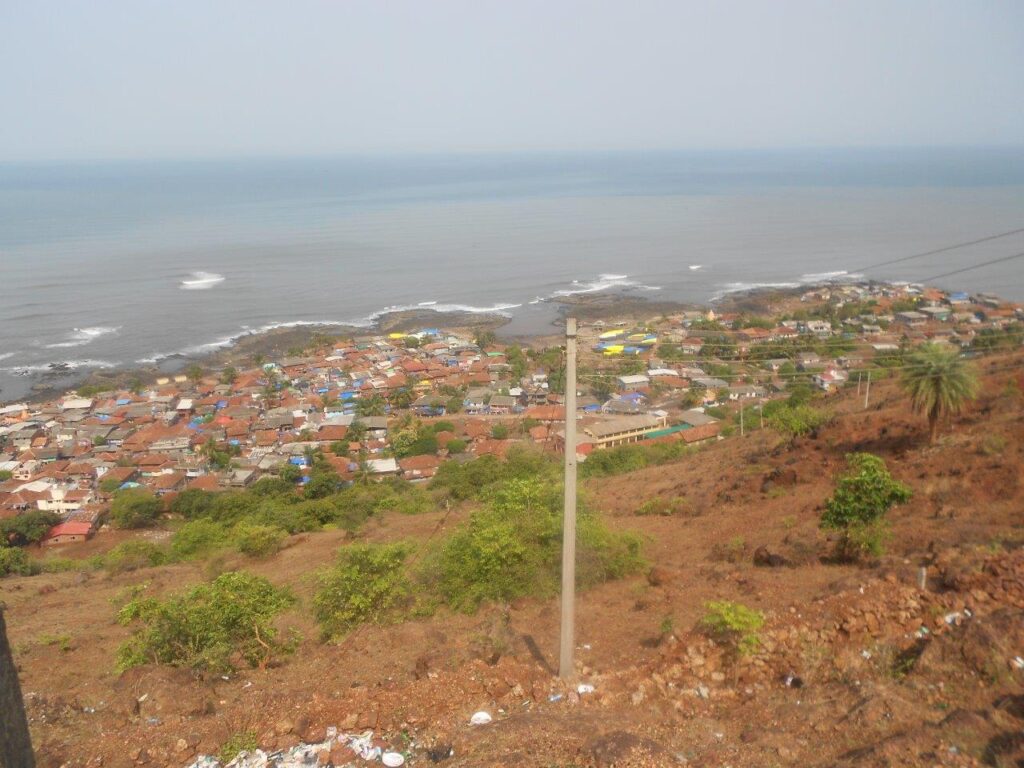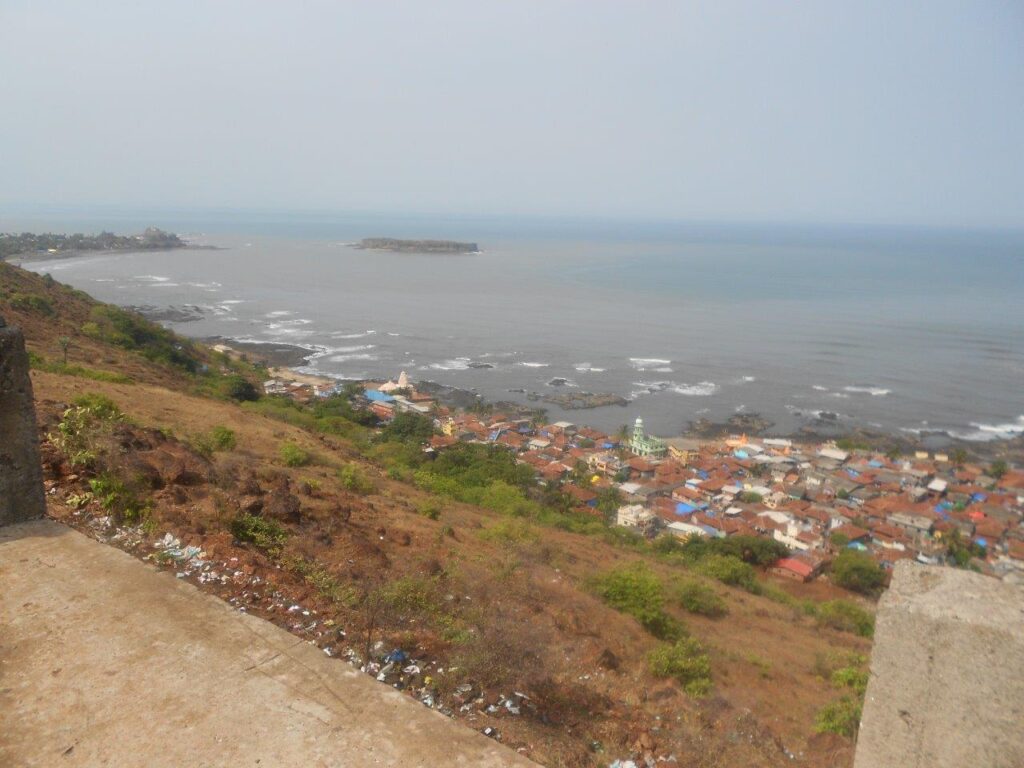 We soon reached the Murud beach. The road leading to the beach is narrow and unmetalled but you can drive till the beach which has ample parking space. Being one of the most popular tourist spots, it is always packed with people. You can enjoy thrilling water sports activities here such as parasailing, banana boat ride and much more. We spent some time on the beach and enjoyed quick bites of pop-corn and 'bhel-puri'.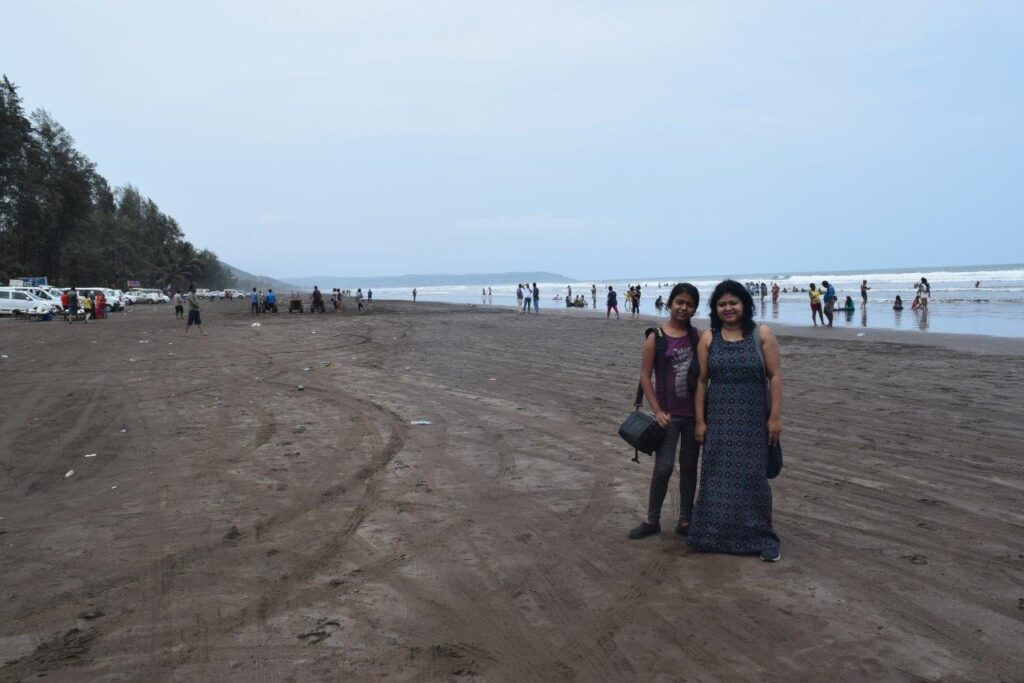 We had lunch at Surali Garden which is 7 km from Murud Beach on the way to Dapoli (refer map). The restaurant has got a lovely ambience and the dishes range from Punjabi, Tandoori, Chinese and Malvani sea food. This place is recommended in case you are near by Dapoli.
After lunch we drove back to our hotel and on the way got to view the famous Swarnadurga fort from the shore. We did not find means to reach the fort. On enquiry we were told that there are a few fishermen which on request (they charge some nominal money) sail to to and fro from the fort.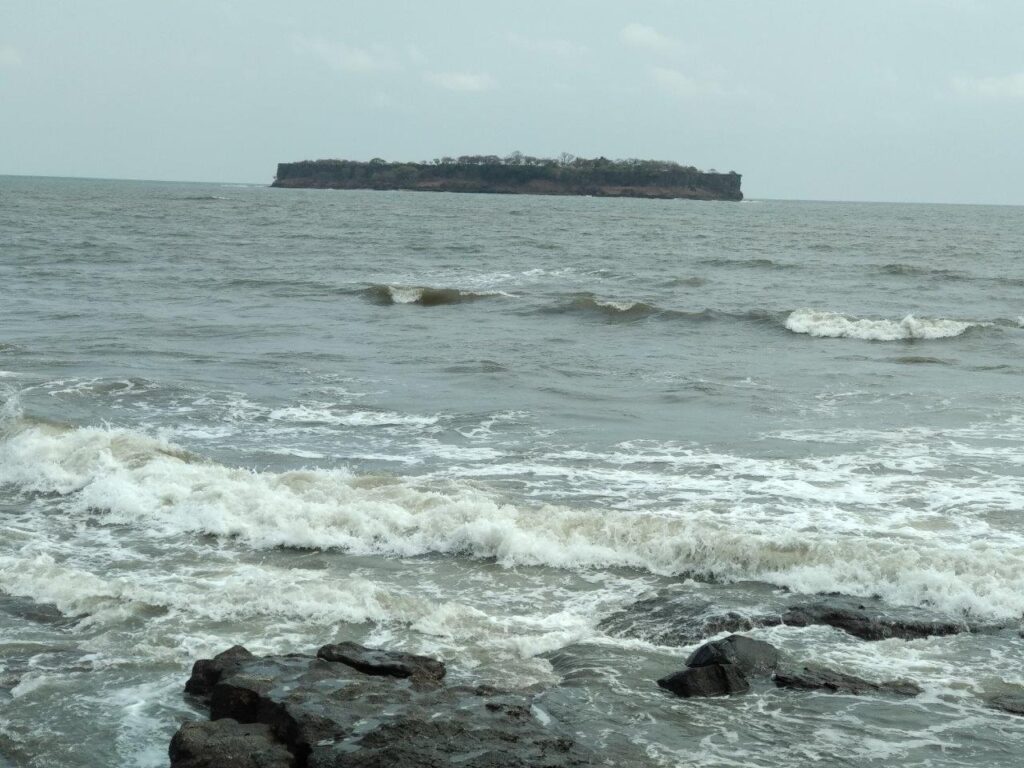 After reaching our hotel we took some rest. Noon time during summers is hot and humid in Konkan region and you prefer spending time inside your hotel room rather than outside
In the evening, the sky again started getting cloudy (for 3rd consecutive evening). We went for a walk along the road running parallel to the beach. It later started drizzling so we had to return back to our hotel where the caretaker had prepared 'kanda bhajia' (onion pakoras) which perfectly suited the weather.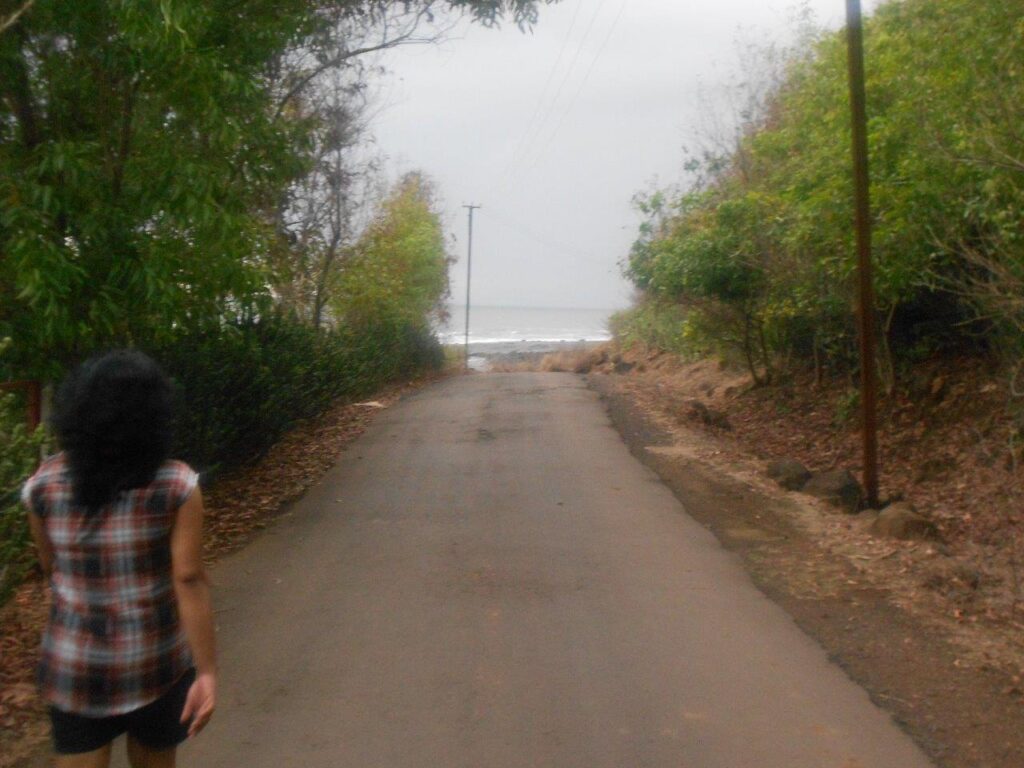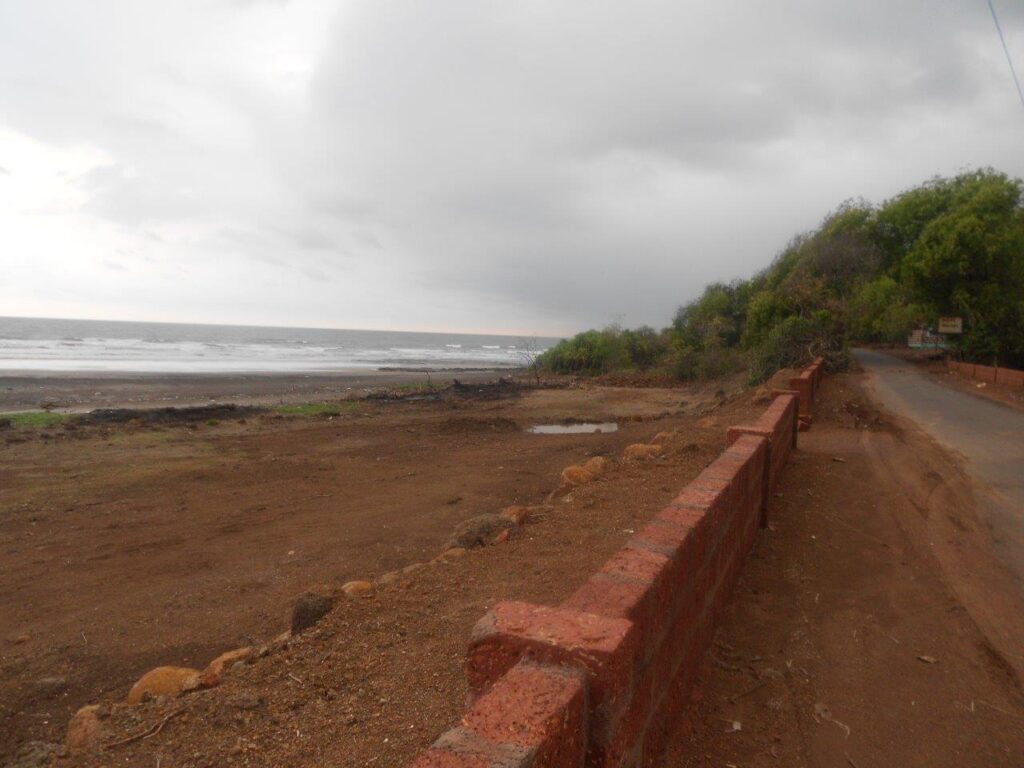 It rained heavily till mid-night and snapped the power supply and left us without electricity for for most of the night. We didn't complain much as the rain had brought down the mercury to a pleasant level, making it cool and pleasant.
We woke to a clear blue-sky morning. The overnight rains had cleared the air and washed the roads clean. We took a morning walk till the Friends Point, which is walking distance from the resort and is an elevated point along the beach. It gives a beautiful view of the sea from where you a sit back and enjoy the scenic beauty.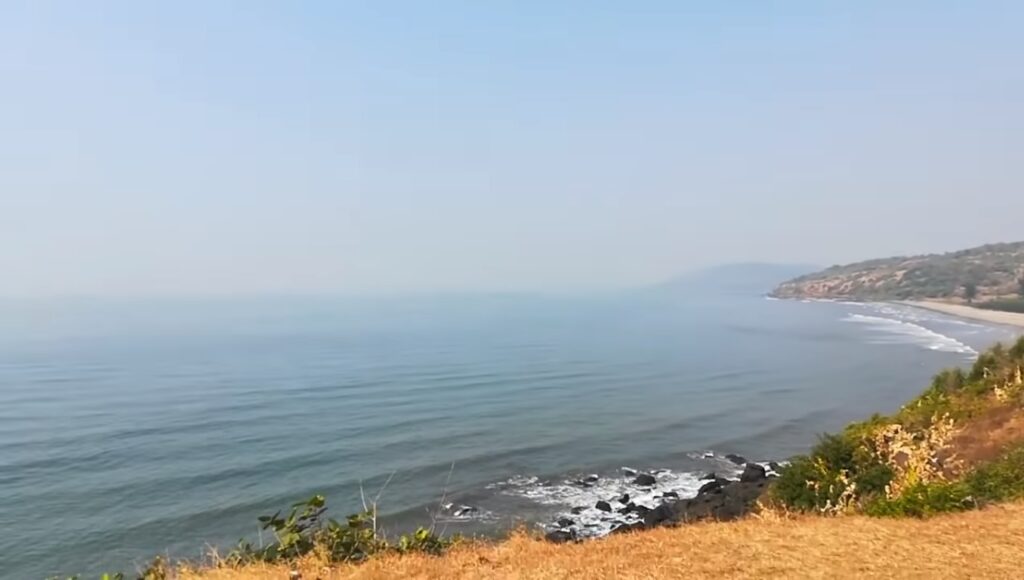 Back at our resort, we were treated with breakfast of 'thali peeth' (flat bread made from mixture of jowar, atta, bajra and rice flour). It tasted amazing with coconut chutni. We checked out by 10 am and were soon driving towards Dapoli.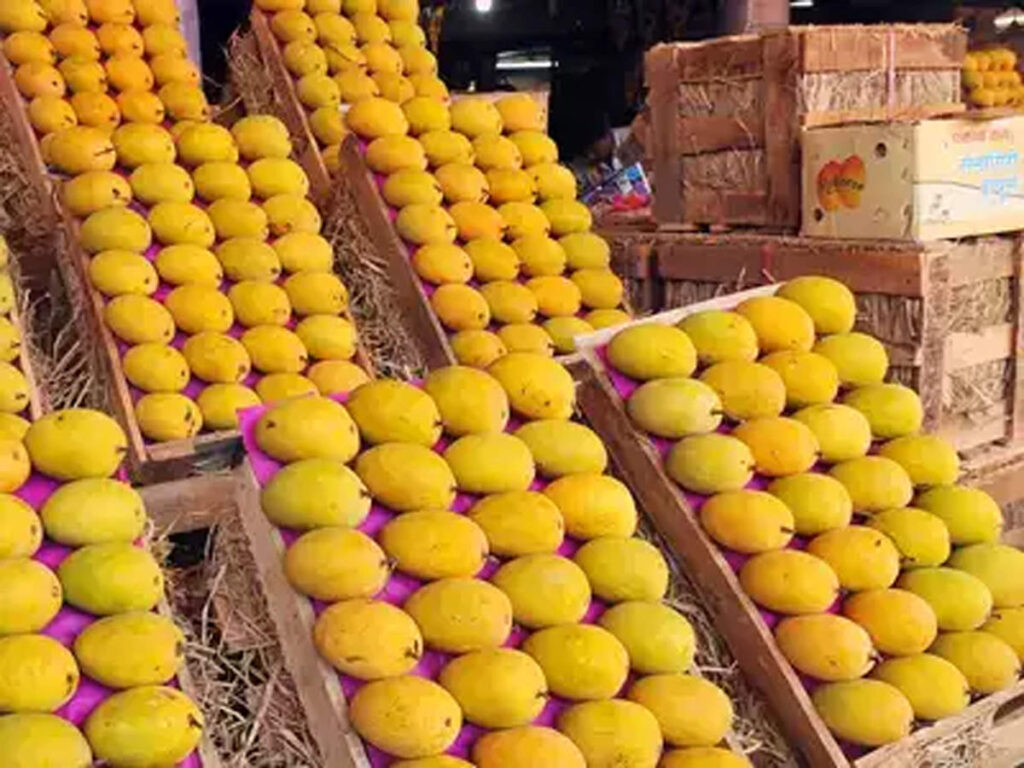 This was the time of year (Apr – June) when you get the famous Ratnagiri Alphonso ('Hapus') mangoes. Believed to brought in India by the Portuguese, Alphonso is one of the most expensive varieties and has a rich, creamy, tender texture and delicate, non-fibrous, juicy pulp.
Dapoli is lined with road side shops which sell authentic Hapus mangoes. Generally, a carton of 2 dozen (they are sold in count of dozens rather than weight) which costs ₹800-900 elsewhere in Maharashtra, costs about ₹ 400-500 here. We bought 2 cartons of mangoes to take back with us.
The next stop on our trip was the Raigad Fort which is 80 km from Dapoli and 160 km from Pune.  We reached the base of the Fort by 1 pm. The base has an ample parking space and there is the Ropeway which helps visitors to reach the Raigad Fort through the mist-laden clouds. The wait time for ropeway during peak seasons (monsoons) might go up to 2-3 hours, so plan your trip accordingly. After buying tickets for the ropeway, we had out lunch at one of the several restaurants at the base of rope-way station. After a wait for an hour, we got our turn and took the ropeway to reach the fort (or the remains of it).
Raigad is where Shivaji built his capital city. The fort is located in the Sahyadri mountain range, and is only accessible on foot from one side. The other sides are surrounded by deep valleys and steep mountains. Overtaken by Aurangzeb during Mughal period, Raigad Fort was later the target of an armed expedition by the British and the fort was destroyed.
In the present day, though the Raigad Fort is in ruins, foundation walls of queen's chambers, Shivaji's Palace and market place can be seen.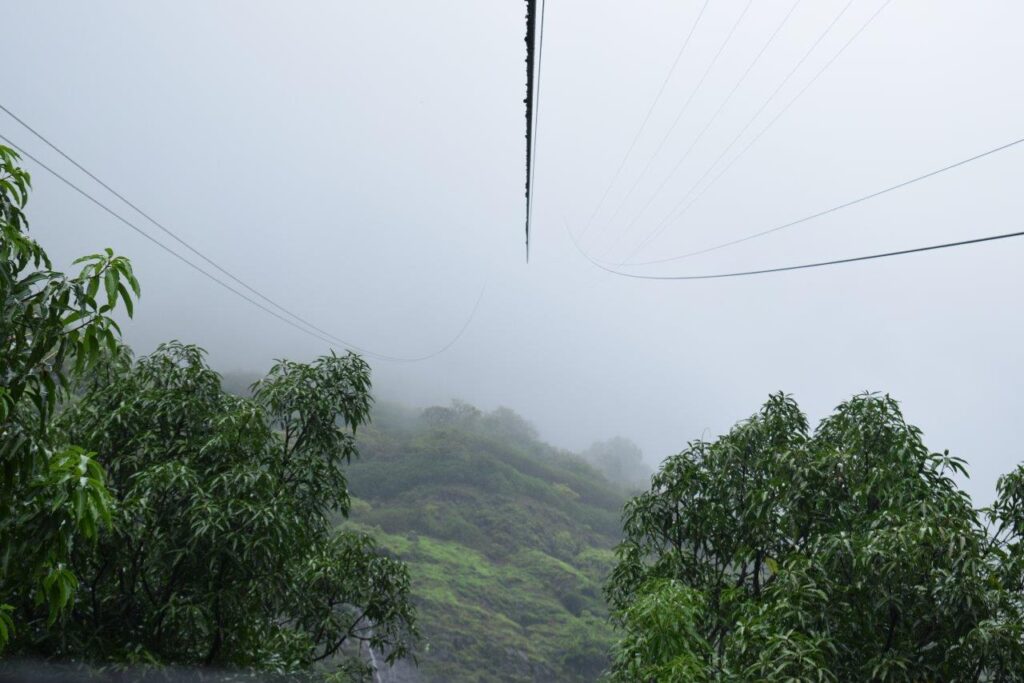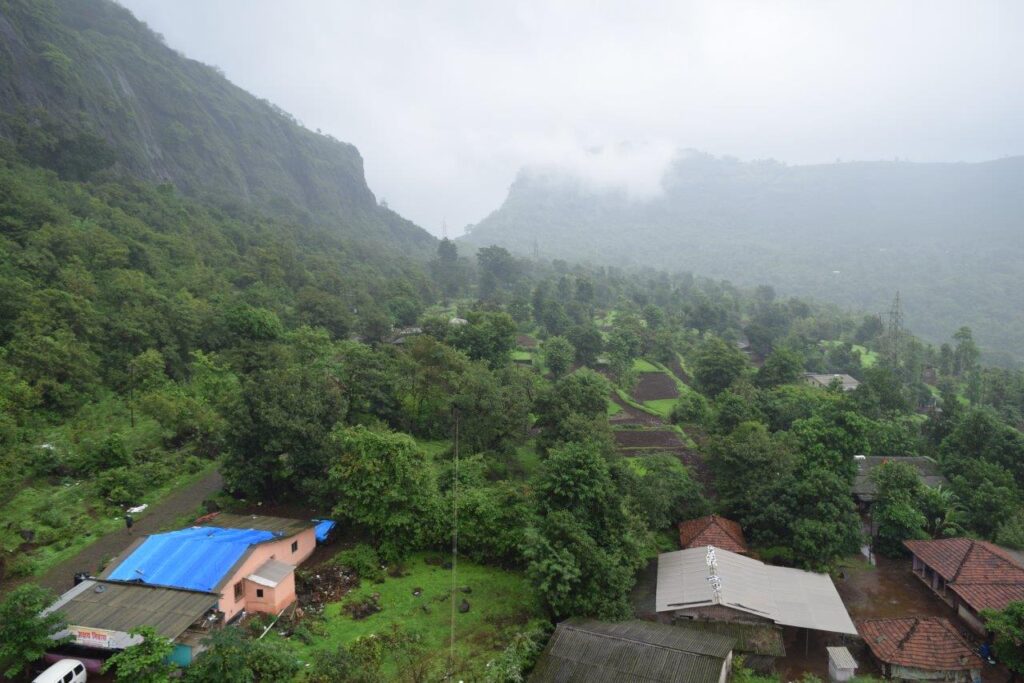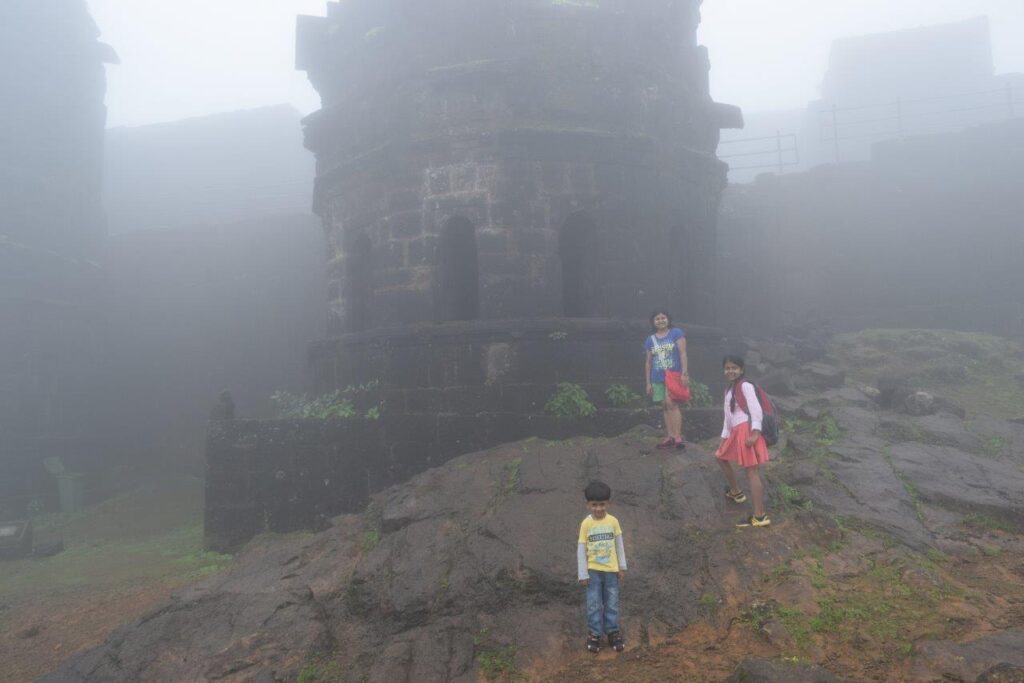 The air was filled with too much of mist that the fort was hardly visible, but it added to the beauty of the landscape. After spending an hour at the fort, we took the ropeway back to the base of the hill.
Out drive back home to Pune was 160 km and was going to take 5 hours, so without wasting much time, we were driving on our way back to Pune.  We took the route via Bhor – Varadh Ghats – Mahad. The condition of roads on this route is much better than the Lavale – Tamhini Ghats – Mangaon route (taken when driving from Pune – Dapoli). By the time we finished driving through the ghats, it was dark. Drive of few kilometres joined us to NH 48 (Pune-Bangalore Expressway) from where we zoomed into Pune in an hour.  When we reached home, it was 9 pm.
This brought an end to a fabulous 4 day trip to Dapoli.