Trip from Pune to the City of Nizams – Hyderabad
One of our close friends and neighbors in Delhi – Akshay and Aditi had relocated to Hyderabad. When we shifted to Pune in 2013, an extended weekend trip of 4 days was planned from Pune to Hyderabad to meet our friends and explore the beautiful city of Nizams during June of 2014.

Hyderabad is the capital of Telangana and is located at the banks of the Musi River. It was founded and ruled by Qutb Shahi dynasty for nearly a century before the Mughals captured the region. The Mughals created their own dynasty, known as the Nizams. Hyderabad became a princely state during the British rule and the city served as its capital. Post Independence it became the capital of Andhra Pradesh and in 2014, the newly formed state of Telangana split from Andhra Pradesh and the city became the joint capital of the two states.
Trip Itinerary
Pune to Hyderabad is approximately 560 km by road and requires a 12-13 hours of drive. Having done similar long trips in past, we could have covered this distance by car conveniently. The only challenge was that it was going to take us 2 days in to-and-fro journey and leave us little time to spend with our friends and explore the city.
In order to save time (and energy), we opted to travel by train. Pune-Hyderabad Shatabdi Express (No. 12025) runs on all the days except Tuesdays. It leaves Pune at 5:50 am and reaches Hyderabad at 2:20 pm (8.5 hours of journey). The same train (No. 12026) returns from Hyderabad at 2:45 pm and reaches Pune at 11:10 PM.
We booked to and fro journey tickets from Pune to Hyderabad for Friday and Monday respectively.
On quick research, we found the following places in Hyderabad match our interest and worth visiting – Golconda Fort, Salarjung Museum, Charminar and Ramoji Film City.
There are a few things to keep in mind before and during venturing for a trip in India. Refer to my below blog for details.
https://travel-memoirs.com/travel-tips/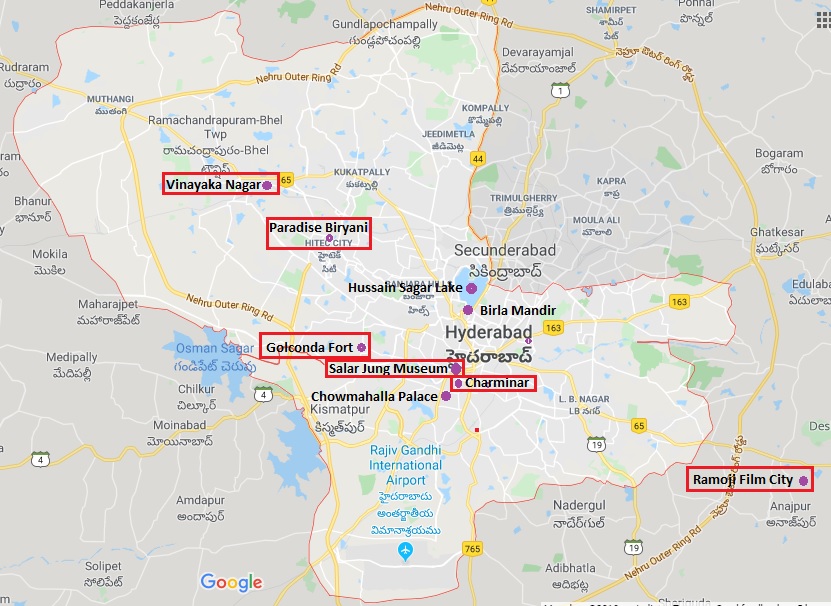 Day 1: Travel from Pune to Hyderabad
Early Friday morning, we boarded the Shatabdi Express from Pune railway station. The train passes via – Solapur, Gulbarga, Wadi, Tandur, Vikarabad & Begumpet. It consists of AC chair cars and offers breakfast and lunch. Overall, it is a good and convenient train and runs on time.
Akshay's family were staying in Vinayak Nagar, which is walking distance from Hafeezpet railway station. We crossed Hafeezpet at 1:40 pm but unfortunately, this station is not a scheduled stop for Shatabdi. The train stops at Begumpet, where we de-boarded and took a local train back to Hafeezpet.

We reached Akshay's residence at Vinayaknagar by 4 PM. The evening was spent visiting the nearby local market.
Day 2: Visit Golconda, Salarjung Museum and Charminar
Golconda fort lies on the Western edge of Hyderabad, wherein Charminar and Salarjung are in old central parts of the City. Ramoji Film City is on the South Eastern outskirts. Based on the locations of these POIs, we decided to visit the Golconda Fort followed by Salarjung museum and Charminar on Day 2 and kept a separate Day 3 for Ramoji Film City.
We started our day with visit to Golconda Fort, which is 15 km from Vinayak Nagar and takes about 40 minutes via an auto-rickshaw
Golconda Fort
Entry Fee: ₹ 15 person, ₹ 25 for Still Camera . Open All days of the week 8:00 AM – 5:30 PM (as in 2014)
The name is derived from Telugu words "Golla Konda" meaning "Shepherd's Hill". According to the legend, a shepherd boy, while walking along the hill, discovered an idol of god. When the news of the idol came to the ruler of Kakatiya dynasty, he decided to build a fortress on the hill. The foundation of the Fort was laid down during 12th century and was later expanded by the Qutb Shahi dynasty. The fort finally fell into ruins after a siege and its fall to Mughal emperor Aurangazeb. It is said that Golconda fort used to be a famous diamond market attracting merchants from all over the world. It was at Golconda that the famous Kohinoor and Hope diamonds were stored.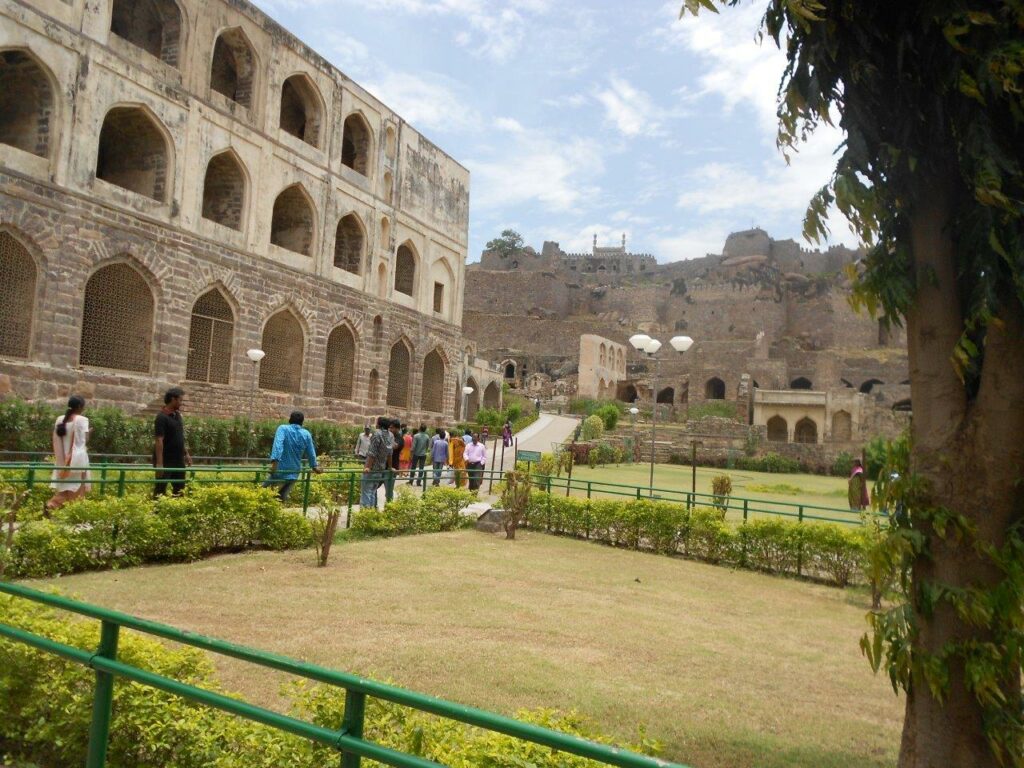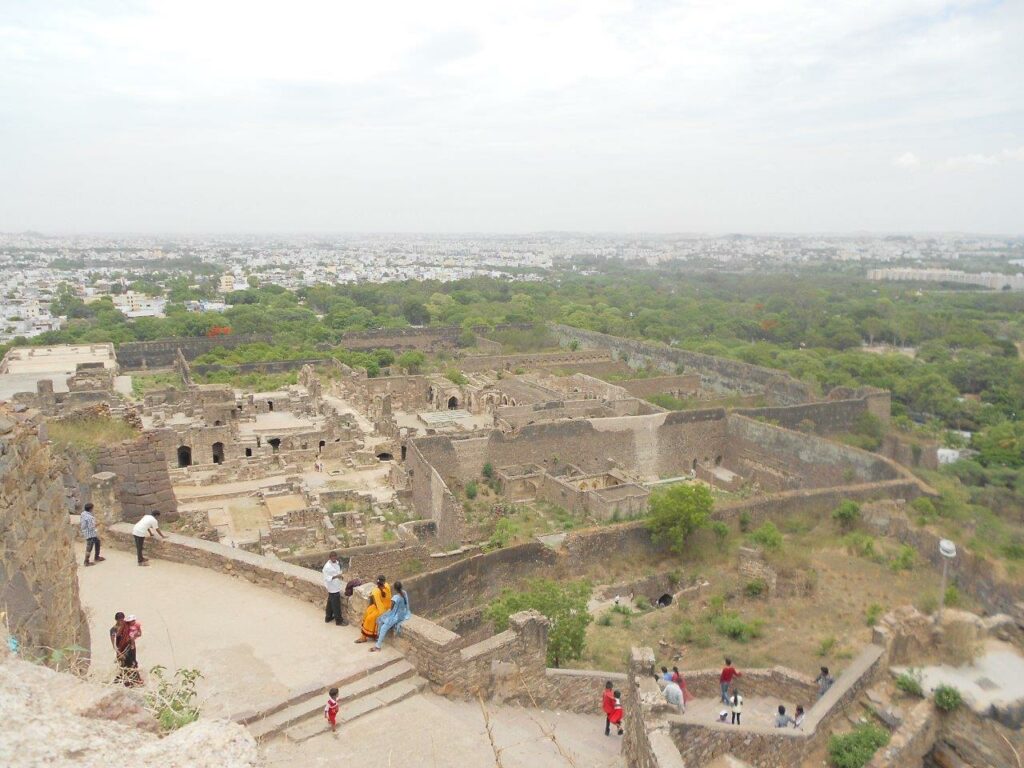 Within the fort, there is a Mahakali Temple in the middle of two rocks. The temple is very small in size but still many devotees come to pray here.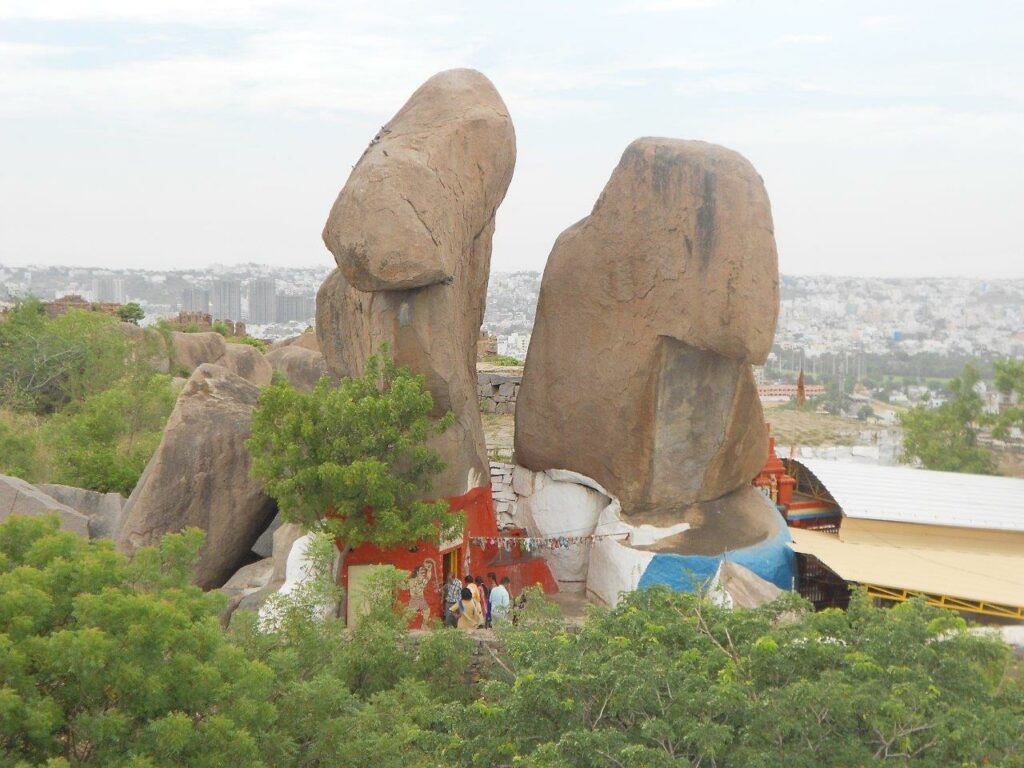 The fort is spread in a very huge area and surrounded by huge boundary walls. View of the city from the top of the fort looks amazing.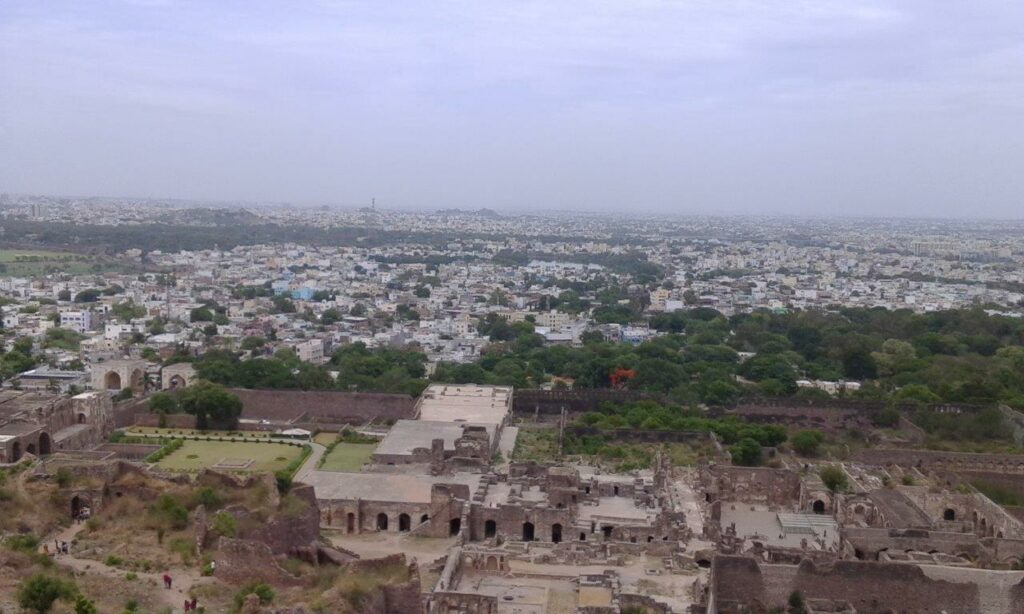 After a exhilarating trek to the fort, Salarjung Museum was next in our list. The museum is 10 km from Golkonda Fort and takes about 40 minutes to reach by an auto rickshaw.
Salarjung Museum
(Entry Fee: ₹ 20 for Indians ₹ 50 for Still Camera. 10 am-5 pm. Closed on Fridays – as in 2014)
It is the third largest museum in India housing the biggest one-man collections of antiques in the world. It is well known throughout India for its prized collections belonging to different civilizations dating back to the 1st century. Nawab Mir Yusuf Ali Khan Salar Jung , the Prime Minister of the seventh Nizam of Hyderabad, spent a substantial amount of his income over thirty five years to make this priceless collection, his life's passion.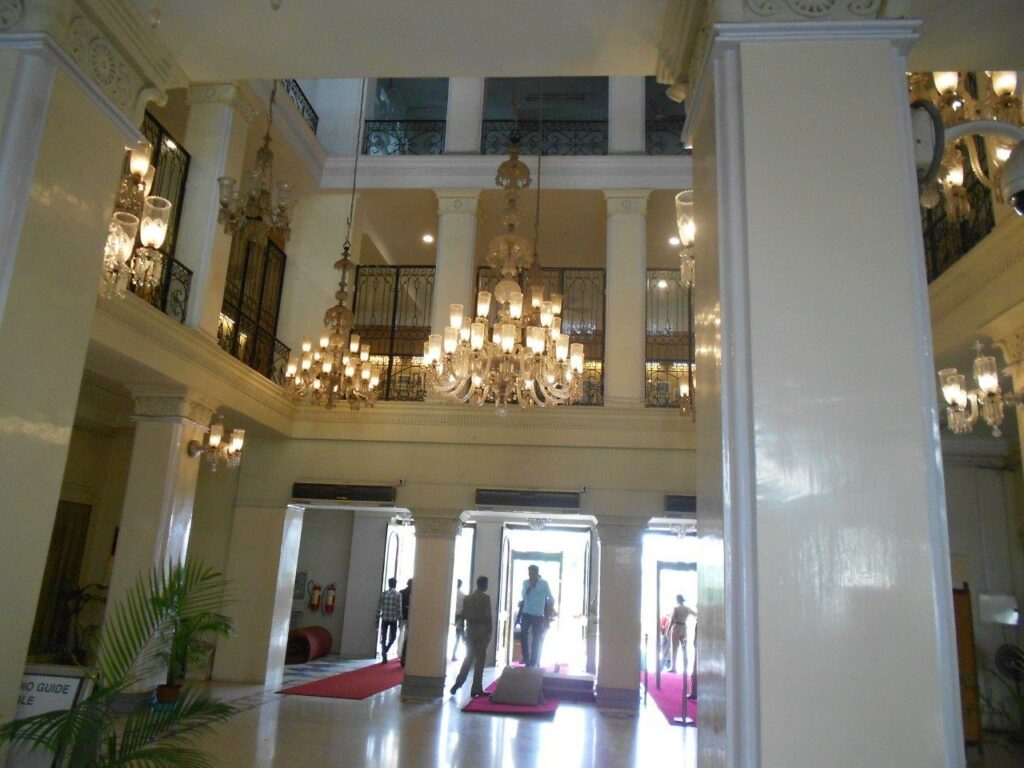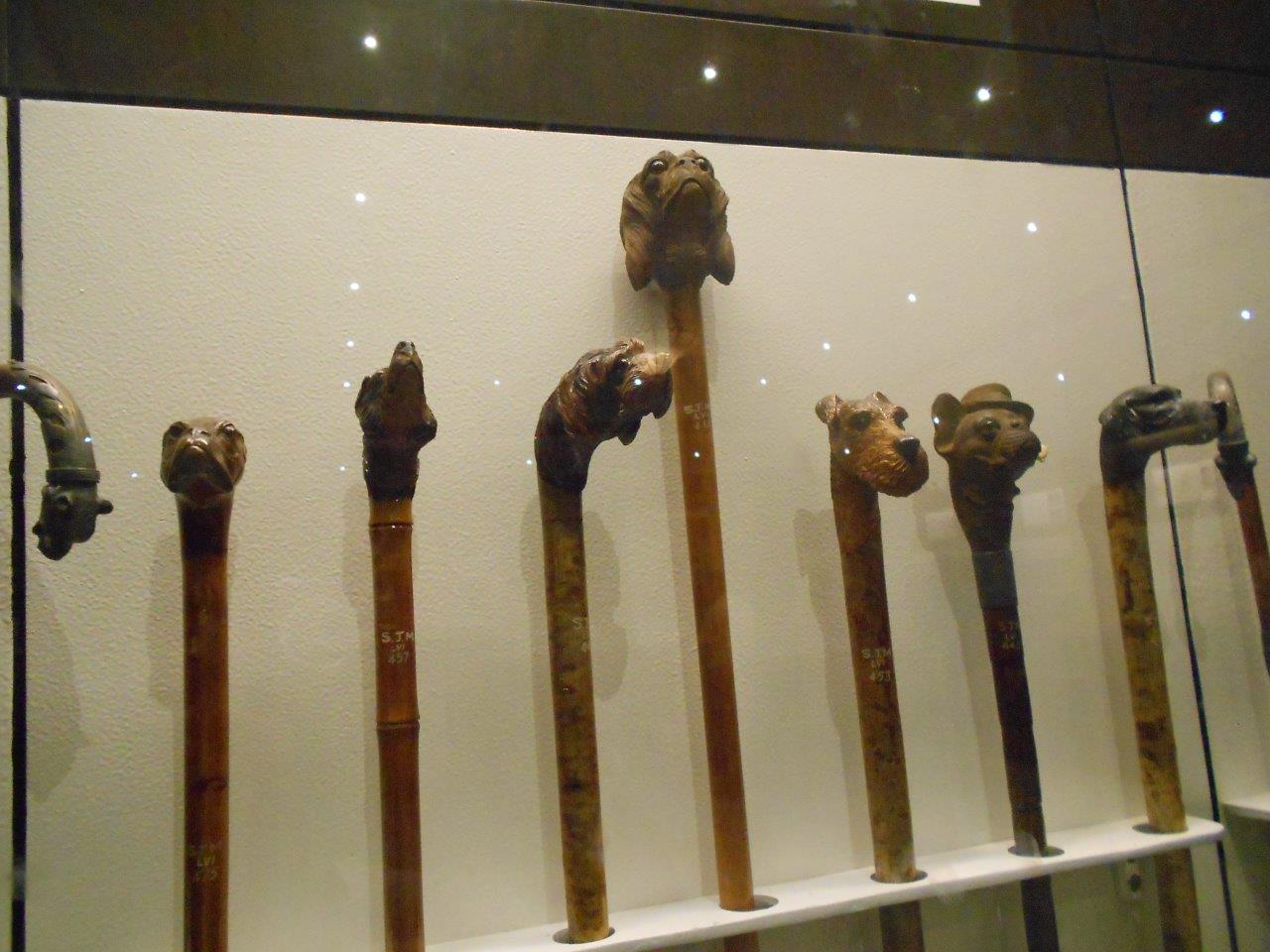 Charminar
Walking distance from the Salarjung Museum is Charminar. It is located in the heart of the city's main bazaar and is crowded with shops, stalls, markets and shoppers around it. It's the main landmark of Hyderabad and was built by Mohammed Quli Qutb Shah in 1591 to commemorate the end of Cholera epidemic in the city. It's a square structure with four arches with minarets atop each column (hence the name Charminar – 'four minarets'). The crowded local market around this monument takes away some of the sheen out of it. I started to compare it with Lucknow's famous "Rumi Darwaza" which in view is probably more majestic.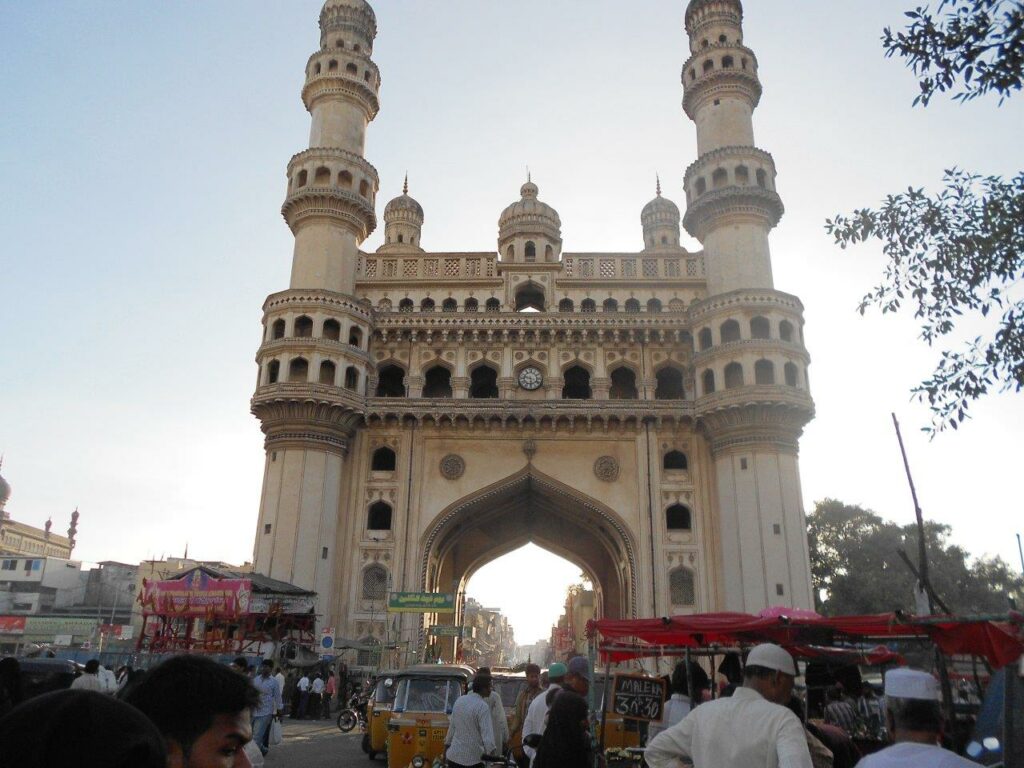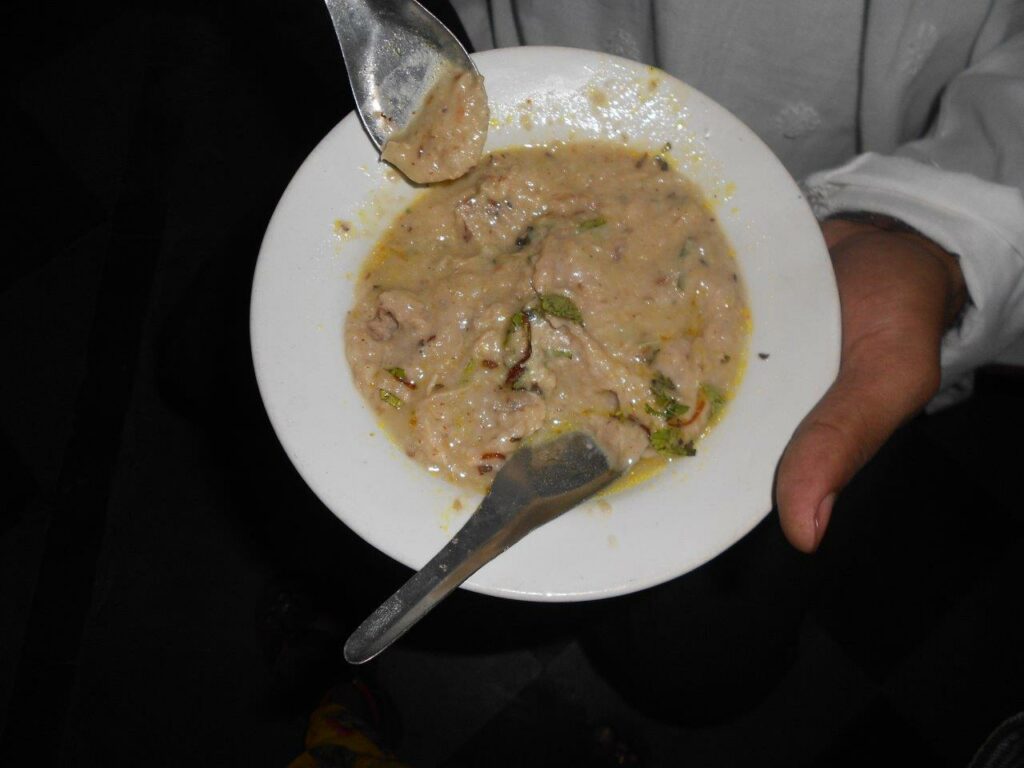 The narrow by lanes around the Charminar reminds of the Old Delhi's Chandni Chowk. We tried the famous Hyderabadi Haleem (made from meat, lentils and pounded wheat made into a thick paste) from one of the many shops selling the famous Arabian dish. I found the dish to be a moderately flavored. I probably required a couple of more tastings to develop a taste for it.
If you are in Hyderabad, and are a foodie, you cannot miss trying the famous "Paradise" biryani. The only problem is that sometimes finding the 'real' Paradise becomes a challenge. The whole area around Charminar is flooded with various shops with similar names – like "New Paradise", "Old Paradise", "Real Paradise" etc. We tried one of the decent looking restaurant for biryani, but found it to be a damp squib as it was dry and had a bland taste.
After visiting the most iconic attractions of the city and a bit of hard luck with the food, we hired an auto and returned back to Vinayak Nagar and retired for the day.
Day 3: Visit Ramoji Film City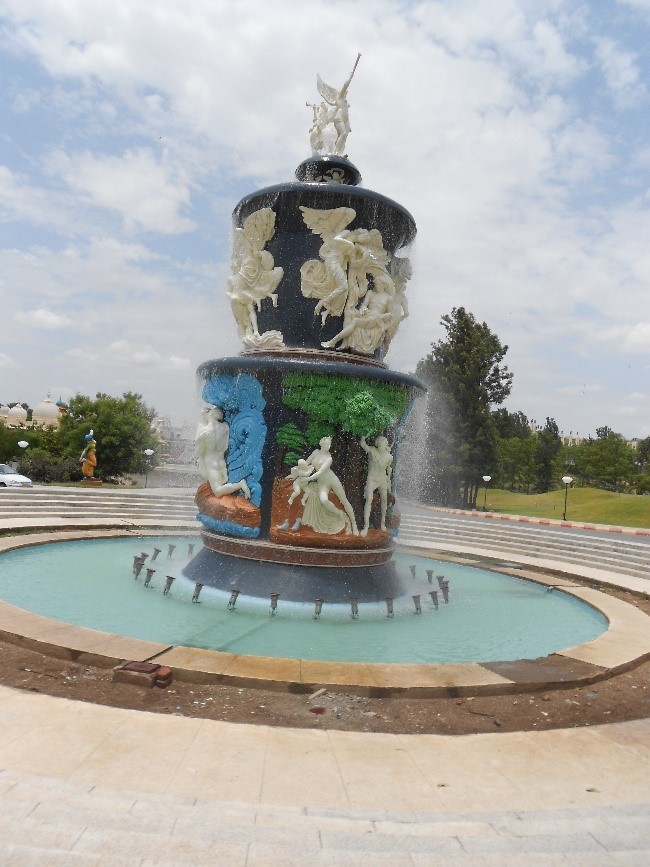 Located at about 30 km from Hyderabad, Ramoji Film City has been certified by the Guinness World Records as the largest studio complex in the world. Akshay helped us book a cab from Securdarabad railway station for Ramoji, as it was costing us comparatively cheaper than booking a direst cab from Vinayak Nagar. We boarded a local train till Securdarabad station. After a wait of few minurtes our cab arrived and we were on way to Ramoji.
Ramoji is on the outskirts of the city and takes about 45 minutes to reach from the station.
The film city was built by Telugu film producer Ramoji Rao in 1996. This place offers behind the scenes experiences of live movie sets and shoots-in-progress. There are guided bus tours to let the visitors see all the sites and live movie sets. If you are a fan of Indian movies, you will find many locations where scenes from various movies were shot.
Entry fee of ₹ 900 for adults and ₹ 800 for children (3-12 years old). 9 am – 5:30 pm (no entry after 3 pm) ** as in 2014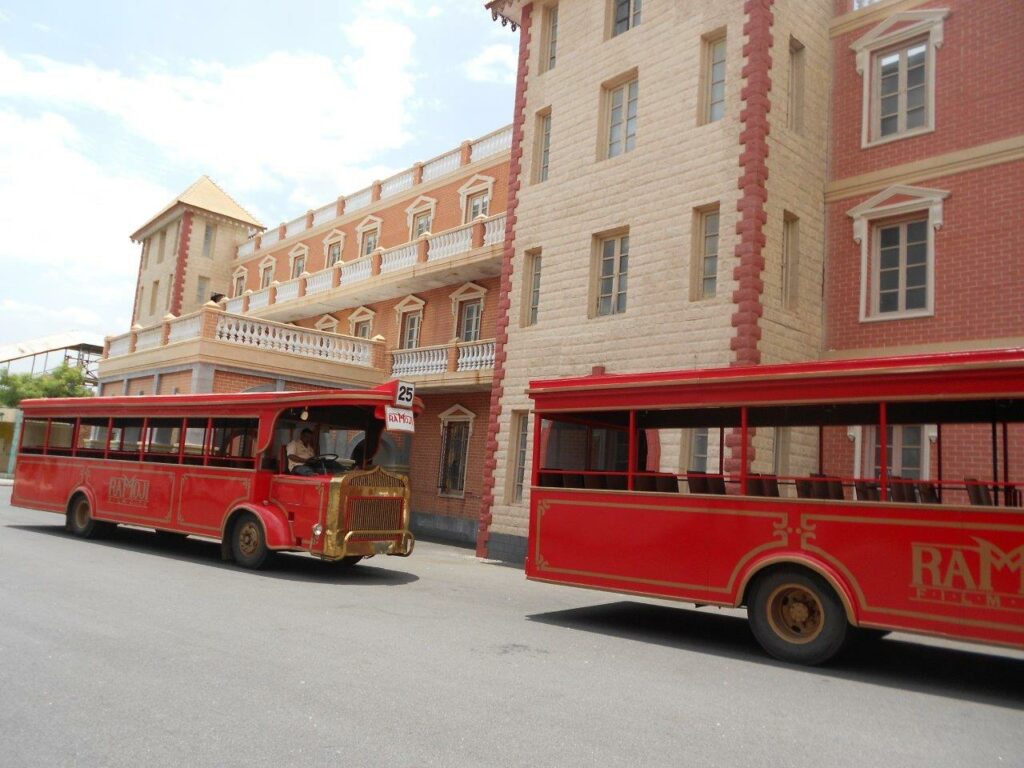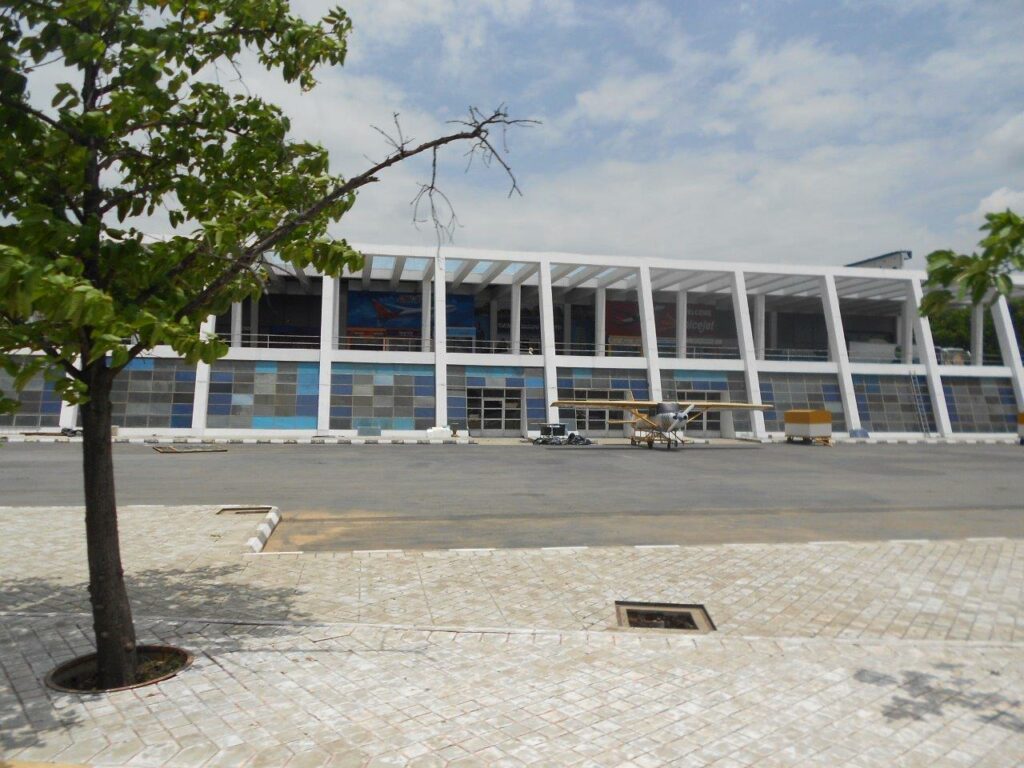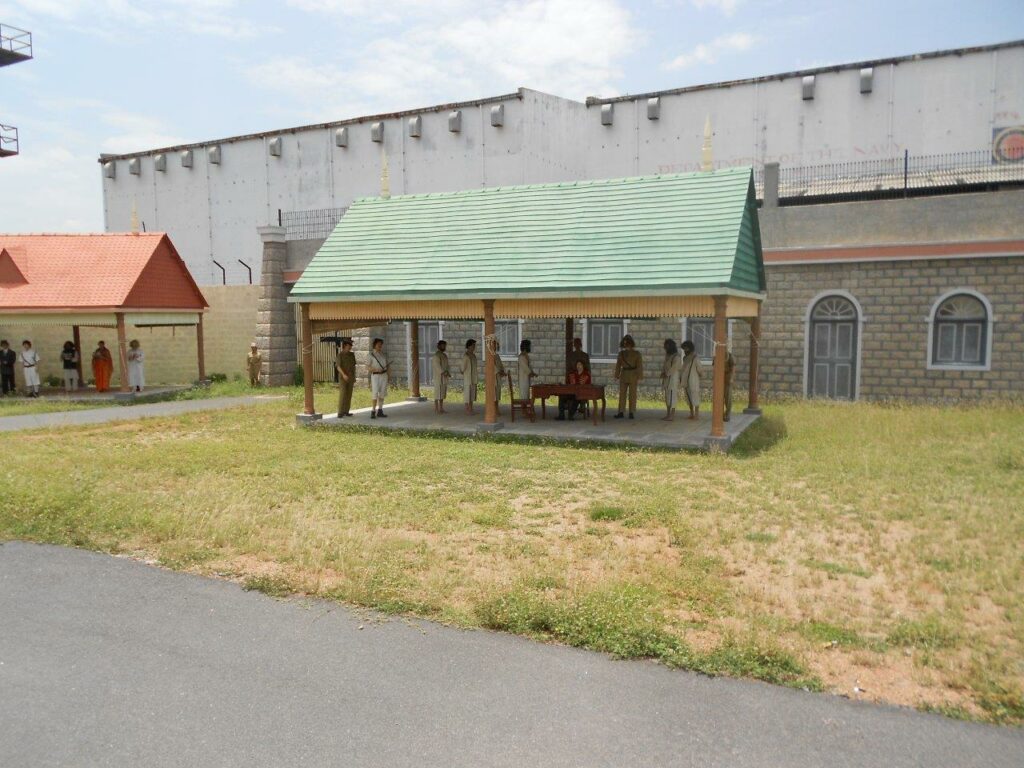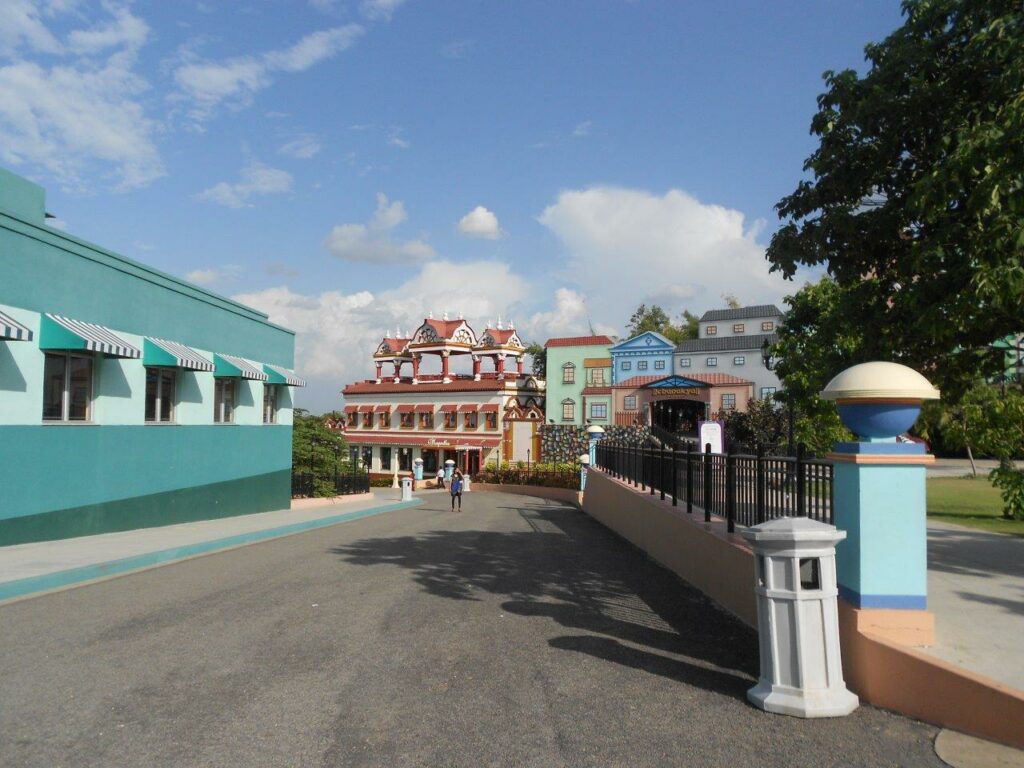 One of the shows – 'Spirit of Ramoji' takes you through the different stages of film making. Another one – 'Wild West Stunt show', takes you through the behind the scenes involved in shooting actions scenes in the movies. The place has got amusement parks and restaurants.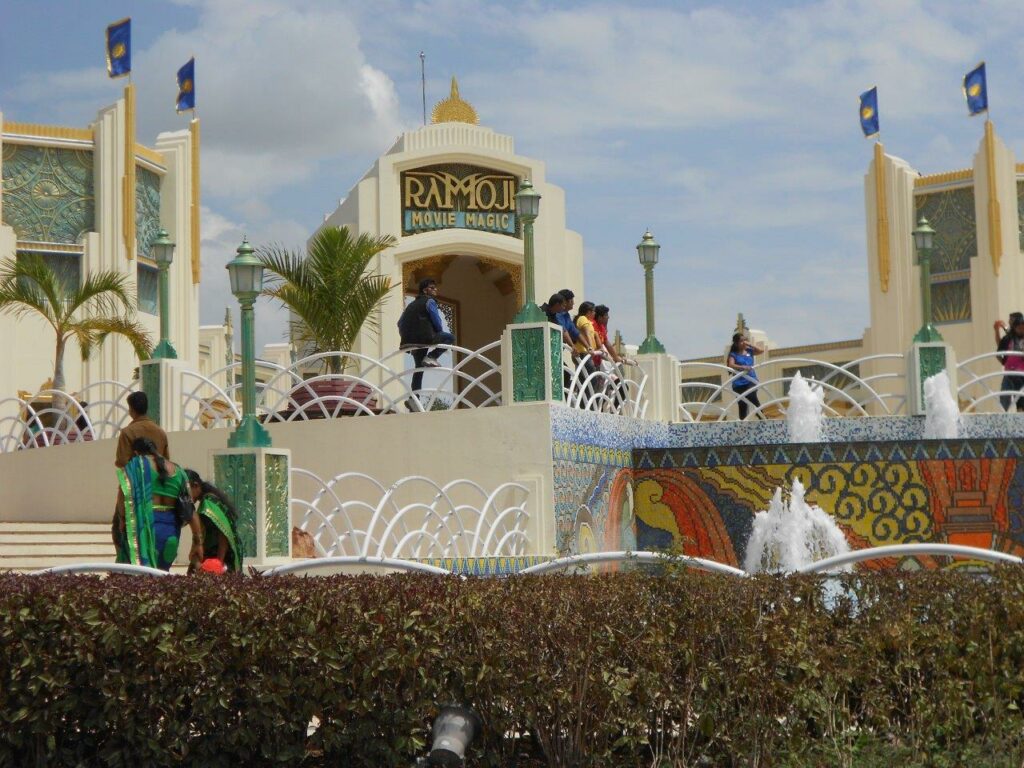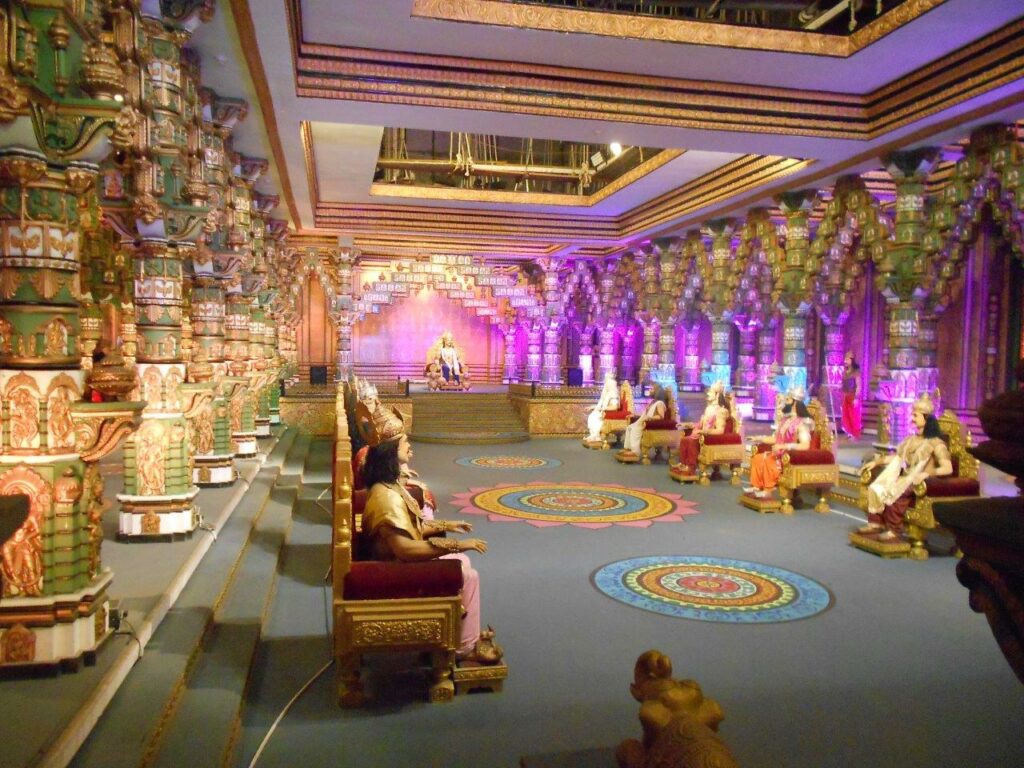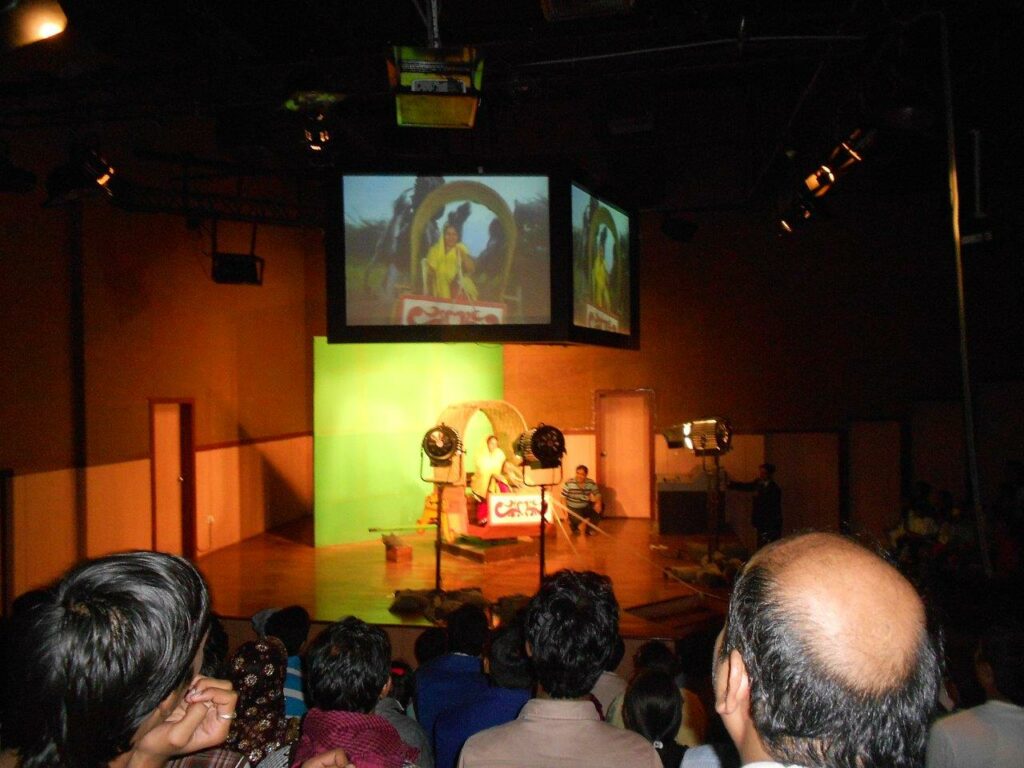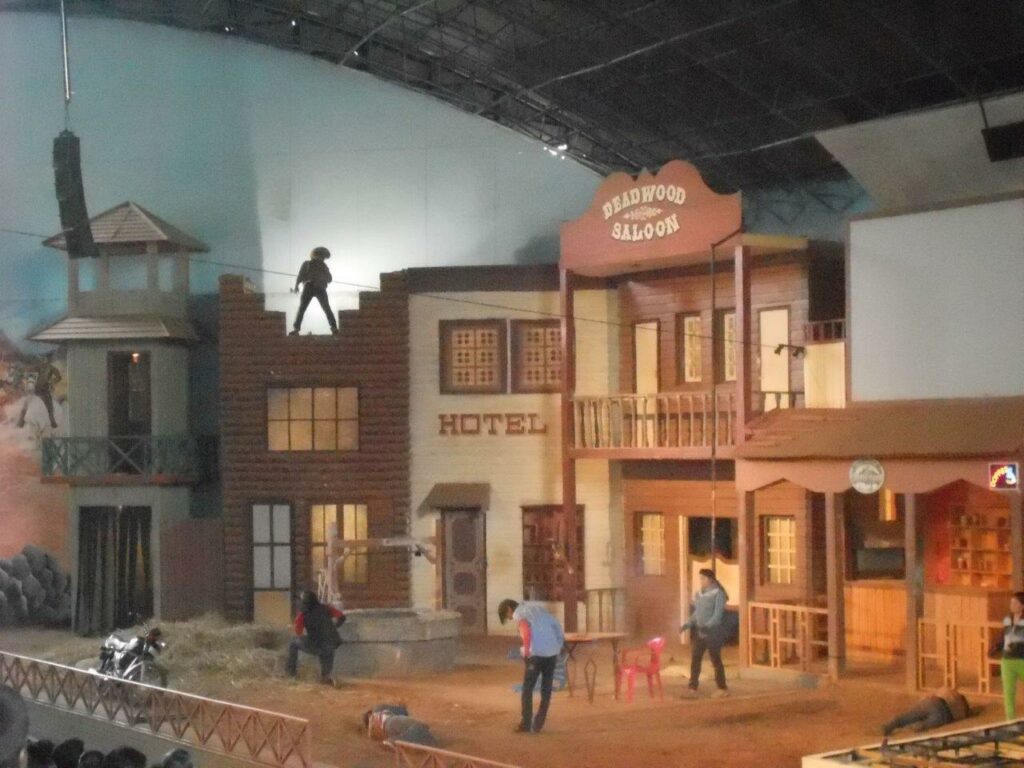 If you are an avid bird watcher, then the bird park – "Wings" is a must visit place for you. A vast enclosed green area with birds chirping, creates a melodious environment. An artificial waterfalls adds to the perfect ambiance for this enclosure. A variety of exotic bird species can be spotted here.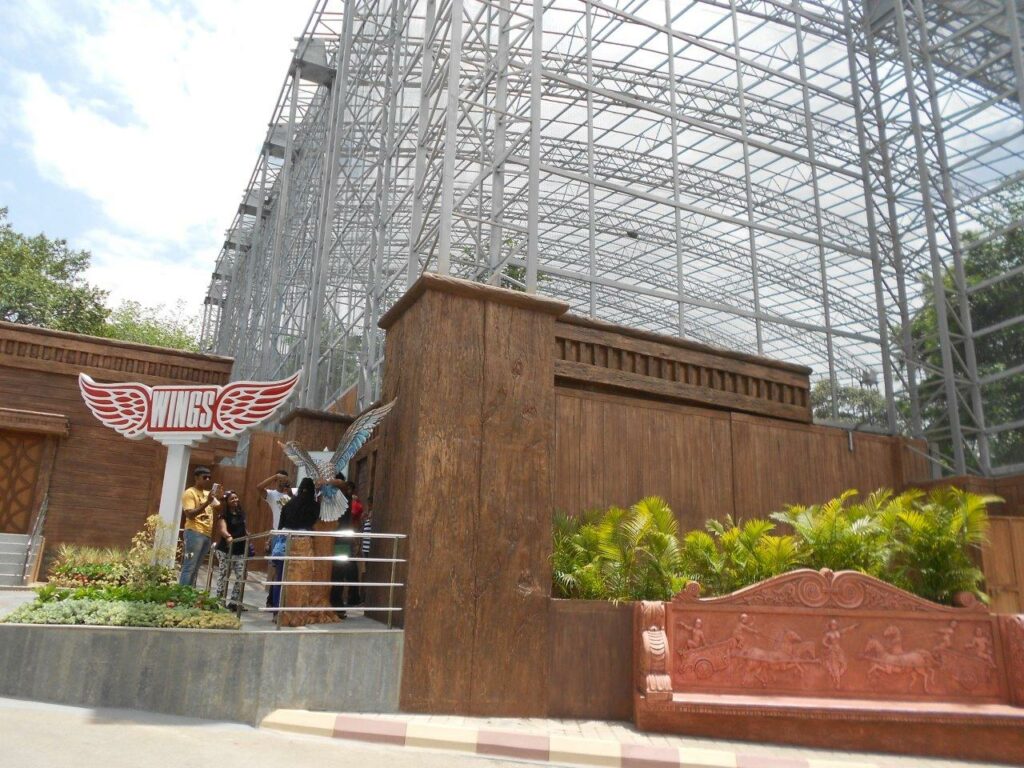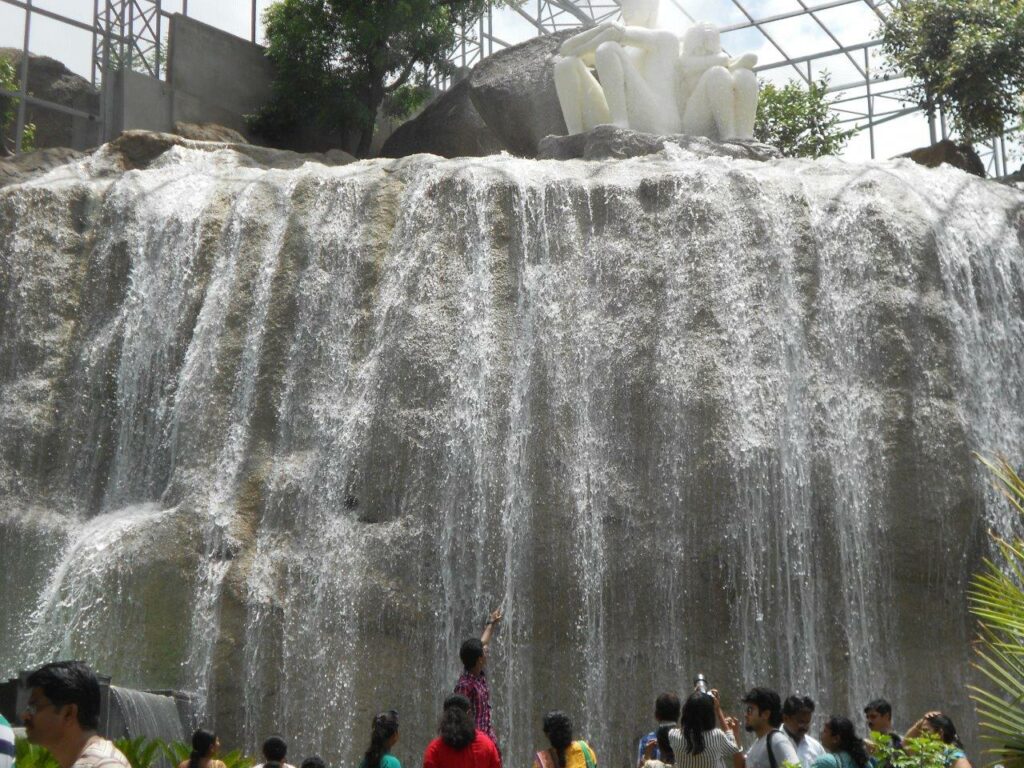 In addition to the above, there are several other attractions like – Japanese garden, Butterfly park, Bonsai garden and Kripalu caves which are worth visiting.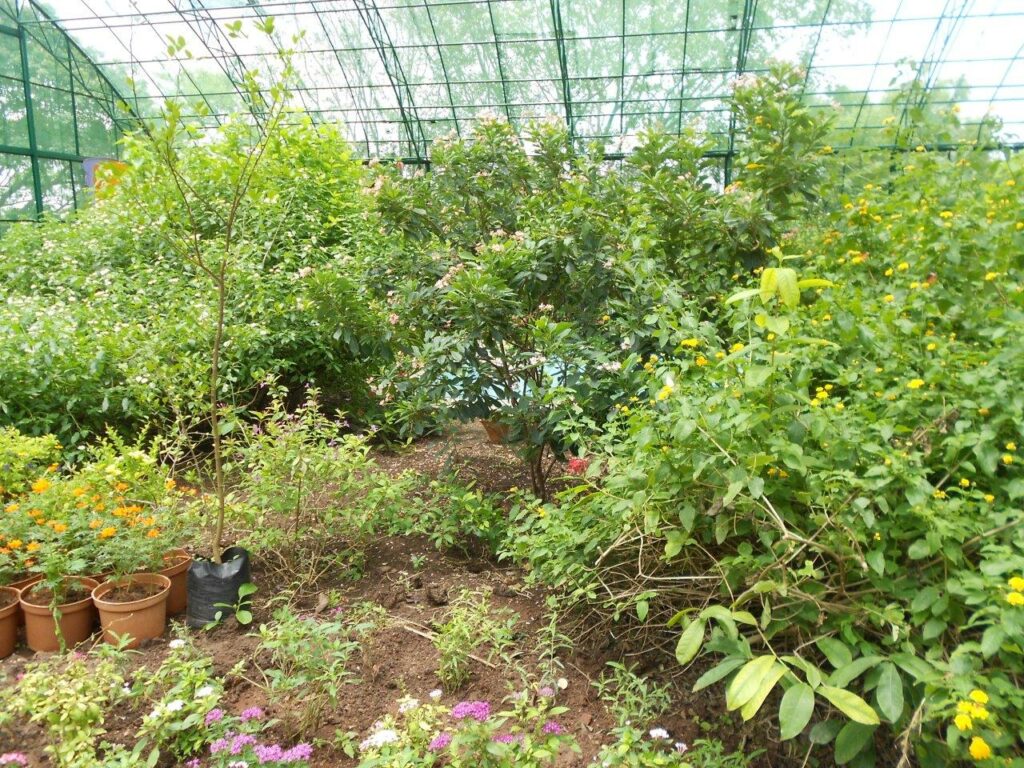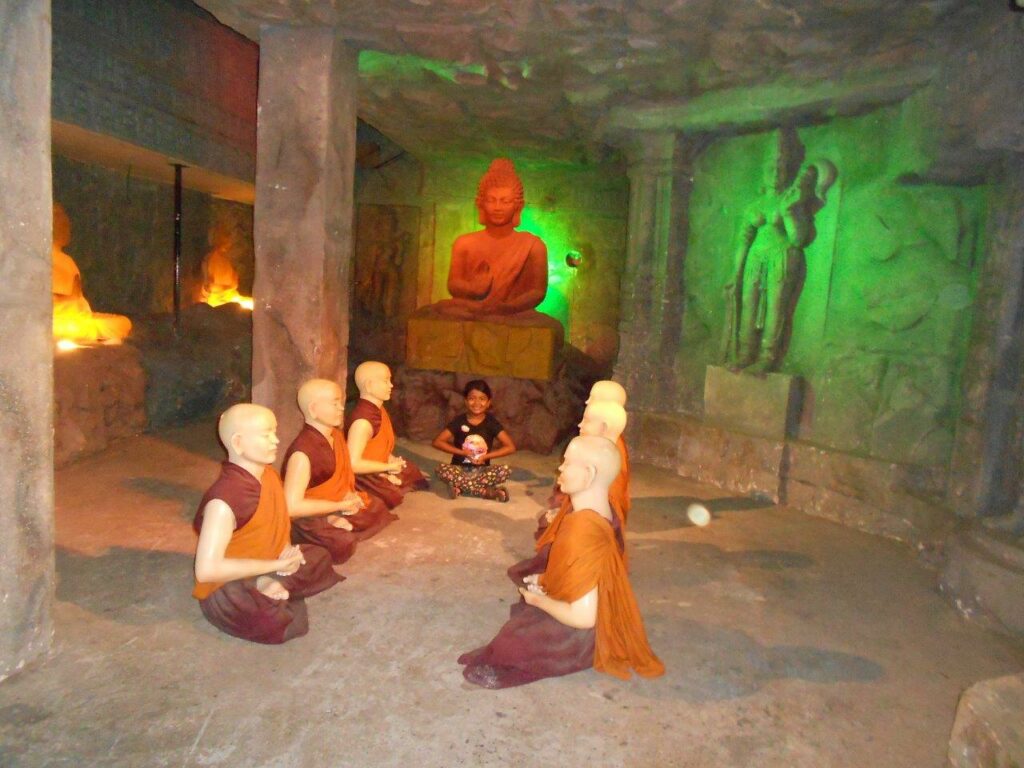 Dinner at Paradise Biryani
By 3 pm we covered most of the major attractions of the film city. We had lunch in one of the restaurants and took our cab back to Secundarabad railway station. From the station, we took the local train back to Vinayaka Nagar.
Akshay and Aditi (in spite of being vegetarians) took us to Paradise Biryani restaurant for dinner to taste the "real" Hyderabadi biryani. The restaurant has got multiple chain in the city and we went to the one located in Hitec City, opposite to Cyber Tower. In addition to vegetarian dishes ordered by our hosts, we opted for mutton biryani which was a good combination of tender meat and fragrant rice. This was followed by – "Khoobani ka meetha" which is a popular Hyderabadi dessert made with dried apricots.
Sumptuous dinner of authentic Hyderabadi biryani annulled the bad experience of our previous day dinner.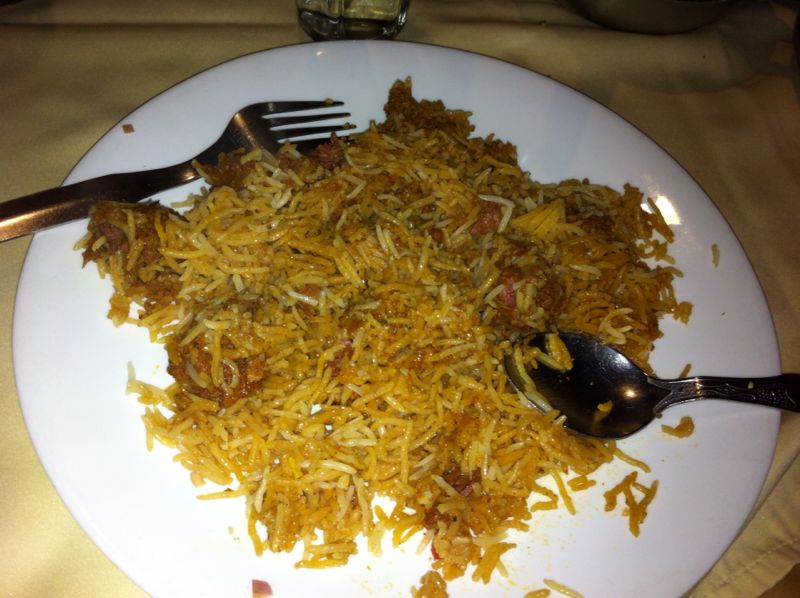 Day 4: Travel back from Hyderabad to Pune via Shatabdi Express
Day 4 was to say goodbyes and return back to Pune. We took a local from Hafeezpet for Secunderabad railway station and from there boarded the Shatabdi (No. 12026) which leaves at 2:45 pm and reaches Pune by 11:10 PM.