God's Own Country – Kerala
Kerala boasts of being – God's Own Country. The Southern Indian state has been identified as of one of the "ten paradises of the world" by the National Geographic Traveler magazine. It has got beautiful beaches, network of backwaters, spice and tea plantation covered hills of the Western Ghats and lush green tropical forests. The state really is blessed with great natural beauty and diverse ecology.
After reviewing several travel blogs and portals, 7-day trip to this beautiful state was planned during December 2011. We identified to explore 3 attractions- Munnar, Alleppy and Kovalam as part of this trip. All the 3 locations comprised of completely different and diverse ecology, ranging from hills of Munnar to the backwaters of Alleppey and sea beach of Covalam.
Travel Tip:
Plan: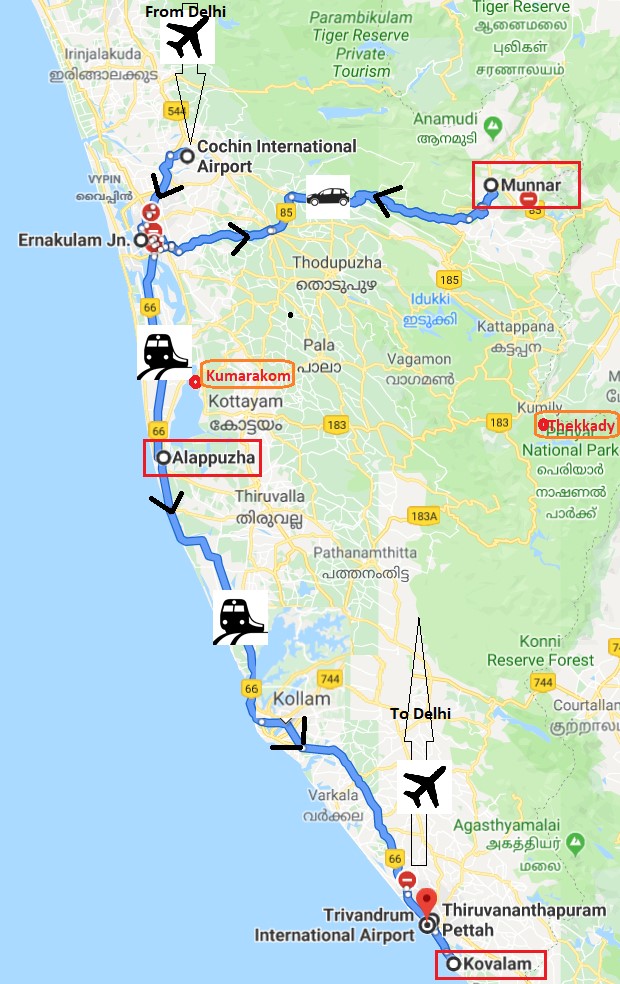 Kerala is approx. 2500 km from Delhi by road and would have required 45 hours of continuous driving and added a few more days into our 7 day trip. Though we have a knack for road trips, we decided to travel by air, road and train. Fellow travelers on this trip were my wife and 5-year-old daughter.
The plan was to fly to Cochin which is in North of Kerala and halt for a night. We were to stay close to the railway station as Google suggested several economy hotels and taxi operators around the Cochin (Ernaculum) railway station (it's a safe bet to find good budget hotels and taxi operators near railway and bus stations in most of the cities across India). From there we were to travel east to take a to-and-fro journey to Munnar by road. After returning back, we were to travel south to Alleppey (Alapuzha) and further down to Covalam. Covalam was the last destination from where we were to fly back to Delhi.
There are a few things to keep in mind before and during venturing for a trip in India. Refer to my below blog for details.
https://travel-memoirs.com/travel-tips/
Itinerary:
The final Itinerary was finalized as:
Delhi – Cochin – Munnar – Cochin – Alleppey – Trivandrum – Covalam – Trivandrum – Delhi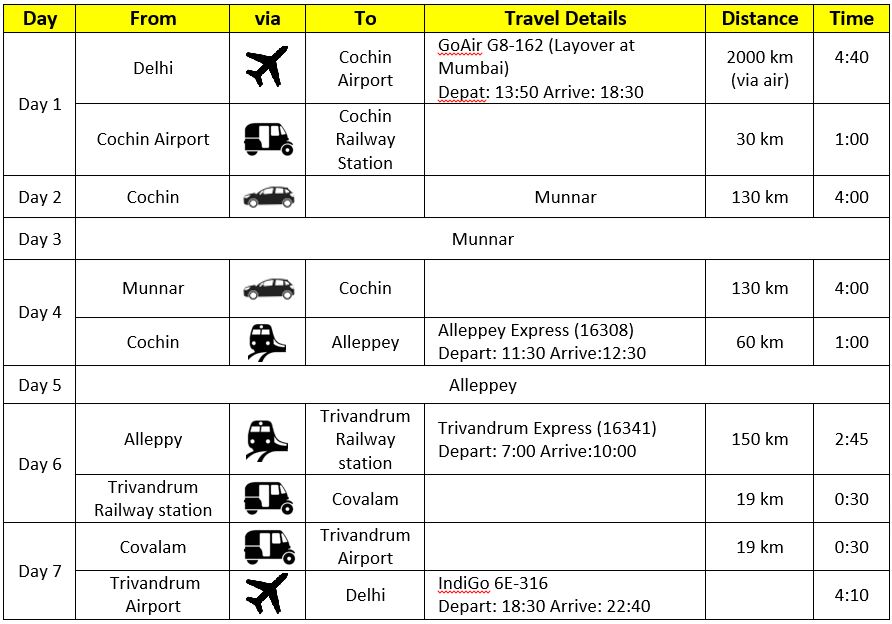 Hotel Reservations – We did not make any
We did not book any hotels for this trip. We later realized that though it gave us the flexibility to select and choose the best available options, it costed us time, which could have been utilized to explore the a few more attractions. Not having advance bookings also makes you feel uncertain and anxious if you are travelling with family.




Day 1: Fly from Delhi to Cochin
From Delhi, we left for the airport to catch 1:50 PM flight to Cochin. The flight took off at the scheduled time and in next 2 hours it landed at Mumbai, where we had a layover of 35 minutes and in another 2 hours landed at Cochin at 6:30 pm.
From the airport we took an auto reach Cochin (Ernaculam) railway station. The railway station is 30 km from the airport and takes about an hour to reach. By the time we reached station it was 8 in the evening, so the first task in hand was to look for a decent hotel. We checked out to a couple of nearby hotels but most of them did not have any availability (December is peak tourist season). A few more checks got us a room available at Anupam Residency, which was hardly 700 meters from the railway station. The hotel had decent rooms and costed us Rs. 1000 for a night. After checking in, we had dinner in a nearby restaurant and slipped into our beds.
Travel Tip:
– Chinese Fishing Nets at Fort Kochi Beach – Various travel forums claim this to be unique to Cochin. The nets were brought in by traders from China. If you have a taste for fish, you can buy the fresh catch here, get it cooked at nearby shack and enjoy eating it. 
– Mattancherry: It's a neighborhood located in Fort Kochi area. It has got a Dutch Palace, built by the Portuguese. This place is famous for spice markets. 
– St. Francis Church: It was once the burial site of explorer Vasco de Gama, who died in Kochi before his remains were taken back to Portugal. The church was originally built by the Portuguese and was subsequently taken over by the Dutch and then by British, before passing into Indian hands after Independence.
Day 2 was planned to travel to Munnar which is about 130 km from Cochin railway station and takes about 4 hours to reach by road. There are several taxi operators around the railway station offering services for various destinations around Kerala. We tried to bargain with a couple of operators for round trip to Munnar. While negotiating, we found language to be a challenge. Malayalam is the local language spoken across Kerala. Though, people do understand English and little bit of Hindi, it is still a challenge to communicate in either of the languages. After some struggle, we were finally able to bargain with one of the operators for to-and-fro trip to Munnar in ₹3000 for 2 days.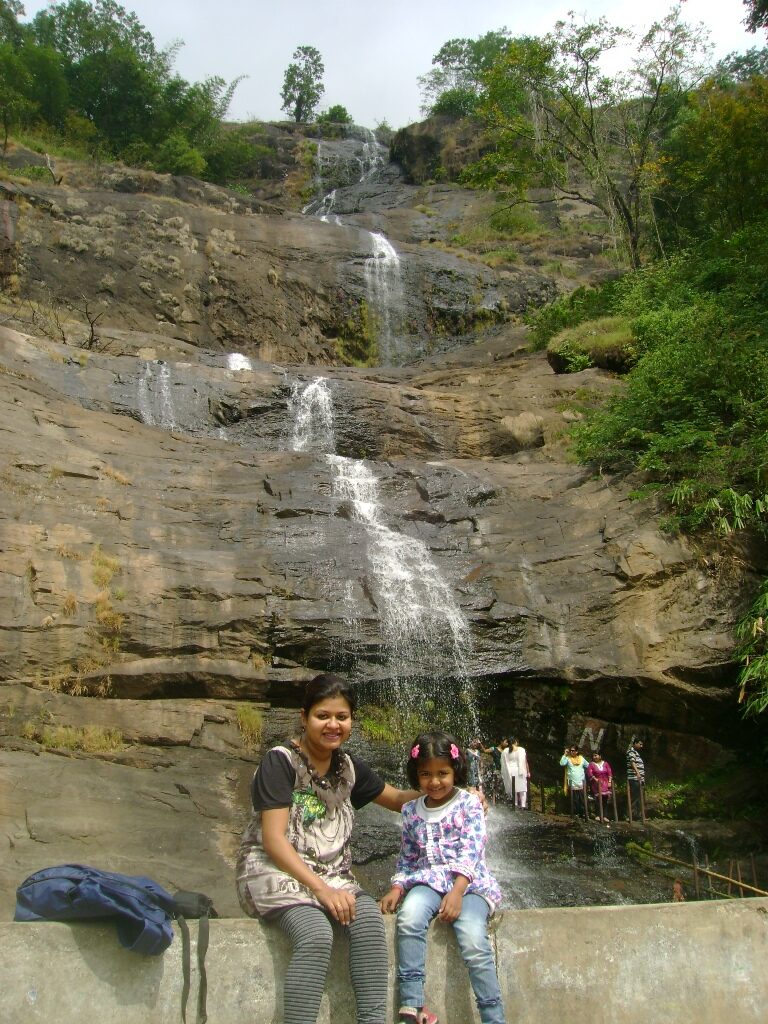 We left for Munnar at 10 am and were soon traveling along NH-85. After breezing through the highway for about 2.5 hours, we stopped on the way at the first attraction – Cheeyappara Waterfalls. Here, the waterfall cascades down over 7 steps before falling down and gives a pleasant view. It is a decent stopover to stretch your legs and take pictures.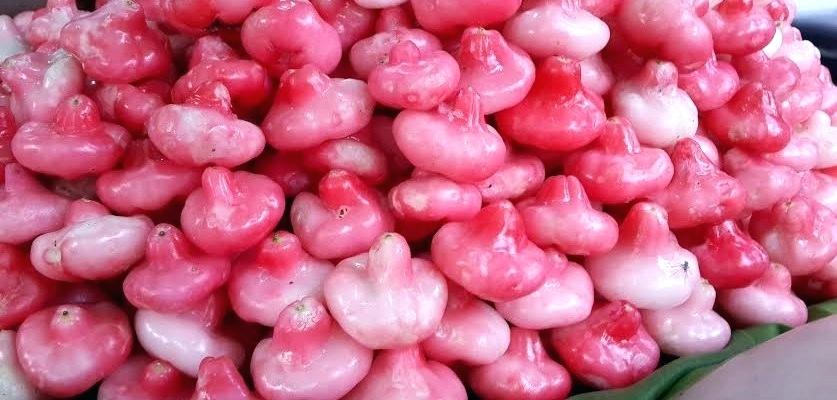 Opposite to the waterfall, there are a few street vendors selling various food items. One of the vendors selling a unique fruit caught our attention. We learnt that it was a local fruit – Chambakka (Apple Rose or Java Apple). We bought a few to try and found them to be fleshy and mildly sour. Our driver explained that the fruit is locally used to make pickles.
The warm and humid climate of Kerala with rich loamy soil and good rainfall makes it ideal for growing spices. Munnar has many herbal gardens where you can see spices being cultivated. The Biovalley Herbal Garden at Kallar is one of such gardens located on the way. It's at an hour's drive from Cheeyappara Waterfall. There is an entry fee of ₹100/person (which I found a bit expensive) and a guided tour is provided through the plantation growing spices like- pepper, coffee, cardamom, cinnamon etc. It was pretty informative to see the plants and shrubs of most common spices we use frequently.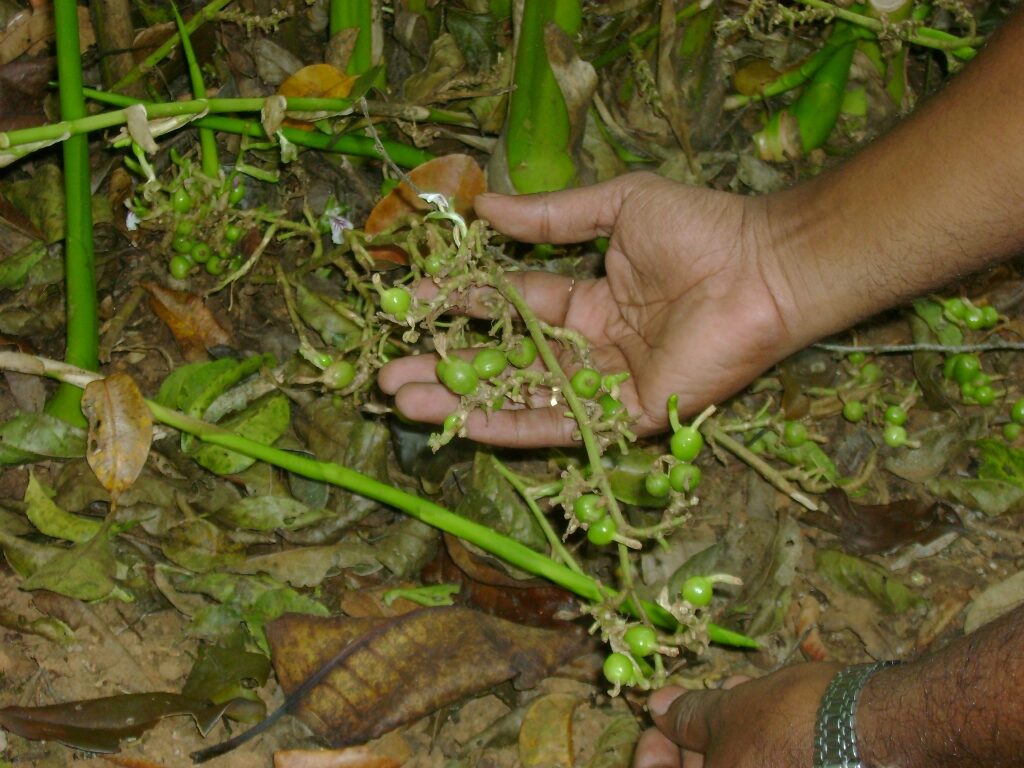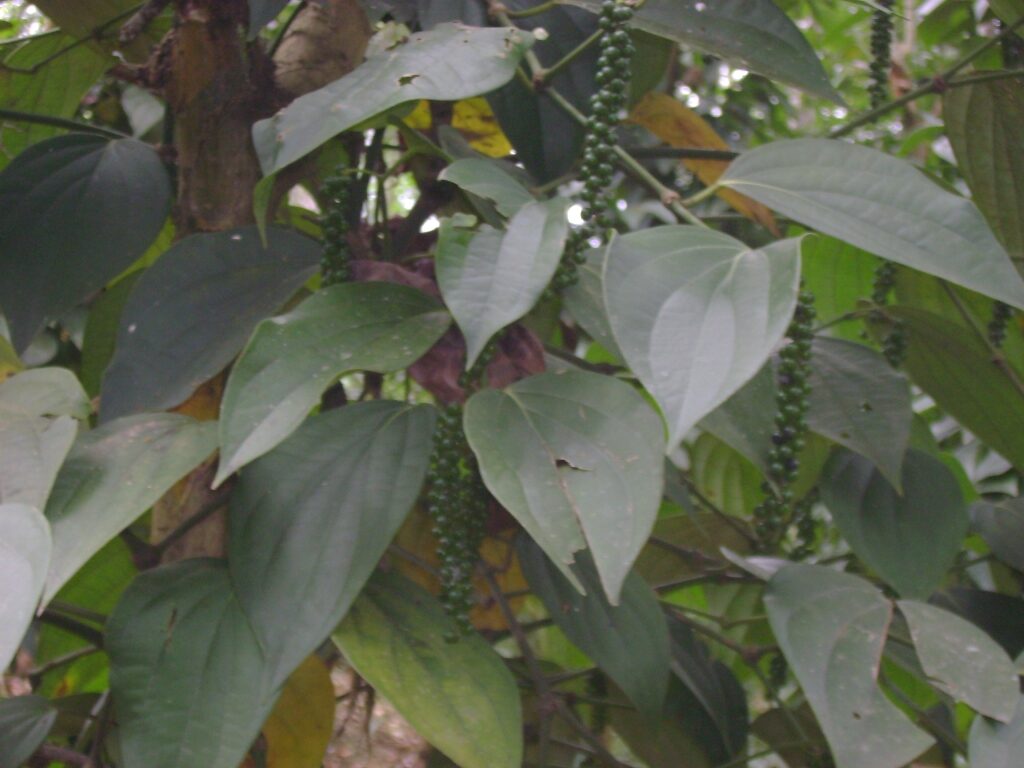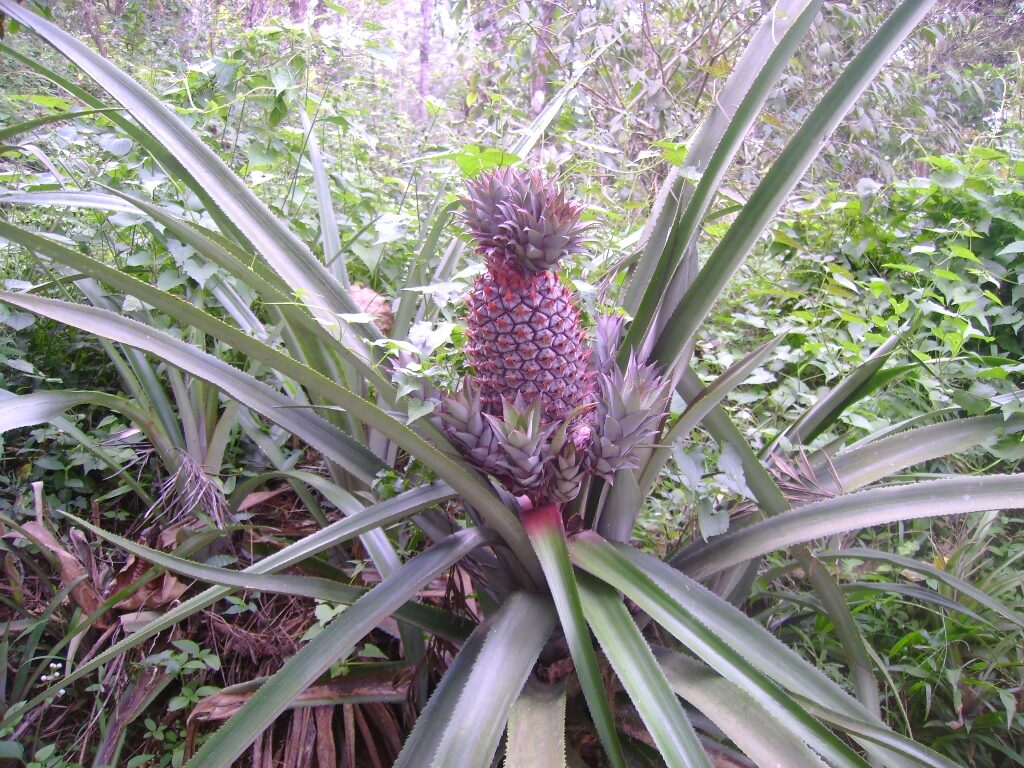 Another interesting finding was to see the pineapple plant. It was interesting to find that pineapple actually grows in a shrub which is hardly a few inches tall.
The garden had a sales counter which sells the spices grown locally in the garden. I found the prices to be much costlier than what we buy at the local grocery shops in our home state. I will recommend to skip buying it from here. Later in our trip, we found the right place in Kerala to buy spices.
Rose Garden: This is again on the highway and close to the Spice Garden. Even though the garden is known as 'Rose Garden', you can find a variety of other plants and trees like – Vanilla, Cardamom, Strawberry and Amla. You can also buy seeds of flowering plants from here.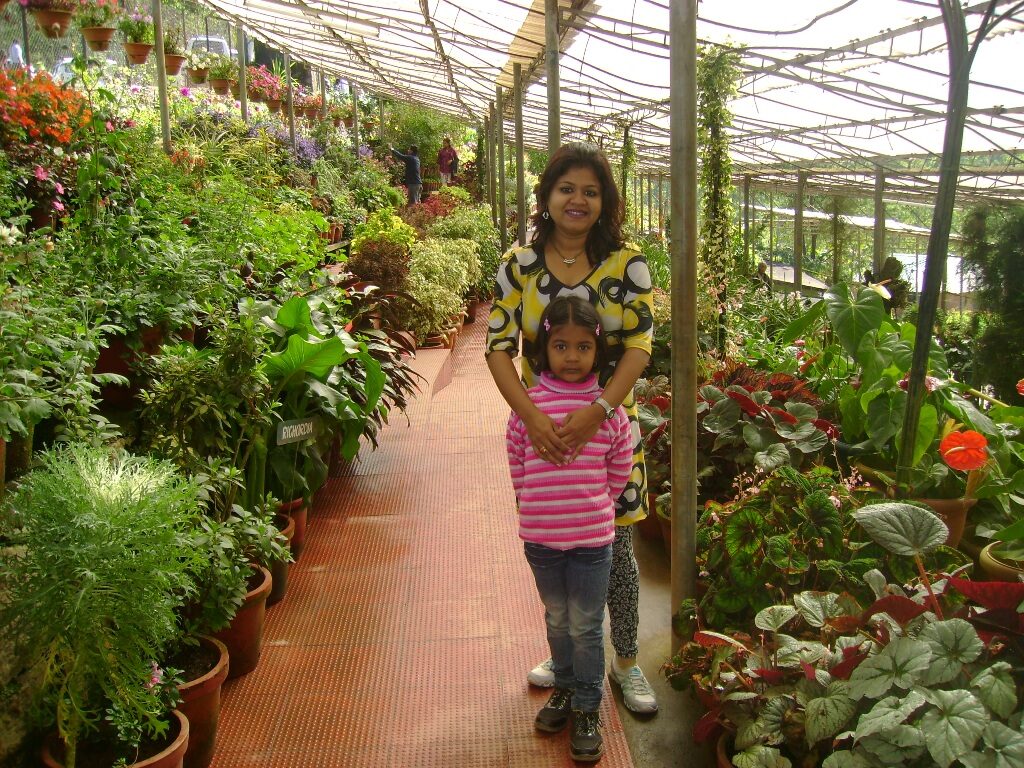 After spending an hour at the Garden, we headed out to the main City of Munnar. The Sun had started to set by then, so we decided to lookout for our temporary abode for 2 days. After checking a few options, we came across Misha Tourist Home, which was pretty decent and offered decent basic amenities.
The main city center of Munnar was walking distance from our hotel. There are several street food vendors on the way, offering a variety of local dishes like: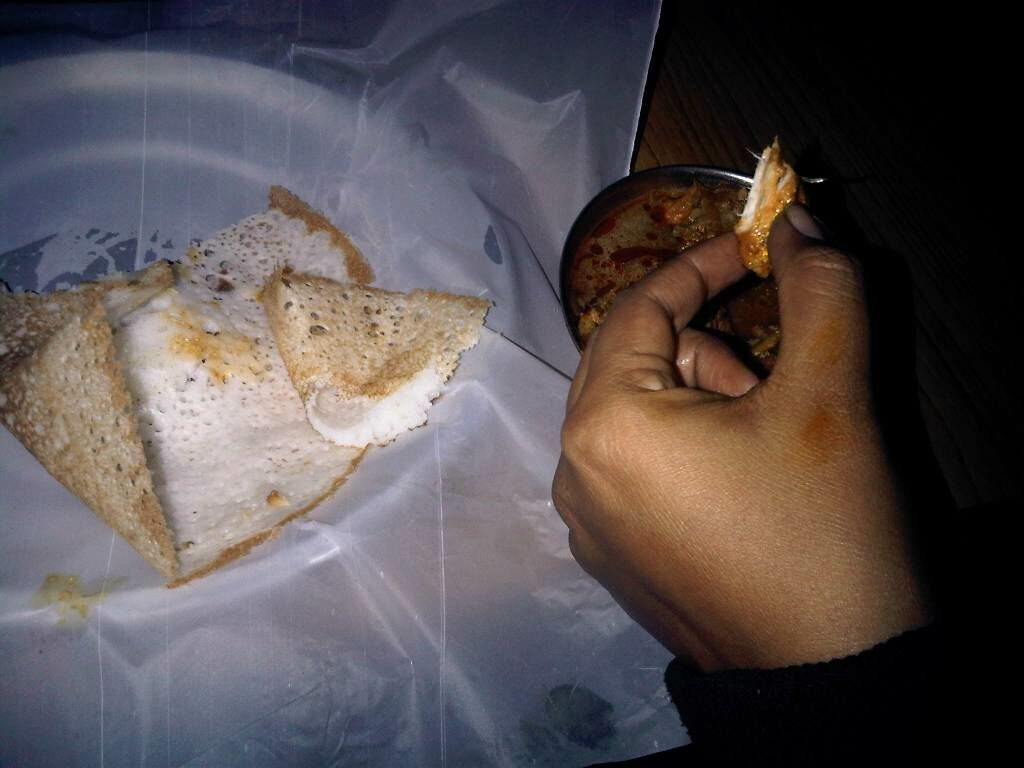 Appam: It is the staple diet of Kerala and equitant to the North Indian "roti" (wheat flour bread). It is made from fermented rice flour and looks like a pan cake. It is generally eaten with chicken, mutton or beef curry.
Idiyappam: Made of rice flour it is made of thin strands (like sevai) entwined together to look like an appam. It goes well with all kinds of curries.
Kerala Parotta (Paratha) – It is made from fine flour (maida). The dough is streched into long strips and then rolled together and flattened to form a round paratha. It is then cooked over a tava (iron pan).  It goes well with all the veg. and non-veg curries of Kerala.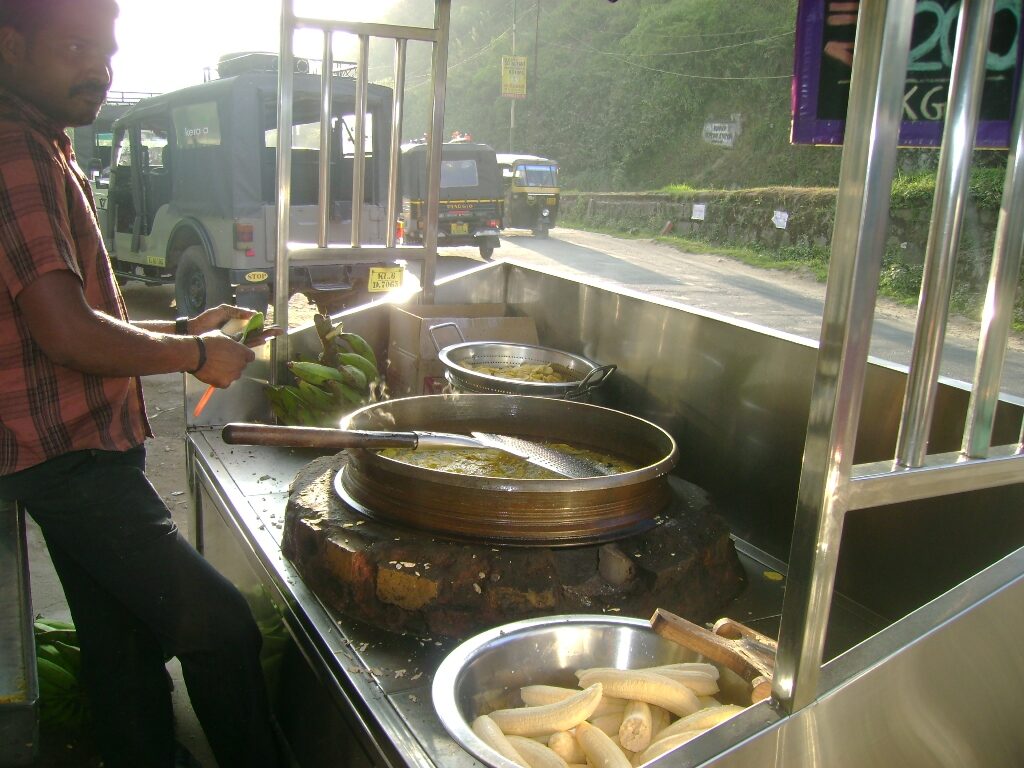 Banana chips:  Most of us expect the gold and crispy chips whenever any of our Malayali friends visit their home towns in Kerala. They are made from raw bananas which are finely cut and then deep fried in coconut oil.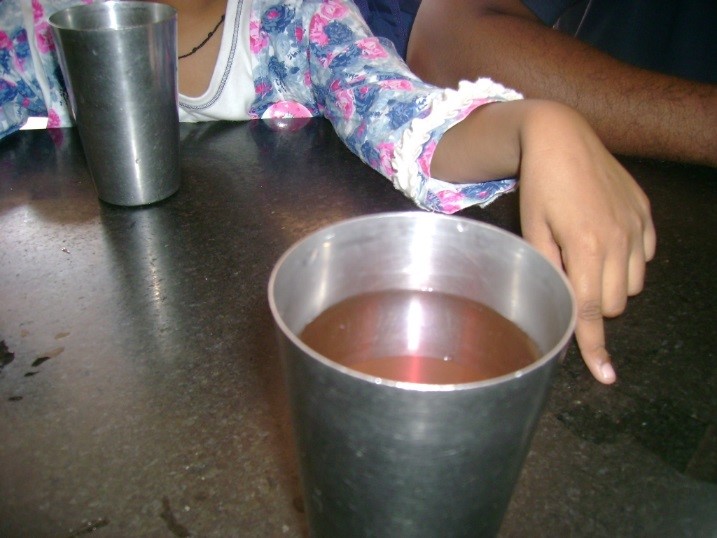 A unique practice we found across Kerala is that you are served warm water along with your meals which is slightly red colored. This is served across all the restaurants and even by street food vendors. The water gets its red color when it is boiled in Pathimugam (East Indian Rosewood). As per Ayurveda (which is practiced widely across Kerala), this water helps in digestion and can prevent and cure diseases like kidney disorders, high cholesterol, stomach ailments, diabetics, heart ailments etc.
After trying our hands on Appam and Chicken Curry, we returned back to our hotel and called it a day. Next day was reserved for exploring the rest of the attractions of Munnar.
We were scheduled to explore Munnar on Day 3. We visited the below locations in the same order: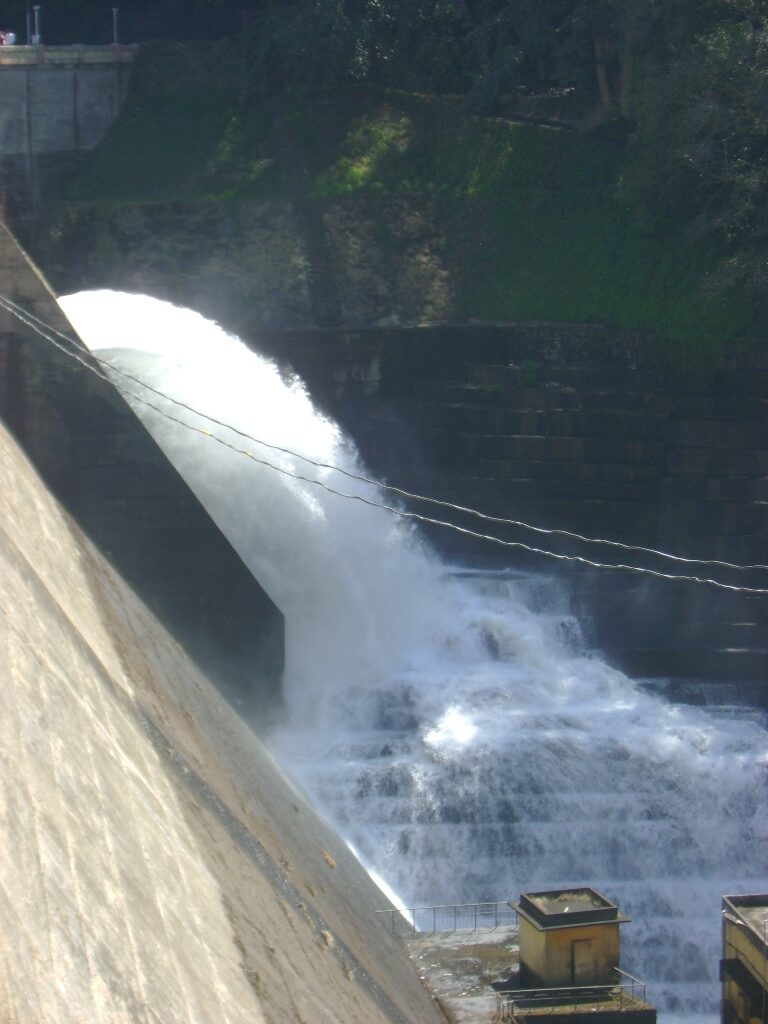 Mattupetty Dam: It is about 13 km from the main city. This dam is a main source of electricity in Munnar. The lush green tea plantations and forest around the lake formed by the dam attract a large number of birds and animals forming a truly awe-inspiring sight.
Echo Point: About 2 km further to Mattupetty dam, Echo Point is situated on the banks of a lake at the confluence of three mountain ranges. As the name suggests, this place is well known for the phenomenon of echoing. There are options of boating in the serene waters of the lake. You can also see a few shops near the attraction selling local items of the hill station.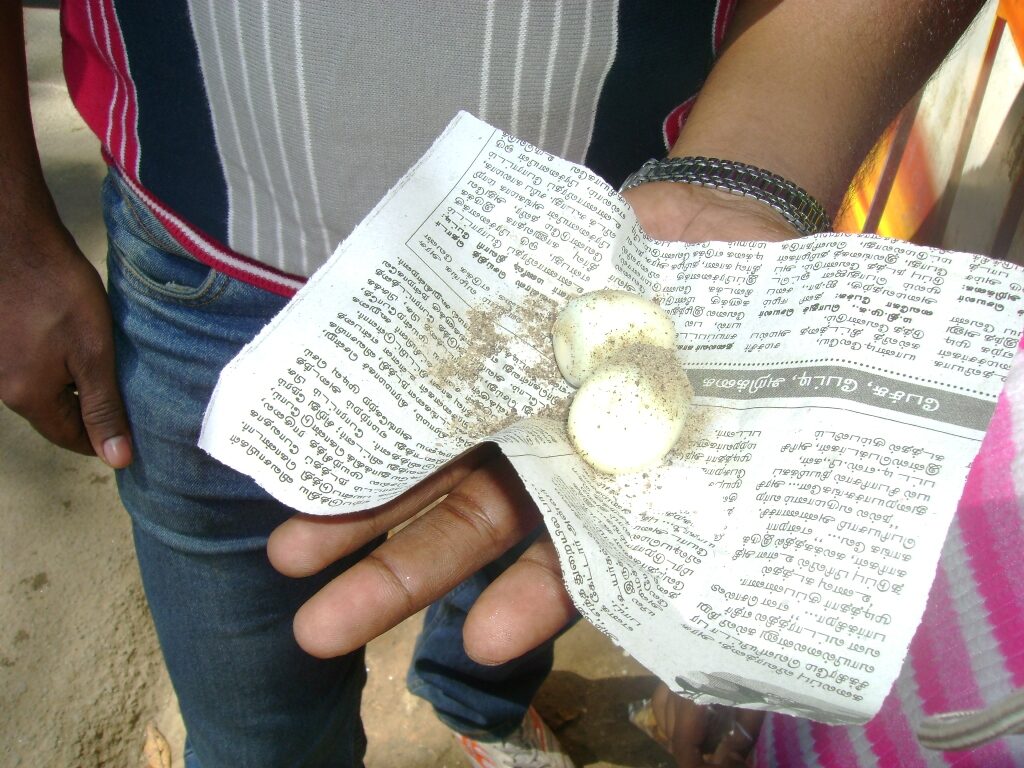 We tried our hands on tasting boiled duck eggs. The duck eggs are smaller than the chicken eggs but are very similar in taste.
Kundala Lake – Walking distance from Echo Point is Kundala Lake. One can see many things in the surrounding of this lake, like the green valleys, tea gardens, waterfalls, eucalyptus and pine trees, etc. The boating is another major attraction at this glorious lake.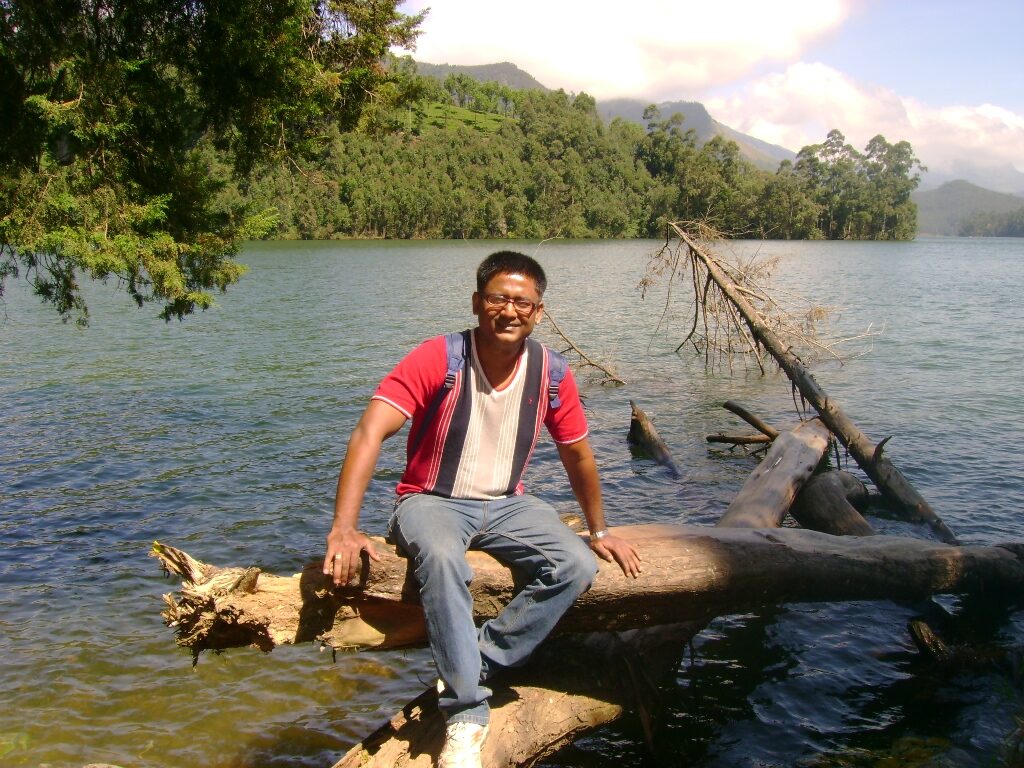 Eravikulam National Park: This park has to be a "must to visit" places in Munnar. The park is famous for preserving endangered species – Nilgiri Tahr, which is a goat like animal. The park offers panoramic view of tea plantations and is also famous for Anamudi peak, which is the highest peak in South India.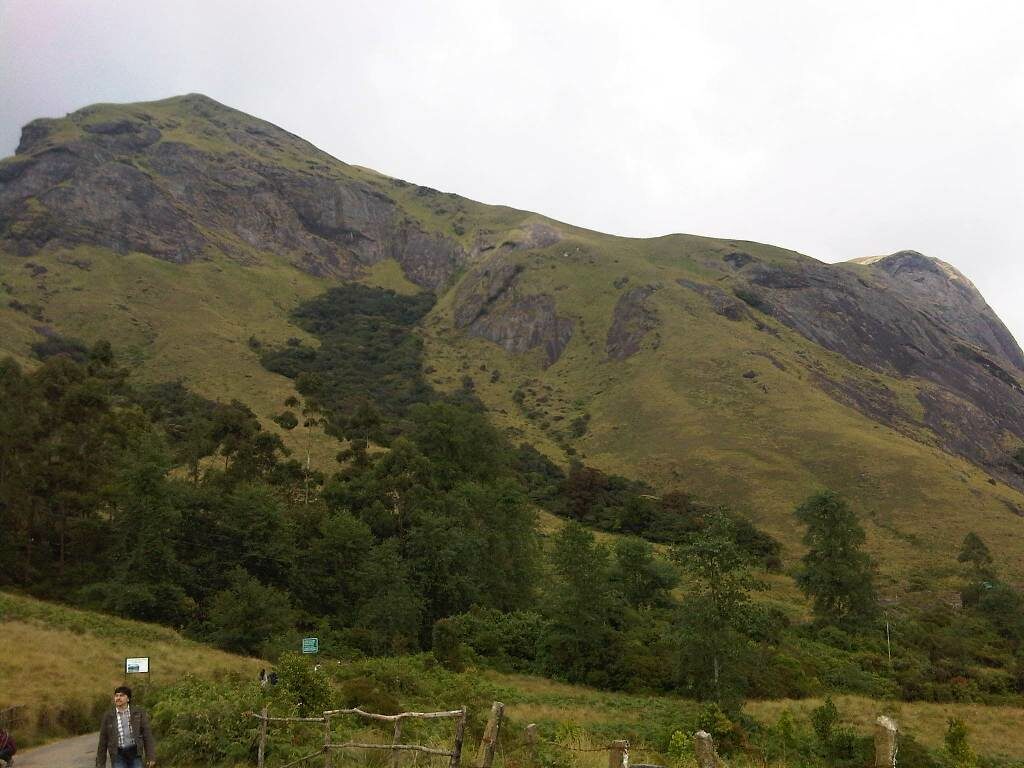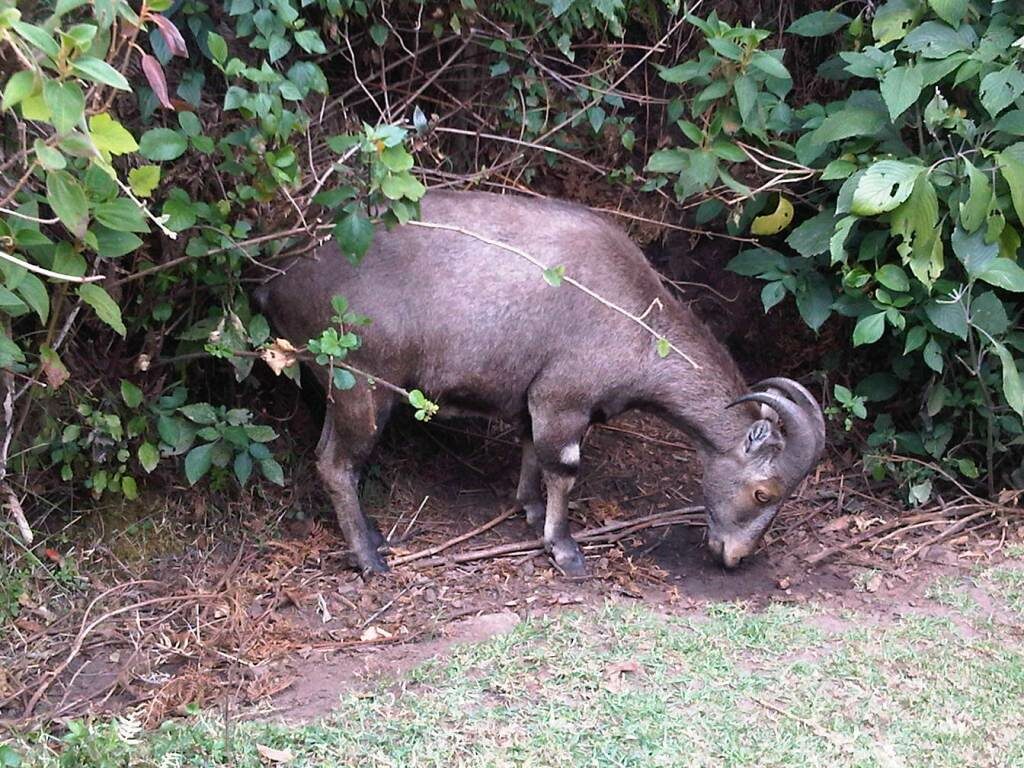 The best time to visit the park is said to be from September – November and from April – June when chances of spotting the Nilgiri Thar is maximum. Though we visited during December, we were still able to spot a few of them.
Private vehicles are not allowed inside the park. The forest department runs its own buses which passes through beautiful Tea Gardens and drop you at the base of Rajamalai peak.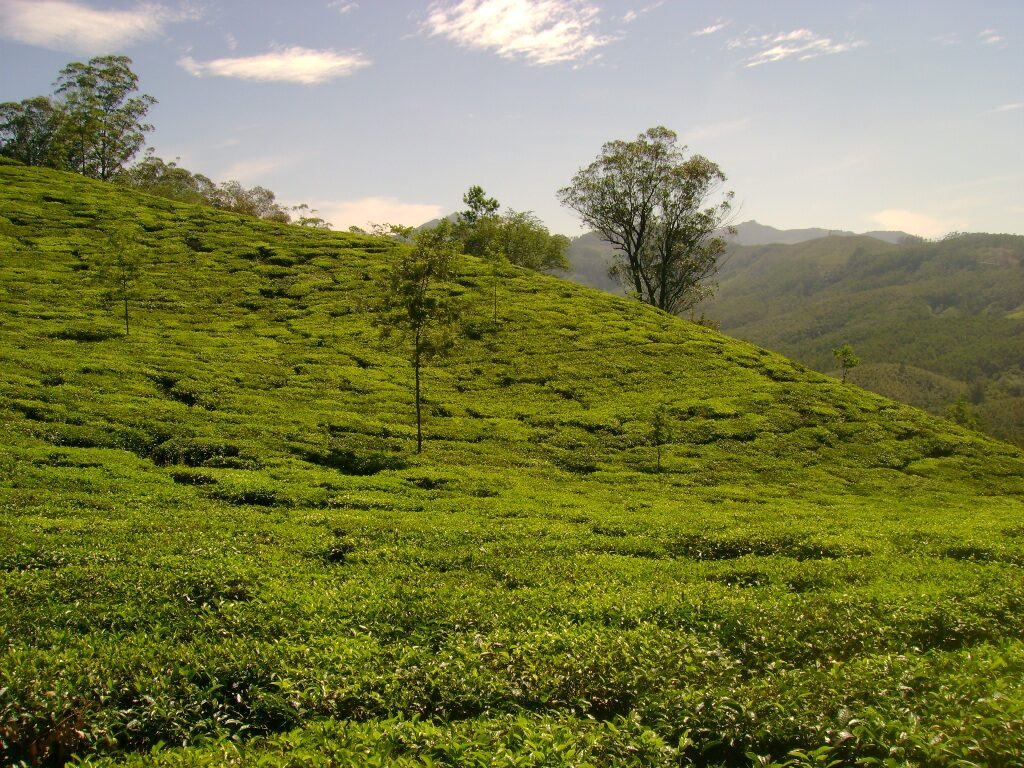 From the base of the peak, you have trek on foot. They also have a museum explaining about the various facts about the park and its bio diversity. The park is open throughout the week. The safari timings are 8:30 am – 4 pm and there is an entry ticket of ₹65. A complete safari generally takes 2-3 hours.
By the time we finished our visit to the Park, it started getting dark. We returned to our hotels and slipped into our beds. We had to get up early next day and travel Cochin to catch 11:30 train to Alleppey.
Day 4: Drive back to Cochin and travel to Alleppey
We left Munnar early morning at 6 am. The plan was to have breakfast on the way (30 minutes) and reach Cochin by 10:30 to catch our train to Alleppey. 
We reached Cochin railway station at 11. While paying our driver the agreed amount of ₹3000, we were asked for an additional ₹1000 on pretext of night stay charges for the driver. We tried to explain him that the agreed amount included everything but he seemed reluctant. Fearing that we might miss our train, we finally convinced him for an additional ₹500 which he unwillingly accepted.  We realized that when you agree for a service in a non-native language, don't do it orally. Rather, get the agreement documented (paper, SMS, WhatsApp etc.). This comes handy in case of any dispute.
Soon we were on train to our next destination – Alappuzha (Alleppy). The Alleppey Express consists of mostly chair cars and was almost empty. It passed through Kerala's beautiful landscape and in an hour we reached Alleppey railway station. The only thing we knew after reaching Alleppy was "backwaters". We had no clues where it was and where to stay. From station we boarded a local city bus and asked the driver to drop us somewhere near the backwaters. A bit confused initially, the driver dropped us at the "tourist information center" close to the backwaters 🙂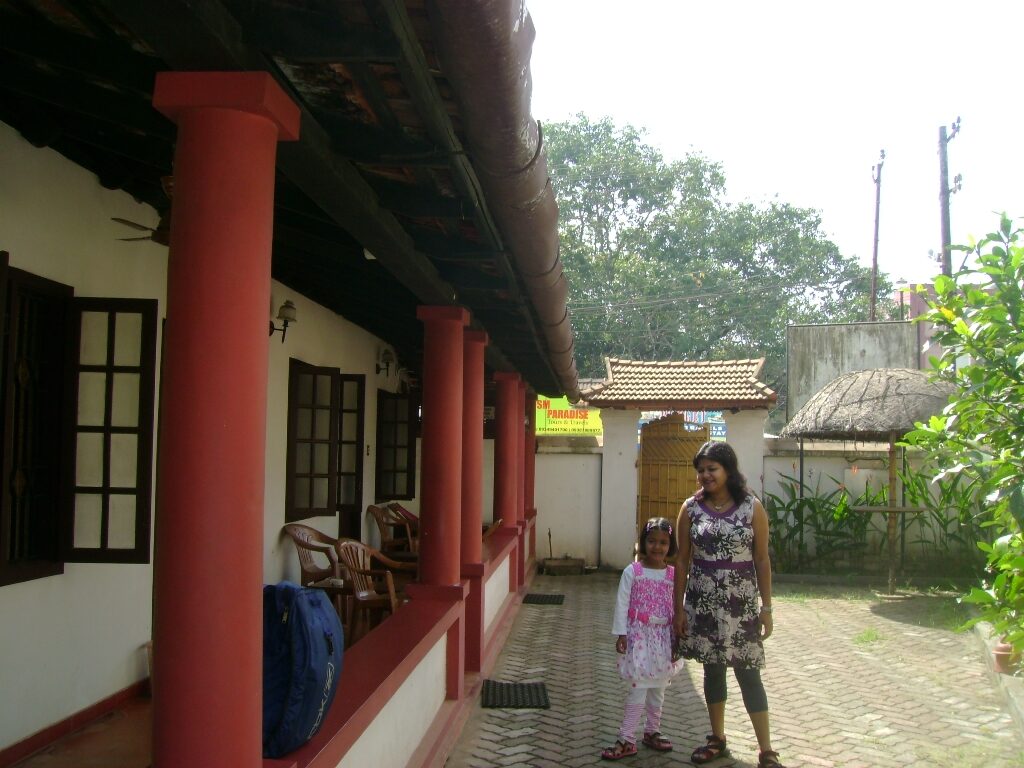 We strolled around the locality with was dotted with hotels and lodges. After checking a few options, we came across Springs Inn Home Stay. There were only three rooms at this property but they were quite spacious. The property had open space with several coconut and cheeku (Sapota) trees. It was located just opposite to boat jetty (boat stop – similar to a bus stop), were you could hire boats to visit the backwaters. The home stay costed us a very reasonable ₹500/day.
We later found that this property was not listed on any web portal (2011). Sometimes, unplanned check-ins do have its own advances. It gives you the flexibility to check all the available options and select the best one 🙂
Travel Tip: Several travelers prefer to stay in houseboats in backwaters. The houseboats are furnished with amenities like air-conditioned bedroom, TV and kitchen. The tariff depends upon the time of travel and type of houseboat (deluxe / premium / luxury) you opt for. To give an idea, depending upon the type of boat, 1-bedroom houseboat tariff ranged from ₹4000-₹7000 per day (in 2011). If your budget allows, it is a good opportunity to actually live in the beautiful landscape of backwaters. House boats can be booked online as well eg – https://www.alleppeyhouseboatclub.com
By the time we checked in to our hotel room it was 2:30 pm. After a quick bath, we decided to have lunch and visit the Alleppey beach. After lunch in a nearby restaurant, we took an auto for the beach which is about 4 km from the Home Stay.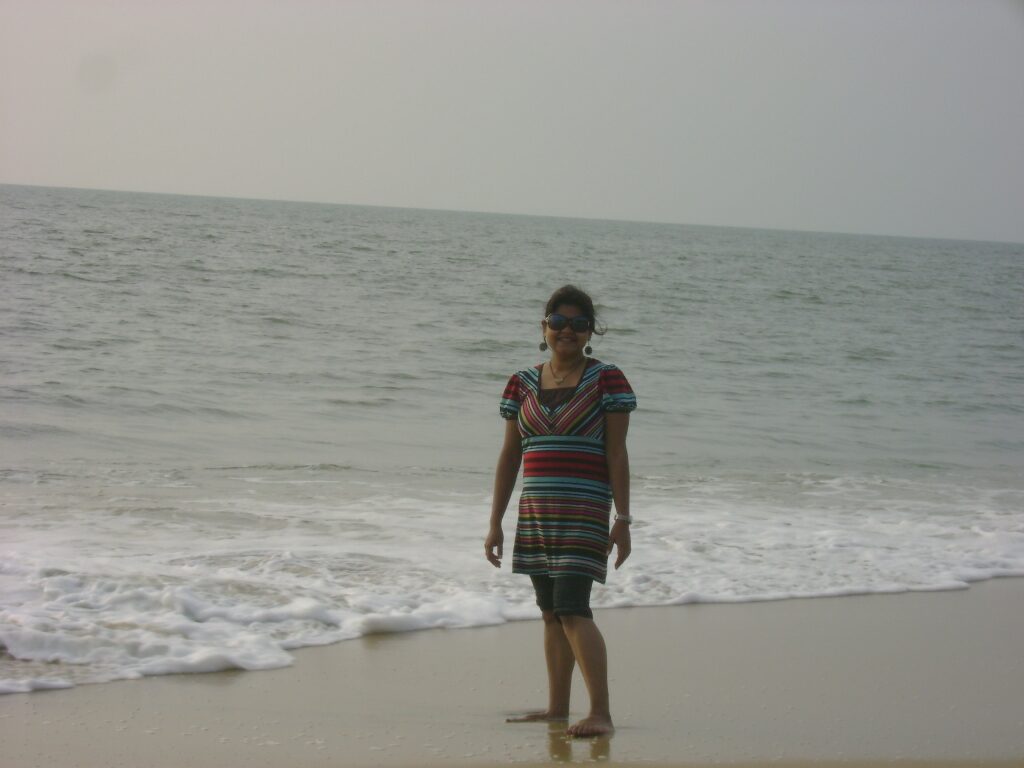 Alleppey beach is relatively clean with white sand. The waves on this beach are strong so people refrain from venturing into the sea. Unique feature of this beach is a long ancient pier (sea bridge) about 150 years old.  This was used for loading materials onto the ships. It now stands in a ruined condition. This bridge signifies the importance of this region in trading (especially spices) during medieval ages. The beach also has a park which is used by children to play.
Before sunset, we stopped for dinner in a small road side dhaba on the way back.
Known as the Venice of the East, Alappuzha has a network of rivers flowing into the Arabian Sea. This place has huge network of freshwater rivers, lakes and lagoons which together form what we call as Backwaters. These are used by locals for transportation, fishing, and agriculture. Kerala is unique as it is probably the only place in India which has got backwaters surrounded with amazing greenery. Backwaters are definitely the wonderland of Kerala and visit to this state is incomplete without a trip to them.
The street leading to our hotel was lined up with boat operators offering full/half day trips in the backwaters. They charge you anything in the range of ₹ 1500-2500 (in 2011) for a round trip of the backwaters. We bargained for a half day trip with one of the boat operators.
Our boat made its way through a narrow water passage and in a few minutes joined the main lake. The lush green landscape consisting of coconut trees and paddy (rice) fields and houses that line the backwaters, make a journey last in your memories for a lifetime.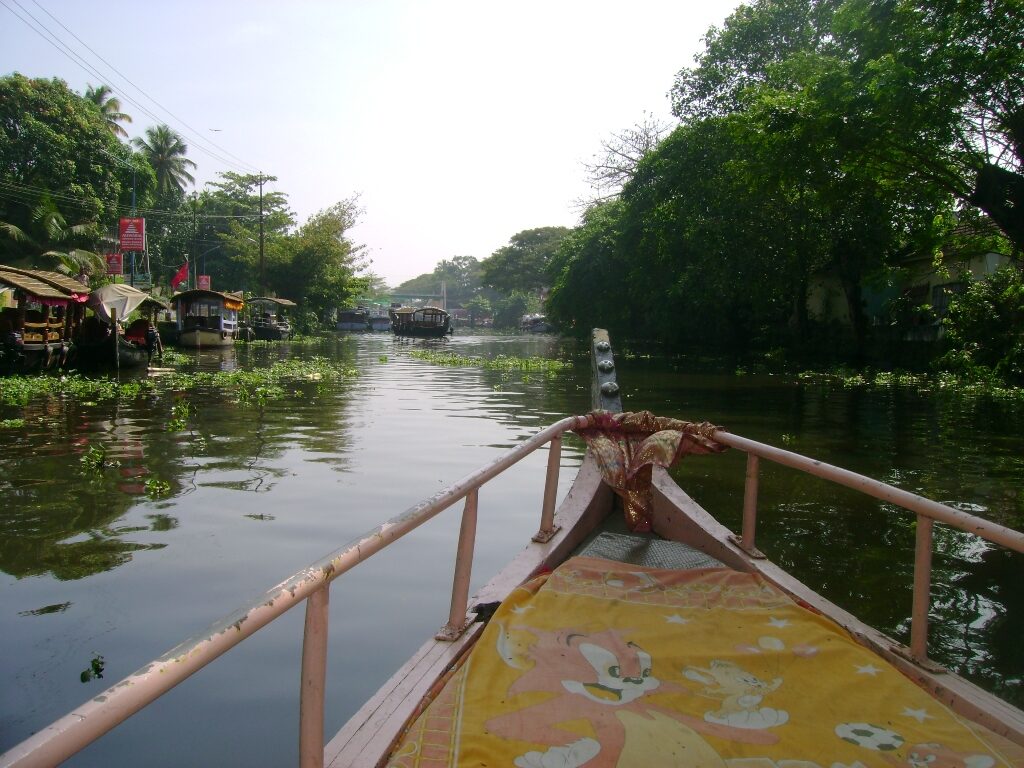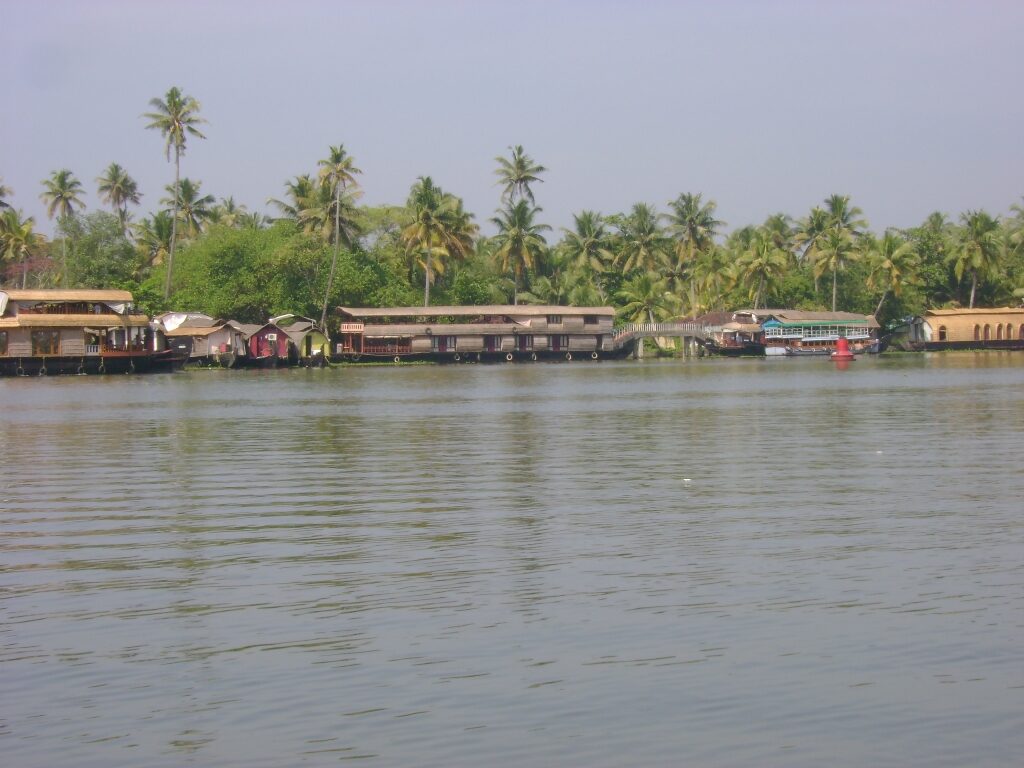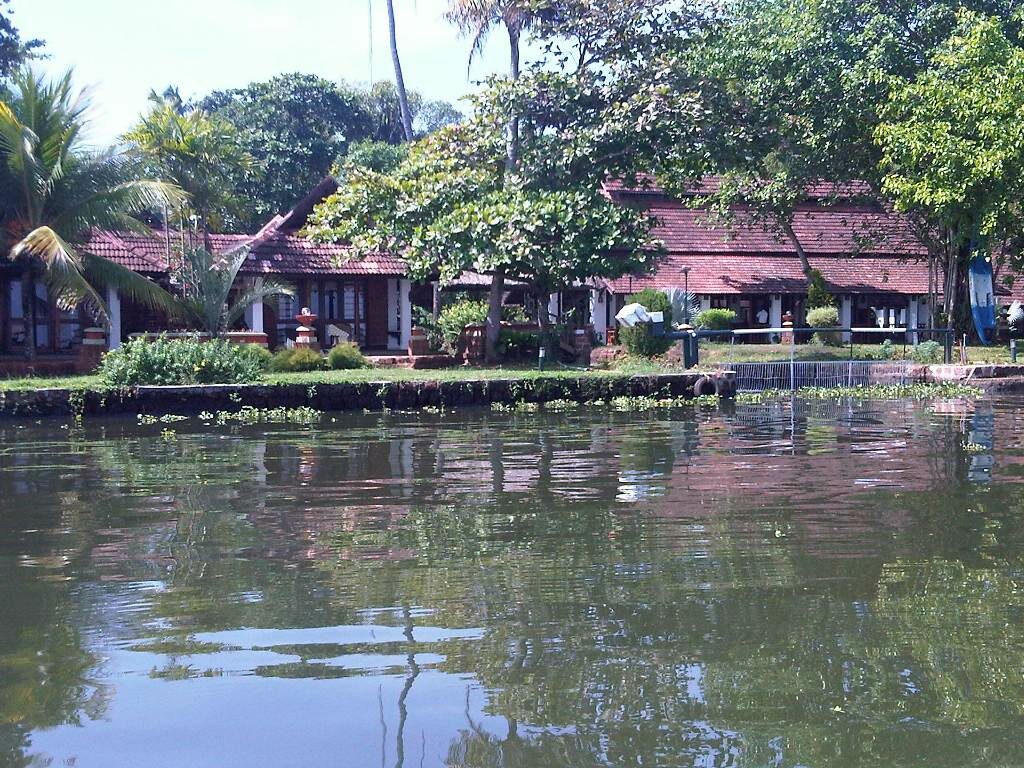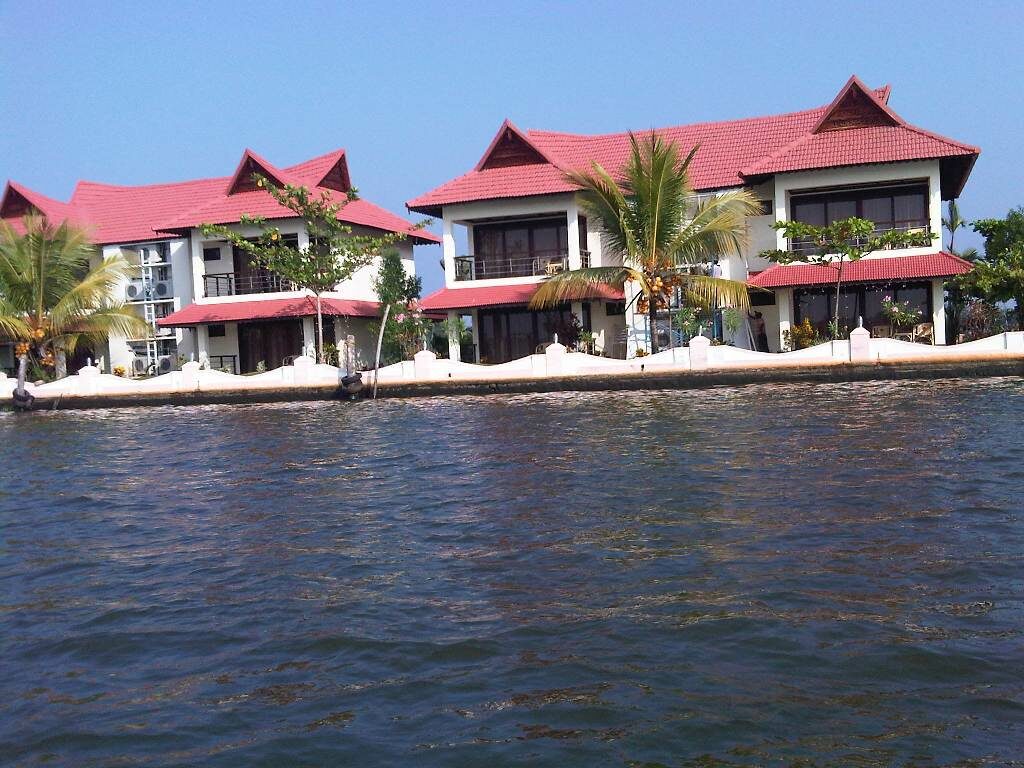 At the edge of the lake, we stopped at a small eatery for lunch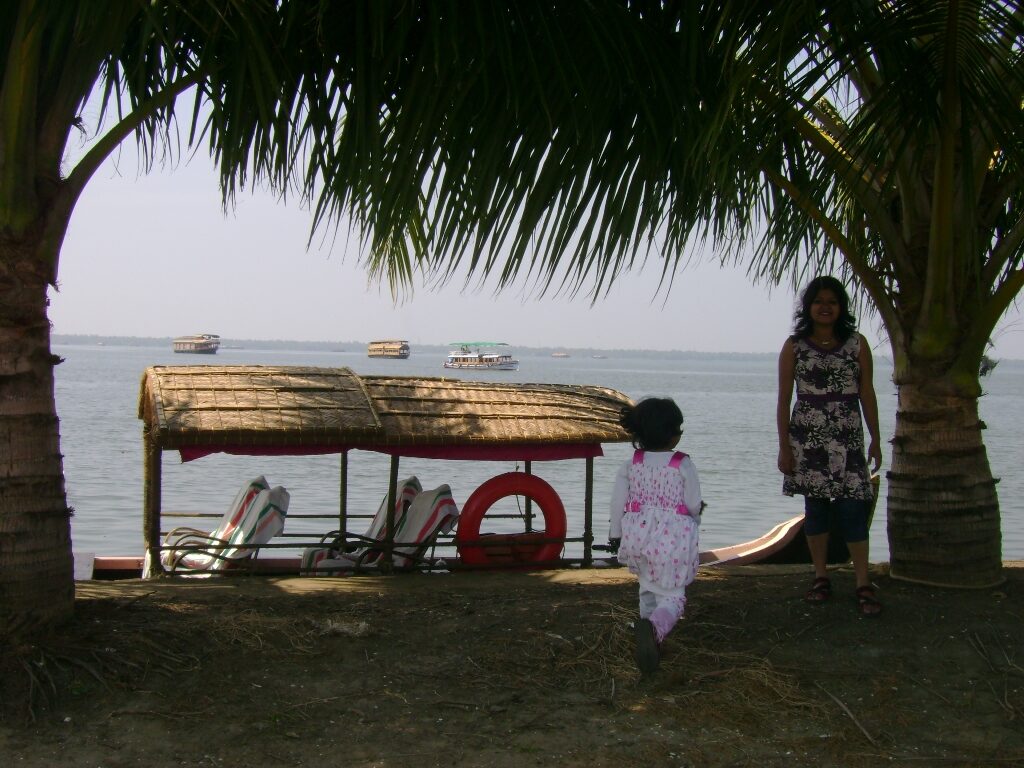 We tried the popular Kerala fry Karimeen which is a popular option in Kerala and is preferred by most of the fish lovers. I doubled the fish fry with local drink – 'toddy' which is the sap of locally grown coconut trees. When fresh, it tastes sweet and is very refreshing while the locals ferment it to make it a bit alcoholic which becomes a bit sour. If you have a taste and liking, toddy is again a drink to be tried.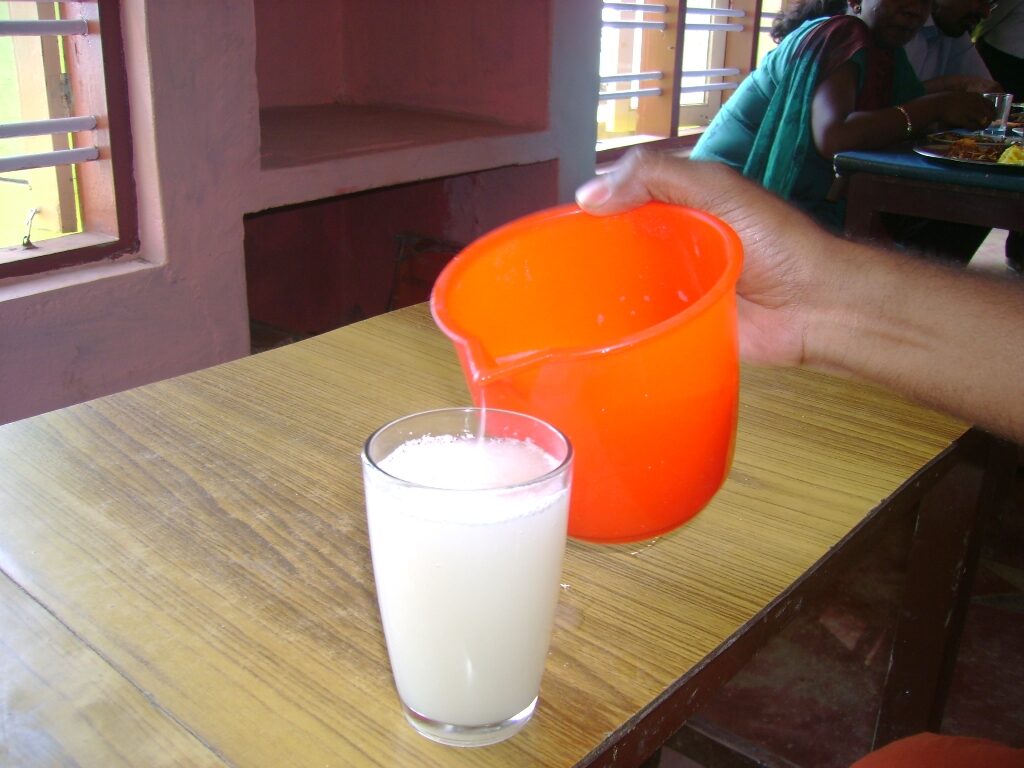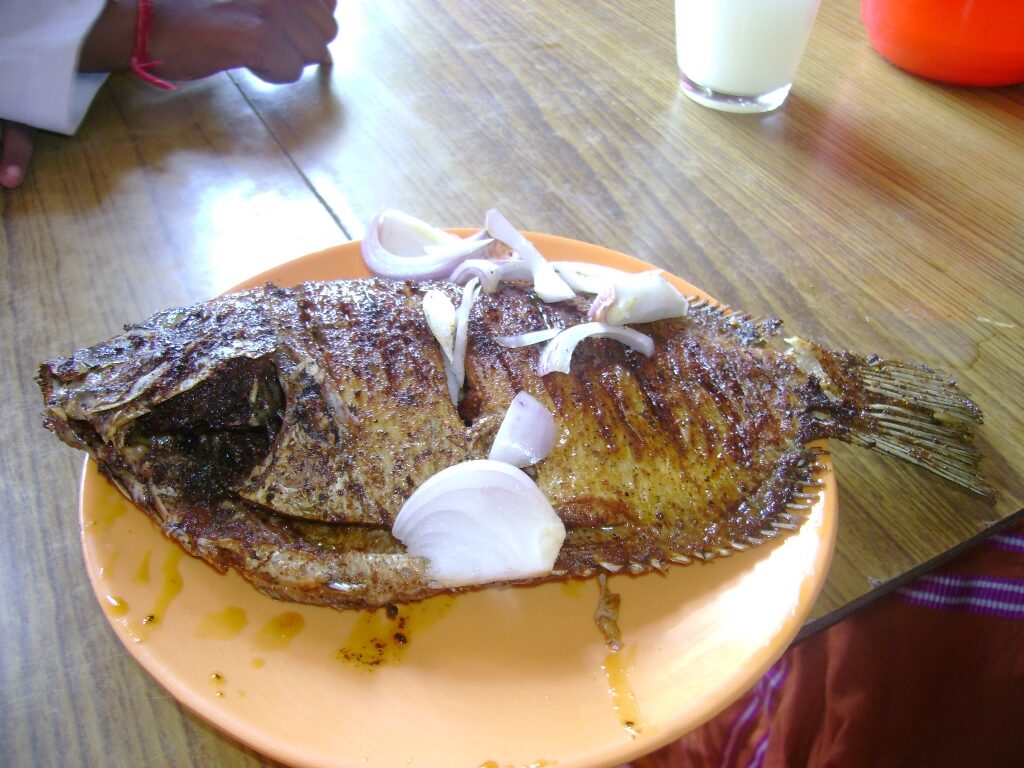 The boat dropped us back to our home stay by noon. We visited the nearby local market in the evening.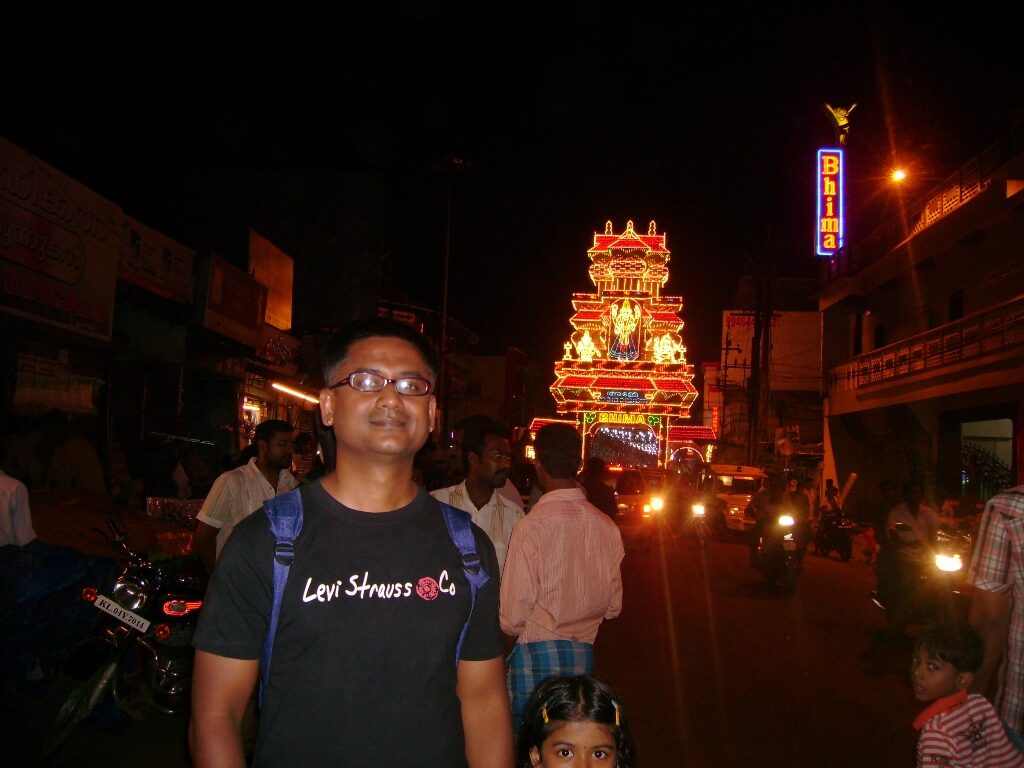 The market had several street vendors selling species like cardamom, pepper, cloves, nutmeg mace (Javitri), cinnamon (Dal-chini). If you want to buy real Kerala spices at genuine rates, don't buy it from fancy tourist shops. The best places to buy is from local markets at Cochin or Alleppey.
After having dinner, we returned back to our hotel. Early next morning we had a train to catch for the last destination of our trip – Kovalam
We had booked train tickets for Trivandrum Express (16341) for this journey. The train leaves Alleppey at 7 am and travels 149 km to reach Thiruvananthapuram in 3 hours. We left our hotel by 6:30 am without having breakfast and took an auto to reach Alleppey railway station. The train was running on time and soon we were on our way to the final destination of our Kerala trip. Being early in the morning, the train was packed with daily commuters traveling to Trivandrum for work. The train is frequented with food vendors selling various breakfast items. We treated ourselves with freshly made sambar Vadas and hot coffee.
Our train reached Thiruvananthapuram at 10 am. The city of Thiruvananthapuram, which is the capital city of Kerala, has some interesting places to see like the Napier Museum, Padmanabhaswamy Temple and handicrafts emporium, which are worth to explore.
One of my ex-colleagues and a close friend – Pramod and his wife – Jisha had shifted to Thiruvananthapuram a couple of years ago. While planning for the trip, I had called them and told about our travel plans and we had agreed to meet when we were in Trivandrum. Both of them had come to the station to meet us. After initial greetings, we all decided to head for Kovalam together.
Kovalam Beach is famous for its three adjacent crescent beaches. A hilly cape protruding through the sea beach creates a beautiful bay of calm waters and is ideal for sea bathing. It is 19 km from Trivandrum railway station.
After a short drive of 30 minutes, we reached the Kovalam beach. The first task was to find a good hotel to stay. The beach is lined up with string of hotels. Most of the hotels on the beach are luxury hotels and are costly. If you are looking for a budget hotel, move a little closer to the Kovalam lighthouse, where several options are available. We bargained with a couple of hotels and found Hotel Rockland to fit in our budget. It was a small hotel with limited rooms. The best part of it was the sea view from our balcony. After checking in, we had lunch in a nearby restaurant serving authentic Kerala 'fish thali'.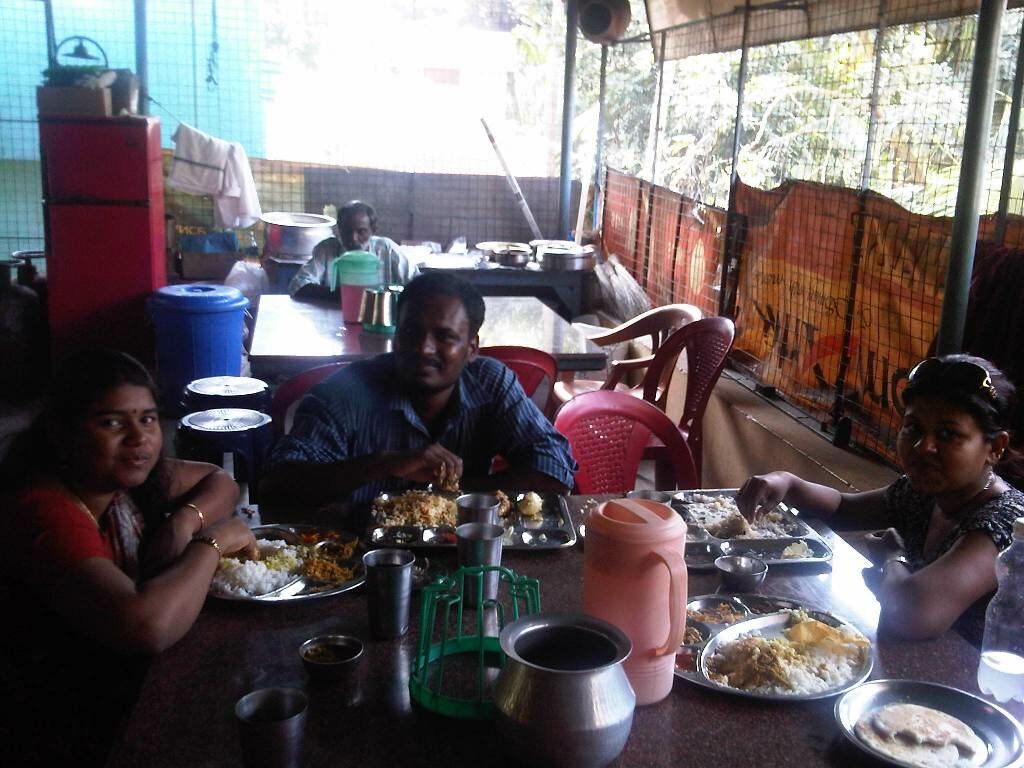 Back to our hotel and after quick rest at our hotel room, we walked into the beach and spend the entire evening there. The beach provides multiple leisure options ranging from Ayurveda health and massage resorts, shopping zones, yoga centers.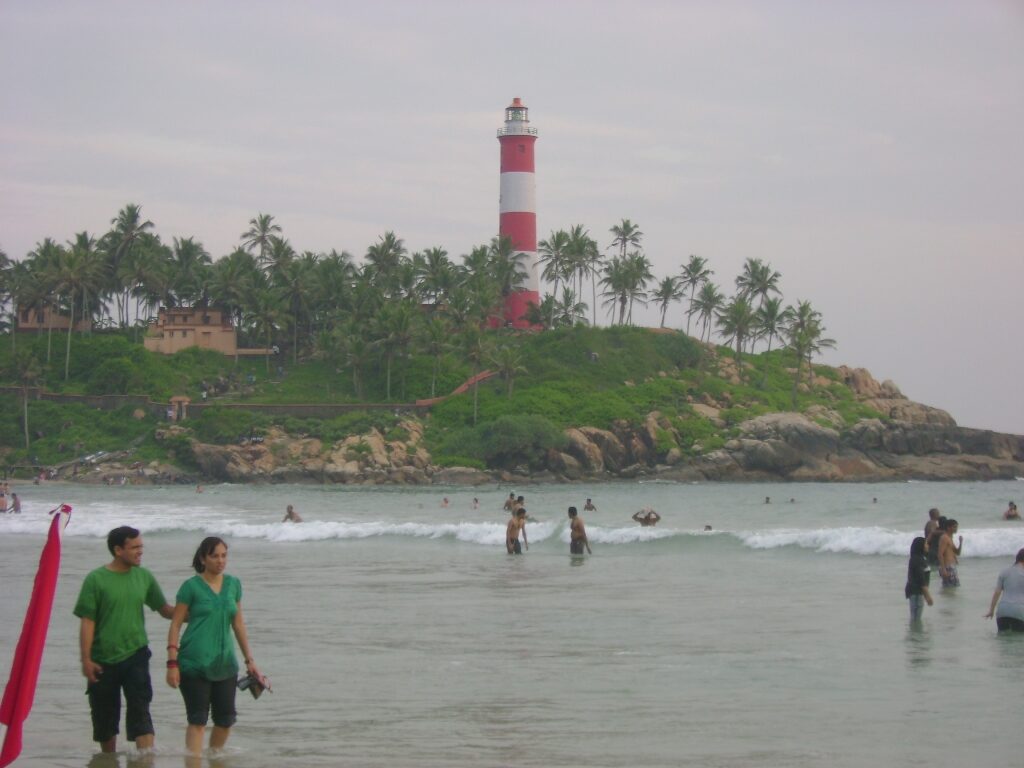 There are several restaurants on the beach specializing in sea food.  You can select options from the fresh catch and get them prepared in the restaurant's kitchen.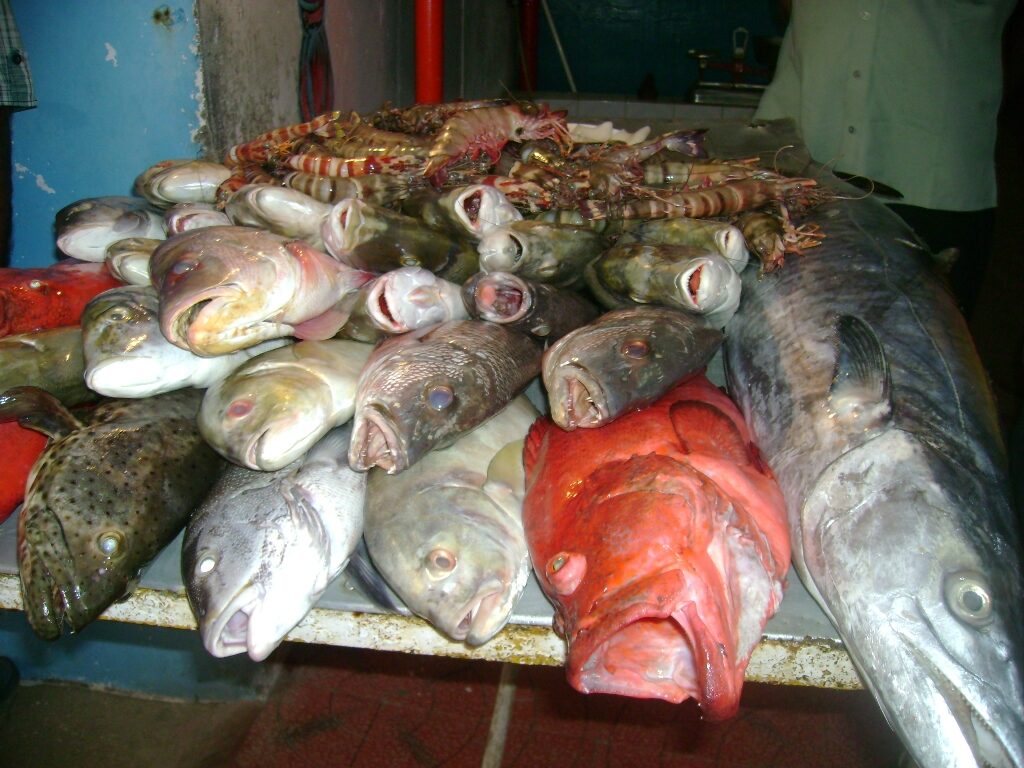 Late in the evening we were joined by Pramod and Jisha for dinner. We had dinner in one of the several restaurants on the beach.
On the last day of our trip, we woke up with the sound of the waves against the beautiful view of the Arabian sea from the balcony of our hotel. We had a late evening flight to catch from Trivandrum, so had half of the day to spend at Kovalam. After breakfast at the beach, we went for a long stroll along the beach and visited local market selling all kinds of souvenirs. It was fun to watch the local fishermen throwing long nets in the sea to catch fish.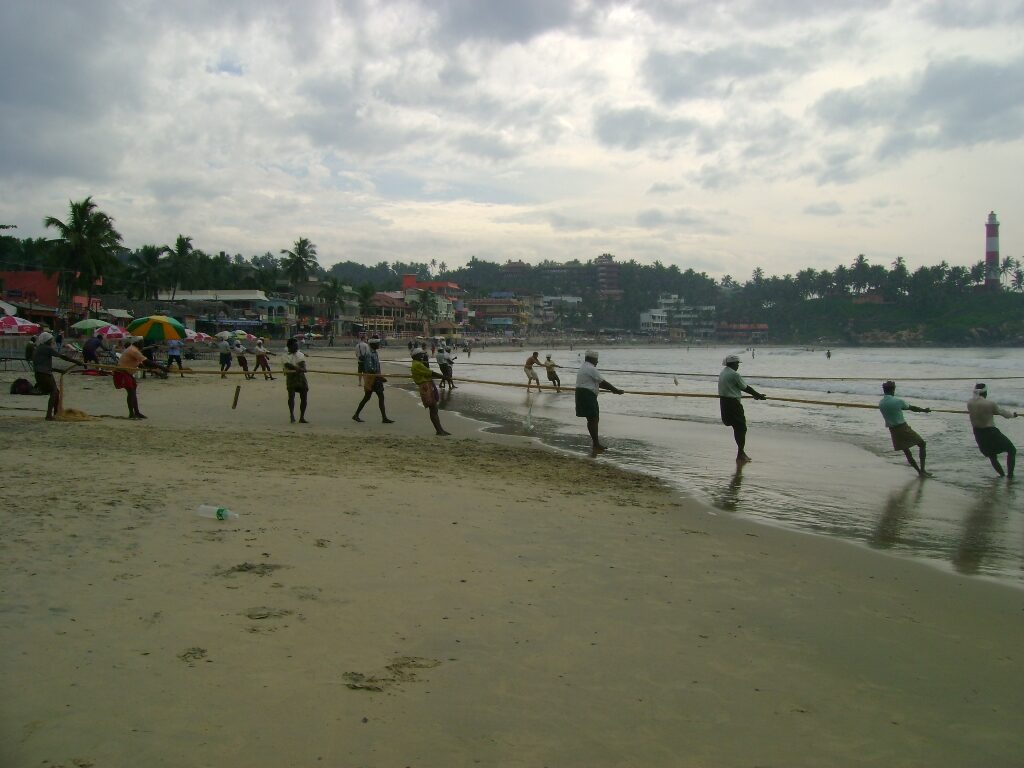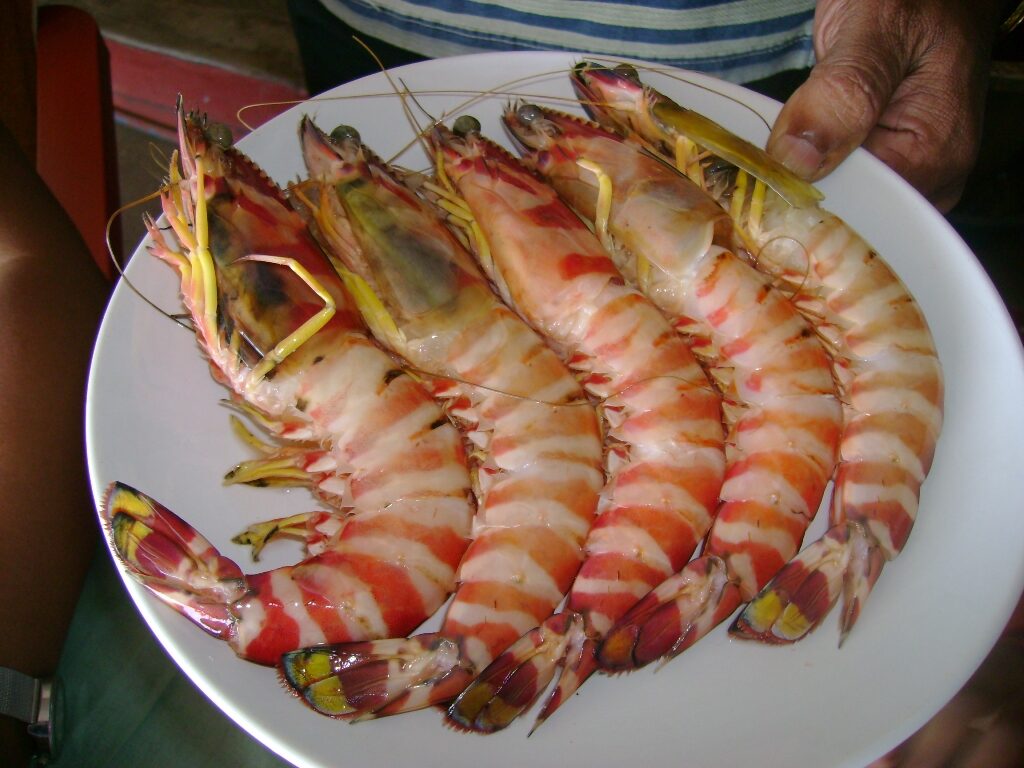 For lunch, we decided to try the local sea food. The restaurants on the beach have a live display of the fresh catch at their entrance. You can select from a wide variety of choices and they make fresh preparation for you. We tried the fried tiger prawns, which tasted excellent though it costed us a fortune.
After completing our lunch by 2 pm, we went back to our room and took some rest. The checkout time of our hotel was 12 pm and it was already 3:30 pm by the time we were leaving. Fearing that we might be charged for extra hours, we reached the reception desk, only to find it empty. We quietly left the room keys on the desk and walked out. I think, booking a room in a small hotel has some of its own benefits J
We hired an auto-rickshaw to drop us to the airport. We were at the airport at 4:15 to catch 6:30 flight for Delhi. The flight had a brief layover at Cochin. When we touched Delhi at 10:40 pm, the air hostess announced outside temperature to be 14 degrees. With memories of Kovalam's warm sea breeze still fresh in our minds, it was now time to brace "Dilli ki sardi" (Delhi's winters)