Kolhapur, Tarkarli and Guhagar
The below travelogue is an itinerary of round trip to South (Konkan) Maharashtra. We drove to Kolhapur and then travelled to Tarkarli. From Tarkarli, we drove along the Western coast to Guhagar and then returned to Pune. The trip was done during December 2021 and we covered 970 km in the span of 1 week.
Though most of the tourist attractions in Maharashtra lie in the northern region, there are a few which are located in the Southern region as well. In fact, calling it Southern region is not the right term as Maharashtra geographically is classified in 5 regions – North Maharashtra (Khandesh), Vidharba (Berar), Marathwada, Konkan and West Maharashtra (Desh). Therefore, what I am referring as South Maharashtra is actually shown as the West region in the  regional maps (refer below).  A road trip to explore this region of Maharashtra was planned for the last week of December in 2021.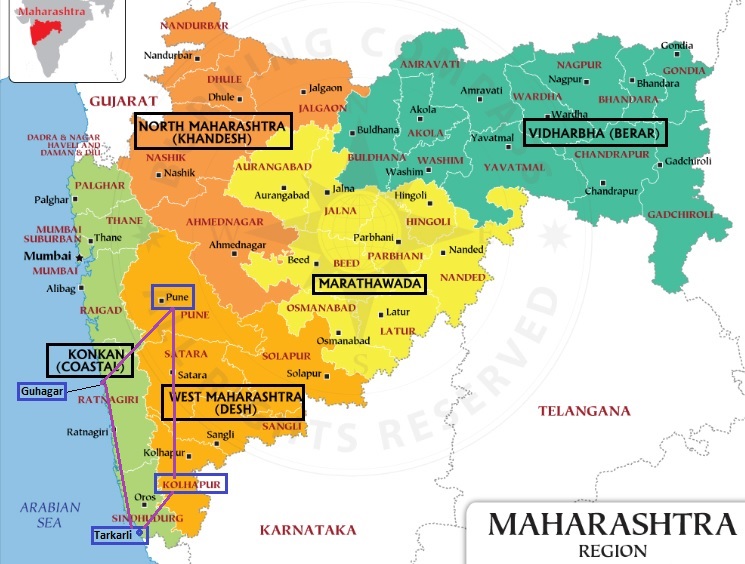 We identified 3 cities of interest – Kolhapur, Tarkarli and Guhagar to be explored on this visit. We included Panhala Fort (close to Kolhapur), Dajipur Wildlife Sanctuary (on way from Kolhapur to Tarkarli) and Vijaydurg Fort (on way from Tarkarli to Guhagar) in the itinerary.
After reviewing several travel blogs and travel sites, we zeroed down to the below points of interest for this trip.
1. Kolhapur: Mahalaxmi Temple, Chhatrapati Shahu Museum & Maharaja's Palace.
2. Tarkarli: Sindhudurg Fort, DevBagh Beach, Tsunami Island beach.
3. Guhagar: Guhagar beach, Velneshwar Temple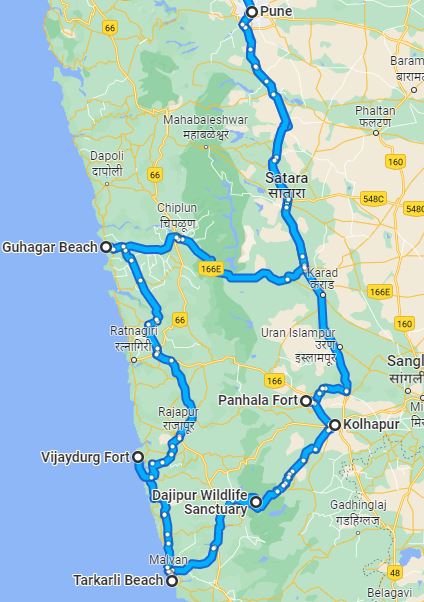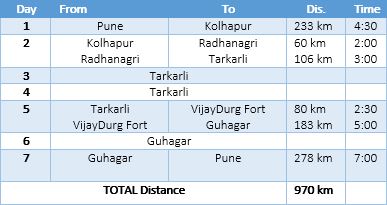 Note: We had booked 'Green Echo' at Guhagar from their website directly. This portal seems to have been decommissioned now but the property is listed on various hotel booking portals
Day 1: Drive from Pune to Kolhapur via Panhala Fort (262 km, 5.5 Hrs)
Day 1 was a straight and smooth ride on NH48 (Pune-Bangalore Highway). Our first stop was at the Panhala fort. The fort is 22 km North-West of Kolhapur, which made it on the way before Kolhapur. We therefore decided to visit the Fort first before driving to Kolhapur.
We started early at 7 am and in an hour crossed the Khed-Shivapur toll gate. For breakfast we stopped at Hotel Amruta Executive at Bhor which is about 30 mins drive from the Toll plaza. Being a weekend, the hotel was a bit crowded and we had to wait for our order. After a quick bite we carried on with our drive. We drove past Satara and by 12:30 we left the highway to take Vathar- Vadgaon Rd to NH166. Panhala fort is 30 km from here and the road is narrow and pot holed at several places. You barely go more than 40 km/hr speed on this stretch. We were greeted with a long queue of cars before the Fort entry. Due to parking space issues and narrow approach road to the Fort, the entry and exit of vehicles are done in batches. We had to wait for about 20-25 minutes before we got an entry.
Panhala Fort –  It will be incorrect to call it a Fort. It is a strategically located area with a perimeter stretching to 15 km.  It was built by Raja Bhoja II during 13th century and there are several attractions in the area like- Teen Darwaza, Amber Khana, Sajja Kothi, Dharma Kothi, along with several temples and mausoleums. 
Amber Khana was used to store grains and cereals which was used in case the fort was sieged for long durations by the enemy. Sajja Kothi – It translates to – 'Punishment Cell'. The building is three storied and built in Mughal architecture. It was essentially a viewing pavilion that overlooks the valley below. The place is also associated with Shivaji Maharaj who had imprisoned his son Shambhaji here, for his  threats to defect to Aurangzeb.
There is no entry fee to any of the monuments in the Fort and you have to pay for parking only. My suggestion for first timers is to hire a guide, as most of the attractions are spread in a huge area, which might be difficult to navigate. The geographical location of this place was ideal for fortification as it oversaw the Sahyadri pass which served as an important trade route of Bijapur. Because of its strategic location in the Deccan, many conflicts and skirmishes took place here in history between the British, Marathas, and Mughals. Besides its brilliant design, it also houses many hidden exit routes. No wonder, it is one of the special places to see in Kolhapur.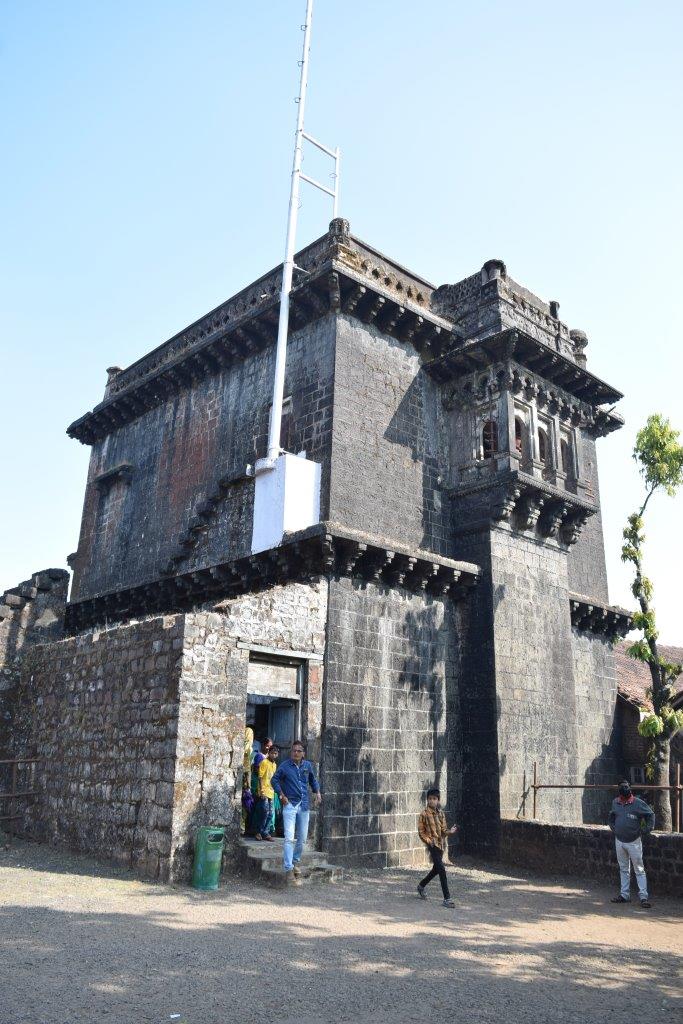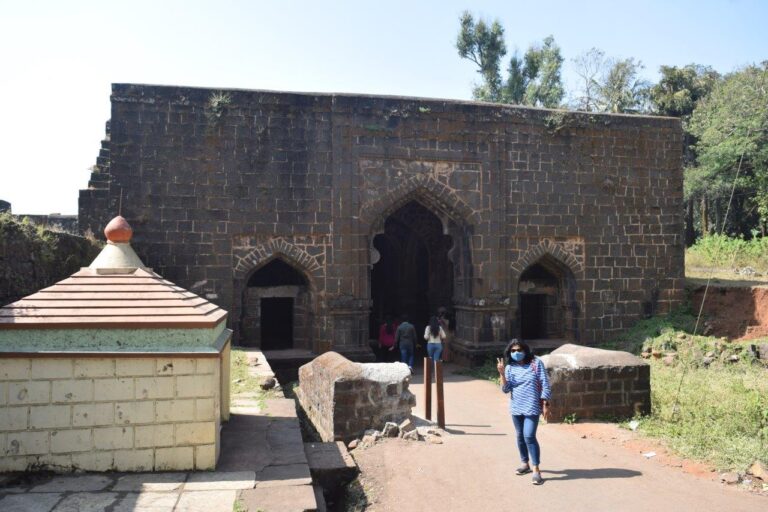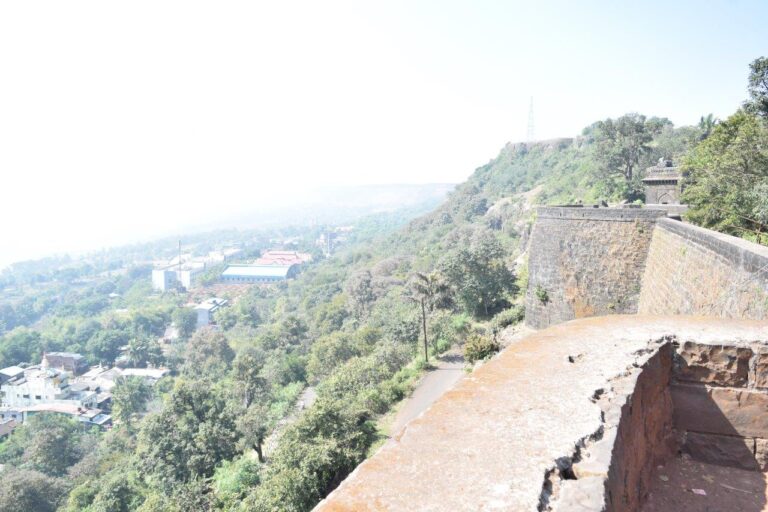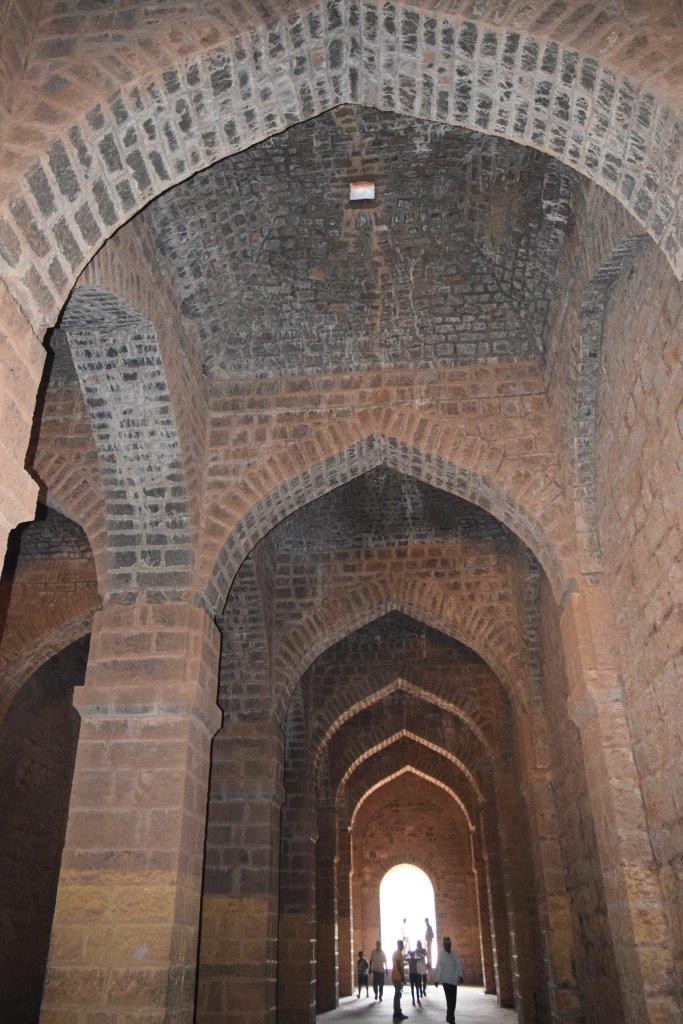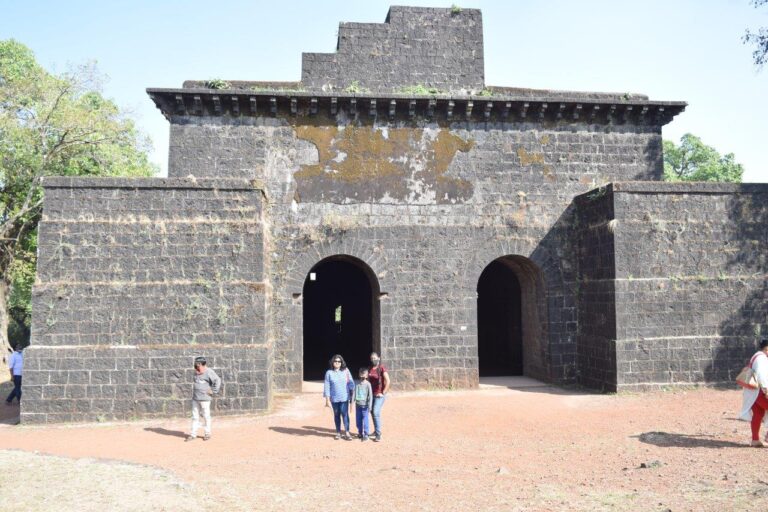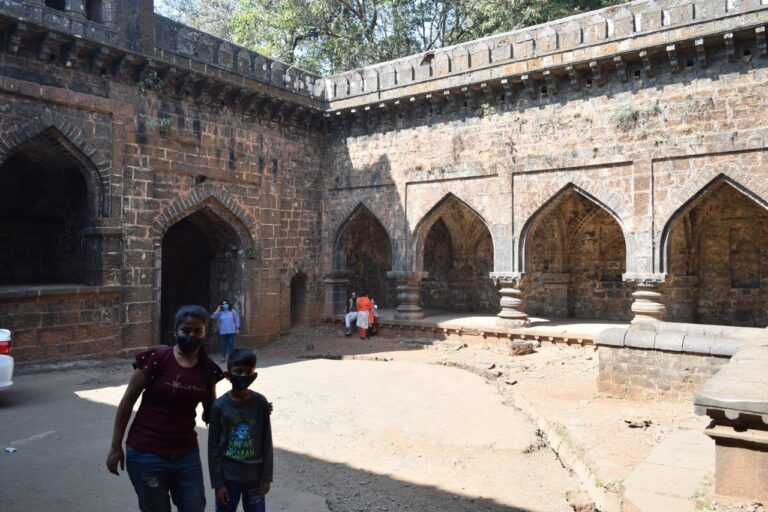 Outside the teen darvaza there are several small shacks selling the local delicacy called Zunka (a gravy made of ground millets) and Bhakar (roti made from Jwaar or Bajra). Food is freshly prepared and served hot. It is a must try if you are looking for a local taste.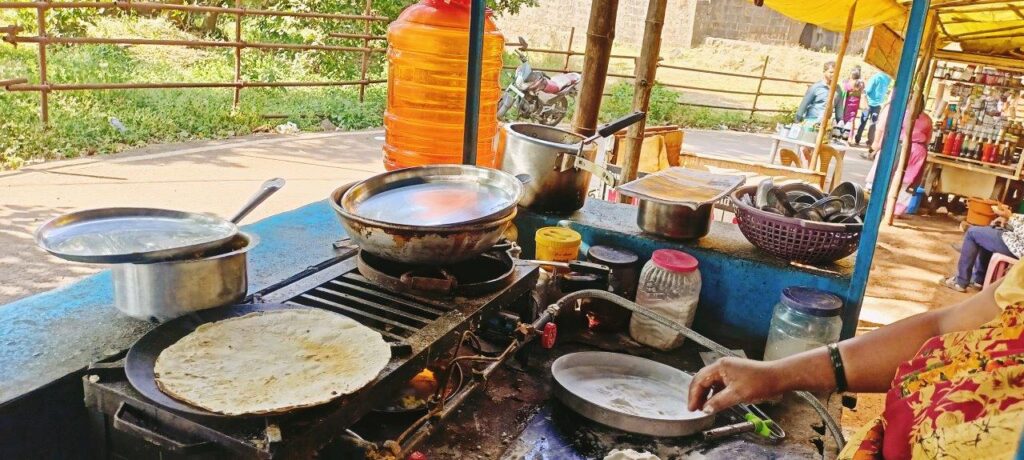 By the time we had finished lunch, it was 3 in the noon. We soon left for Kolhapur to explore the next attraction – Maharaja's Palace. After a drive for an hour, we stood at the entrance of the fort which has an entry fee of ₹30 per adult.
Chhatrapati Shahu Museum & Maharaja's Palace:  The museum is housed inside the Maharaja's Palace, popularly known as the New Palace. It is one of the oldest museums of India, built in the year1883. The museum has a splendid collection of ancient sculptures, war artefacts, weaponry and paintings depicting the life of the famous king, Shivaji. The architecture of the museum is also magnificent, encircled by lakes and parks. You are not allowed to wear shoes inside the museum. The Palace is famous for its unique mix of architectural styles, drawing inspiration from Rajasthani and Gujarati designs. The present king of Kolhapur resides on palace's first floor. The palace remains open every day from 9:30 AM to 6:00 p.m.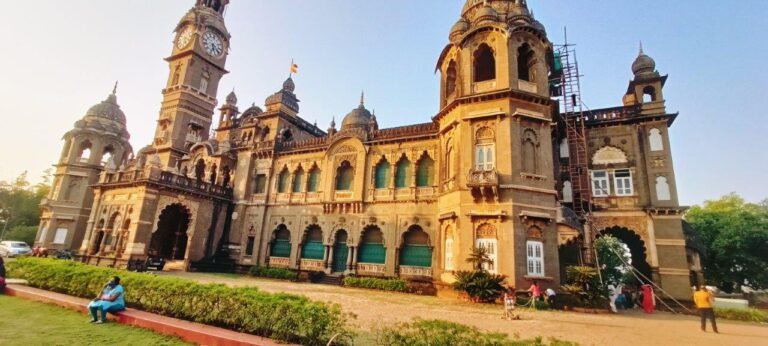 By the time we finished exploring the fort, it was 6 in the evening. We left for our hotel – OYO Heritage Lodging and Boarding at Rajaram road which is 15 minutes' drive from the Fort. The hotel offered average rooms. The only USP of the hotel is its location which is at the heart of the City and offers several dining and hanging out options. Walking distance from the hotel is Rajaram Hall Garden which is beautiful garden surrounded by street food vendors. Most of them sell 'Chicken 69' which seems to be pretty popular.  We spent a few quite moments in the garden and then headed to a nearby restaurant – Hotel Saffron for dinner. The hotel has a nice ambiance and offers authentic Kolhapuri delicacies.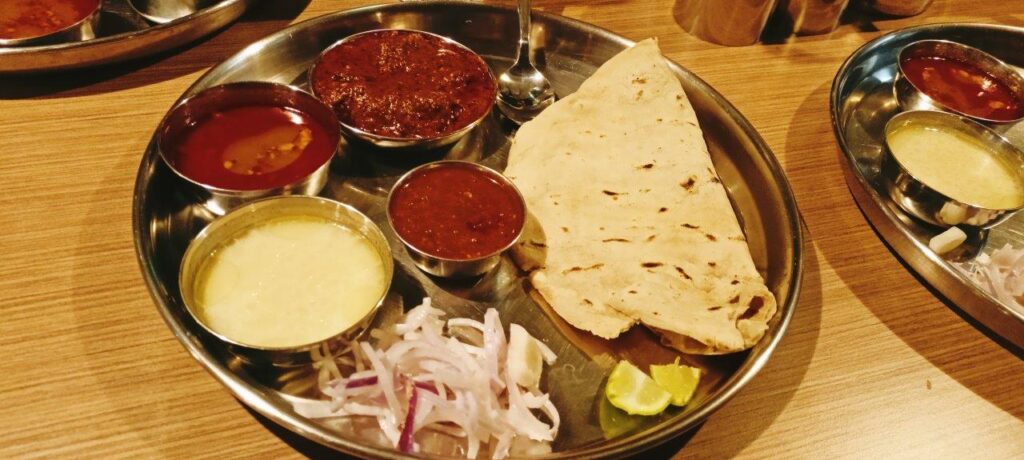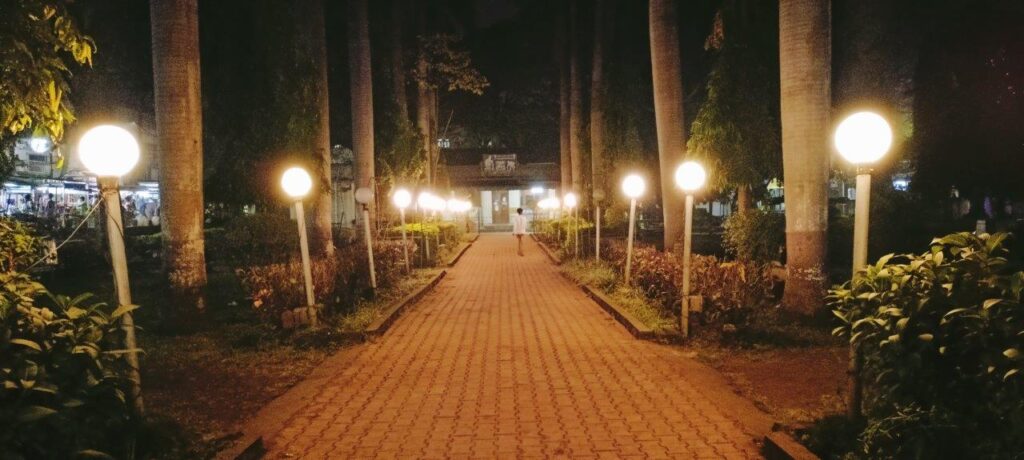 Day 2: Drive from Kolhapur to Tarkarli via Dajipur Wildlife Sanctuary (160 km)
Day 2 plan was to visit the famous Mahalaxmi Temple of Kolhapur in the morning and then dive to Dajipur Wildlife sanctuary which is on the way to Tarkarli. After refreshing ourselves we checked out of the hotel and headed towards Mahalakshmi Temple. The temple is in the heart of the city and close to the Rankala Lake.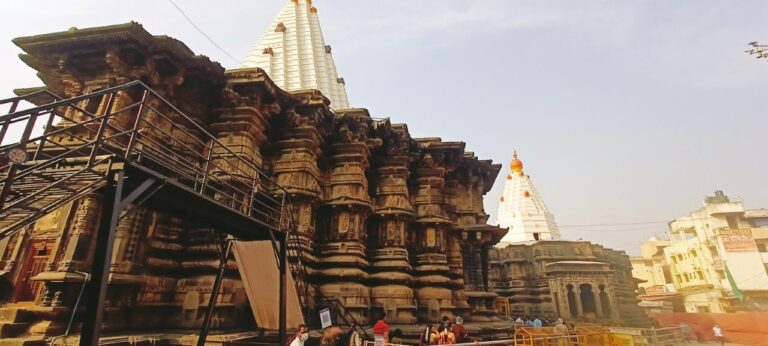 Car parking for the temple is available near Bhavani Mandap, close to the Temple.  Bhavani Mandap itself is one of top places to visit in Kolhapur. It was built by the ruler of Kolhapur – Shivaji Maharaj II. The king conducted important meetings and celebrations inside this building. It has now been converted into a public monument. At the centre of the Mandap, there is the temple of Tulja Bhavani, who is considered to be the younger sister of Goddess Mahalakshmi.
There are several street food vendors selling variety of food items on the sides of the entrance to Bhavani Mandap. We tried the famous Thalipeeth (flat bread made from floor of rice, chana, barley and finely chopped vegetables). The vendors (mostly women) prepare it fresh and serve with curd, chutney and boiled chana). After the quick breakfast we headed towards the Mahalakshmi temple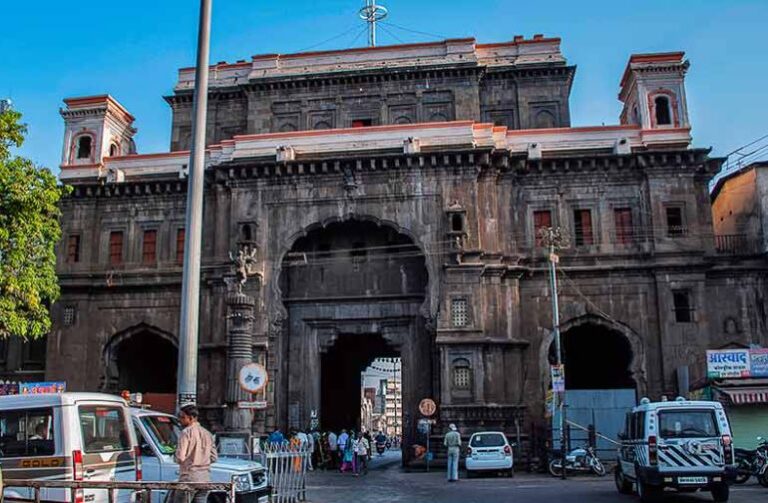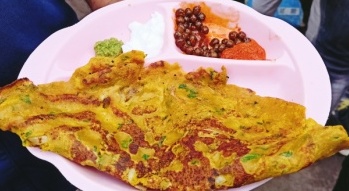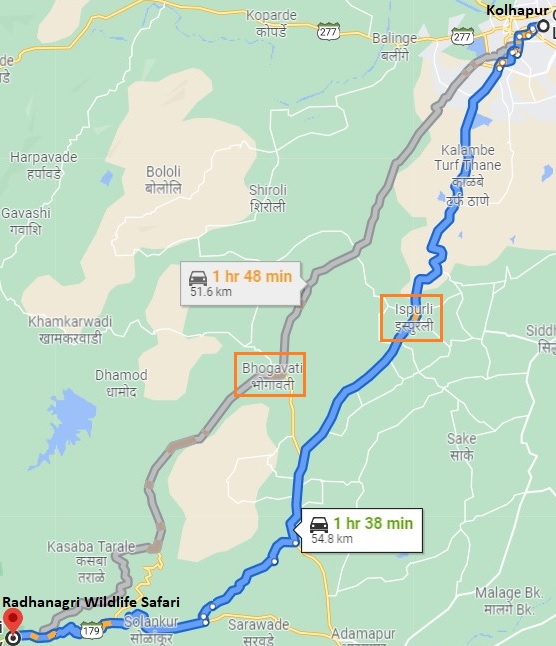 It was 11 AM by the time we finished with darshan at the temple. From Kolhapur, we were to travel South West towards Dajipur Wildlife sanctuary.
Dajipur Wildlife Sanctuary is also called Radhanagari Wildlife Sanctuary. It is the home of various birds, small mammals, reptiles and wild animals such as the Indian Bison, Deer, monkeys, wild boars, bears and chitals. Prior to independence, Chhtrapati Shahu Maharaj (the king of Kolhapur) reserved this forest mainly for hunting and constructed Radhanagari dam on River Bhogawati flowing through the forest.
There are 2 routes to reach the sanctuary from Kolhapur. The first passes through Bhogavati and he second via Ispurli. Upon checking with a couple of locals in Kolhapur, I was suggested to take the Ispirli route.
The timing of the reserve is 6:30 AM to 2:30 PM for entry. Private vehicles are not allowed inside. You need to hire vehicles at gate which cost ₹ 1800 . 8 people are allowed in one vehicle so if you want to save money, you can club other interested families. Go for an open jeep vehicle for better safari experience.
We entered in forest at around 2 pm unfortunately couldn't spot any animal however safari through green and dense forest was an amazing experience by it self. The entire safari takes 2.5 – 3 hours and takes breaks at several points for a spectacular view of the Sahayadri mountains.
By the time we finished the safari, it was 5 PM. Without any further delay we left for our next destination – Tarkarli which was expected to take 2.5 hours. With the intent of avoiding night-driving, we decided to drive without any breaks and have dinner after reaching Tarkarli.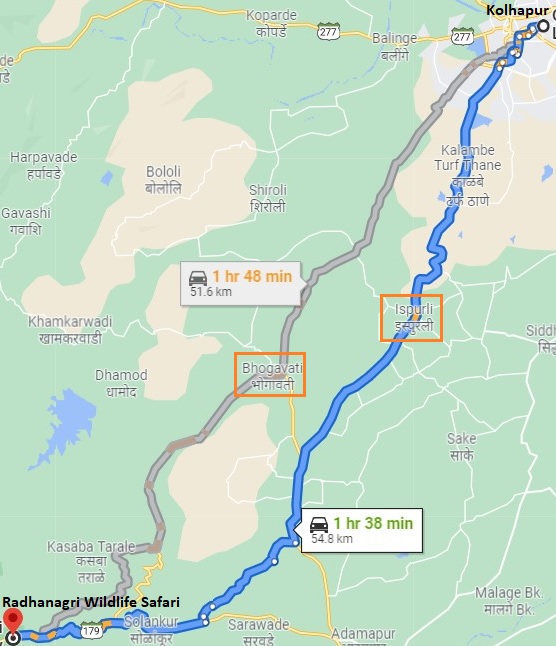 We took the Kasal – Sukalwad route which is 20 km shorter than the other route shown in the map. We took tea-break at "Route 66 Restaurant and Café" at Bordave. The restaurant was good and had ample parking space. We followed NH 66 for most part of this drive and the road conditions were excellent.
December-end is a peak season for most of the beach destinations in India and we found very limited options to stay at Tarkarli while booking. Most of the hotels were either booked or were too expensive. While searching, we came across ShreeYog Home stay.  When I called up the property, I got to speak with Mr. Jayesh who confirmed the availability at reasonable prices.  I booked it by paying an advance of  ₹1000 to him. This was the first time I had booked a Homestay and was a bit apprehensive of the services we were to get.
Our plan was to have dinner once we entered Tarkarli and then check-in to our Homestay which was about 6 km. further South. I had read good reviews for – Athithi Bamboo, Hotel Chitanya and Samandar Malwan restaurant which all are located at the North side of Tarkarli (see map under Day 3). But the moment we entered Tarkarli, we found that all of these hotels were located inside narrow by-lanes where driving and finding parking space was too difficult. Also, most of the roads are one-way and if you enter the wrong side, you end up getting stuck with no option to reverse.
Since it was already getting dark, we decided to skip the idea to stop for dinner there and drove straight to our Home stay. Mr. Jayesh and his wife were expecting us and gave us a warm welcome. Being late in the night, we did not bother them with dinner. After refreshing ourselves, we walked to a nearby restaurant and had a simple dinner and called it a day.
Day 3: Tarkarli (Tarkarli and Devbag Beach)
Next day, early morning we got a chance to check the home of our hosts. It consists of 3 rooms with attached bathrooms. All the rooms were clean, spacious and there was an ample open space in front of the property. Jayesh left his job in Mumbai to start with this place and is assisted by his wife who also works in Mumbai and joins him during weekends and holidays to run this place.
This was the first time we had opted for a Home stay but it turned out to be an amazing experience. For 3 days, we were not just guests but rather part of Mr. Jayesh's family. The hospitality and warmth offered by them, comes nothing close to the the experience at any expensive hotel. We got to eat the best Home cooked food prepared by Mrs. Jayesh. The food was so tasty that we did not feel to eat out in any of the fancy restaurants we had identified. We would highly recommend this Home Stay. Though his property is listed on a couple of online booking portals, Mr Jayesh Zad can be called on – 9768911119 for booking directly and get discounted rates.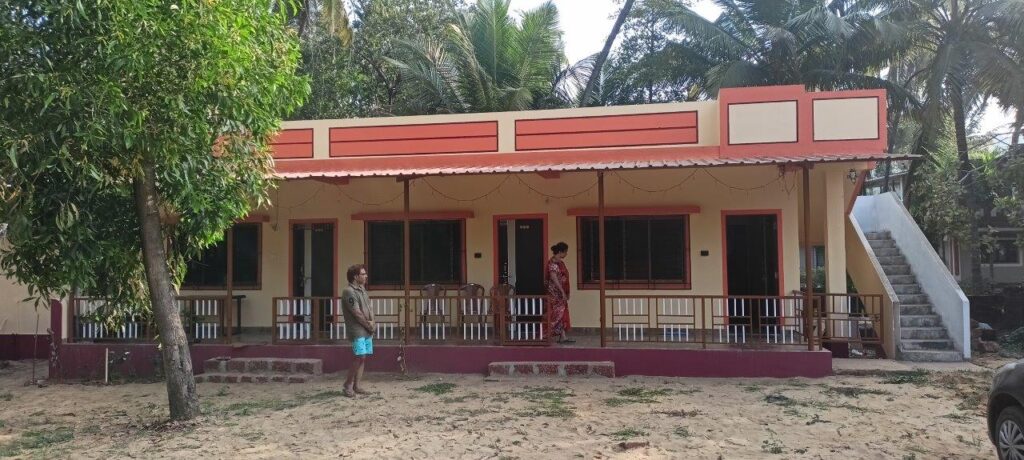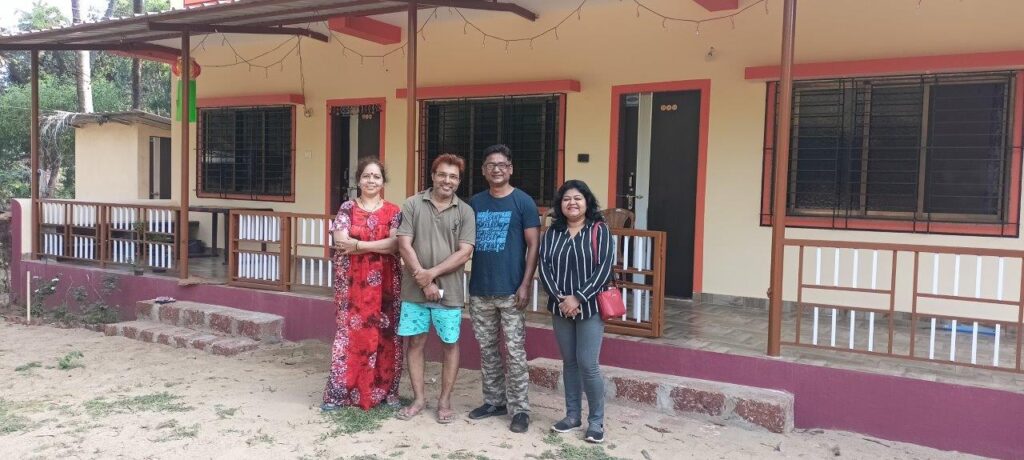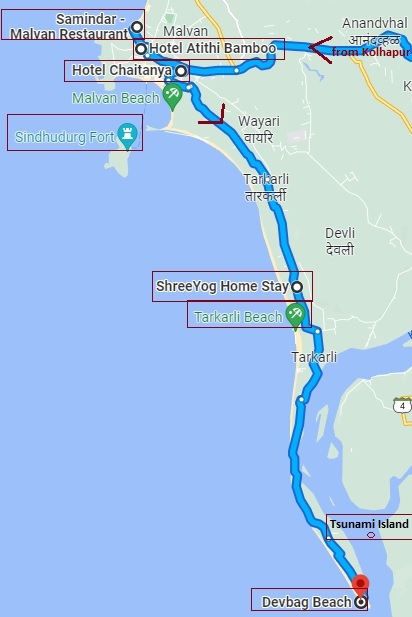 As you can see in the map, Tarkarli is spread parallel to the cost. The Northern region, which falls under Malvan is more commercialised and has the popular restaurants. The biggest challenge are narrow roads. If you plan to explore Tarkarli, don't drive your car. Rather, hire a 2 wheeler. Most of the hotels have a tie up with owners and can arrange one for you. The famous Sindhudurg Fort is nearby and the beach is famous for water sports and Scuba diving.
The Southern region of Tarkarli is more quiet and picturesque. Devbag beach is the end of the road. The beach is perched at the confluence of the Karli river and Arabian sea with beautiful Sahyadri mountains in the backdrop. If you plan to stay close to Devbag and your budget allows, I would recommend the MTDC hotel which has an excellent view and a good restaurant.
The plan for Day 3 was to spend the first half of the day at the Tarkarli beach and then visit Devbag beach. We had a tasty home cooked Ghavan, which is a traditional breakfast recipe from Konkan region and is made out of brown rice flour (similar to Neer Dosa in Karnataka). It was doubled up with yummy Sol-kadi which is a mildly spiced coconut milk and kokum drink that is an inseparable part of the Malvani cuisine. Post breakfast we walked to the beach and spend several hours at the sea. The beach was clean with golden sand and the water was shallow. We seemed to be the only people there.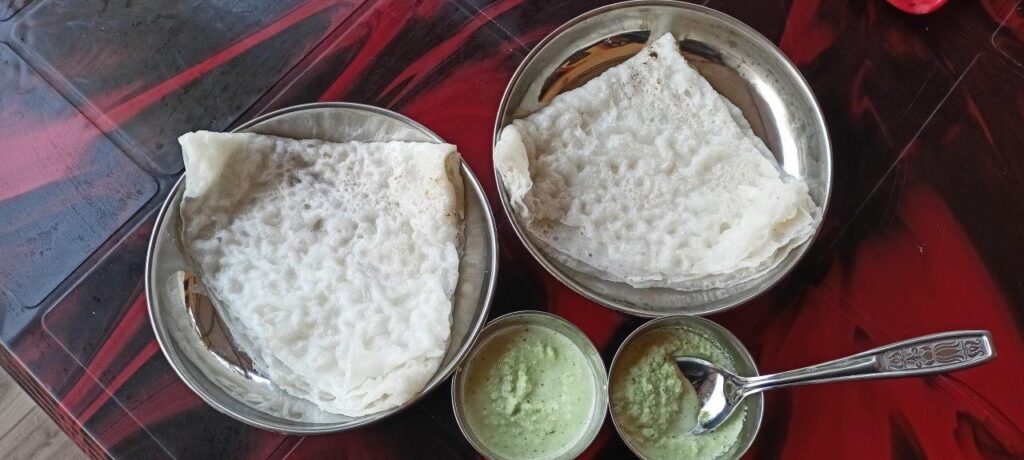 We returned to our Homestay for lunch and after some rest headed to the Devbag beach in the evening. The road to the Devbag passes through a narrow stretch of land with beautiful landscape. It has Carli River running on one side and the sea on the other side. The only challenge is the width of the road. Being a busy time of year, we were frequented with tempo travelers and buses which made driving difficult. Again, my recommendation is … rent a 2 wheeler to explore Devbag.
We renter a motor boat for ₹ 500 from a local fisherman and he made us visit some of the major attractions near-by. One of them was Tsunami Island, which had emerged in 2004 after Tsunami waves hit the coast. This place turns into an island during low tide but gets submerged by 2-3 feet during high tide. Water sports are arranged on this island and even during high tide, you can go there.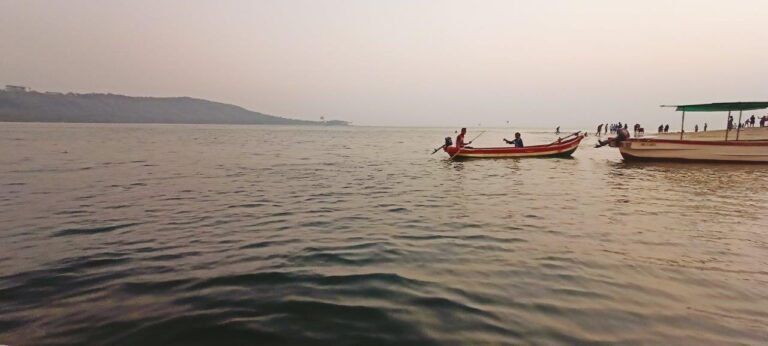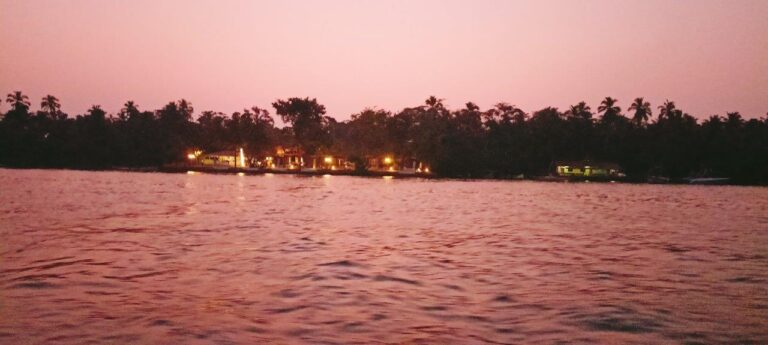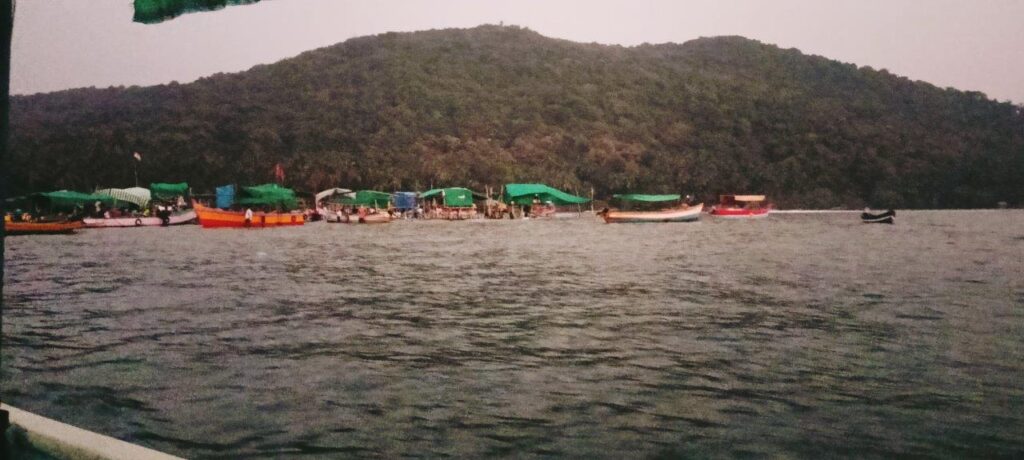 By the time we finished the ride, the sun has set and it was getting dark. We drove back to our stay. Mrs.  Jayesh had prepared Malvani style chicken which we had with chapati and rice. After sumptuous dinner we dropped into our beds.
Day 4: Tarkarli (Water sports and Scuba Diving near Sindhudurg)
Day 4 was reserved for what Tarkarli is famous for – Scuba Diving and Water sports. Though these activities are conducted at several beaches across Tarkarli, Sindhudurg fort is more popular because of the coral reef close to the fort. We had booked a package for ₹ 5000 for 3 people (scuba is not allowed for kids below age of 10).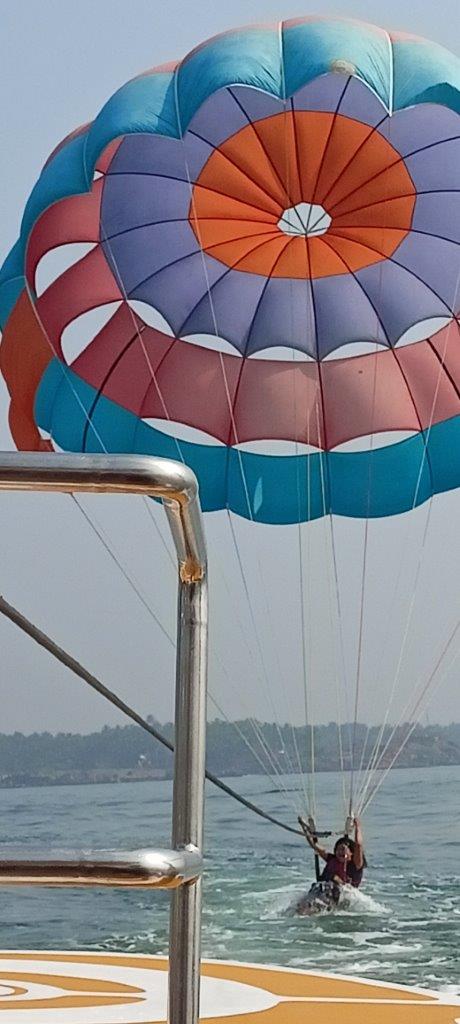 We left for the Sindhudurg beach after breakfast. 15 minute drive led us to the beach which has ample parking space. We were allotted coupons for different water sports comprising of Parasailing, Bumper Ride, Banana Ride, Jet Skiing & Speed Boat Ride. For parasailing, a groups of 8-10 people are taken on a motor boat which has a movable parachute, known as a parasail. You have to wear the chute and are pulled behind a motor boat in order to sail through the air. The entire activity hardly lasts 2 minutes and they charge you 300 extra if you want to take a dip while gliding.
After parasailing, we did various other activities like – Bumper Ride, Banana Ride, Jet Skiing & Speed Boat Ride. All the activities take 2-3 hours and is a fun experience.
It was noon by the time we finished water sports and the organizer called for the final activity – Scuba diving. We were taken close to the Fort walls where the water level is not deep and has the best corals. The dive instructor gave us demo on using gas cylinder to breath under water. With a few minutes of breathing practice, the instructor takes you dip in the water. Under water, the feeling for weightlessness and no sound reaching your ears takes you to a different world altogether.  There are Corals, Rock patches and fishes around you and watching them is a treat to the eyes. The entire activity lasts for 5-6 minutes and is over before have actually started to enjoy it. If you are not a first timer, my suggestion is to go for longer duration dive.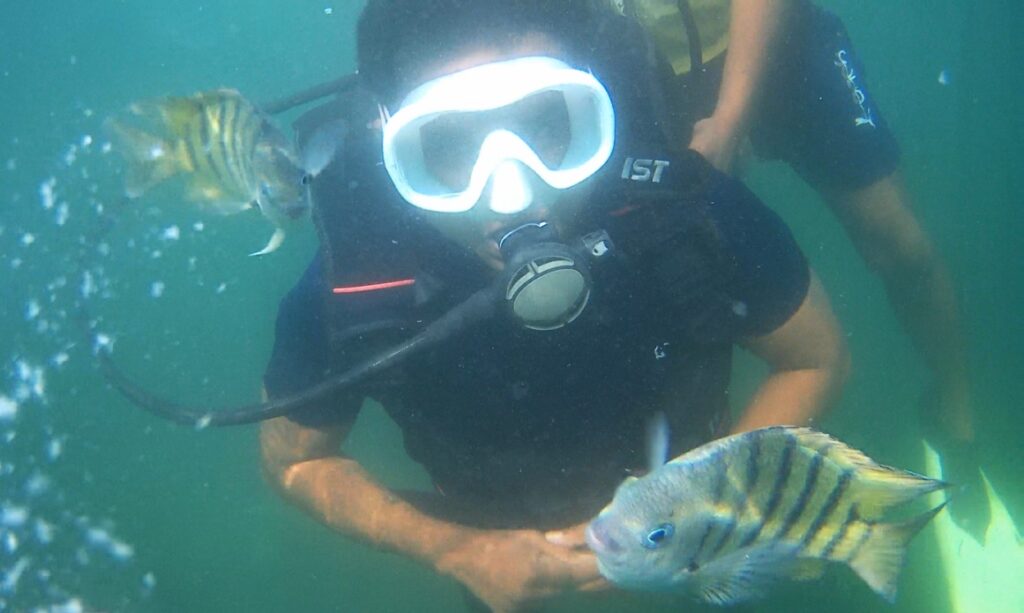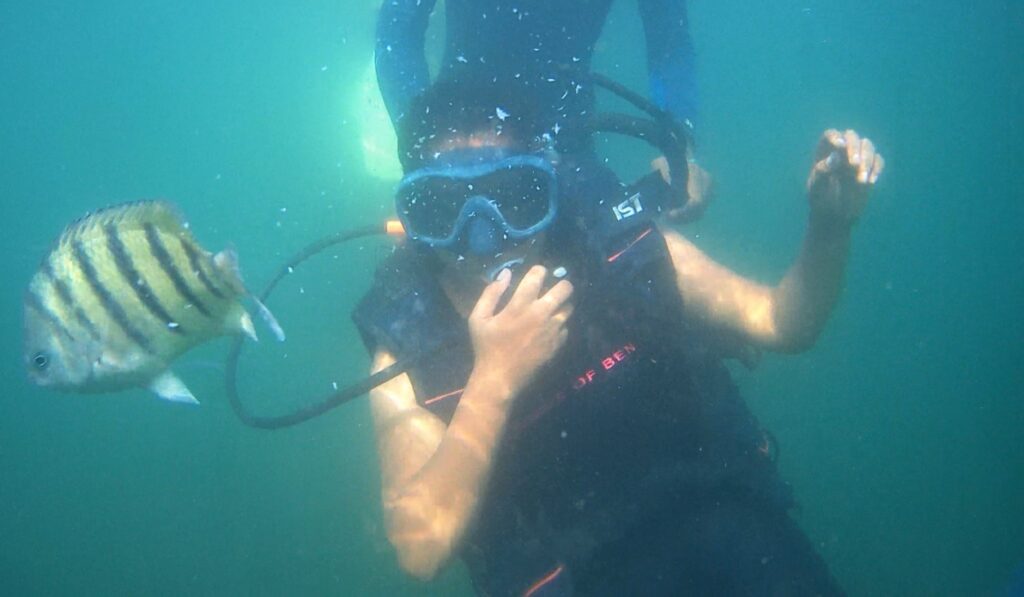 Post diving, the boat dropped us back to the beach. It was 3 pm and we all were hungry. The beach does not have good options to eat. There are a few vendors who sell fast food items but options are limited. Since we all were tired and the overhead sun was making the beach unbearable to stand, we decided to leave for our home stay and have lunch on the way.  If you have time and interest, you can take a ferry to visit the Sindhudurg Fort. It is a 350-year-old ancient fortress built by Chhatrapati Shivaji. Though today, this architectural marvel lies mostly in ruins, it still retains an aura of the powerful presence it must have enjoyed in the medieval era.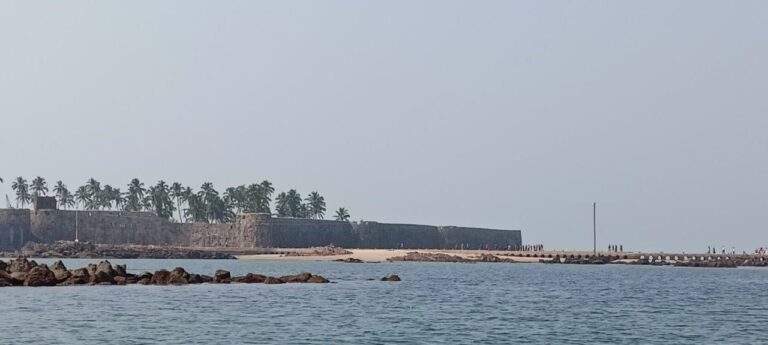 On way to our home stay, we had lunch. Took bath and a quick nap at our stay. It had been an eventful day after-all. The evening was spent watching the sun set at the Tarkarli beach.
Day 5: Drive from Tarkarli to Guhagar via Vijaydurg Fort (260 km)
Day 5 was our last day in Tarkarli and we were to leave for our next destination –  Guhagar. Plan was to take a slight detour to visit the Viaydurg Fort.
I woke up early in the morning for a leisurely morning walk on the beach. The Arabian sea gives an entirely different view when early morning sun light brightens the horizon in opposite direction. The sky was filled with seagulls trying to steal fish from the nets of fishermen who seemed to have had a good catch that morning.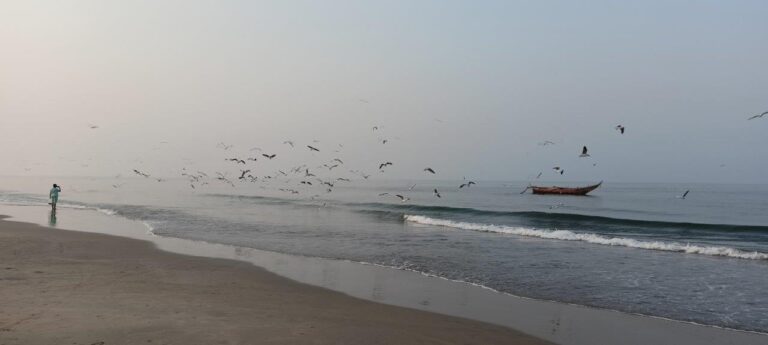 After breakfast, we bid adieu to our lovely hosts – Mr. & Mrs. Jayesh and kicked off to our next attraction Guhagar and visit the Vijaydurg Fort on the way.
Google suggests, NH 66 via Kankavli and Talere to reach Guhagar from Tarkarli which I am sure saves time, however if you plan to visit the Vijaydurg Fort, it takes you via Devgad.
Though I was not sure of the road conditions on this route, we gave it a try and it turned out to be one of the most memorable driving experiences. This route passes through some beautiful and scenic locations of the Konkan cost.
When we reached VijayDurg, it was 12:30 in the noon. The Fort, dating back to 1205, and constructed during the rule of Raja Bhoj, is the oldest on the Sindhudurg coast. It was later conquered by Chatrapati Shivaji after defeating the king of Bijapur, Adilshah.
When Vijaydurg Fort was first constructed, it was surrounded by the Sea on all sides. After few years, roads were constructed on one side providing pedestrian access to the fort.  The Fort's architectural excellence is spellbinding. It houses a 200 m long manmade underwater tunnel which is now partially damaged and entry is prohibited. The fort also has a compound wall which is constructed 300 ft away from the fort. It runs almost 10 m deep into the sea and serves as a barrier to contain the enemy warships.
There is no dedicated car parking for the Fort. You can park along side of the road leading to the entrance.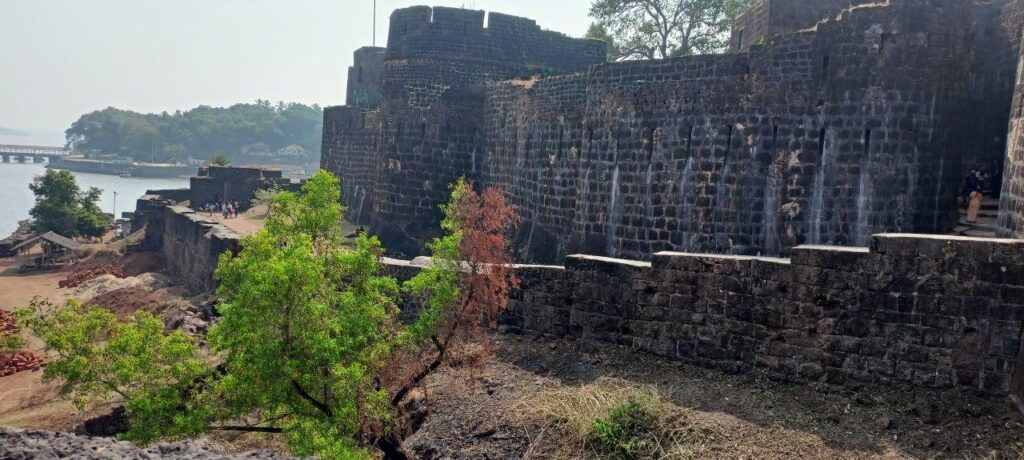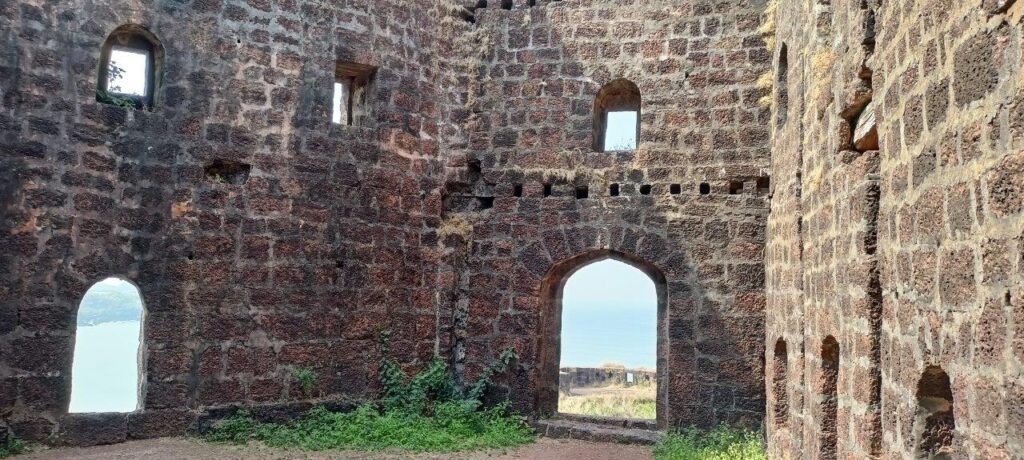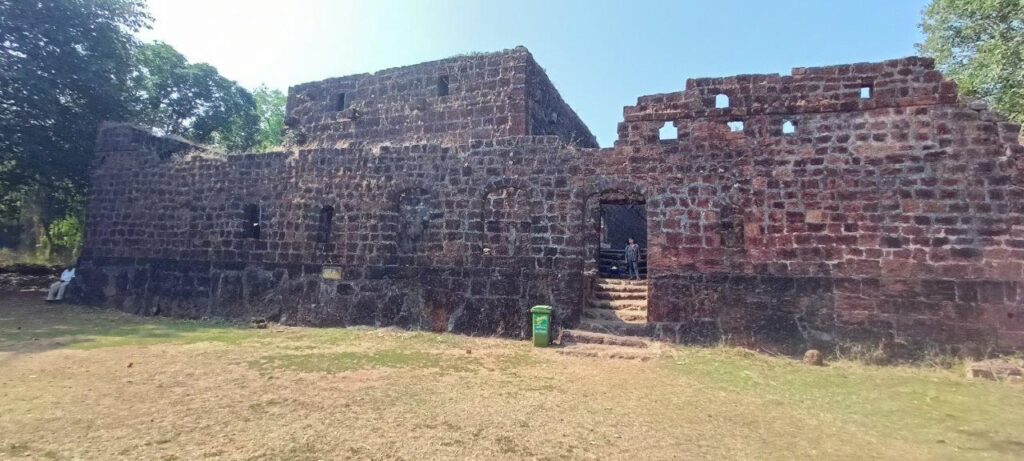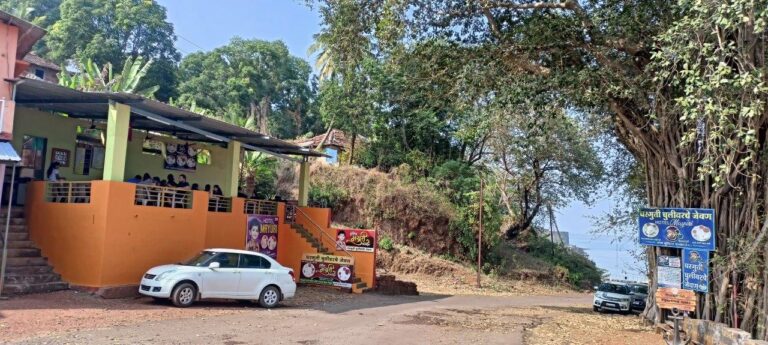 While driving to the Fort near the Vijaydurg Jetty, we went past Hotel Mayuri. A teenaged girl standing opposite the hotel, handed out menu of the restaurant and requested to stop by for lunch. Later, in the Fort, we were approached by a man who introduced himself as Mr Javkar – owner of Hotel Mayuri.  He showed us pictures of his specialty dishes, menu card & prices. When we mentioned about the girl who we had met outside the hotel, he mentioned that she was his daughter. We were impressed with the involvement the entire family with their restaurant and decided to give it a try for lunch.
The food was indeed authentic and cooked with affection by Mrs. Javalkar and other ladies. In addition to the Malvani vegetarian cuisine their specialty is  non-vegetarian dishes like fish and prawns. If you are visiting Vijaydurg, I will recommend stopping by this place to have food and meet the amazing family of Javalkar's.
After lunch we had about 5 hours of drive to Gudagar. Since it was already 2:30 PM and most of the terrain was hilly, we decided to drive without taking any halt. The plan was to reach our resort – Green Echo Tourism Park before sunset. Needless to say, this route again passes through some beautiful landscape of Western Ghats and is a driving pleasure. This region is famous for its world famous Hapus (Alphanso) mangos and most of the stretch was dotted with orchards. By the time, we reached Guhagar, it was 8 PM. 15 minute of further drive brought us to the resort. We were welcomed by the owner of the resort – Mr. Dilip Shirke. Since it was already late, he advised to order for dinner. Their restaurant serves for guests visiting the property and takes orders in advance so that preparations can be made accordingly. After dinner, we called it a day and slipped into our beds.
Day 6 was last day of the year as well as our trip. We had kept the first half of the day to be spent at the Guhagar beach and then post lunch, explore Green Echo farm. We had hot parathas and poha in breakfast and then headed to the beach, which is 15 minutes' drive from the farm.
Guhagar is famous for its untouched beach. A long stretch of coastline with white sand welcomes you with open arms. You get an ample parking space close to the beach. Absence of hawkers and water sport activities with very few visitors ensures that the beach is clean and quite. Sea water in the backdrop of white sand made it so clear that we could see stingray fishes swimming all around.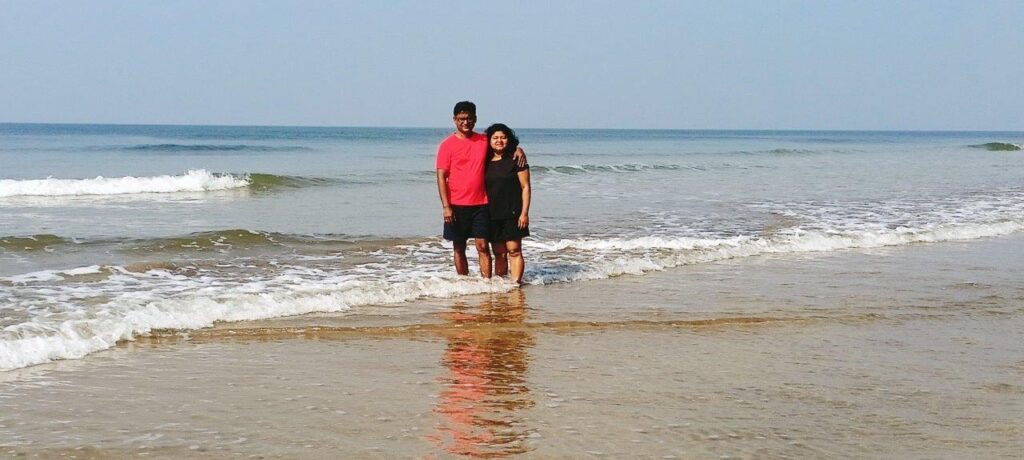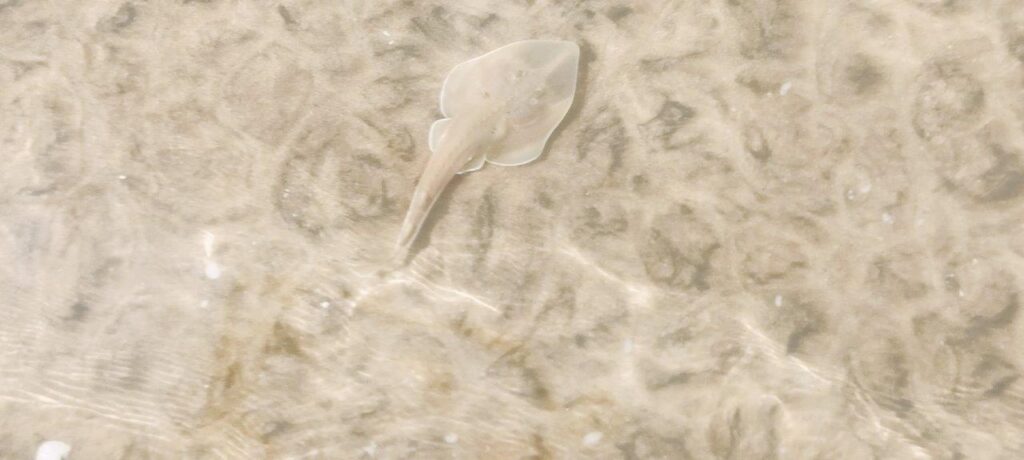 After spending a few hours in the sea, we visited the Vyadeshwar Temple which is walking distance from the beach. The temple is dedicated to Lord Shiva and has Idols of – Lord Ganesha, Vishnu and Surya. There is very limited parking space at the temple so it's better to leave your car at the beach.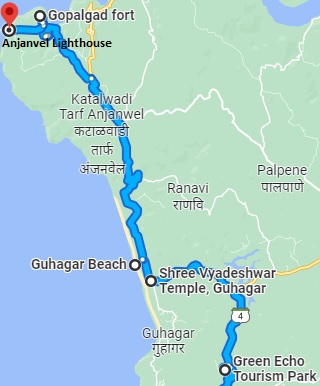 If you have time, you can visit Gopalgarh Fort which is about 14 km from the beach. There is a nearby – Anjanvel lighthouse which can be included in the itinerary (refer to the map). We skipped both the POIs as they were at a distance and needed time to explore.
We were back to our resort by noon and placed an order for lunch since it was going to take time to be ready.  
After lunch – Mr. Dilip Shirke, our host & owner of the estate gave us tour of his estate. Mr. Shirke, left his corporate job and decided to pursue his passion for setting up orchard plantations along with his brother.  He is very passionate about what he does & takes personal interest to ensure that their guest's stay is comfortable.
Green Echo park is situated in the midst of beautiful Kokan hillock, and has 4 bungalows for accommodations. Each bungalow has 2 floors with each having 2 rooms.  The 5th bungalow (from left) which you see in the picture below is where Mr. Shirke lives with his family. All of the houses have been built from the local Chira stone (cut from rusty-red Laterite rocks). The rooms are spacious, clean, well ventilated & and have huge window facing lush green hills. All the bungalows have wi-fi connectivity and none of the rooms have TV's. As per the owners this has been done purposely so that people come out to appreciate the nature rather than spend time watching TV.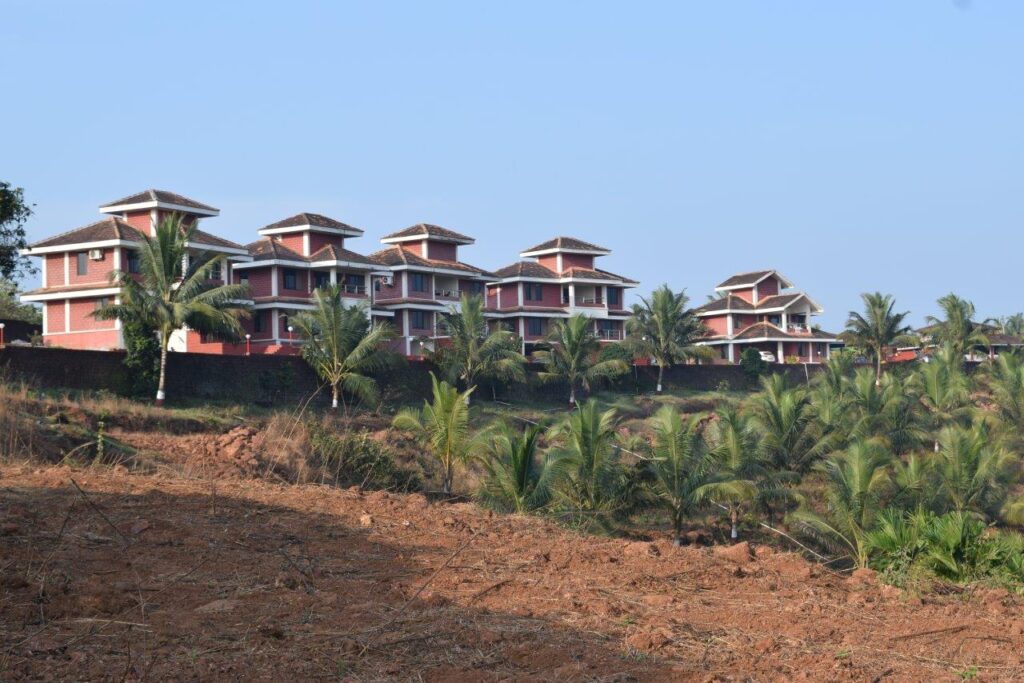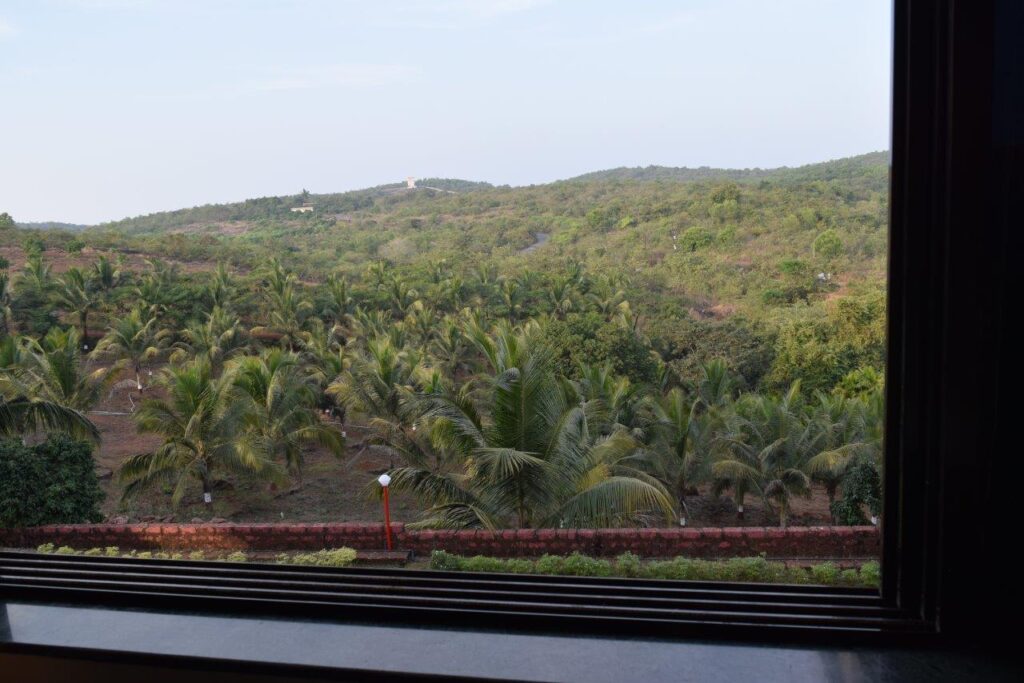 Mr. Dilip walked us through the entire estate. He explained the process of 'rock blasting' technique involved in planting the mango, cashew, nutmeg and coconut trees. In this method, hard and barren laterite rocks surfaces are blasted using explosives to create bowl-shaped pits. They are then filled with alluvial soil which is rich in nutrients. The trees are planted in these pits which after a couple of years develop root system to pierce the hard rocks for water & nutrition. All the trees are irrigated using drip-irrigation method which minimizes water wastage. On my question that why the famous Alphanso mango grows successfully in this region only, Mr. Shirke explained that it was because of the Laterite soil which is found in this region. It is rich in Iron and Aluminium and the moisture laden winds from the sea brings the peculiar taste and aroma to the mangoes. He invited us to visit during the harvesting season (March-May) and buy mangoes at half the price it is available in markets.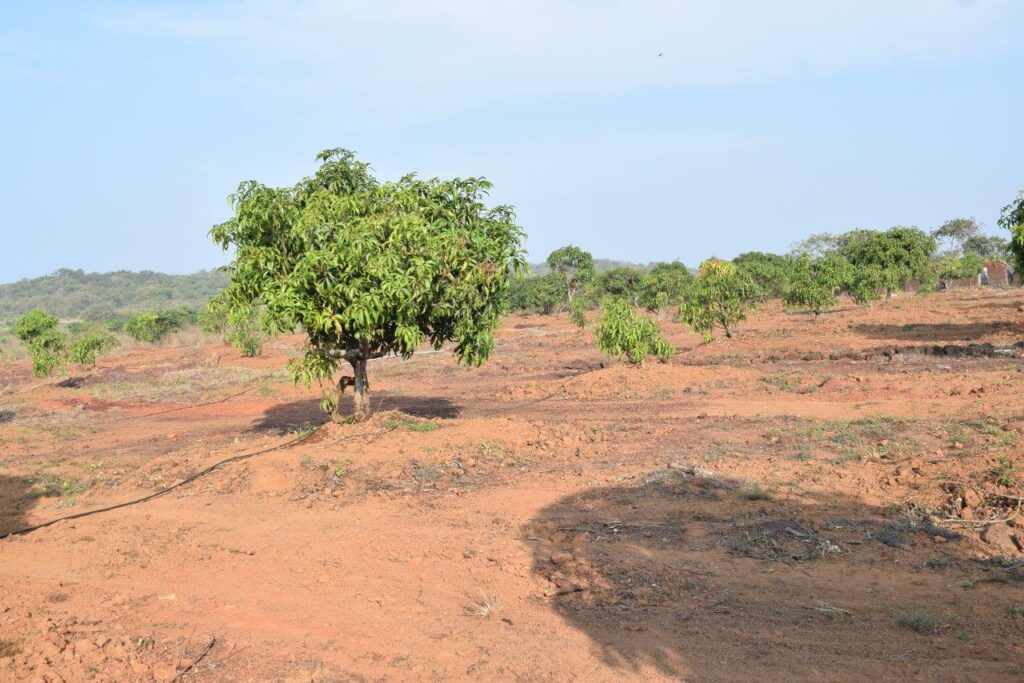 In addition to orchard plantations, Shirke brothers are involved in developing real estate as well. They construct houses in their estate which can be leased out for rental income or can be made holiday homes.
We are overwhelmed with the hospitality and personal attention provided to us. I would recommend this property for stay at Guhagar. A big thanks to the Shirke family and all the best for all their future endeavours.
By the time we competed the tour of the property, the sun had set for the last day of the year. Mr. Shirke had organised a 'camp fire' in the night for all the guests to welcome the New Year.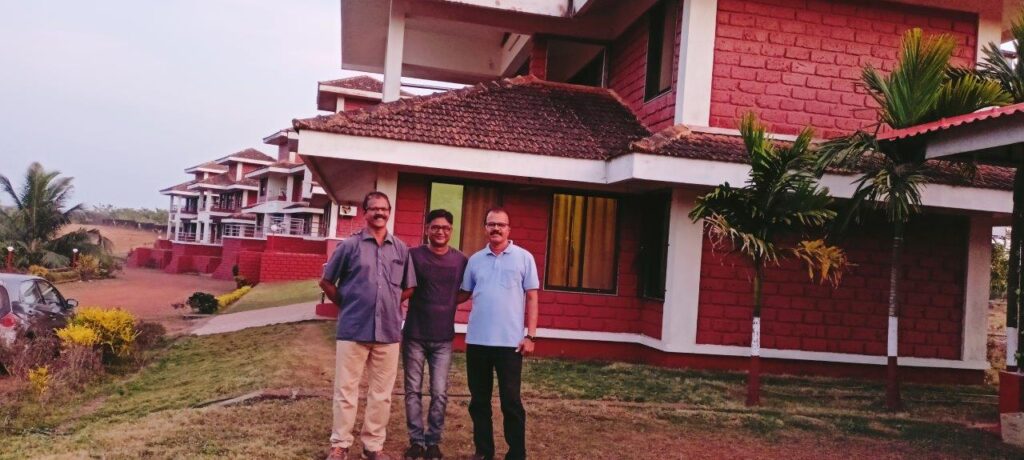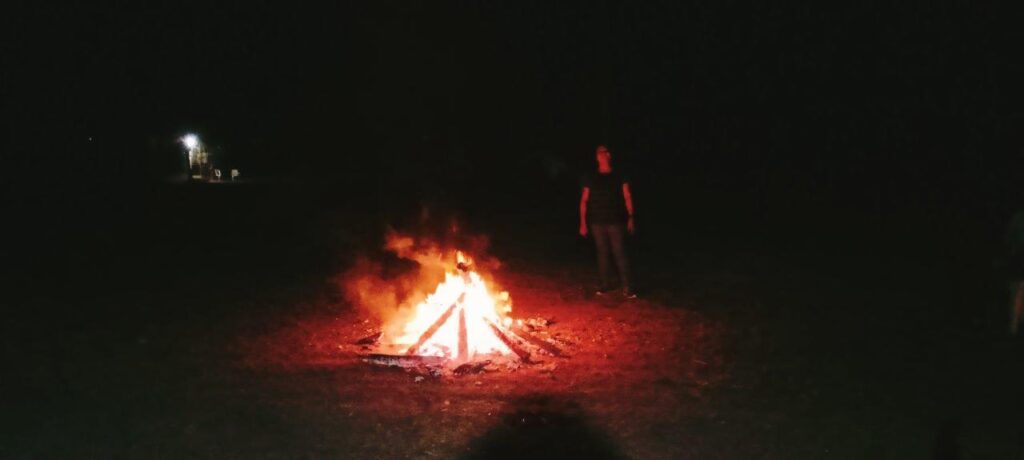 Day 7: Drive from Guhagar to Pune
We were to return back to Pune on the first day of 2022. Since we had a couplof hours before checkout, we did an early morning walk through the plantations. The rising Sun added to the beauty of the whole landscape and you can only wish to spend a few more days in this amazing place.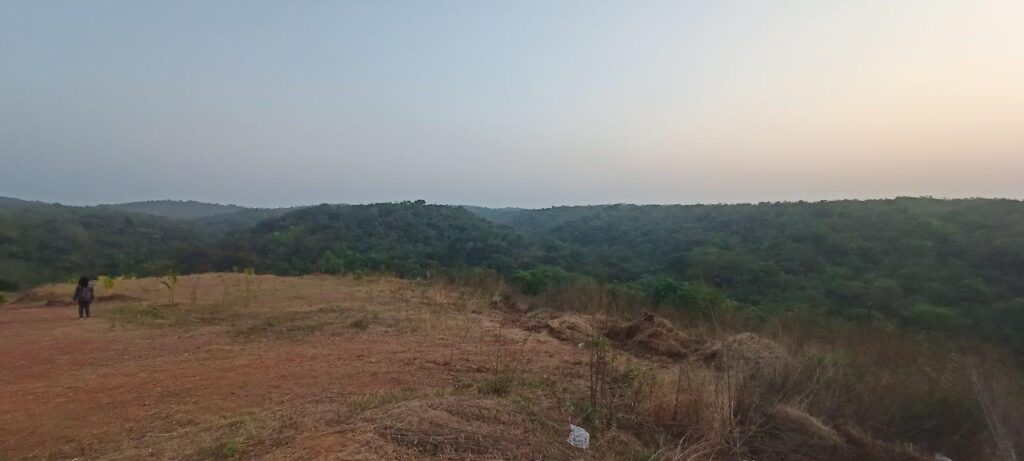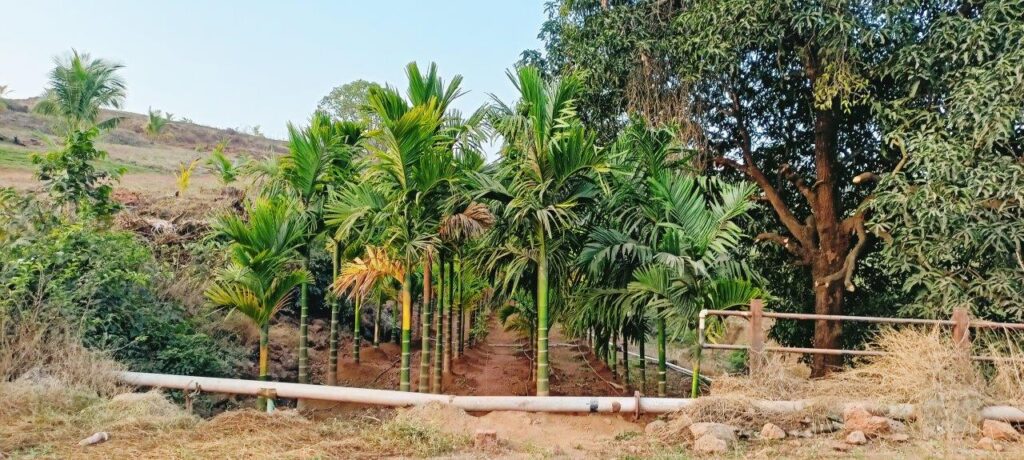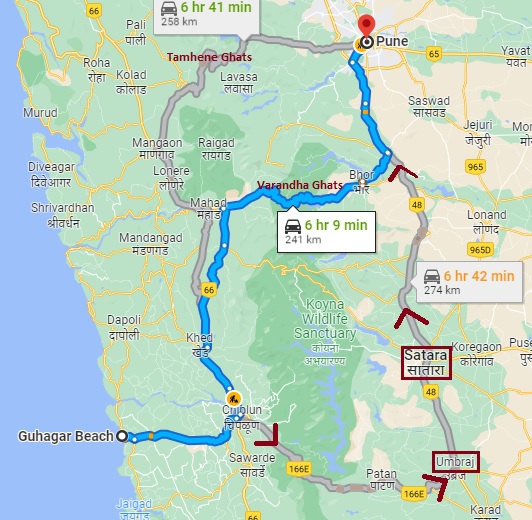 We left Guhagar by 10 AM as Pune was a 7 hours drive. There are couple of routs which can be taken to reach Pune. The first one is via Tamhene Ghats which is 250 km. The second one is via  Varandha Ghat (suggested by Google) and is 240 km. The 3rd option is via Chiplun >> Umbraj >> Satara and is longest – 270 km. The 3rd option takes NH 48 (Pune-Bangalore Highway) from Umbraj and since we knew about excellent road condition, we decided to go for it. However this proved to be a bad call. The road from Chiplun till Umbraj was badly pot-holed and we could hardly  go beyond 40 kph. I would recommend the 2nd option (via Varahdha Ghats) unless you hear good feedback of the road from Chiplun till Umbraj 
We had lunch in one of the restaurants on NH48 and by 6 pm we were in Pune. Like all other things in life, this journey also ended here.
The best part of this trip was that we got to meet some amazing people who listened to their heart and pursued their passion. Jayesh Zad at Tarkarli, a down to earth person who left his job to setup a Home Stay. Hardworking and dedicated Jawalkar family running their restaurant near Vijaydurg Jetty and Shirke brothers, who converted barren hills into an orchard resort.
In our next road trip, we plan to explore North Maharashtra. So keep a close watch on this space.