Manali – The Adventure Playground of India
The below travelogue is an itinerary of Road Trip to Kullu and Manali from Delhi. The trip was done during June 2013 and we drove about 1000 km (to-and-fro) in the span of 6 days.
Manali is one of the most popular hill stations in India and is the most preferred honeymoon destination. Located in Himanchal Pradesh, Manali provides an excellent avenue for Skiing, Paragliding and River Rafting which makes it a favorite destination for adventure seekers. Manali is also unique because it is one place in India where you get to see ice-capped mountains even during summers.
Whatever the reason, Manali is definitely one of the 'must-visit' hill stations in India. It is about 530 km from Delhi and takes about 13 hours by road. If you are in Delhi/NCR, you can definitely include Manali in the 'weekend destination' list by adding 2-3 days to your weekend.
Road Trip to Prerequisites
There are certain things to keep in mind before planning a road trip in India. You can read my below blog for a few tips.
We decided to explore Manali during June of 2013. In addition to exploring Manali, the plan was to spend a day each in Kullu (on way to Manali), Solang Valley (popular destination for adventure sports) and Rohtang Pass (Highest motorable road in the World). We extended our weekend by 3 more days to make it a 5 day trip. We did not book any hotel in advance. The plan was to check the options and book one upon reaching Manai and Kullu.
Our ride was Maruti Alto with 796 cc engine. My fellow passengers were my wife, daughter and year old son. Me and my wife were to take turns to drive.
Day 1: Drive from Delhi to Manali (550 km, 14 hrs)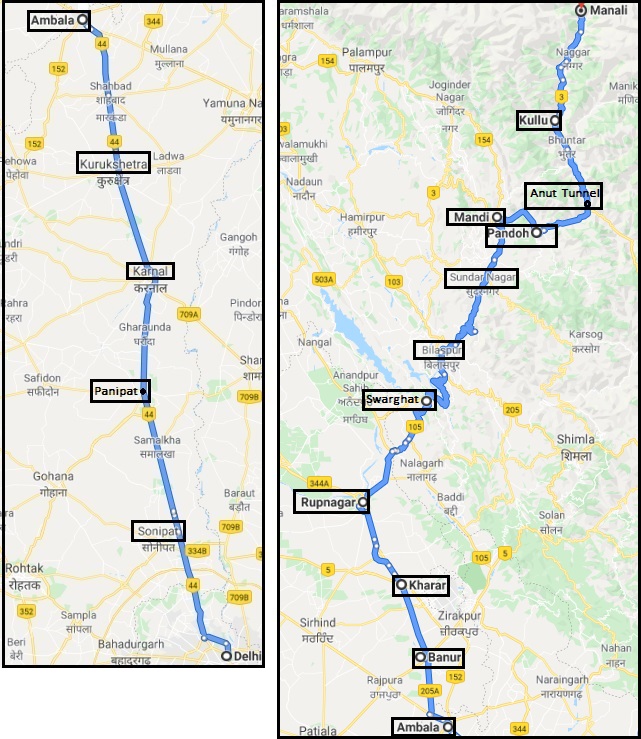 Delhi to Manali is a 530 km and requires about 14 hours of drive. Since most of the drive after entering Himanchal was via mountainous terrain, we wanted to make sure that we reach Manali well before sunset. We left Delhi early in the morning at 5 am to ensure enough buffer time to reach Manali in day light.  The route takes you via NH44 (old NH1 – GT Road) till Ambala. From Ambala we were to take route via Banur >> Kharar >> Rupnagar >> Swarghat >> Bilaspur >> Sundernagar >> Mandi >>  Pandoh >> Anut >> Kullu >> Manali.
Within an hour of driving, we stopped for quick refreshments at Murthal. Since it was too early, we did not feel like having a heavy breakfast. We settled with tea and sandwiches and were soon back on the highway driving further towards our destination.
We soon breezed through Panipat, Karnal and Kurukshetra and entered Ambala. Since Ambala is the gateway to most of the major cities of North India, one has to be cautious of directions here. 
We took a wrong right turn for Chandigarh from Ambala and soon realized our mistake. We had to take a 'U' turn back to the City and then head towards Rajpura. About 8-9 kms ahead of Ambala, there is a right turn which will take you to Banur – Kharar – Rupnagar.
We carried on with our journey and by the time we reached Swarghat, it was 12 pm. We stopped at HPTDC Hotel Hilltop which is a nice and decent place to stop by and have food. Lunch took us 40 minutes and soon after, we were driving further towards Mandi. We bypassed Bilaspur and Sundernagar and hit Mandi by 3 pm. Mandi is at the foothills of the Himalayas and from here you get to drive through the mountainous terrain along the Beas River flowing side by side.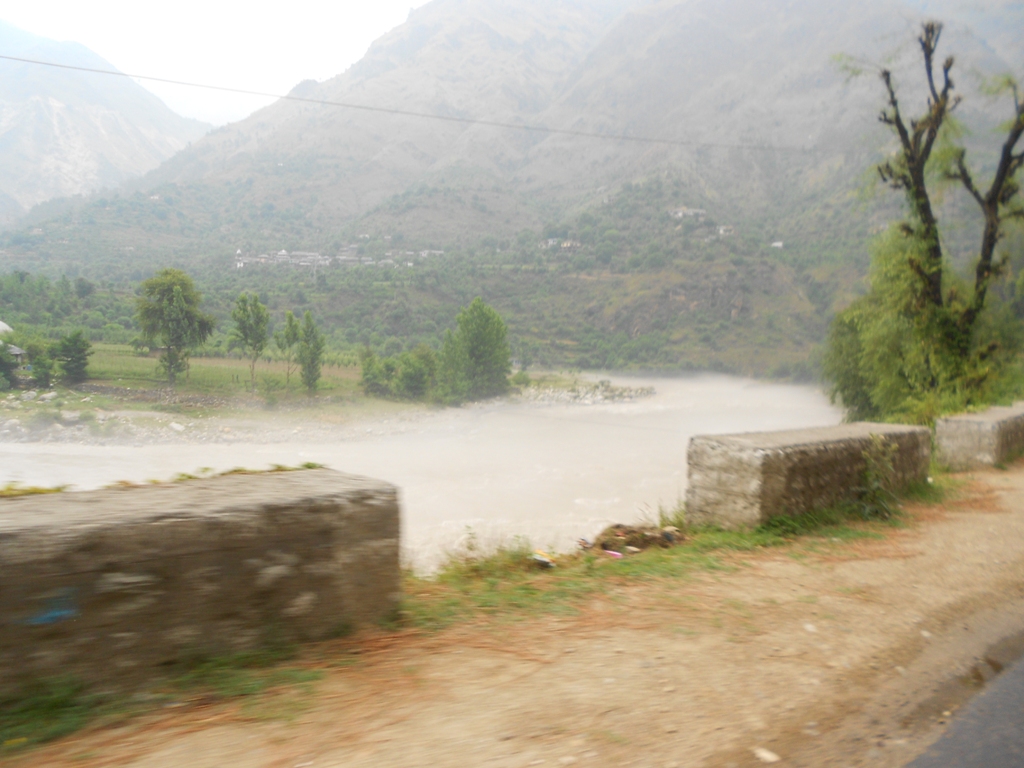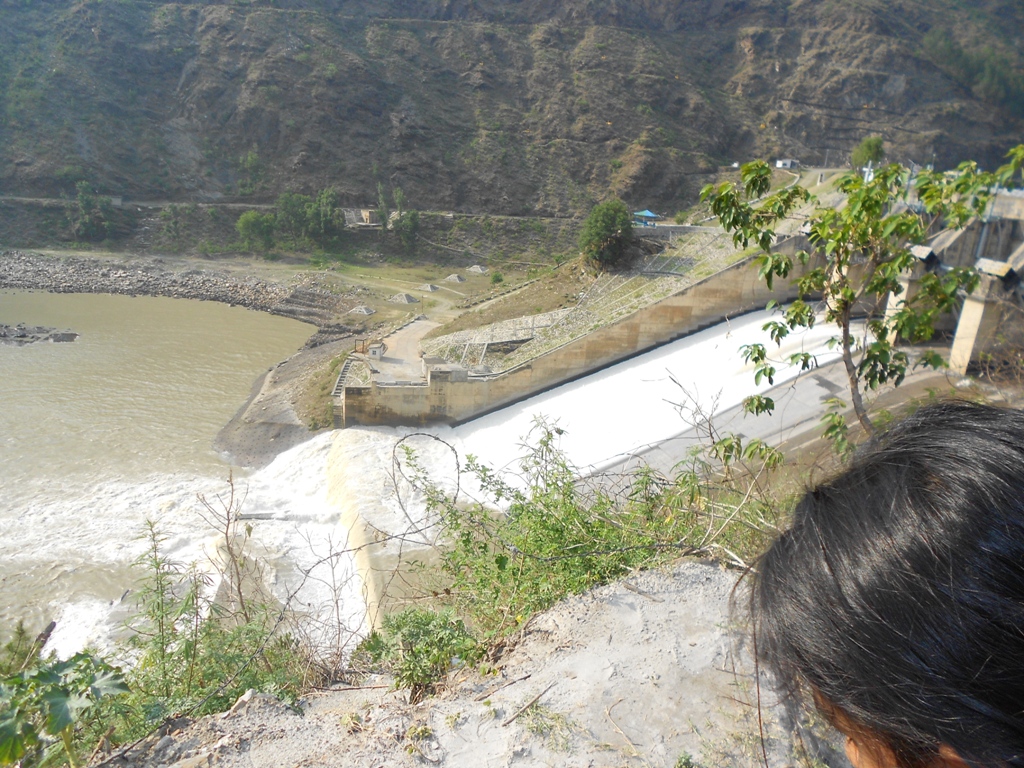 On the way further, we crossed by Pandoh dam which is picturesque location and full of lush greenery. We stopped to click a few pictures and then carried on further to our journey.
Further drive from Pandoh Dam takes you through Anut tunnel, which is about 3 km long and is said to be the second longest road tunnel of the country. It is the gateway to Kullu-Manali and driving through it is an experience in itself. Back in 2013, there was no road divider in the tunnel and it was poorly lit. I would suggest careful driving through the tunnel as it has a couple of internal turns. Click here to watch the video we shot while passing through this tunnel.
When we reached Kullu, it was 6 pm and the Sun had started to fade away behind the mountains. It had been more than 12 hours of driving, but fearing the idea of driving in dark, I stepped on the car's accelerator and headed towards Manali. In addition to reaching Manali in time, we had to search for our temporary abode for next 4 days.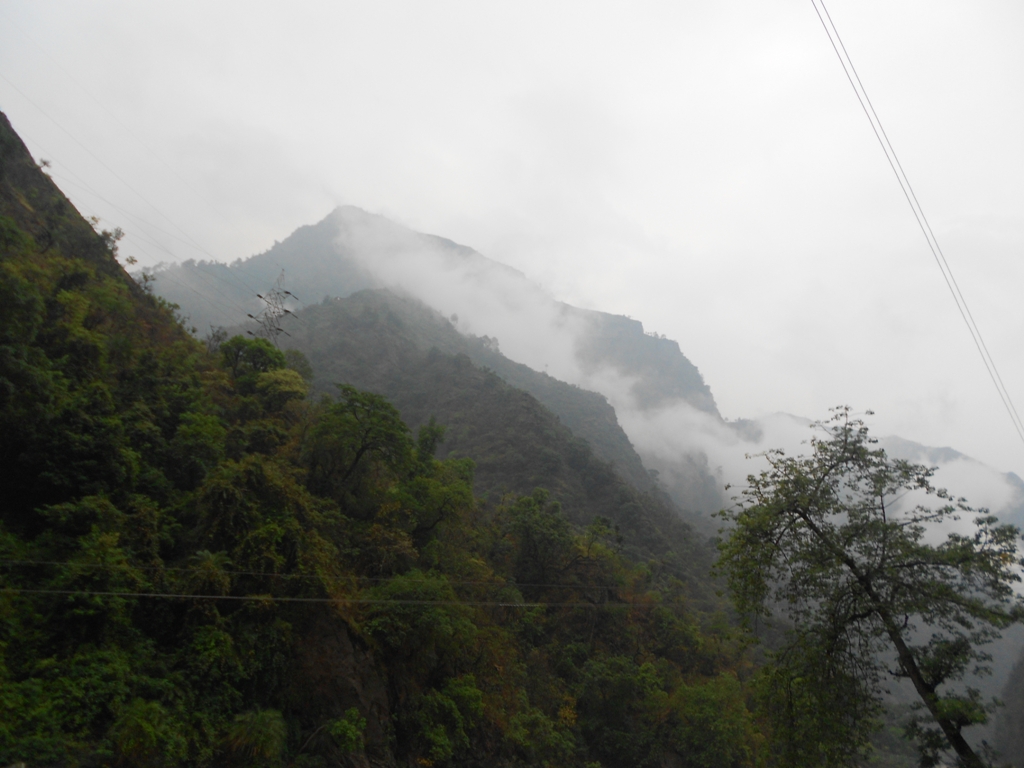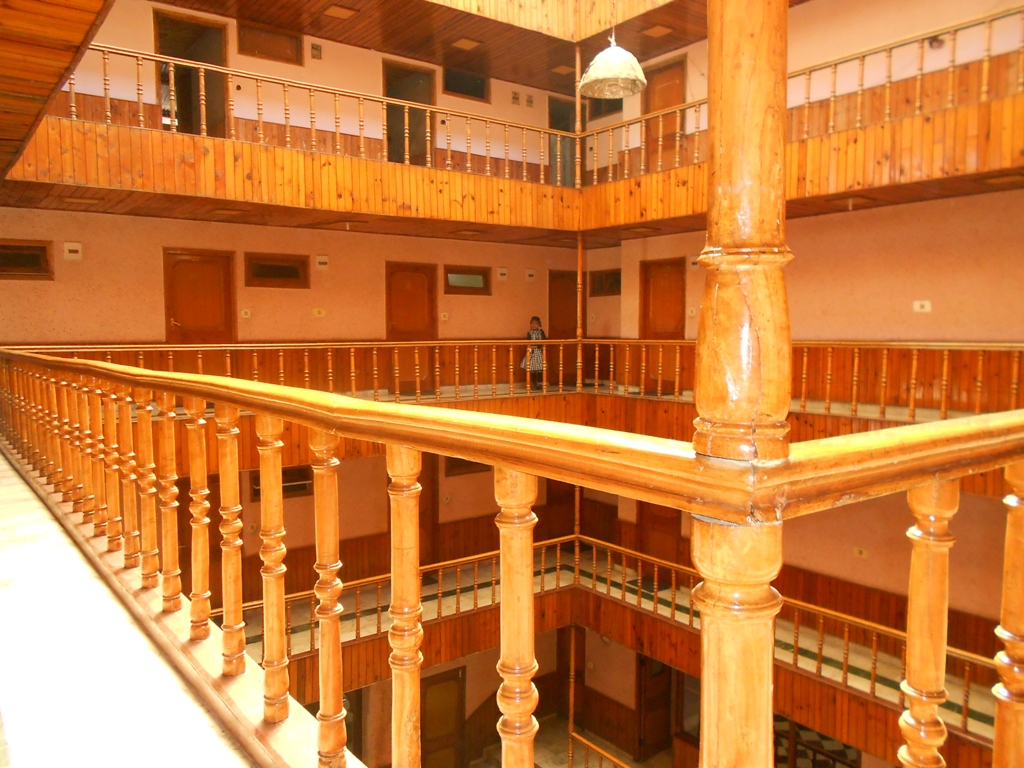 By the time we reached Manali, it was completely dark. We searched for a couple of hotels in the main City center of Manali but either they had no vacancy or were too costly. We drove about 3 km back from the City Center to find Hotel Victoria Palace which had a couple of rooms available and within our budget. In addition to having an in-house restaurant, the hotel had a beautiful wooden interiors done in its lobby.
After checking in, we had dinner at the restaurant and slipped to our beds. It had indeed been a long drive not in terms of distance but the time required to drive through the lofty mountains.
We woke up to a chilly Manali morning and refreshed ourselves. The view of snow covered mountains from our hotel window looked amazing.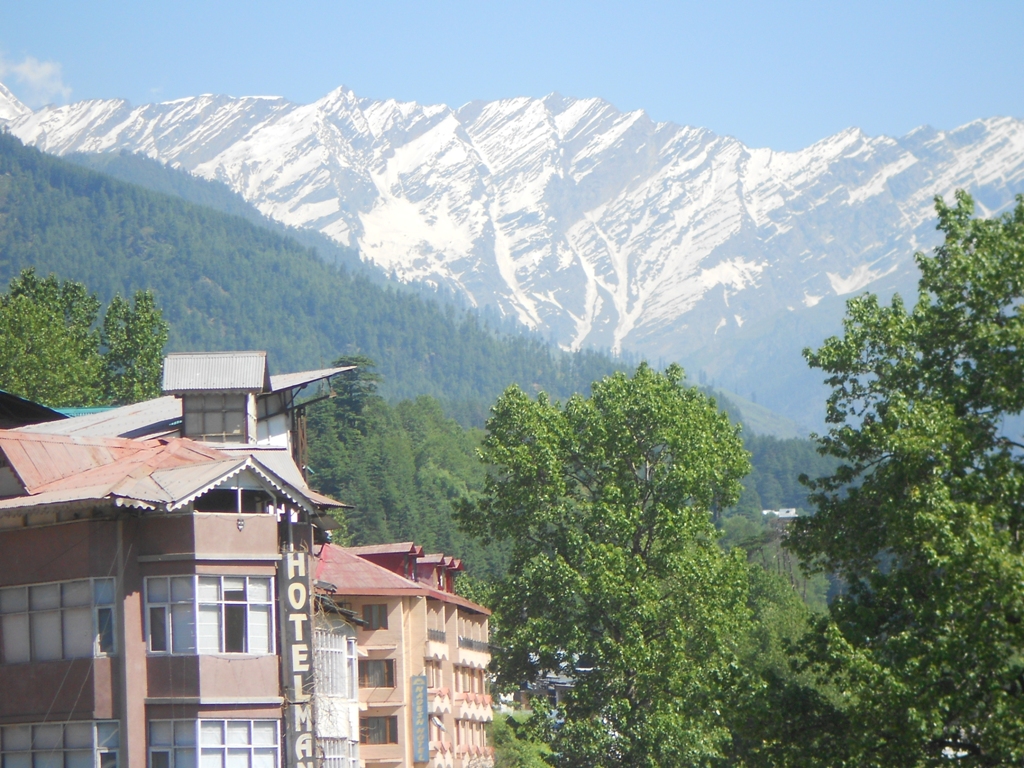 Breakfast was at the in-house restaurant and then we left to explore the main city of Manali and the local attractions. We drove to the Mall road and parked our car near the Piccadily Multiplex and walked to the first destination in our list – Hidimba Devi temple.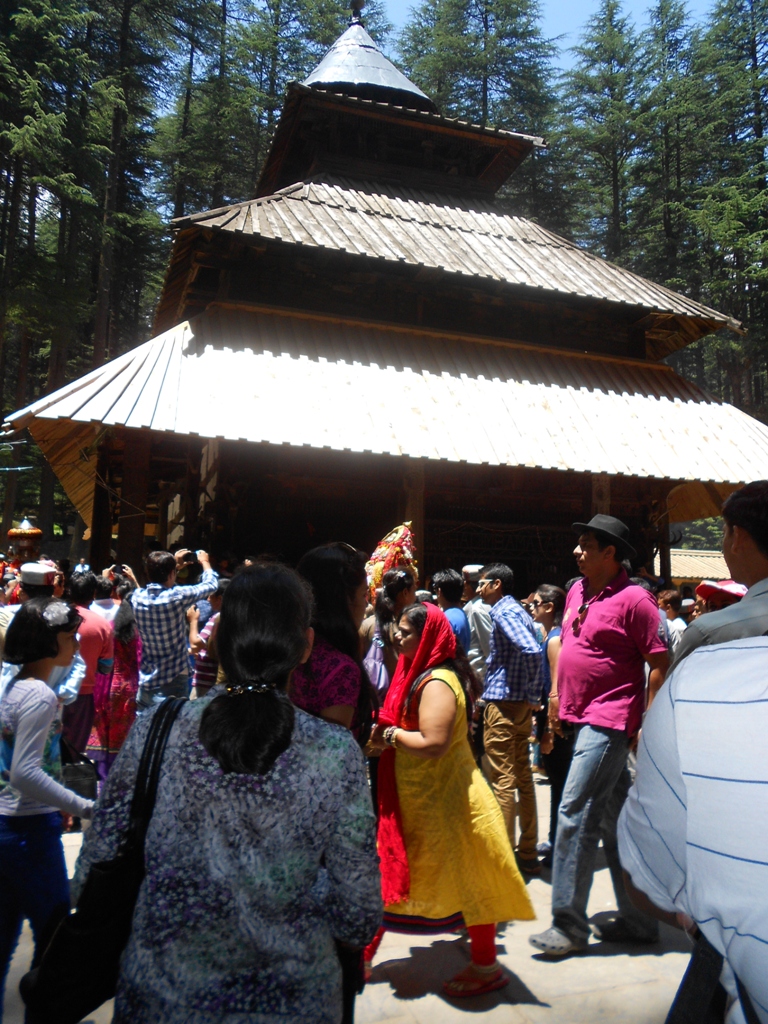 Close to city center is a think forested area and it houses the famous Hidimba Devi temple. Built by King Bahadur Singh in 1553, the architecture of the temple is based on building technique prevalent in hill regions of North India. It uses alternating layers of long thick wooden logs and stone and is resistant to frequent earthquakes in this region. The temple consists of three square wooden tiled roofs and a metal cone-shaped roof at the top.
Hidimba in Manali is believed to be an incarnation of Durga. One can find horns hung on the temple walls which are probably the animals sacrificed during religious ceremonies at the temple.
The history behind the temple is related to Mahabharata. It is believed that Pandavas, during their exile, came to this region where Hidimbi lived with her brother – Hidimb. Hidimbi had vowed that she would marry the one who will defeat her brother. During their exile, Bheem defeated Hidimb and married Hidimbi, and had a son Ghatotkach, who played a major role in saving Arjun during the Mahabharat war. You can read more about this temple at http://www.kullumanali.com/hadimbatemple.php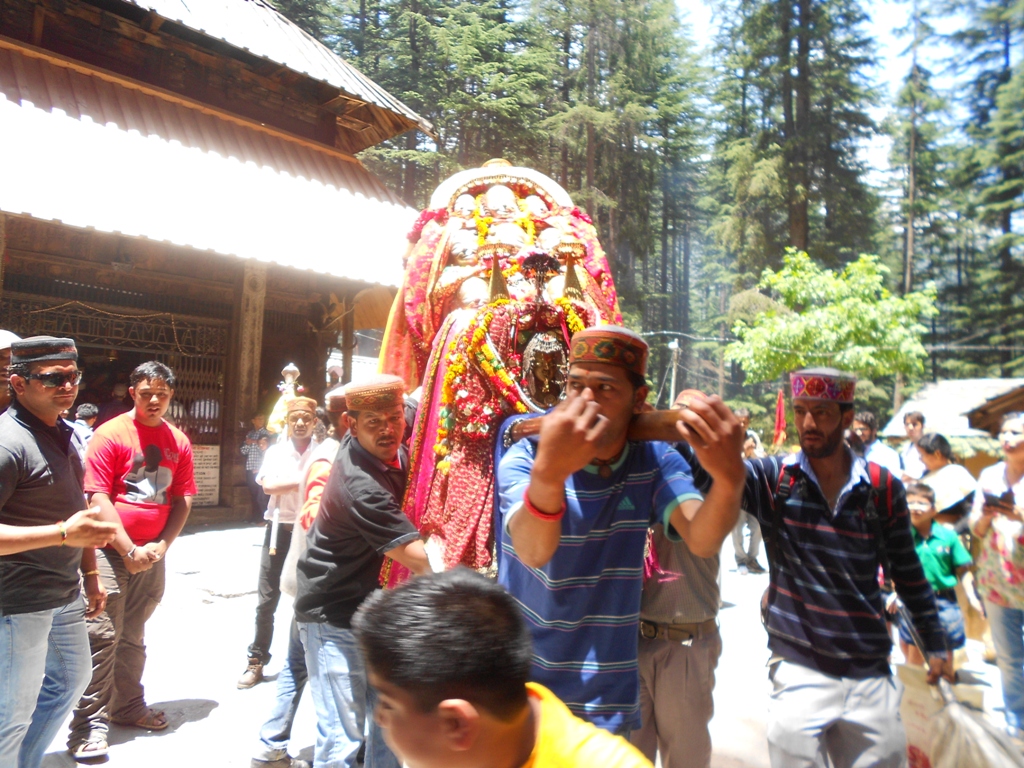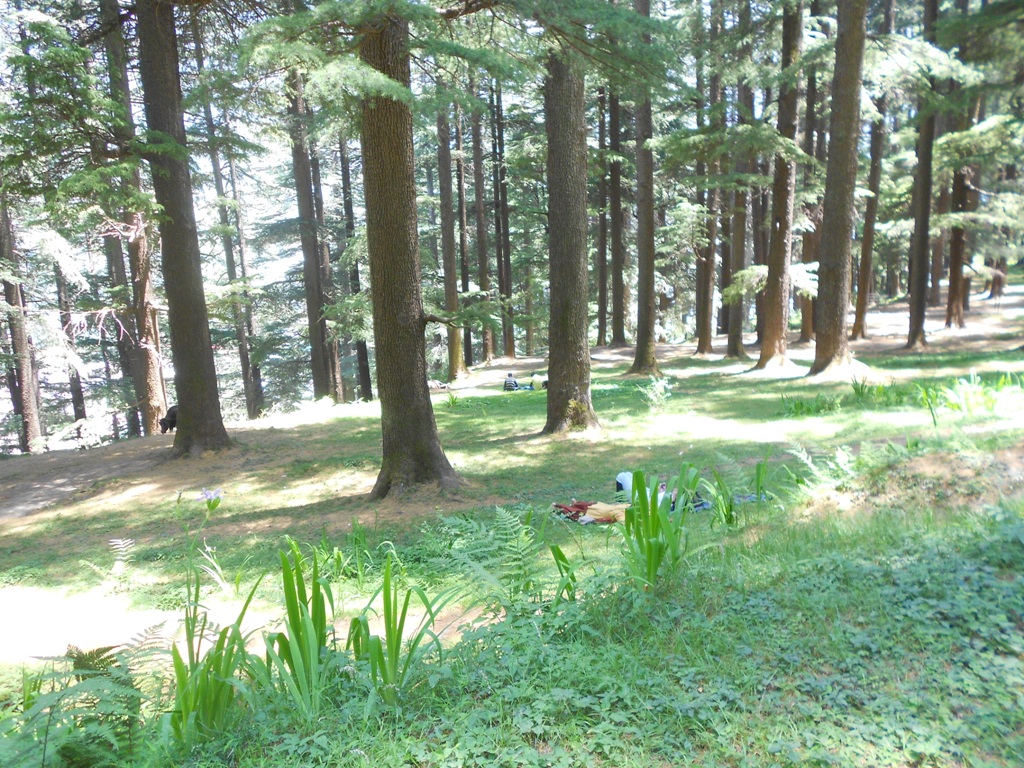 Our visit to the temple coincided with 'Dhungri Mela' which is held to celebrate the birthday of Goddess Hadimba. The occasion sees idols of deities being carried to the temple in elaborate processions by the locals. The palanquins used to carry the idols are beautifully-designed and a treat to look at.
The temple is surrounded by a forest called Dhungiri Van which has a rich and green foliage of Deodar trees which provides an excellent ambiance to rest and rejuvenate.
After spending some quite time in the forest, we walked across to Museum of Himachal Culture & Folk Art. The Museum is an exemplary collection of culture, art and handicraft of Himachal Pradesh. The Museum displays models of temples, forts, traditional dresses, utensils, musical instruments, wood carvings and various other articles. Nothing extraordinary, but it is a good place to get a feel of culture of Himanchal Pradesh.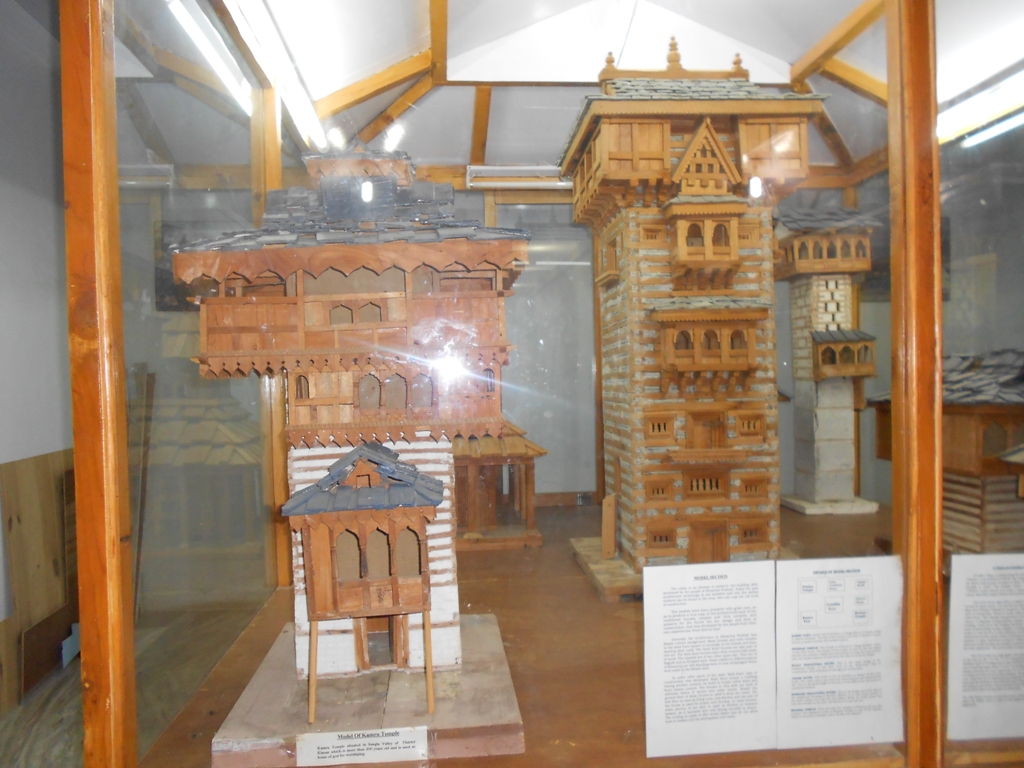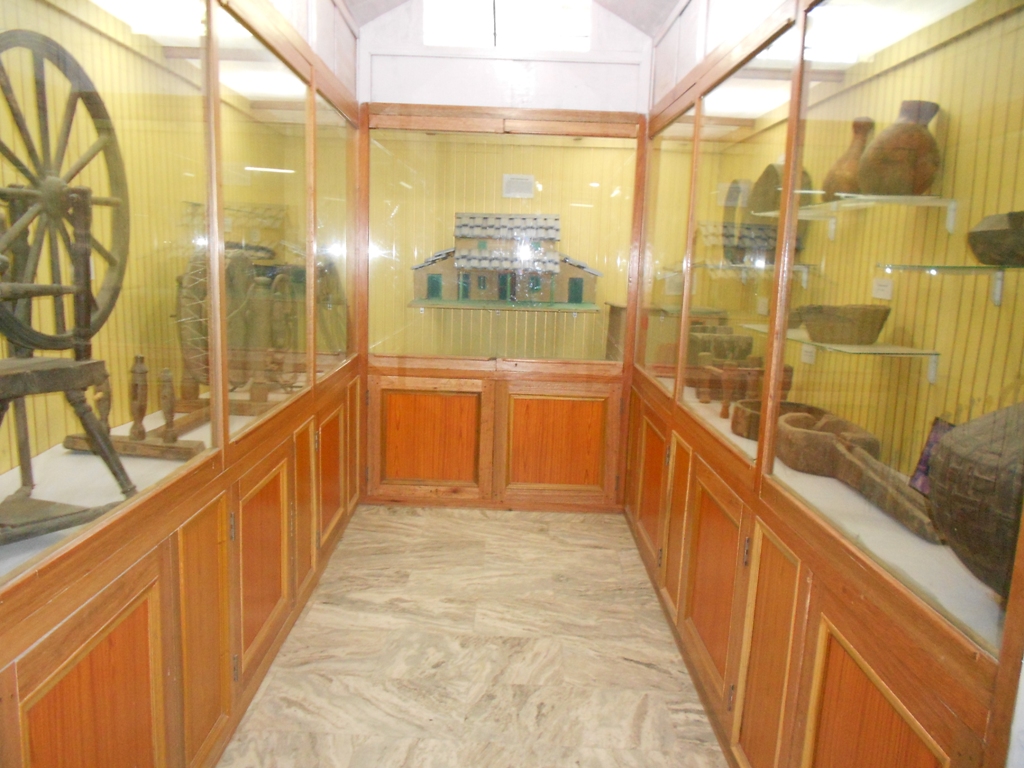 By the time we finished exploring the museum, it was noon and time for lunch. We walked our way back to the Mall road and had lunch at one of the restaurants in the Market. After lunch we visited the Old Manali Market. By evening we were back at the car parking near Piccadily Multiplex. Having nothing much to do in the evening, we decided to watch evening show at the multiplex which was showing latest Bollywood release – 'Ye Javani Hai  Deewani'. A few scenes of this movie have been shot in Manali.
After watching the movie, we drove back to our hotel and had dinner at our hotel and called it a day.
Day 3: Adventure Sports at Solang Valley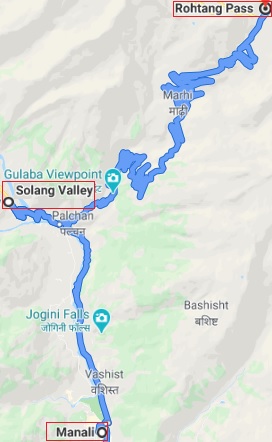 Situated 13 km further North of Manali is Solang valley which is popular for adventurous winter and summer sports. Solang valley offers beautiful and surreal slopes which makes it an ideal place for Skiing in winter during the months of January and February. In summers when snow melts, skiing is replaced by zorbing (a giant ball which fits in 1-2 people and then is rolled down on hill's slope), paragliding, parachuting and horse riding.
​The drive from Manali to Solang takes about 40 minutes and passes through beautiful landscape. During peak season it is crowded with tourists engaged in various sporting activities on the slopes of the hills.
Liveena and I went out for paragliding which was an amazing experience. A short run from the top of the hill takes you gliding through the air for about 80 seconds and is a never forgetting experience. In 2013, it costed us ₹1000 / person. There are photographers who shoot your entire flight from the base of the hill with their high resolution cameras. If you are interested, you can get your pictures and video on a CD at a price which is negotiable.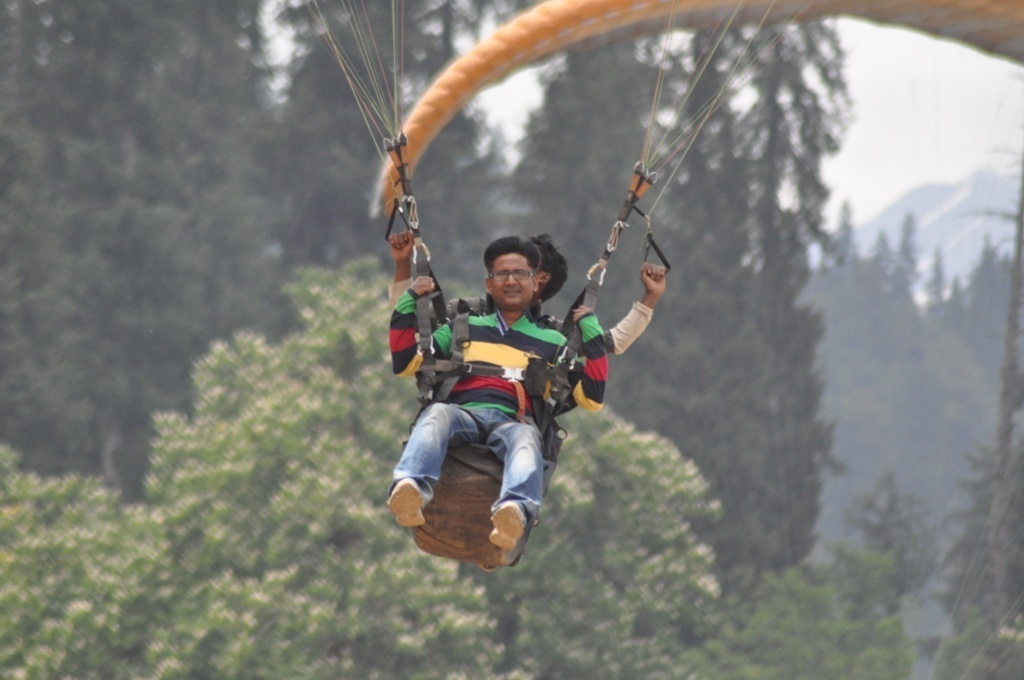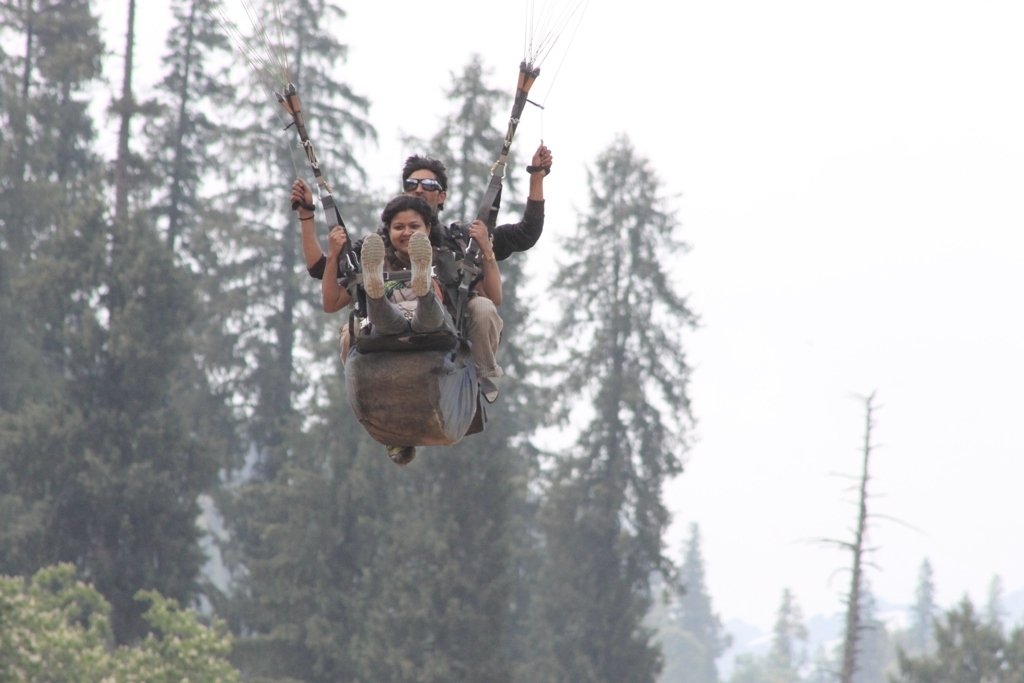 There are several small shops selling various souvenirs and eatables. You can get your pictures clicked by dressing yourself in the Himanchali costume. You don't find many restaurants here. There are several street food vendors selling items like tea, maggie, sweet corn and various other items.
After spending several hours at Solang Valley, by noon we drove back to our hotel . After some rest we went out for walk to the Mall road and spent the rest of the evening there. Dinner was at one of the restaurants in Old Manali market and then we returned back to our hotel.
Day 4: Drive to Rohtang Pass – the Highest Motorable road in the World
Our last day in Manali was schedule to drive to Rohtang which is one of the few regions in the country where snow can be found even during summers. Rohtang Pass is the 'Highest Motorable Road in the World' and offers spectacular views of the Himalayas. The mountain pass is situated about 50 km from Manali and opens only from June-October, rest of the time being covered by snow.
My recommendation is that drive to Rohtang should not be attempted by novice drivers. Better and safe option is to book a taxi as the roads are treacherous but if you are an experienced driver and have a permit, go for your own drive. If you plan to travel on your own vehicle, you need a permit which can be obtained online from https://rohtangpermits.nic.in/ . Permits are not issued on Tuesday as the pass is closed for maintenance. You can apply for permit for next two days, from the current date. Entry fee for 4 wheeler is Rs 500, and there is no permit fee for bikes but must have a valid permit. All vehicles have to pay a congestion charge of Rs 50 for bikes and cars.
We booked a taxi via our hotel for ₹ 2800 for a round journey to Rohtang. We boarded our taxi (Alto – Diesel variant) at 9 am after having breakfast at the hotel. Our driver greeted us with a disclaimer that it being a peak tourist season and a Sunday, we will have to face a heavy traffic congestion. His advice turned out to be true as we had to spend a lot of time in traffic jam close to Rohtang. If you are visiting Rohtang during peak tourist season, make sure that you leave Manali as early as 6 am.
The road to Rohtang passes through beautiful snow covered mountains.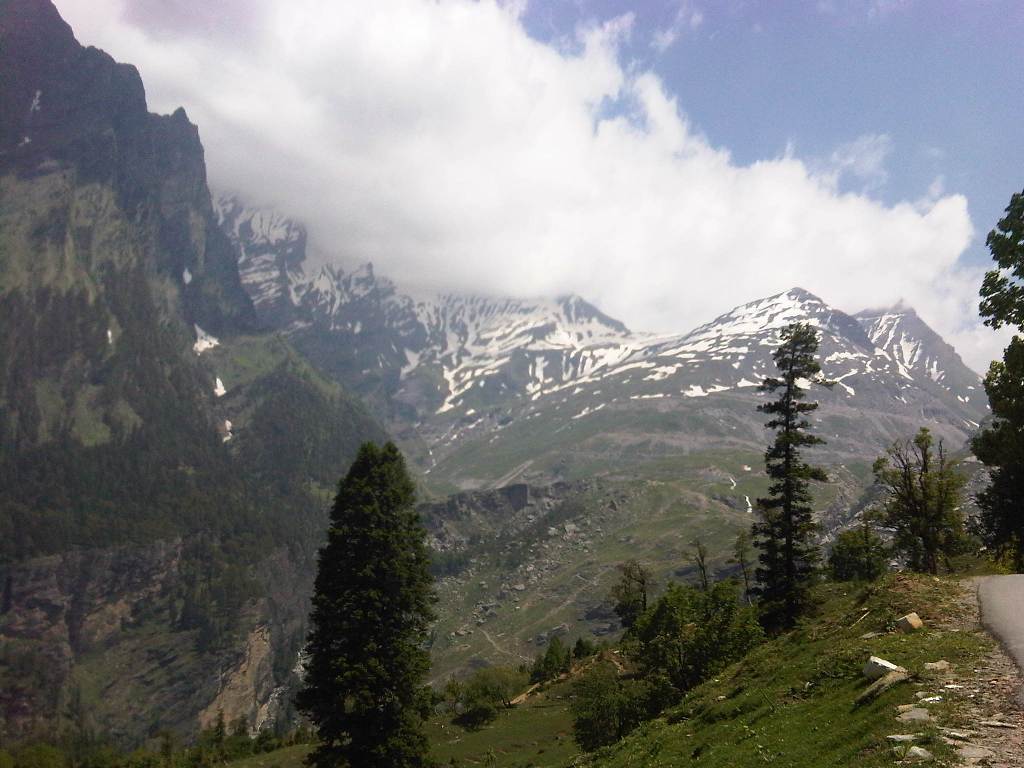 Major stop on the way is at Mahri, which is 17 kms before Rohtang and one can find plenty of shops for supplies and eateries, after which it is a steep and snow-filled journey to the picturesque Rohtang Pass. To ensure that you don't soil your cloths in snow at Rohtang, one needs a good pair of snow clothes. You find several shops on the way from where you can rent them. Prices are negotiable and costed us ₹150/pair in 2013.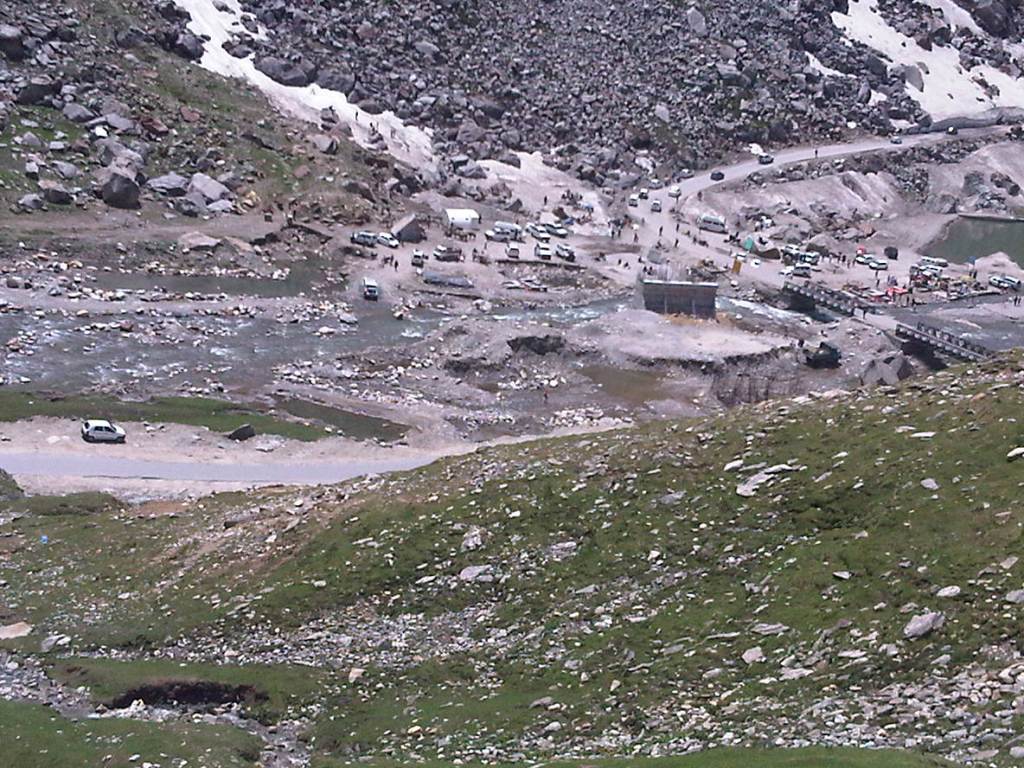 There was a long queue of vehicles ahead of Marhi. Our driver suggested us if we wanted to spend time at Marhi instead of going further to Rohtang. We were not sure when we would get an opportunity to visit Manali again and definitely did not want to miss the best attraction of the trip, so we polity declined the offer and requested him take us further. It took us almost 2 hours to cover 17 km stretch to reach Snow point at Rohtang.
When we reached there, it was 1 pm and the place was bustling with tourists. Snow point offers various kinds of adventure activities such as sledge ride, mountain biking, snow scooter, ski ride, tyre drop and skiing. We spent time playing with snow and tried a couple of activities. The kids enjoyed making igloos with snow.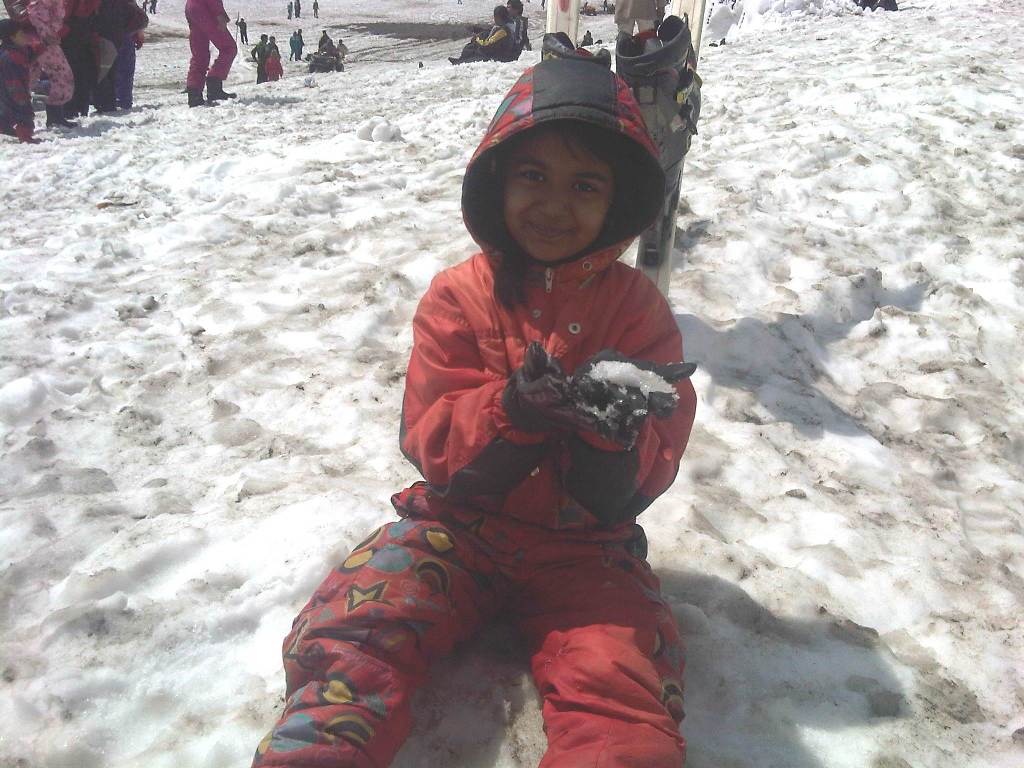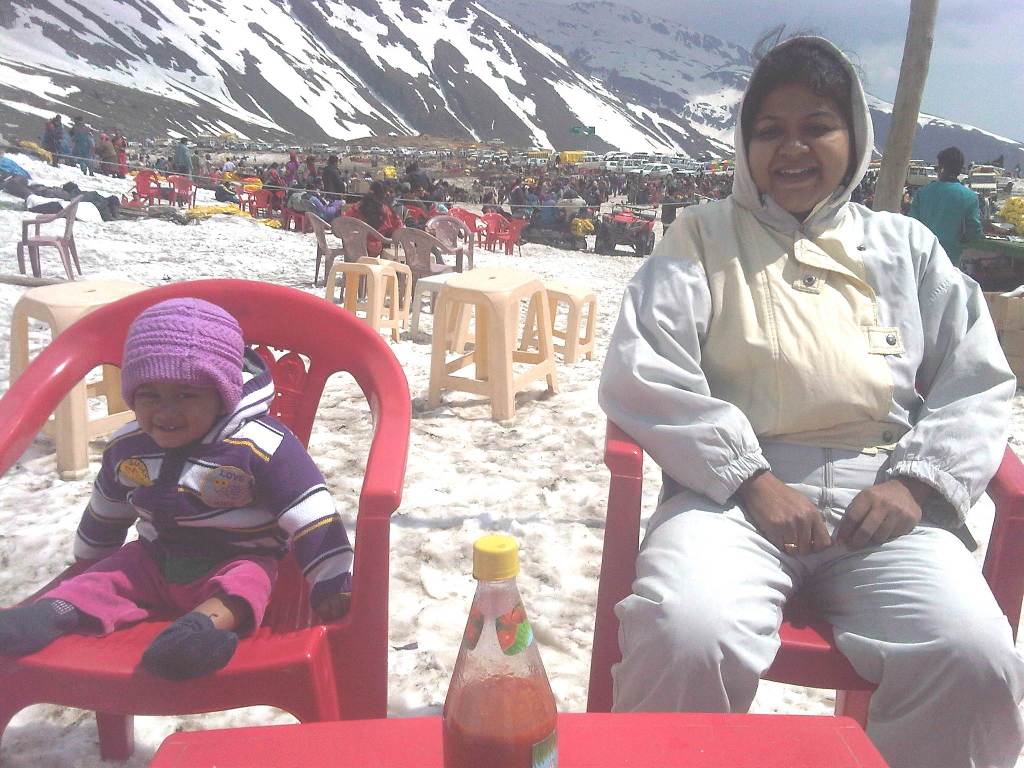 The place does not have any restaurant but you find several temporary open sky shacks offering packed snacks and quick refreshments. A hot cup of tea and Maggie at the Snow point is altogether a different experience and should not be missed.
By 3:30 pm the Sun had already started to hide behind the mountain ranges and it started to get colder. Our cab driver informed us that there was a massive traffic jam the way back and it could take several hours to get cleared.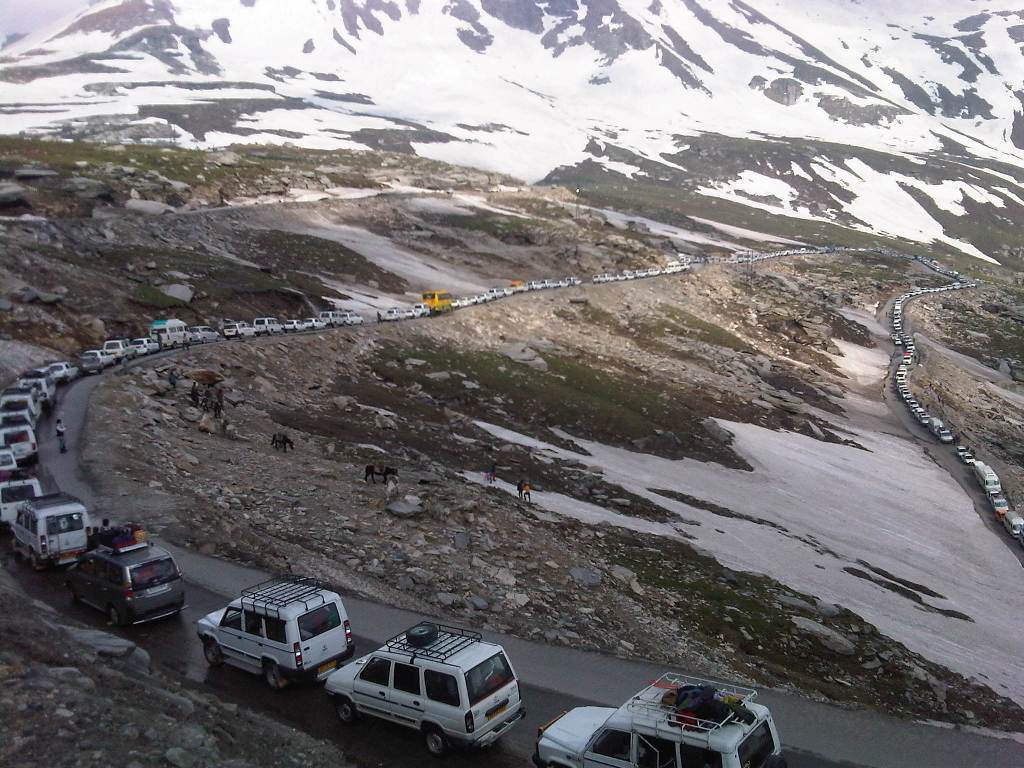 Without wasting any time we were back into our cab which started to crawl downhill. The return journey took almost 2.5 hours and it was dark by the time we reached our hotel. It was the first time that we had experienced snow during summers and is an experience which will last into our memories for a life time. After dinner at the hotel' restaurant we passed on into our beds. This was our last day at Manali and the next day we were to return to Delhi with a day's break at Kullu.
Day 5: Explore Kullu on the way back to Delhi
Kullu is an hour's drive from Manali so we had enough time at our disposal. We woke up to a leisurely morning and after freshening ourselves, we checked out of the hotel and started to descend towards Kullu.
After a drive of about 45 minutes we stopped at Mahadevi Tirth, which is about 2 km before Kullu. It is one of the most sought after religious places in Kullu and locally known as 'Vaishno Devi Temple'. The main temple has been built on the theme of the Vaishno Devi, where devotees have to crawl through a cave to pay tributes to the Godess Vaishnavi. The temple runs a daily 'Laanger' and serves free vegetarian meal to the worshippers. We had our lunch at the langar and spent some good time at the bank of river Bias which runs next to the temple across the road.
By noon we entered Kullu and the first task in hand was to search for a hotel. A quick search led us to – Hotel Vikrant which is close to the famous Dussehra Ground. The hotel has has a limited parking space but houses a restaurant which has an excellent ambiance. We booked a room for a day and after checking in, we left to explore Kullu.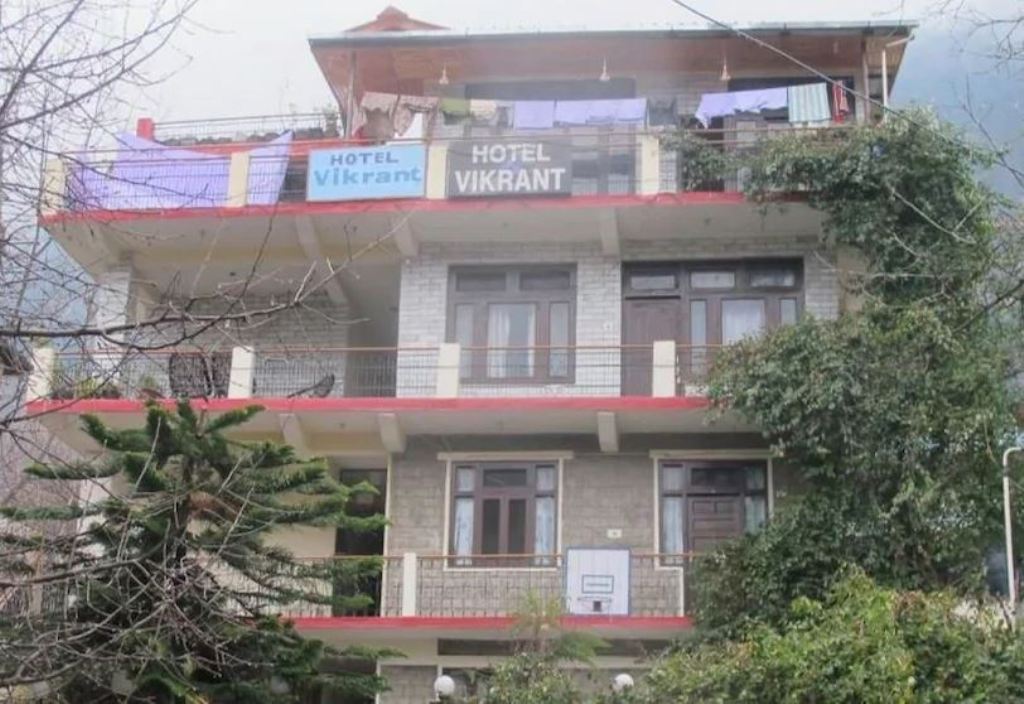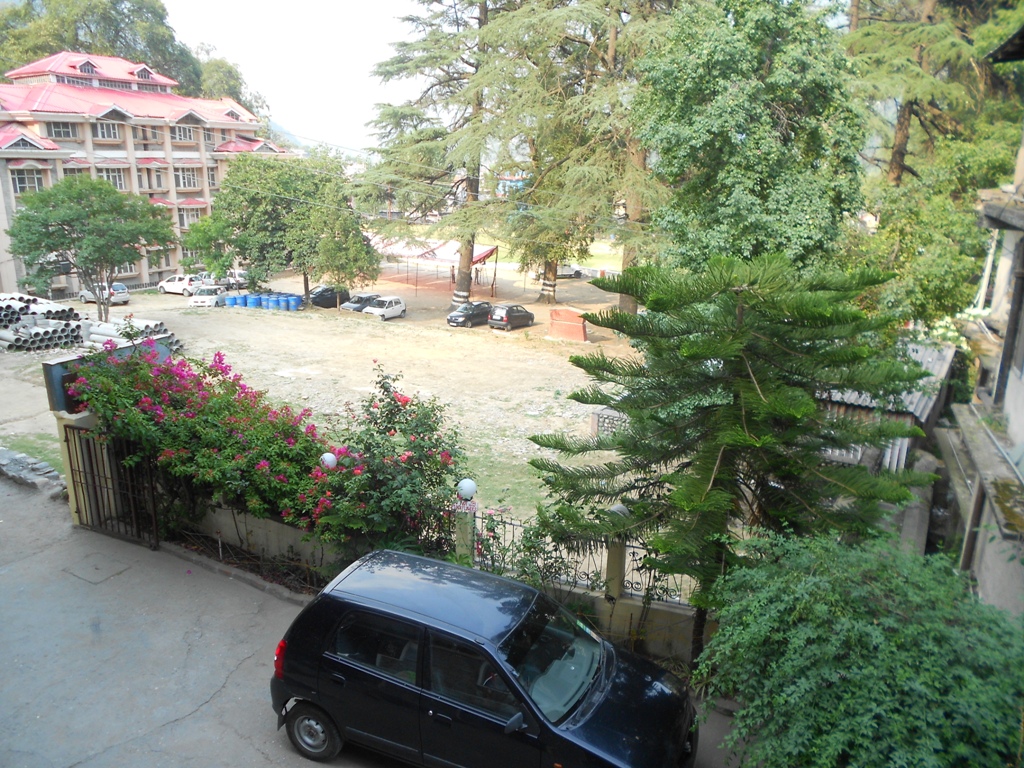 Kullu is a small town on the banks of river Beas. Though, it does not offers much in terms of tourist attractions, it is popular for adventure sports activities like river rafting, trekking, mountaineering etc. Since we just had an evening with us, we decided to check the famous Dussehra ground and the local market.
Dussehra celebrations in Kullu are completely different from the way it is celebrated in the rest of the country. According to a legend, a priest was accidentally killed by the local king and as an act of remorse, the king left his throne and put an idol of Lord Raghunath (Lord Rama is worshipped as Raghunath in Himanchal / Jammu region) on the empty throne and pledged that only the lord and his successors would rule the Kingdom of Kullu from then on.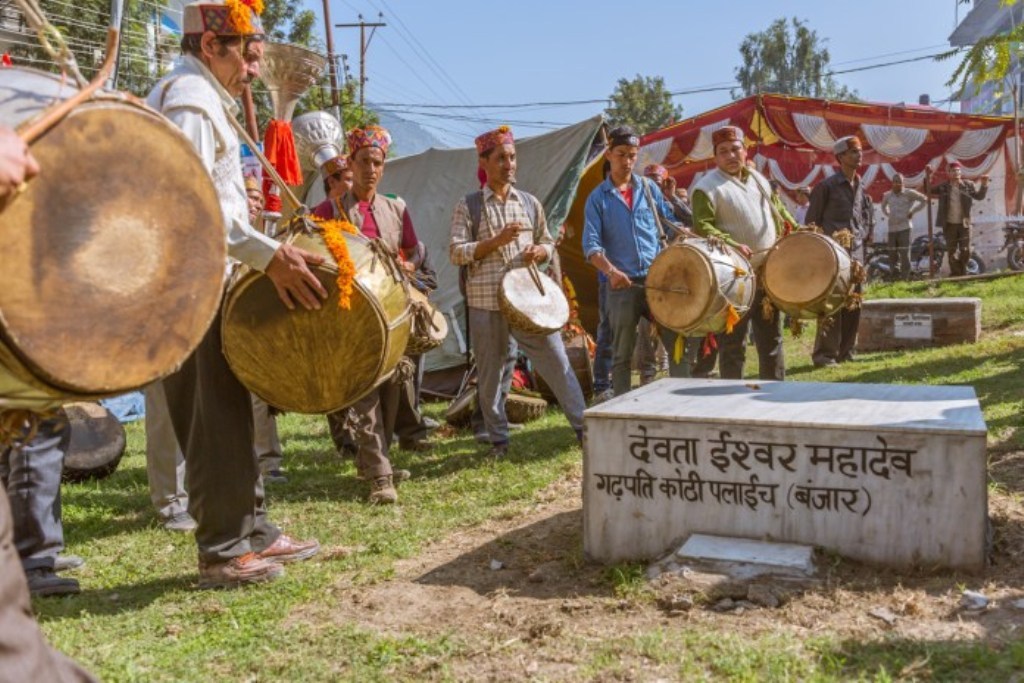 It is believed that Lord Raghunath invites other gods from heaven to celebrate Dussehra in Kullu since then. On the day of Dussehra, the devotees in Kullu carry out a procession wherein they carry the idols of different gods on their heads and bring them to the Dussehra ground. During this seven-day festival, the residents indulge in various entertaining cultural activities such as dancing, singing and other cultural programs.
If you happen to be in Kullu during Dussehra, make sure you don't miss the celebrations. On the rest of the days, the ground is used by locals as a playground and for socializing. There are several elevated platforms on the ground which are used for placing deities during Dussehra and are considered sacred (refer to the image). Make sure that you don't sit on them (we accidentally sat on one such platforms and were made aware of the religious sentiments behind it by a local elderly)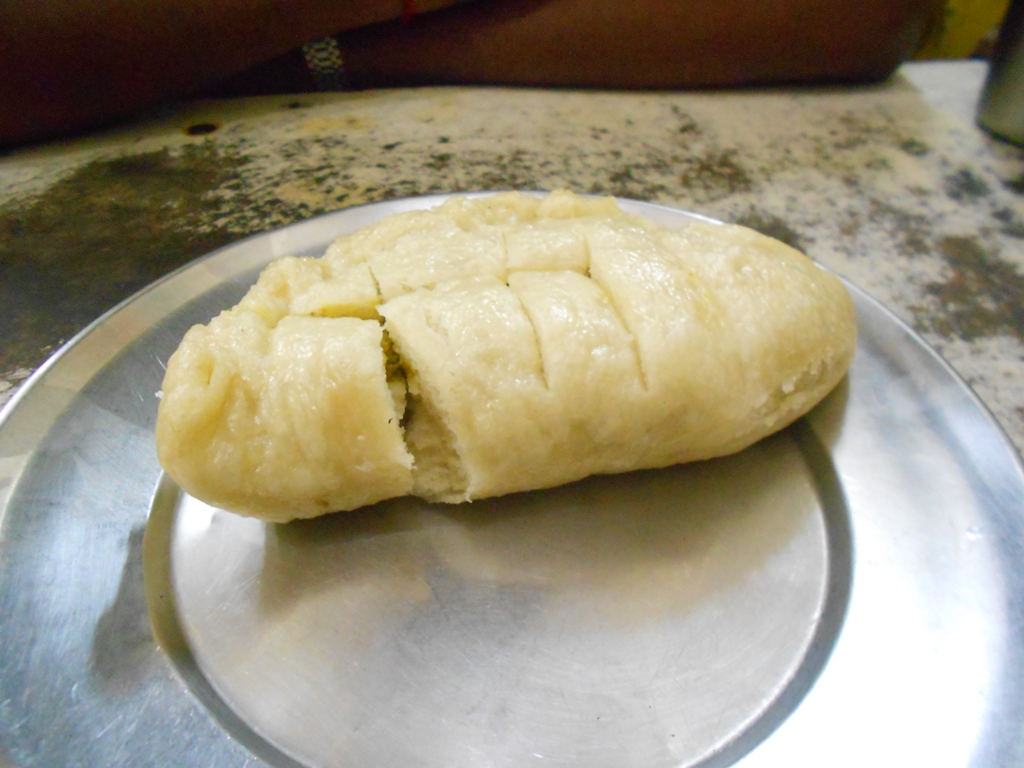 After spending some time at the Dussehra ground, we visited the main market which is lined with all kind of shops and a couple of Chinese restaurants. We stopped by at one of the restaurants and tried the famous dish of Kullu – 'Siddu'.
Siddu looks like enlarged version of a 'momo' or a 'gujia'. Only difference is it's covering, which is like a 'kulcha' (bread). It is prepared from fermented (yeast) wheat flour dough which is stuffed with paste of boiled green peas, walnuts, green chilies, groundnuts and cheese. It is then steamed and served hot with green chatni or tomato sauce. It is a popular street food and is available in most of the restaurants in Kullu. It tastes amazing and is a must try.
Day 6: Drive back home to Delhi from Kullu
Day 6 was the last day of the trip and we were to drive back to Delhi which is about 500 km from Kullu. Early morning, we checked from the hotel at 7 am and followed the same route which we took while coming to Manali. We passed via – Anut >>  Mandi >> Pandoh >> Sundernagar >> Bilaspur >> Swarghat >> Rupnagar >> Kharar >> Banur and by the time we reached Ambala, it was 3 pm. We stopped to have lunch at Ambala and drove further towards Delhi.
NH44 from Ambala till Delhi is a smooth ride. By the time we crossed Sonipat, most of the vehicles had turned on their headlights which makes visibility a bit of a challenge and slows down your speed. As you drive closer to your home city, the roads and landmarks start to become familiar and the anxiety to reach your home reduces. We continued our drive on the Highway and soon by-passed the ISBT and by the time we reached home it was 9 pm.