Road Trip to South Karnataka and Ooty
Karnataka tourism motto – "One state, Many worlds", truly exemplifies the 7th largest Southern state in India. The topography of the state ranges from forests of Dandeli, hills of Coorg, ruins of Hampi & Badami and a long coastline with serene beaches.

Road trip to South Karnataka was planned for December 2014 to explore the Southern part of the state covering Bangalore, Mysore & Coorg (Madikeri). We included Dandeli, Ooty (Tamil Nadu) and Goa in our itinerary to break and complete a round journey.
Trip Prerequisites:
We planned 12 days trip covering all of the above destinations. There are certain things to keep in mind before planning for a road trip in India therefore you can refer to my following page for some tips – https://travel-memoirs.com/travel-tips/
Trip Plan:
1. Point of Interests (POIs): We zeroed down to the below POIs for this trip.
Dandeli: Forest Reserve
Bangalore: Lal Bagh, Science Museum, Jawaharlal Nehru Planetarium, Iscon Temple
Mysuru: Ranganathaswamy Temple (Sritrangapatnan – on the way), Brindavan Gardens, Saint Philomena Church, Mysore Palace.
Ooty: Rose Garden, Doddabetta Tea Factory, Joy ride on Nilgiri toy train.
Coorg: Namdroling Monastery (Bylakuppe – on the way), Madikeri Fort, Raja's Seat, Abbey Falls, Dubare Elephant Camp
Goa (North): Baga Beach
2. Itinerary:
The first destination of the trip was Bangalore, which is about 850 km from Pune. To break the journey, we had identified Dandeli Forest reserve which is midway and takes approximately 7 hours to reach. Mysuru, Ooty and Coorg are within the range of 250km from each other and can be managed within 3-5 hours of drive. Return journey from Coorg to Pune is a stretch of 880 km, which is too long to be covered in a day therefore we decided to break the journey at Goa.
The itinerary was finalized as below:
Pune >> Dandeli >> Bangalore >> Mysore >> Ooty >> Coorg >> Goa >> Pune
The itinerary was finalized as below:
Pune >> Dandeli >> Bangalore >> Mysore >> Ooty >> Coorg >> Goa >> Pune
3. Book Hotels: The below hotels were booked based on the criteria mentioned in the Prerequisites.
Dandeli: Sangway Homestay
Bangalore: Stay with relatives in Marathahalli
Mysore: Bluemoon Residency
Ooty: Maruthi Cottages
Coorg: Green Haven
Goa: Amoura Beach Resort
Note: While planning for trips, I take inputs for road conditions from Team BHP and most of my online hotel bookings are done via makeytrip and yatra
Journey
Our ride was petrol variant sedan – Maruti Swift Dezire with 1197 cc engine. My fellow passengers were my wife and 2 kids. Me and my wife were to take turns to drive.
Day 1: Drive from Pune to Dandeli Forest Reserve (445 km, 7 Hrs)
We left Pune early at 6 AM. The idea was to reach Dandeli by noon and do the jungle safari in the evening. The took NH48 (Pune-Bangalore Expressway) and stopped at our regular pit stop at the Vithal Kamat Restaurant (after the Khed-Shivapur Toll plaza) for breakfast. Post breakfast, we were back on the highway and soon bypassed Satara and Kolhapur.
We touched Belgaun by 1:30 PM. We took a deviation from Expressway at Belgaun and took NH-748 (Belgaon-Goa highway) and passed via Khanapur – Londa till Ramnagar. From Ramnagar we continued straight to State Highway – SH34 via Ganeshgudi till Dandeli. Entire stretch of NH48 till Belgaon is smooth. NH748 till Ramnagar passes through jungles and was partially pot holed.
Alternate to this route is via Dharwad and Haliyal which is approx. 50 km longer and takes an additional 1 hour.
We checked in to Sangway Home Stay at 3 pm. The place in 2014 was managed by Mr. Vikram Sogi (944-802-3571) and was not available via any booking portal. It had to be booked by directly calling Mr Sogi. The home stay provides cottages with decent arrangements and home cooked food (prepared by Mr. Sogi's family)
Dandeli is close to the Western Ghats and is the largest wild life Sanctuary in Karnataka. It is lush green year round, due to the water from river Kali which flows through it. It is famous for activities like – river rafting and jungle safari.
After having lunch, we headed to the Dandeli Wildlife Sanctuary. The forest departments conduct open jeep rides inside the reserve to get a glimpse of animals like – Bison, Sloth Bear, Indian Hornbill and Malabar giant squirrel. Unfortunately, the only animal we could see was the heard of Bison & Malabar giant squirrel.
Though the safari turned out to be a bit disappointing, the saving grace was Shiroli peak which provides a panoramic view of the Sahayadri Range and sunset.
Day 2: Drive from Dandeli to Bangalore (482 km, 7:30 Hrs)
Day 2, we woke up early in the morning and after breakfast, walked via jungle to the river Kali to watch crocodiles.
We were back to our home stay by 10 am and after a quick cup of tea left to drive for Bangalore. This was to be our first trip to Karnataka's capital city – Bangalore. We were to meet and stay with my sister-in-law, who had relocated to the city a few months ago. This visit also gave us the opportunity to explore the various attractions of the City.
There are two routes which can be followed from Dandeli to reach NH48 (Expressway) for Bangalore
• Route 1: Dandeli – Haliyal – Nigadi – Dharwad – Hubli
• Route 2: Dandeli – Haliyal – Kalghatgi – Tadas
Route 1 (via Dharwad and Hubli) is approx. 40 km longer and takes an additional 1 hour but is preferred by most of the driving enthusiasts. We took the same route and joined NH48 at 12 PM. From there onwards, it was a smooth 4 lane drive on the expressway till Bangalore passing through Davanagere – Tumakuru. We reached Bangalore (Marathahalli) at 10 pm and retired for the day after having dinner.
Day 3: Explore Bangalore
On the day 3 of the trip, we planned to visit Science Museum and the Iscon Temple and catchup with some old friends in the evening.
Science Museum (Visvesvaraya Industrial and Technological Museum)– Situated in Cubbon Park area, it is a multistory building which houses galleries like – Engine Hall, The Space, Dinosaur Alive. I would recommend this place if you are a science enthusiast. You can easily spend 4-5 hours at this museum, if you plan to explore all the galleries.
ISKCON Temple: Located at Hare Krishna Hill, Rajaji Nagar the temple is dedicated to Radha & Krishna and attracts devotees from all over the world.
After visiting the temple, I did a catch-up with a couple of old friends and after dinner with, we returned back to Marathahalli.
Day 4: Explore Bangalore
Day 4 was reserved for visit to Jawaharlal Nehru Planetarium and Lal Bagh and lunch at MTR.
Jawaharlal Nehru Planetarium: The planetarium exhibits on how stars are formed, how planets evolve, how gravity works to how eclipses happen. The Sky Theatre is its main attraction of this place which runs 4 shows in the day. It is fascinating to watch the 4-D show when projected on large dome up inside a hall. The surround sound system of the dome adds to the overall experience. The 35-minute show gives a basic knowledge of the various planets, nebulas and other space phenomena.
Lalbagh Botanical Garden, was initially a private garden of Hyder Ali, one of the most famous rulers of Mysuru. This garden was further developed by Hyder Ali's son Tipu Sultan and subsequently by the British. It is now maintained by Karnataka Directorate of Horticulture and it houses a glass house in the middle which was constructed during the British era and is used for conducting flower shows.
Another major landmark of the park is – Lalbagh Rock, which is one of the oldest rock formations and is believed to be millions of years old. This rock is a subject of interest among geologists as it gives insight into the process involved in formation of earth's crust.
MTR (Mavalli Tiffin Room): We stopped at MTR which is walking distance from the Lalabagh Garden to try their famous South Indian preparations. After a few minutes of waiting, we were offered a table. Though the decor at this restaurant is not that fancy, lot of focus is given on cleanliness and food quality. It has been operational since 1924 and is famous for – Rava Idli (they claim to have invented this dish during World War 2), Masala Dosa, Kesari Bhat and filter coffee.
Day 5: Drive from Bangalore to Mysuru (170 km, 4 Hrs)
Early morning, we left Bangalore to drive for Mysuru. The best route to reach Mysuru is via NH275 which passes via Ramnagara – Maddur – Mandya – Srirangapatna.
After approx., 2.5 hours of drive, we halted at Kamath Lokaruchi in Ramnagara for breakfast. I came to know of this place from one of my old friends I met in Bangalore. The restaurant offers buffet on Fridays, weekends and holidays from their unlimited menu comprising of traditional Karnataka vegetarian cuisine. The food is delicious and moderately priced. This place is a must visit on the Bangalore – Mysore highway for a short break for sure.
After driving for another 1.5 hours, we reached Srirangapatna, which is famous for Ranganathaswamy Temple, which is 15 km before the city of Mysore (while coming from Bangalore).
The temple is dedicated to Sri Ranganatha, who is Lord Vishnu's avatar and was constructed by Chola, Pandya, Hoysala and Vijayanagar dynasties who ruled over the region between the 9th and 16th centuries. The sanctum of the temple has deity of Sri Ranganatha in sleeping posture.
It took us an hour in the temple after which we drove further to Mysuru and checked-in to our hotel – Bluemoon Residency by noon which is walking distance from Saint Philomena Church and is located in narrow lanes. Though, on the booking portal the hotel claims to have parking space, it can hardly accommodate 2-3 cars.
After lunch we headed to visit the next destination – Brindavan Gardens which is about 20 km from our hotel (Blue moon residency) and takes 40-45 minutes to reach. Since Mysore palace and Philomena's church were close by from the hotel, we planned to visit them the next day.
Brindavan Gardens: Primarily a terrace garden (levelled steps on sloping ground), it has been built near the base of Krishnaraja Sagar (KRS) Dam over Cauvery River. The garden comprises of a wide array of fountains, terraces, water channels, lawns and flowerbeds, etc. Most of the fountains work on the water pressure created by the dam. The musical fountain, is the main attraction of this garden but if you have watched the fountain shows at Akshardhaam (Delhi or Gandhinagar), you might not find the one here very interesting, though, it is credited to be the oldest one in India.
By the time we returned back to our hotel, it was late in the night so we slipped to our beds soon after.
Day 6: Drive from Mysuru to Ooty (128 km, 3 Hrs)
We started Day 6 vising the below 2 remaining attractions of Mysuru.
Saint Philomena Church: Considered to be the largest churches in India and second largest church in Asia, it captivates everyone with its architectural beauty. Built in 1933, the church was built by Mysore ruler – Maharaja Krishnaraja Wodeyar for the European residents in the city. Constructed in the Victorian (British) style, the church has been made in the shape of a cross. Since we were visiting the church close to Christmas, it was beautifully decorated.
Mysore Palace: Itis located in the heart of the city and is one of the largest palaces in the country. Built in 1912, in Indo-Saracenic style (hybrid of Hindu, Mughal & European styles of architecture), it is a three-storied stone structure, with marble domes. The palace is now converted into a museum and is surrounded by a large garden. The erstwhile Royal family of Wodeyar Dynasty continues to live in a portion of the Palace. The palace is the venue for the famous Mysore Dussehra Festival.
It was noon by the time we finished exploring the Mysore palace. After a quick lunch, we left for Ooty.
Also known as Udhagamandalam and sometimes Ootacamund, the hill station of Ooty lies near the Nilgiri mountains (part of Western Ghats) in Tamil Nadu and is famous for its tourism and attracts a large number of tourists.
Drive to Ooty from Mysuru is via Nanjungad – Begur – Gundelpet – Bandipur – Theppakadu. As soon as you cross Bandipur, you enter Mudumalai National park which is the border of Karnataka and Tamil Nadu. Tamil Nadu has strict rules on carrying liquor from outside the state and vehicles are checked thoroughly (you might be excused if you are traveling with family).
From Theppakadu, there are two options to reach Ooty:
Option 1: (30 km longer) Turn right from Theppakadu junction to Gudalur – Naduvattam – Pykarra falls – Ooty
Option 2: Turn left from Theppakadu junction to Masinagudi – take 35 hairpin bends – Ooty
Option 1 (via Gudalur), though a bit longer, it passes via green lush forests and tea plantations. Option 2 (via Masinagudi) passes through 35 "hairpin like" curves and is an driving delight. It was collectively decided to try both the options. Option 1 to reach Ooty and Option 2 while returning from there.
I had a notion that the highest mountains were in North India in the Himalayan range, until I drove through the Nilgiris which proved to be an experience. For the first time, I felt the need for a bit more powerful car as I could hardly drive beyond the first gear on my 800 cc Alto.
By the time we reached Ooty, it was dark so the first thing we did was to check-in to our hotel – Maruthi Cottages and retired for the day early. We had booked a joy ride on the Nilgiri Toy train early morning.
Day 7: Explore Ooty
Day 7 was to start with Joyride on Nilgiri Mountain Railways which is Integral part of visit to Ooty. Most of the joy riders board the train to and fro from Ooty till Coonor. The train passes through 4 stations – Lovedale, Ketti, Aravankadu & Wellington. There are four trains that you can board to enjoy toy train journey.
We had booked tickets 3 months in advance (via IRCTC website) for 10:25 AM train till Coonor (train No 56139) , and the return journey via train number 56136. If you plan to do this trip during afternoon, you can book tickets in train number – 56137. Spend an hour in exploring Coonor and return back to Ooty via train no. 56138. General seats are also available in the train for which tickets can be purchased directly from the station counter.
We drove to Ooty railway station which was 2 km from our hotel and parked our car outside the station and boarded the train.
The track runs through the picturesque Nilgiri Mountains and the journey is worth the time spending in the train.
We returned back to Ooty in the noon and after having lunch, headed to our next points– Rose Garden, Doddabetta Tea Factory and Botanical Garden.
Rose Garden: Situated in the heart of Ooty, this garden has been beautifully laid out in terraces with more than 3,000 varieties of roses that will captivate your senses. The Garden is situated in slopes of the Elk Hill.
Doddabetta Tea Factory: The Tea Factory is located on the way to Ooty's highest peak – Doddabetta. It is a must visit place for all tea lovers. Inside the factory, one can see the entire tea manufacturing process from the freshly plucked green leaves to its packaging.
Botanical Garden: This is another sought after tourist attractions in Ooty. It is a well maintained garden located at the slopes of the Doddabetta peak. The garden houses a fern house, rose garden, ponds and glass houses which contains innumerable varieties of exotic plants. It is a good place to relax and enjoy cool breeze of Ooty.
Day 8: Drive from Ooty to Coorg (236 km, 5.5 Hrs)
Day 8, we were scheduled to travel to Coorg (Kodagu), which is often dubbed as "The Scotland of India". It is located on the Eastern slopes of the Western Ghats and is famous for coffee plantations.
We left Ooty early in the morning and took the Naduvattam – Gudalur route for Coorg. Though, this route is 30 km longer than the 35 hairpin bends route (via Masinagudi), this route passes through beautiful tea plantations and lush green forests.
From Theppakadu we continued our journey passing through Gundelpet to Begur. From Begur, Coorg can be reached via 2 routes which take almost same time.
Route 1: Begur – Mysuru – Hunsur. 246 Km. Takes 5.5 hours
Route 2: Begur – Sargur – Hunsur. 235 Km. Takes 5.5 hours.
We took the route 2 (via Sargur) as it was 10 Km shorter. This route passes via SH86, which was in a good condition during December 2014.
From Theppakadu we continued our journey passing through Gundelpet to Begur. From Begur, Coorg can be reached via 2 routes which take almost same time.
Route 1: Begur – Mysuru – Hunsur. 246 Km. Takes 5.5 hours
Route 2: Begur – Sargur – Hunsur. 235 Km. Takes 5.5 hours.
We took the route 2 (via Sargur) as it was 10 Km shorter. This route passes via SH86, which was in a good condition during December 2014.
Namdroling Monastery: 88 Kms from Mysore at Bylakuppe is Namdroling Monastery which is the second largest Tibetans settlement in India. Established in 1972, it is built in very attractive and colourful Tibetan architecture. The Monastery houses a main shrine and two small shrines. It houses large number of young Tibetans seeking education and draws large number of tourists from all over India and abroad. Watching hundreds of Buddhist monks doing religious rituals and offering prayers loudly is an exciting sight.
We reached Coorg at 6 PM and checkedin to our hotel – Green Haven. In the evening, we visited the Omkashewar temple.
Omkareswara Temple – Close to Madikeri Fort, Omkareshwara Temple is a magnificent temple built by Lingarajendra in 1820. According to the legend, the Shiva linga installed inside the temple is believed to be brought from Kashi (UP). A huge tank situated opposite the temple is populated by large fishes and devotees are allowed to feed them.
Day 9: Explore Coorg
We started our day with trip to Dubare Elephant Camp, which is about 26 kms from Coorg.
Dubare Elephant Camp: Dubare is a natural island formed by Cauvery river. Dubare elephant camp is a project undertaken by forest department and has plenty of elephants which are trained under naturalists. The Elephants for Mysore Dassehra are trained at this camp. Many fun-filled activities such as elephant interaction, coracle ride, bird watching/ trekking, white water rafting, joy fishing and camp fire are available for tourists. Elephant rides are also available in the camp.
Abbey Falls: It is a wonderful waterfall and one of the main attractions of Coorg. It is situated in the middle of a private coffee plantation. A hanging bridge has been built across the gorge here offering a good view of the falls. Cars can reach the entrance of the falls from where a 10 minutes' walk through coffee plantations takes one to the waterfalls. September to January is the best season to view the waterfall in full flow.
Madikeri Fort: Built by multiple rulers over the centuries, the fort offers panoramic views of the city from its walls. In the inner Fort, there is a museum, run by the state archaeology department. It is a repository of many antiques of Coorg. The other buildings inside the fort include the Mahatma Gandhi Public Library, the Kote Maha Ganapathi temple and the district prison.
Raja's Seat – The Raja's Seat, which means the Seat of Kings, is a brick and mortar structure with four pillars. It was a spot from where the Kings of Coorg watched glorious sunsets. The Karnataka government has developed a garden around the Raja's Seat.
Day 10: Drive from Coorg to Goa (523 km, 10 Hrs)
Coorg was the last destination of our trip from where we were to drive back to Pune. Coorg-Pune is 880 Km and was not possible to be covered in a day so a day on the Baga beach in North Goa was planned to break the journey.
This was the longest leg of travel in the entire trip. Without having breakfast, we left early at 7 am from Coorg to reach Goa before sunset. The route for trip was Mangaluru – Udupi – Karwar – Goa. We took NH275 and hit Mangalore by 10 am. Road widening work was ongoing at several places during December 2015. We stopped to have breakfast and continued our journey.
While planning the trip, we had read good reviews for Shetty Lunch Home at Kundapur (near bus stand) for Chicken Ghee Roast. Our target was to reach there for Lunch. We reached the restaurant at 1 PM and tried their signature dish.
By 4:30 PM, we had touched Kumta, when we realized that my car's charging port was not powering the GPG and the GPS was running out of the battery. The GPS being the only source of navigation, we had to fix the car's charging problem. After searching for some time, we finally managed to locate a car accessory shop. The shop owner identified the problem with the "fuse" of the charging port. Since he did not have a spare, he connected the charger with the power of music player. We decided to get it fixed later on. This whole "incident" took almost an hour. We continued our journey towards Goa. The GPS showed 10 PM as the estimated time to reach our hotel in Goa.
Driving in night on unknown roads with family makes you anxious (I hate driving during night) and kills the fun. We had plans to visit the Karwar warship museum on the way but had to skip it to avoid any further delays. We entered Goa at 9:30 PM. Since it was new year, the roads were heavily barricaded by Goa police for security reasons and we had to take a diversion before Panjim which extended our destination by another 30 minutes. We finally reached our hotel at 11 PM.
Though it was almost midnight, Baga beach was in a full glory. We had dinner is a close by restaurant and retired for the day in our hotel beds.
Day 11: Relax at Goa
Day 11 was all sand and sun. We spent the entire day lazing at the Baga beach
Day 12: Drive from Goa to Pune (440 km, 8 Hrs)
Last day of the trip was for travelling back to Pune. Google map suggests the below 2 routes from Goa till Pune:
Route 1: Via Amboli Ghat (Goa – Amboli – Ajara – Pune). 419 Km
Route 2: Via Chorla Ghat (Goa – Chorla Ghat – Belgaon -Pune). 454 Km.
The took the route via Amboli Ghat, which is preferred by travelers visiting North Goa from Pune.
We had identified Hotel Opal in Kolhapur to break for Lunch. Opal is a well-known restaurant serving authentic Kolhapuri cuisine. We reached the restaurant by 3 pm and ordered lunch. The mutton preparations accompanied by Pandhara and Tambada rassa were delicious. The restaurant is located inside the city and is 3 km from the express way.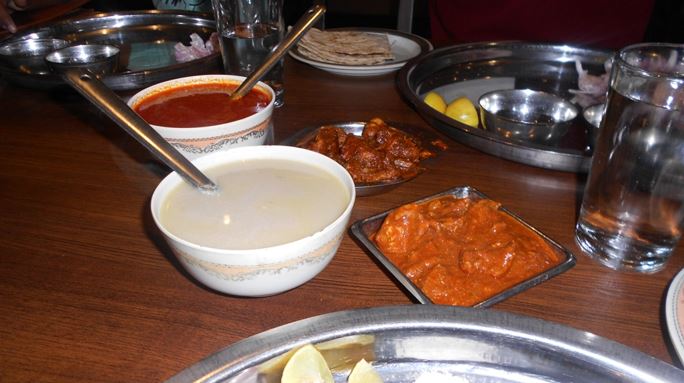 We were back on the expressway in an hour. Carried on with our journey and reached back home Pune by 10 pm.