Road Trip to Madhya Pradesh
The below travelogue is an itinerary of Road Trip to Madhya Pradesh from Pune. It covers Pune – Maheshwar – Mandu – Indore – Ujjain – Bhopal – Bhedaghat – Jabalpur – Panchmarhi – Amravati – Lonar Lake – Pune. . The trip was done during December 2015 and we covered 2400 km in the span of 10 days.
The state of Madhya Pradesh (MP) is considered to be the "dil" (heart) of India due to its geographical location. MP tourism has done an incredible job in popularizing its tourist destinations via various media sources. Their award winning short film campaign, frequently played on television and cinema halls, gives viewers an experience of the various tourist destinations of MP and calls out to come and watch the heart of India ("Hindustan ka dil dekho"). We planned a road trip to Madhya Pradesh during 2015 to explore the major attractions of the state.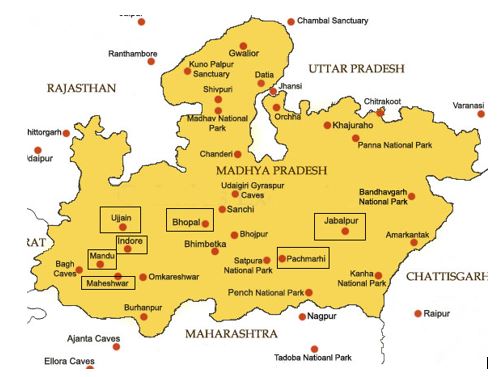 MP has got multiple tourist destinations, but since we were travelling from Maharashtra which is a southern state, we decided to cover the cities in the West & Southern region of MP. The cities identified for the itinerary were – Mandu, Indore, Ujjain, Bhopal, Jabalpur & Panchmarhi. National parks – Satpura, Kanha & Pench were ruled out as all of them look similar and one has to be really lucky to get animal sightings. We would have loved to visit Gwalior, Jhansi & Khajuraho but the cities are in the northern region of MP. This would have required additional travel and time, which was not possible due to various reasons.
While booking hotels, we could not find budget hotels to stay in Mandu, so we identified close by city -Maheshwar for night stay and visit the famous – Ahilya Fort there. We also wanted to include Sanchi (famous for Sanchi Stupa) and Bhimbetka (Stone age rock shelters) in our itinerary but later dropped them as these locations had only one PoI (point of interest) and was extending the 10-day itinerary by a day. But if you have time, both of these locations can be covered in a single day trip from Bhopal.
Road Trip Prerequisites:
We planned 10-day trip covering all of the above destinations. There are certain things to keep in mind before planning for a road trip in India. Please refer to my page for some tips. https://travel-memoirs.com/travel-tips/
Note: While planning for trips, I take inputs for road conditions from Team BHP and most of my online hotel bookings are done via makemytrip and yatra
Road Trip Plan:
1. Point of Interests (POIs): We zeroed down to the below POIs for this trip.
Maheshwar: Ahilya fort
Mandu: Rani Rupmati's Pavilion, Baz Bahadur's Palace, Asharfi Mahal, Jami Maszid & Jahaz Mahal
Indore: Lal Bagh palace, Rajwada palace, Kaanch Mandir, Sarrafa bazaar,
Ujjain: Mahakaleshwar temple
Bhopal: Taj-ul Masjid, Badi Jheel
Jabalpur: Bhedaghat, Duadhar falls
Panchmarhi: Bee falls, Pandava caves, Bison Lodge, Handi Khoh
2. Itinerary:
The plan was to travel North from Pune and enter MP from West, starting from Maheshwar and then move East to cover the rest of the cities in the following order – Mandu >> Indore >> Ujjain >> Bhopal >> Jabalpur >> Panchmarhi. Panchmarhi was the last city in the itinerary, from there we were to travel back to Pune. Panchmarhi to Pune is 870 km, so we identified in route city – Amravati for night halt. Next day, on the way from Amravati to Pune, we included Lonar Lake in the itinerary.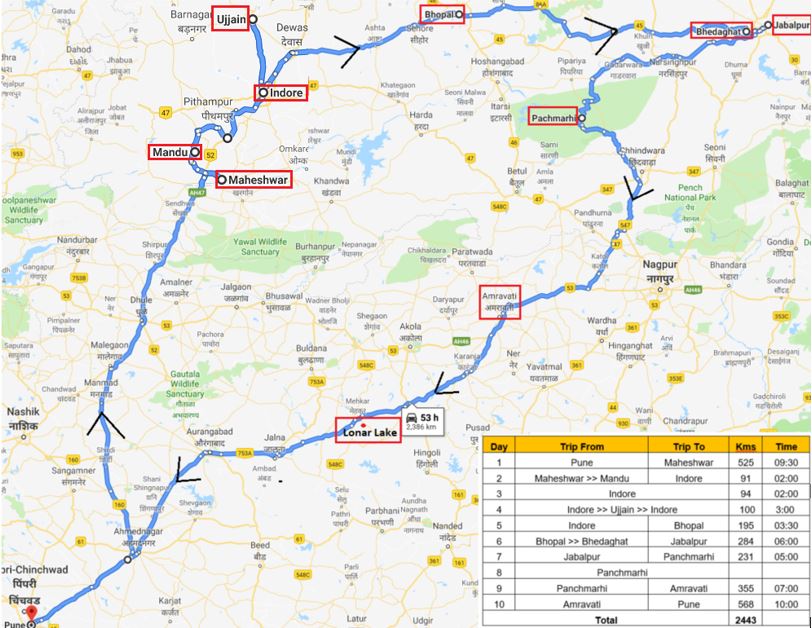 The final itinerary was chalked-out as below:
Pune >> Maheshwar >> Mandu >> Indore >> Ujjain >> Bhopal >> Bhedaghat >> Jabalpur >> Panchmarhi >> Amravati >> Lonar Lake >> Pune
2. Book Hotels: The below hotels were booked based on the criteria mentioned in the Prerequisites.
Maheshwar: Kanchan Recreation
Indore: Hotel Galaxy (FabExpress Galaxy)
Bhopal: Kamal Regency Hotel
Jabalpur: Hotel Kartik
Panchmarhi: Hotel Natraj
Amravati: Excel Executive Hotel
Journey
Our ride was petrol variant sedan – Maruti Swift Dezire with 1197 cc engine. My fellow passengers were my wife and 2 kids. Me and my wife were to take turns to drive.
Our ride was petrol variant sedan – Maruti Swift Dezire with 1197 cc engine. My fellow passengers were wife and 2 kids – 4 & 9 years old. The driving was jointly to be done by me and my wife.
Day 1: Drive from Pune to Maheshwar (525 km, 11:30 Hrs)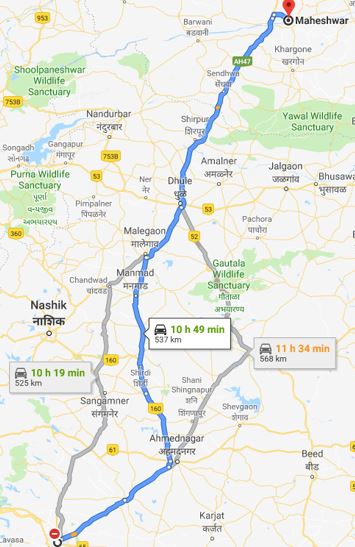 The first day of the drive from Pune to Maheshwar was 525 Km, which was expected to take an entire day. We left Pune early at 7 am to leave behind the city traffic.
There are a couple of routes which can be taken to reach Maheshwar from Pune. We opted the Ahmednagar >> Shirdi >> Manmad >> Malegaon >> Dhule route. Since, this route is frequented by pilgrims visiting the popular – Shirdi Temple, it is well maintained. From Dhule we joined NH52 and passed through Shirpur and Sendhwa. We took a right turn from Foodie Rameshwar Mandir to A B Road which joins the Dhanmod Maheshwar road. We reached our hotel – "Kanchan Recreation" at 7 pm. We had driven for almost 12 hours so after having dinner at the in-house restaurant we crashed to our beds.
Day 2: Explore Maheshwar and Mandu and Drive to Indore (Mandu to Indore – 90 km, 3 Hrs)
The day started with visit to nearby Ahilya Fort which is around 250 years old and is located at the banks of Narmada River. Unique fact of Narmada is that it is the only river in Central India which flows East to West and joins the Arabian sea, else all the rest of the rivers flow towards East and merge into Bay of Bengal. Ahilya fort was once the residence of Ahilya Bai Holkar, one of the most celebrated women rulers of India during the 18th century. It has now been converted into a heritage hotel.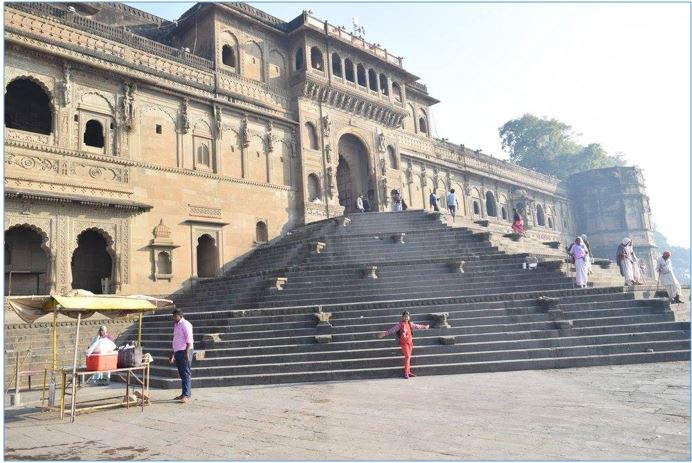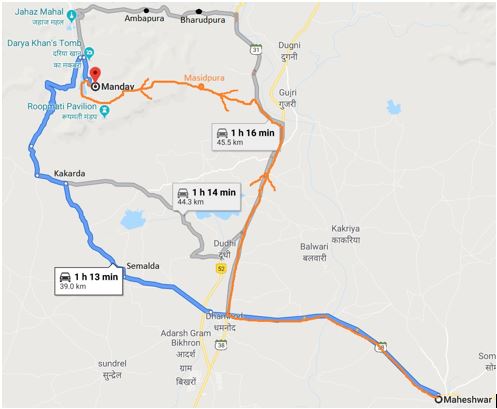 After spending an hour at the fort and banks of Narmada, we left for Mandu. Our MapMyIndia GPS suggested us route via NH52 and Masidpura (highlighted in amber color in the map). This route does not show in Google Maps, but we decided to give it a try as it was showing to be of shortest distance. Unfortunately, this route proved to be disaster. The road was badly potholed and broken. Lesson learned from driving through this route was not to trust GPS blindly. We should have checked the route options with locals in Maheshwar. Probably a little bit more research was required at the time of planning the trip. We later learnt that better route to reach Mandu is via Dhanmod >> Semalda >> Kakarda. The journey which was supposed to take 1.5 hours took us 3 hours and by the time we reached Mandu, it was noon.
We explored Mandu from the south in the below order…
Baj Bahadur Palace & Roopmati Pavellion: Built by Baz Bahadur, this 16th-century structure is famous for its large courtyards, large halls and high terraces. Close by is the Roopmati's Pavilion. As per the lengends, Baz Bahadur and Roopmati fell in love with each other and were married. Adham Khan was prompted to conquer Mandu partly due to Roopmati's beauty. When Adham Khan marched on the fort Baz Bahadur met him with his small force and was defeated. Before Roopmati could have been captivated, she poisoned herself.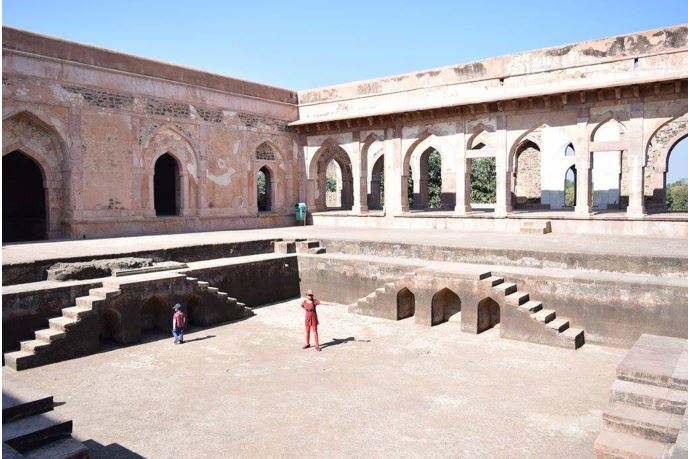 Ashrafi Mahal : Built with the idea of promoting education, this structure was a school before its builder Mahmud Shah Khilji decided to extend it and make it his very own palace. Due to incompetent architectural designs, this building could not withstand for long and soon collapsed. Since then and it stands amidst ruins.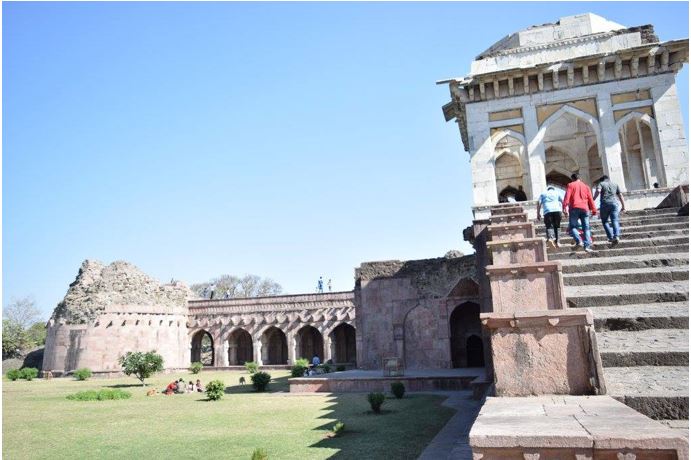 Jami Maszid: Close to Asharfi Mahal, is Jami Maszid. The mosque is built in Moghul style and been believed to have been built during the reign of Hoshang Shah and completed during the reign of Mahmud Khilji in 1454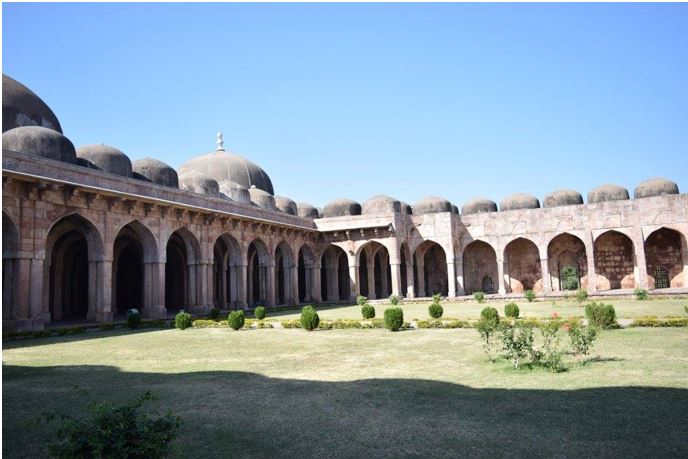 Jahaz Mahal : Also known as the Ship Mahal, it was built by Sultan Ghiyas-ud-din Khilji which is built on a narrow strip of land with a small upper storey making the palace look like a ship's bridge. Surrounded by water, it given an impression as a floating structure on water due to which it has been named as Jahaz Mahal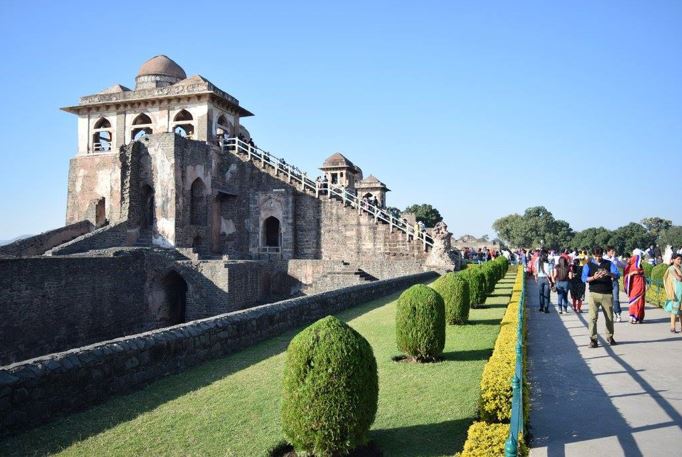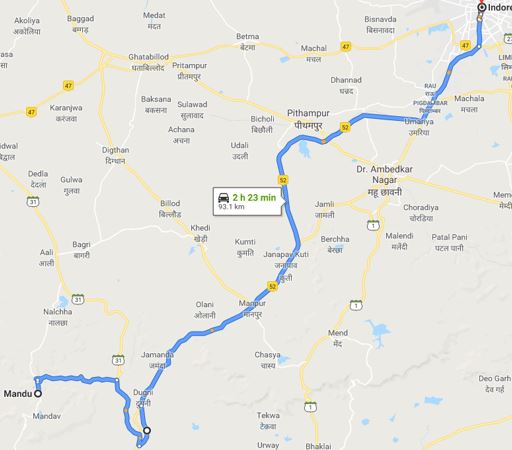 Drive to Indore: By the time we finished exploring Jahaz Mahal it was evening and we had to travel to Indore which was 90 km. We drove through Ambapura and Bharudpura to reach NH52 and then passed through Manpur and Pithampur to reach Indore. We checked in to our hotel – FabExpress Galaxy by 9:30 PM.
Day 3: Explore Indore
Day 3 was scheduled for exploring Indore. The plan was to start with Lal Bagh Palace followed by Kanch Mandir and Rajwada Palace. Since Kanch Mandir and Rajwada Palace are located in old and congested part of City, we took an auto-rickshaw to visit all of the locations.
LalBagh Palace: Built by various Holkar kings, this three storied structure is used for hosting royal receptions now. The interiors of this palace are made of Italian marble columns, huge chandeliers, Persian carpets, Italian wall paintings, stuffed animals etc. The palace also has a small planetarium which has old royal projector on which they show you position of the stars of that night. It is a short 10 minute show and runs every 45 minutes. Ticket Price (Palace): 250 INR Time Required: 02:00 Hrs . Timing: 10:00 am – 06:00 pm . Monday closed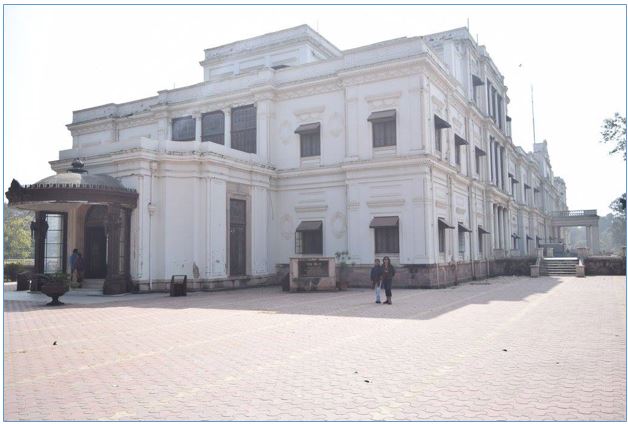 Kanch Mandir: It is a Jain temple made up of glass and mirrors, built by Sir Hukamchand Seth in the early 20th century. The temple is entirely made of glass including the walls, ceiling, floor, pillars and doors. The temple also showcases beautifully crafted glass lamps and chandeliers. One can see the 50 murals in the temple, each of which depicts one of the Jain stories. Timings – Opening & Closing 6.00 AM – 8.00 PM Time Required: 01:00 Hrs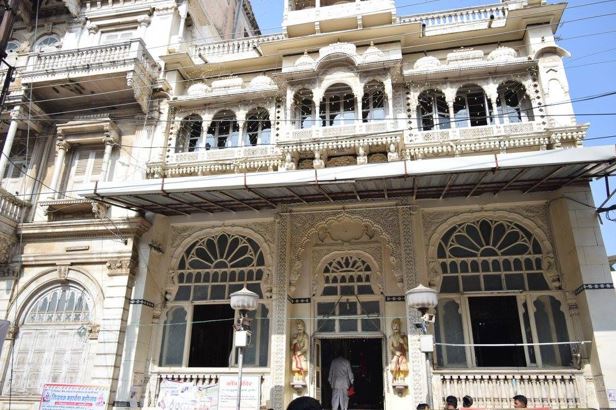 Rajwada Palace was built by Holkar Dynasty around two centuries ago. It has a spectacular wooden entrance. The entrance leads to the courtyard, which is surrounded by galleried rooms. Out of the seven floors of this palace, lower three floors are built of stone while the rest four are made of wood. The Palace is influenced by Mughal, French and Maratha styles in the architecture. Ticket Price: 10 INR, Time Required: 01:00 Hrs .Timing: 10:00 am – 05:00 pm, Monday Closed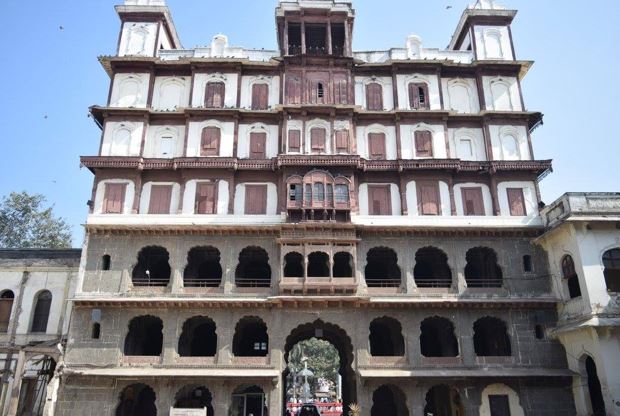 By the time we completed visiting the Rajwada Palace, it was evening. Having nothing else on cards for the rest of the evening, we watched the evening show of Amir Khan's latest movie release – "Dhangal" at nearby – INOX Sapna Sangeeta which was 5 minutes of walking distance from our hotel.
Day 4: Take a round trip to Ujjain from Indore (100 km, 3 Hrs) and visit the Sarafa Market
Close by city from Indore – Ujjian is famous for Mahakaleshwar Temple which is dedicated to Lord Shiva and it is one of the twelve Jyotirlingams in India. The temple is situated on the side of the Rudra Sagar lake.It is 100 km from Indore and takes 1.5 hours to reach. We left early in the morning and reached the Temple parking by 11 PM. There are scores of vendors outside the temple who keep on pestering you to buy "prasad" from them. There was a long queue of worshipers and it took us almost an hour and half for "darshan". We spent some time in the temple premises and then drove back to Indore. We were back in our hotel by 3 pm. We took some rest and at dusk, took an auto rickshaw to visit the famous Sarafa bazar.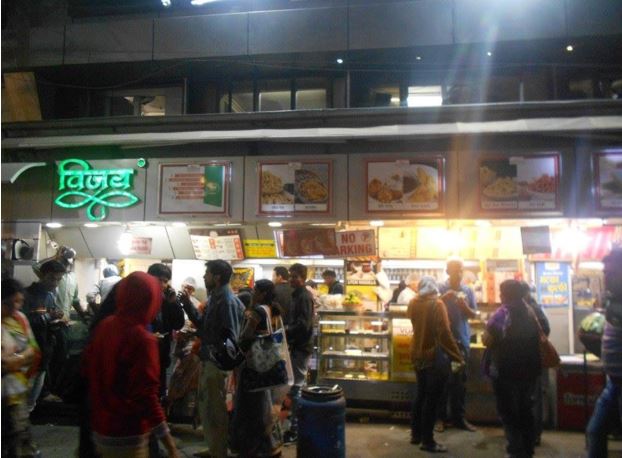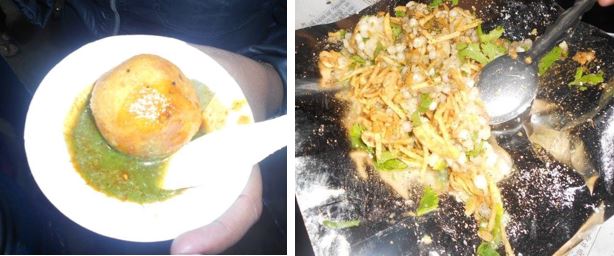 Sarafa Bazar – It is jewelry market which turns into a street-food paradise during night. Visit to Indore is incomplete without a visit to this market. Some must try items in this market are:
Poha Jalebi: This signature breakfast dish of MP is prepared over steam which is different from how it is prepared in rest of the country. Poha with Jalebi is a unique combination you can find selling across MP.
Sabudana Khichdi: The outlet – Saawariyan has his own style of making this yummy dish made out of Sabu grains.
Bhutte ki Kees: It is a seasonal specialty made from corn, shredded and cooked with milk, coconut and spices.
Khopra Patties: These famous patties, potato balls with a core of stuffed coconut, are fried right in front of customers and served with tangy tamarind chutney. Try these at Vijay Chat House.
Joshi Dahi Vada: The owner Mr Joshi has featured in several food shows on TV. He is famous for preparing bowl of Dahi vada by spinning it in air and collecting it back without spilling it. Soft Dahi Vadas, sprinkled with lime, coriander and amchur are definitely not to be missed.
We left the Sarafa Bazar after trying the different food options and took an auto back to our hotel.
Day 5: Drive from Indore to Bhopal and explore Bhopal (195 km, 4.5 Hrs)

Day 5 was scheduled for driving to the Lake City – Bhopal. We left Indore at 8 am and took the Indore-Bhopal road passing via Dewas and Sehore. The roads were good and we reached Bhopal at 2 PM. On way to our hotel was the famous Taj-ul maszid, which we stopped by to pay a visit. Taj-ul-Masjid, means the 'Crown of Mosques' and is one of the largest mosques in Asia. Its a pink structure with white-dome minarets and looks magnificent.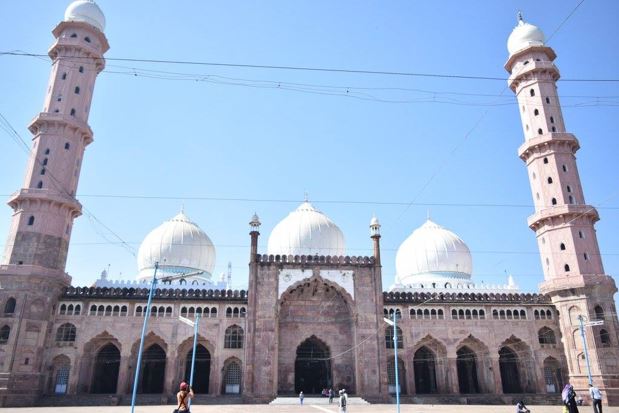 After spending some time at the mosque, we left for our hotel – Kamal Regency which is close to the railway station. After having some rest we took an auto to visit the most famous attraction of Bhopal – The "Badi Jheel" (bigger lake) which is considered to be the oldest man-made lake in India. It is one of the biggest lakes among the ones in Bhopal and is a source of water for the city in addition from being a major tourist attraction. The lake offers a beautiful, panoramic view of the city and is a good place for boating and sight-seeing.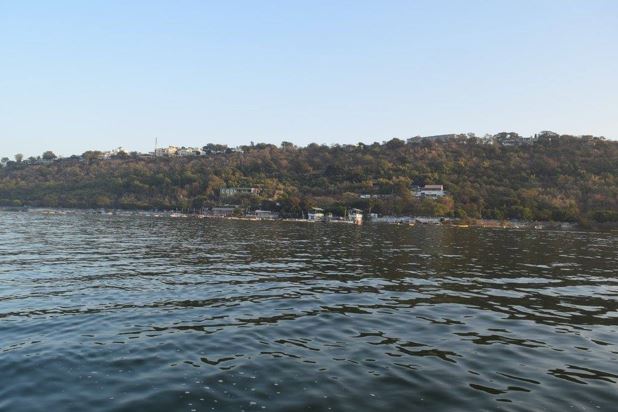 Journey to Bhopal is incomplete without a visit to Chatori Gali, which is the most famous food street in Ibrahimpura, close to the lake. The narrow lanes of this place are lined with stalls selling kebabs, biryanis and more. This is the paradise for meat lovers.
Day 6: Drive from Bhopal to Jabalpur via Bhedaghat (284 km, 7 Hrs)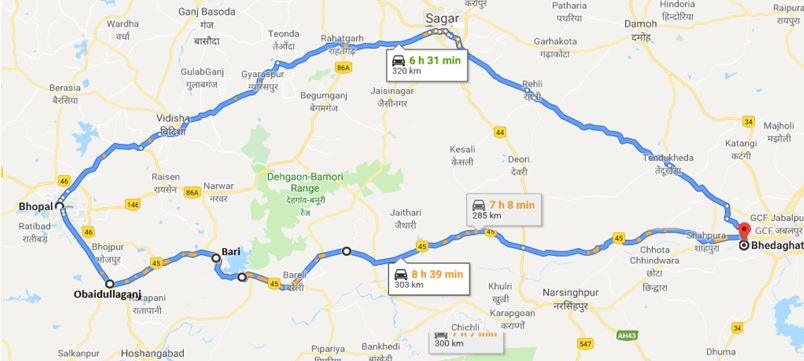 We left Bhopal on Day 6 to Drive to Jabalpur and visit Bhedaghat. Our GPS suggested NH45 via Obaidullahganj >> Bari >> Udaipura as the fastest route, but taking this route again proved to be a bad decision. The entire stretch along NH45 was in shambles and severely pot holed. We could not drive beyond 35 km/hour in the entire journey. The better option (though bit longer) could have been via Sagar passing though Vidisha >> Rahatgarh >> Sagar >> Rehli and Tendukhera.
By the time we reached Bhedaghat, it was 3 pm. Bhedaghat is often referred as "Great Canyon of India" and was formed as a result of river Narmada cutting through rocks. It is famous for its marble rock cliffs located on either sides of the river Narmada and looks beautiful when sunlight falls on these marble white rocks and reflects shadows on the river water below.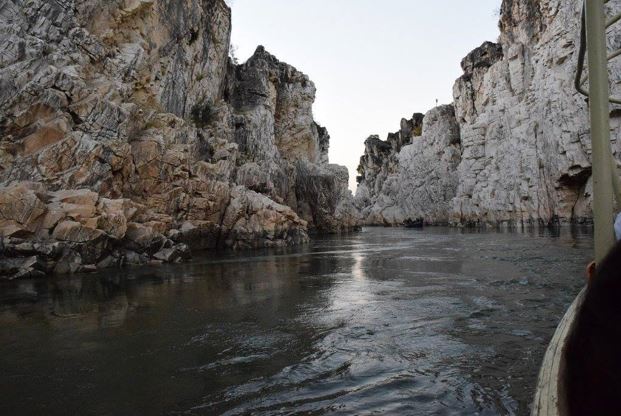 The Narmada River flows gently through these lofty marble rocks and a little distance away, the water forms a mighty waterfall famous as Dhuandhar ("Dhuan" means smoke and "dhar" means flow of water). By the time we reached the waterfall, the sun had set but the waterfall looked mesmerizing in halogen lights as well.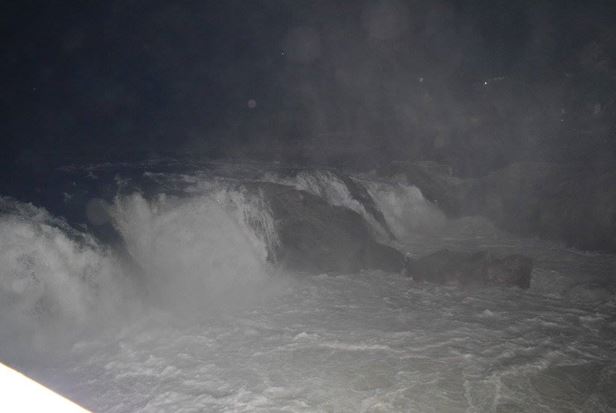 After spending sometime at the Dhuadhar waterfall, we drove to Jabalpur to check-in at our temporary adobe for the night – Hotel Kartik.
Day 7: Drive from Jabalpur to Panchmarhi (326 km, 6 Hrs)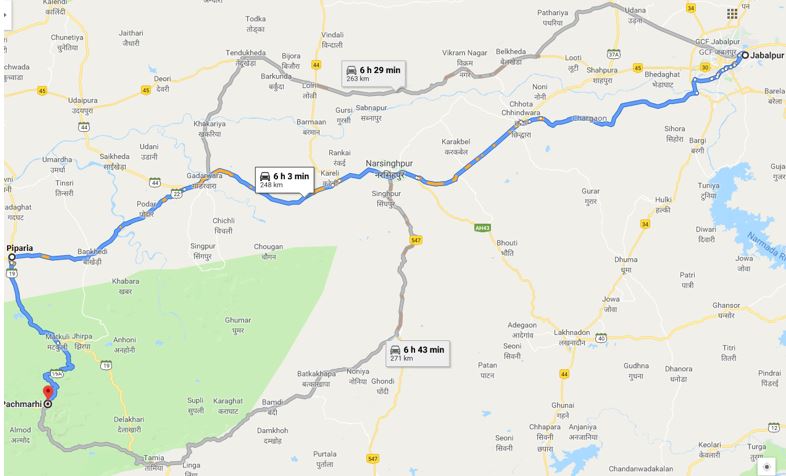 On day 7, we left Jabalpur to drive to the only hill station of MP – Panchmarhi, which is 250 km from Jabalpur and takes approx. 6 hours to reach. We took the route via Narsinghpur – Gadarwara and Piparia. It was time of the year when sugarcane harvesting is on in most parts of India. On the way we came across many jaggery manufacturing units and stopped by to taste freshly made jaggery.

By the time we reached Panchmarhi, it was late in the evening. We spent the evening strolling the market area and after dinner at one of the restaurants called it a day.
Day 8: Explore Panchmarhi
Panchmani – It is situated at approx. 1000 meters above sea and is popularly known as 'Satpura ki Rani' (Queen of Satpura range). This is the only and the most popular hill station of MP and is under administration of Cantonment board serving the Indian Army. In order to visit the various attractions, it is advised to hire a 4-wheel drive gypsy, as some of the attractions like – Bee falls and Handi Khoh are at steep gradient and can only be reached via 4X4 vehicles. We bargained with one of the gypsy drivers to drive us through the various attractions in ₹2500 for all family members on sharing basis. We visited the below attractions in the same order: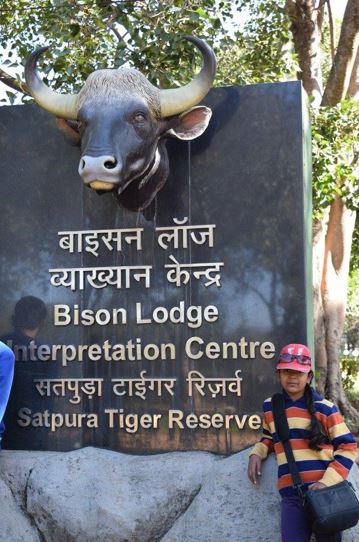 Bison Lodge: Its a well-maintained museum and is the starting point where you pay a fee for local sightseeing excursions and permits. While the inside of the lodge houses models, graphs, maps, and pictures of Pachmarhi rich flora, fauna, history and places of interest, the outside is adorned with a huge garden where you can sit and enjoy the serenity of this hill station.
Pandava Caves: These caves are believed to provide shelter to the Pandavas during their exile period.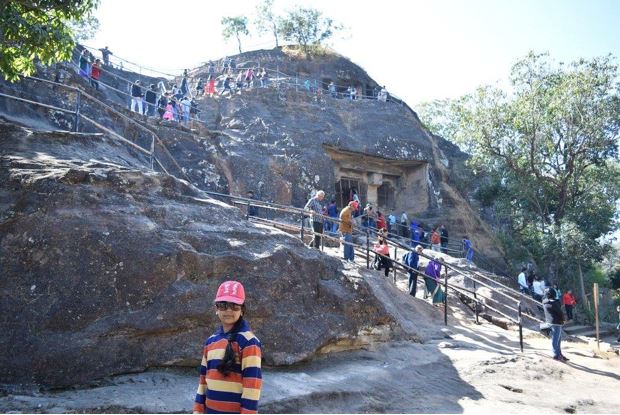 Handi Khoh: One of the most beautiful ravines in Panchmarhi, Handi Khoh has a 300 feet high cliff in the middle of a dense forest. One has to trek 2-3 km through the jungles to reach this point.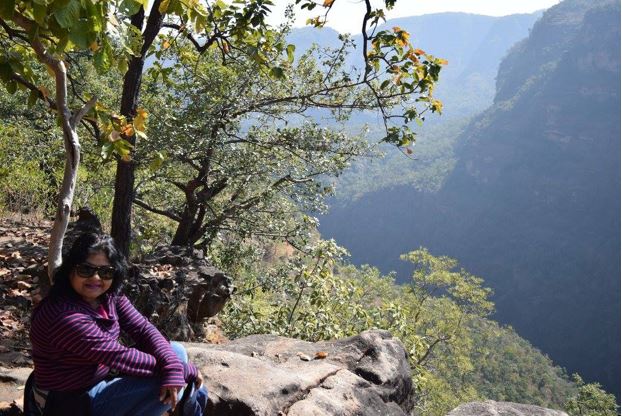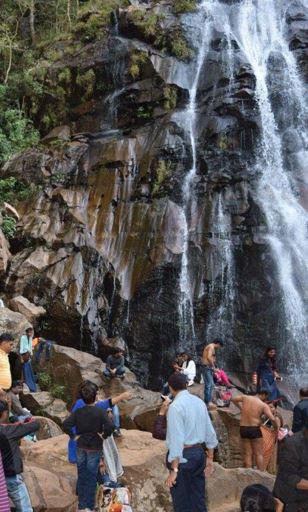 Bee Falls: It is called bee fall because humming sound made by water fall resembles sound made by bees. The cascading falls can be reached through a short trek and is a famous picnic spot.
Rajendragiri Garden: It is named after Dr. Rajendra Prasad, formal Prime Minister of India who visited this garden in 1953 and planted tree here. It is a well maintained garden and offers beautiful spot to see sunsets and sunrises. The below picture is the last sunset of 2015 (shot on 31st December)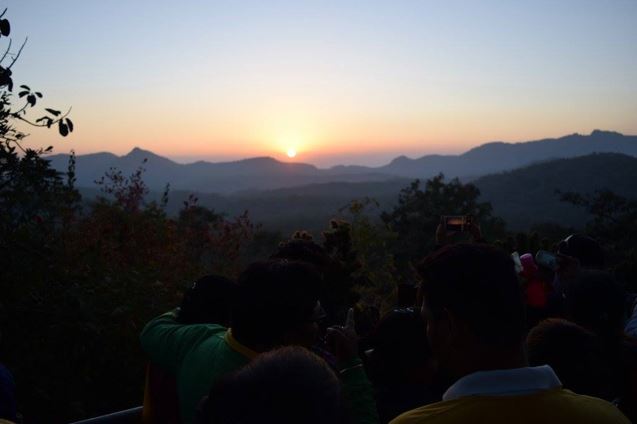 Rajendragiri garden was the last point of the trip, from there we returned back to our hotel.
Day 9: Drive from Panchmarhi to Amravati (355 km, 8 Hrs)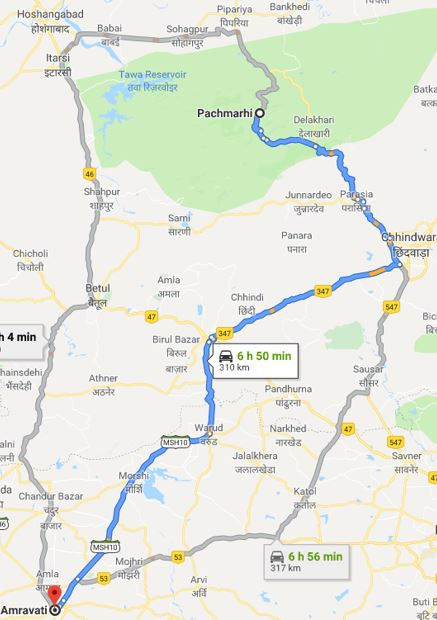 Panchmarhi was the last destination of our trip, from where we had to return back to Pune. To break the journey, we had booked hotel in Amravati which was 355 km on the route from Panchmarhi. There are a couple of routes which can be taken to reach Amravati. We opted for the shortest route passing via Chhindwara – Warud & Morshi. Most of the road condition was good during this leg of the journey. We reached Amravati by 5 PM and checked in to – Hotel Excel Executive. The evening was spent strolling at the nearby market.
Day 10: Drive from Amravati to Pune via Lonar (568 km, 12 Hrs)
On the final day of the trip, we were to travel approx. 570 km to reach Pune via Karanja- Jalna – Aurangabad – Ahmednagar route. Before Aurangabad, we planned to pay a visit to the famous Lonar Lake. To reach the lake one has to take a left turn from Mehkar while coming from Amravati. The lake is approx. 20 km from there.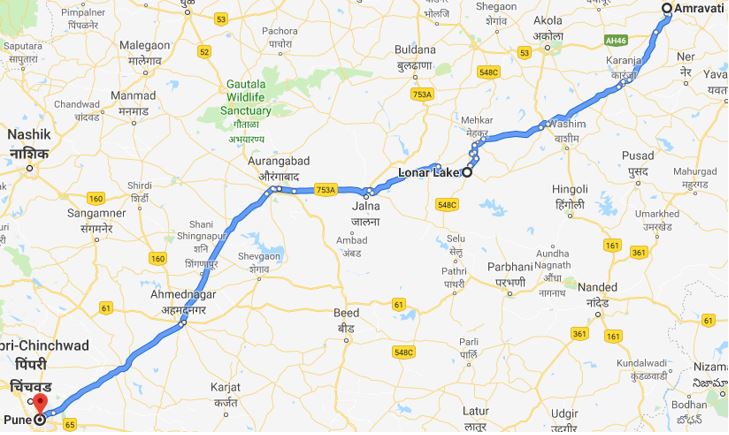 Lonar Lake is located at Lonar in Buldhana district. It was created by a meteor impact approx. 35,000 – 50,000 years ago. The water in the lake is both saline and alkaline. Standing at the lake one can only imagine the turn of events which would have happened when the meteor would have hit this region years ago. There is an old temple at the periphery of the lake and can be accessed by climbing down stairs.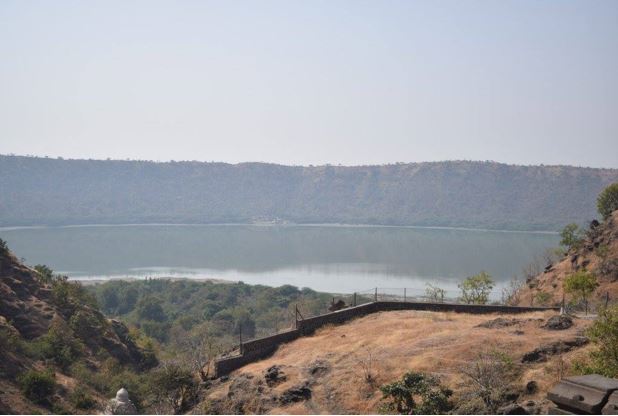 After spending an hour at the lake, we drove back to the Aurangabad highway. We stopped at Aurangabad for lunch and continued our journey to reach Pune by 9 pm.
Highlights:
The street food of Indore and Non-veg dishes from Bhopla's chatori gali leaves taste on your palates forever.
Boating in river Narmada through the marble rocks of Bhedaghar was a unique experience and probably the one and the only kinds in India.
Lonar Lake: Its one of the 4 salt lakes in the world formed due to meteorite impact. It is the only one in India
Lowlights:
Driving from Maheshwar to Mandu. The road hardy existed with no vehicular movement. Travelling on such road with family makes you anxious and you wish that some more inquiry and research was done before venturing out.
Driving from Bhopal to Bhedaghat. The road was badly potholed. This delayed reaching Bhedaghat and we missed watching "Dhuadhar" falls in the day light.