Road Trip to North Karnataka
Most of us have read about the Chalukya dynasty during school days. Having explored Hampi during Oct '16 & Southern Karnataka in Feb '15, in 2018 we decided to explore the other major heritage sites of the Chalukyas in North Karnataka. This covered Badami, Aihole and Pattadakal. We also included Bijapur (Vijaypura) in the bucket list, which was center for Deccan Sultanates between 15th – 17th centuries. Road Trip to North Karnataka was planned to explore these sites.
Bangalore was included in our trip to visit my sister-in-law and Chirtadurga and Goa were added in the itinerary to break and complete the return journey to Pune.
Road Trip Prerequisites:
We planned 11-day trip covering all of the above destinations. There are certain things to keep in mind before planning a road trip in India. Please refer to my below page for some tips.
Road Trip Plan:
1) Point of Interests (POIs): After reviewing several online blogs, we zeroed down to the below points of interest for this trip.
Bijapur: Ibrahim Rauza, Bara Kaman, Gagan Mahal, Gol Gumbaj
Badami: Badami Caves, Agastya lake, Bhootnath Temple
Aihole: Mallikarguna Temple, Ravanphadi Cave, Jyotirlinga Temple Complex, Durga Temple, Ladh Khan Temple, Museum.
Pattadakal: Consists of 10 temples located in a single complex.
Chitradurga: Citradurga Fort
Note: While planning for trips, I take inputs for road conditions from Team BHP and most of my online hotel bookings are done via makemytrip and yatra
2. The Itinerary: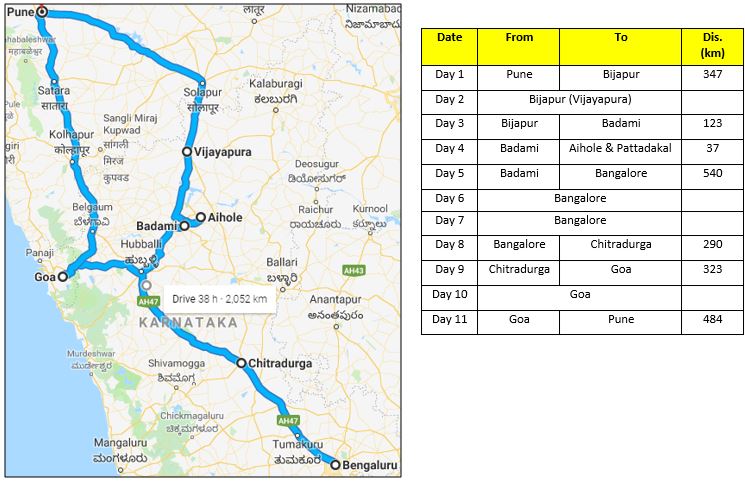 3. Book Hotels: We booked the below hotels based on the criteria mentioned in the Prerequisites.
Bijapur – Hotel Megharaj
Badami – Hotel Mayura Chalukya. Since we do not have good hotels in Aihole and Pattadakal we decided to stay at Badami and cover Aihole and Pattadakal from there, which can easily be done in a day.
Davengere (near Chitradurga) – Hotel Shoven
Goa – Furtados Beach Resort
Journey
Our ride was petrol variant sedan – Maruti Swift Dezire with 1197 cc engine. My fellow passengers were my wife and 2 kids. Me and my wife were to take turns to drive
Day 1: Pune to Bijapur (347 km, 7 Hrs)
We left Pune at 8 AM and took the Pune Solapur highway (NH-65). The target was to reach Bijapur by 5 pm, including breaks for breakfast & lunch. We stopped at Vitthal Kamat for breakfast at Yavat, which is approx. 45 km from Pune. The place was decent and a bit crowded due to weekend rush. We ordered south Indian breakfast. Service was quick and food quality was good. We were back on road within 45 minutes. NH-65 is a 4 lane highway in a good condition. We touched Solapur by 2 pm and halted at Hotel Khan Chacha for lunch. This hotel is located in Rangraj Nagar area on Solapur-Hyderabad highway and is famous for its non-veg food. Though, it is a bit off way but we did not mind taking a bit of a detour. After lunch we joined NH-52 for Bijapur. NH-52 is a 2 lane highway and road widening was ongoing to make it 4 lane. There were diversions at several places. We checked in to Hotel Megharaj by 4:30 pm. The hotel was on the main road close to "Gol Gumbaj". The evening was spent strolling in the nearby market.
Tolls paid: 5 tolls costing Rs. 275 (25+70+70+55+55)
Day 2: Explore Bijapur
Bijapur has been the center for Deccan Sultanates (Ahil Shahi Dynasty) and boasts of some magnificent monuments. All of the PoIs in Bijapur are located within a radius of 3 km. We decided to take an auto to visit all the monuments as we were not sure of availability of parking space and most of them were in the old congested areas of the city. We explored them in the below order:
Ibrahim Rauza >> Gagan Mahal >> Bara Kaman >> Gol Gumbaj

Ibrahim Rauza: After having our breakfast at Kamat Restaurant which was at walking distance from our hotel, we drove to Ibrahim Rauza. There is an entry fee of Rs. 15 and children till 15 years get free entry. It generally takes 30-45 minutes to visit this monument. Built between 15-17th century, it houses tomb of Ibrahim Adil Shah II and his queen Taj Sultana. It is said that the beauty of this monument inspired Shahjahan to build the Taj Mahal.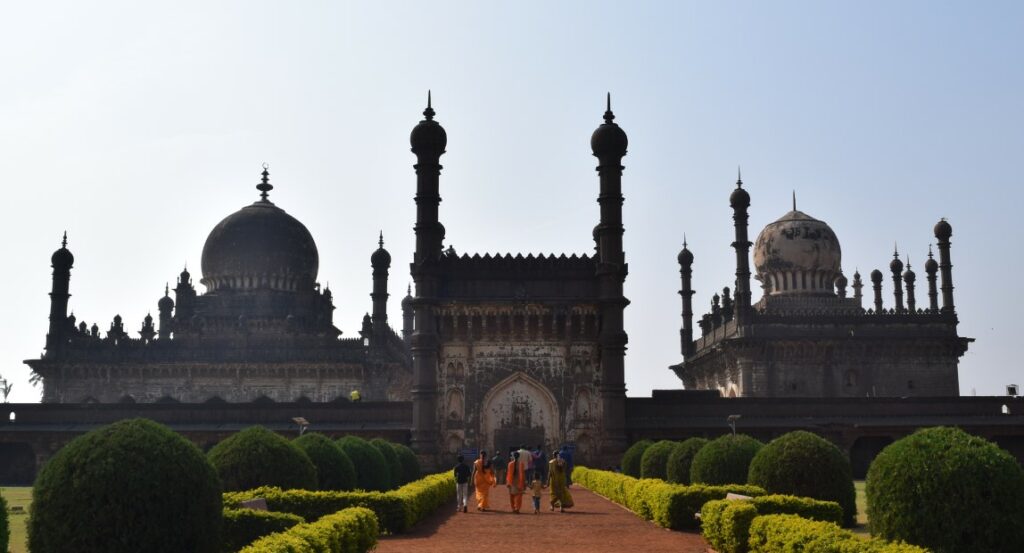 Gagan Mahal: The next monument in our list was Gagan Mahal which is an acclaimed citadel in Bijapur. Now in ruins, it was utilized as a royal residence cum darbar hall by Ali Adil Shah. The focal curve of Gagan Mahal is the tallest and most stretched out among all the structures in Bijapur. It is open on one side so that onlookers could watch the royal proceedings from outside.
Bara Kaman: It was next in our list. It is walking distance from Gagan Mahal. It was the mausoleum built in 1672. It is one of the incomplete monuments of the Adil Shahi dynasty. It is called Bara Kaman as this was the 12th monument to be built in his reign.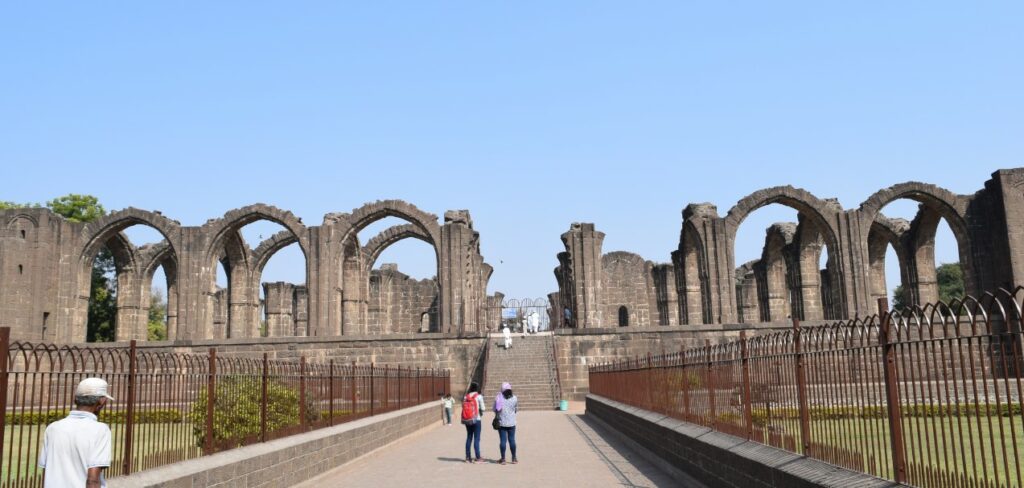 It was time for lunch as soon as we completed exploring Bara Kaman. We took an auto for Qaswa Hills, which was very close to our last POI – Gol Gumbaj. Qaswa Hills offers a variety of lip-smacking non vegetarian dishes. We tried their famous biryani and complimented it with falooda.
Gol Gumbaj: After having a sumptuous lunch, we walked to the Gol Gumbaj which is the most famous monument of Bijapur. It is the tomb of Muhammad Adil Shah II. This mausoleum is considered to be an architectural wonders in which the hemispherical dome has been built on a square base. There is a whispering gallery around the base of the dome that can be reached through narrow circular staircases in the four corner towers. At the time of our visit, only two towers were used as the passage. One for entrance and the other for exit. The building opposite to Gol Gumbaz has been turned into a museum. There is an entry ticket of Rs. 25 (free for children less than 15 years). There is a separate Rs. 5 ticket for the museum. Car parking is available at this monument and it easily takes 1.5-2 hours to explore it.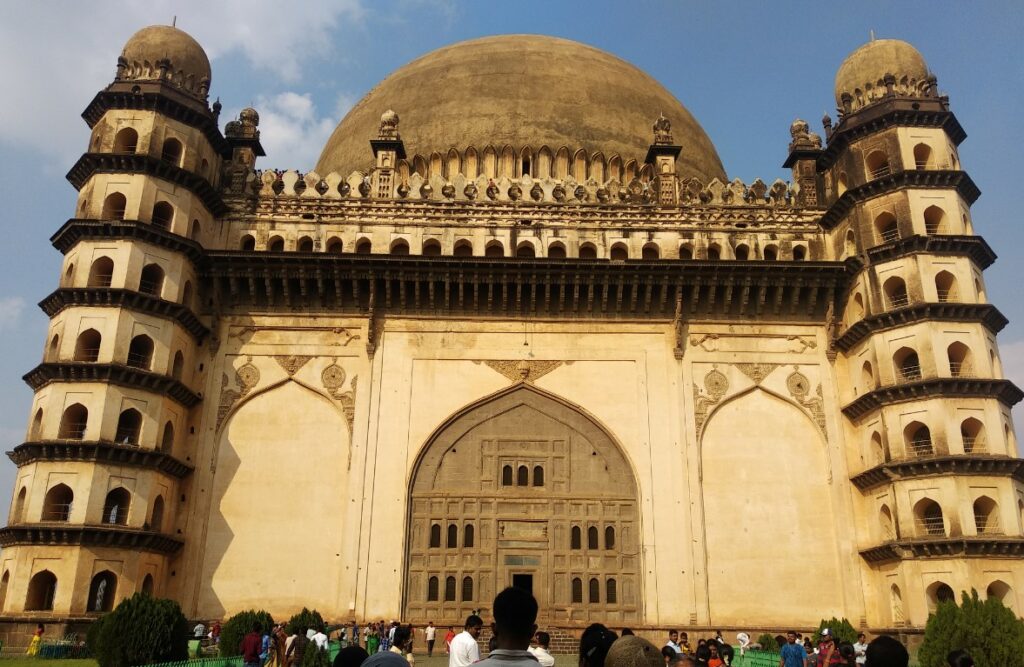 By evening we returned back to our hotel and retired for the day.
Day 3: Bijapur to Badami (123 km, 3 Hrs) & Visit Badami Caves
We left Bijapur by 9 am and continued on NH-52. We passed via Kerur to reach Bagalkot. As soon as you enter Bagalkot you get to see a lot of shops selling local sweet delicacy – Karadantu. It is made of edible gum mixed with dry fruits and jaggery and has a chewy texture. We checked in to Hotel Mayura Chalukya maintained by KSTDC by 1 PM.
Tolls paid: 2 tolls costing Rs. 140 (55+85)
Hotel Mayura Chalukya is close to the famous Badami caves and has spacious rooms and well maintained garden. It has a restaurant which serves decent food. Though the service is little slow, the staff is courteous and helpful. Badami being a small place unfortunately does not offers too many options in terms of good restaurants. After having lunch, we started off to visit the famous Badami caves. The road leading to the car parking near the caves is a bit congested. It is better to use a public transport to reach the base of the caves. There is an entry fee of Rs. 25 (Free for Children below 15).
Badami was ruled by Chalukya dynasty between 6-7 century AD. Pulakeshin I found the city in 540 AD and made it his capital. His son Kirtivarman-I succeeded him and constructed the cave temples. The caves were built in Nagara (North Indian) and Dravida (South Indian) style of architecture. There are five caves in Badami out of which four are man-made and fifth is natural.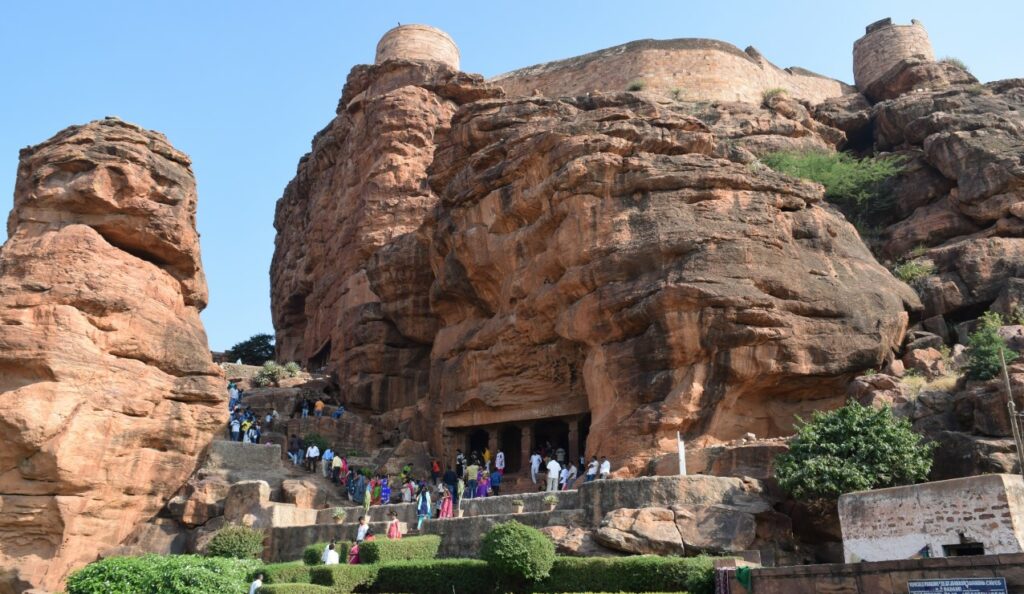 Cave-1 has image of Lord Shiva, Goddess Durga, Lord Ganesh. Goddesses Lakshmi and Parvati can also be seen on the walls.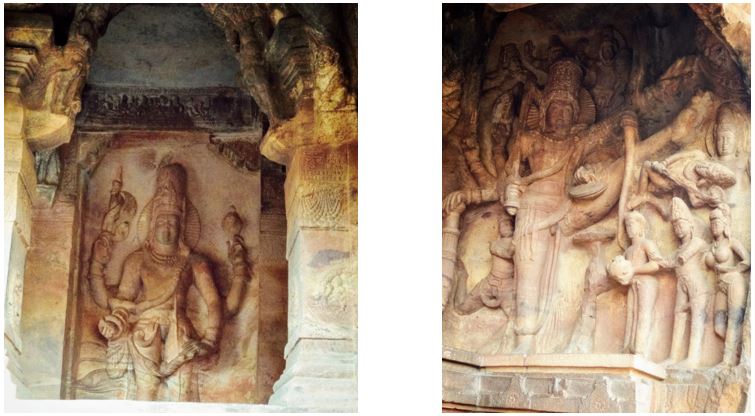 Cave-2 is dedicated to Lord Vishnu. At the entrance, there is a veranda having four pillars. Two armed guards can be found at the entrance of the cave having flowers in their hands. The ceiling of the cave has a wheel which has sixteen fish spokes.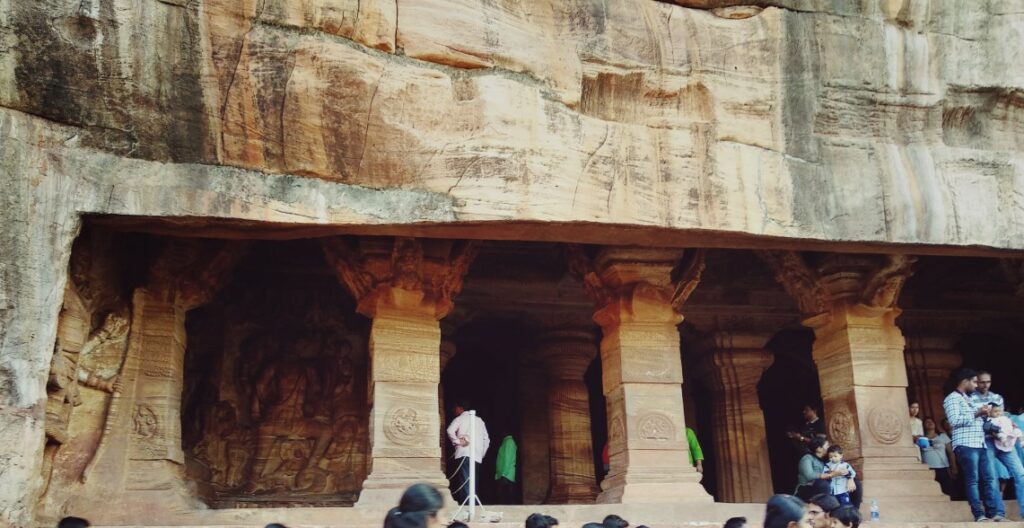 Cave 3 is also dedicated to Lord Vishnu and is the largest cave among the five caves. There are six pillars that support the cave. There are image of Lord Brahma, Lord Shiva and Parvati. Along with these, different postures of Lord Vishnu can also be seen.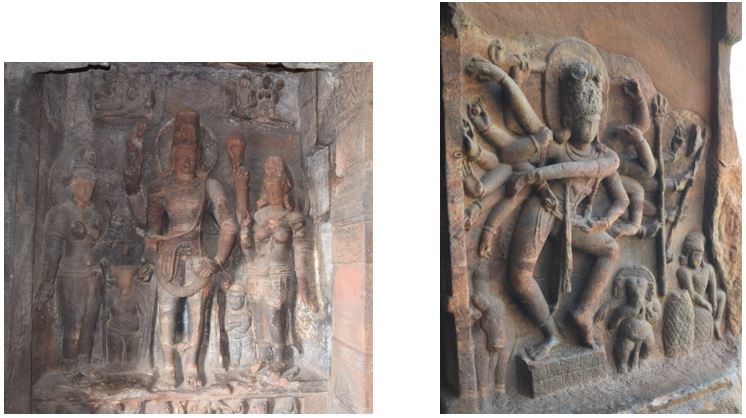 Cave 4 is dedicated to Jainism. There is a figure of Lord Mahavira siting on a lion throne and surrounded by attendants. The sanctuary in the cave has an image of Lord Mahavira
After exploring the caves we climbed down to visit the Boothnath mandir (walk able distance from Badami Caves). The temple is built across the lake Augusta. This temple is dedicated to Lord Shiva.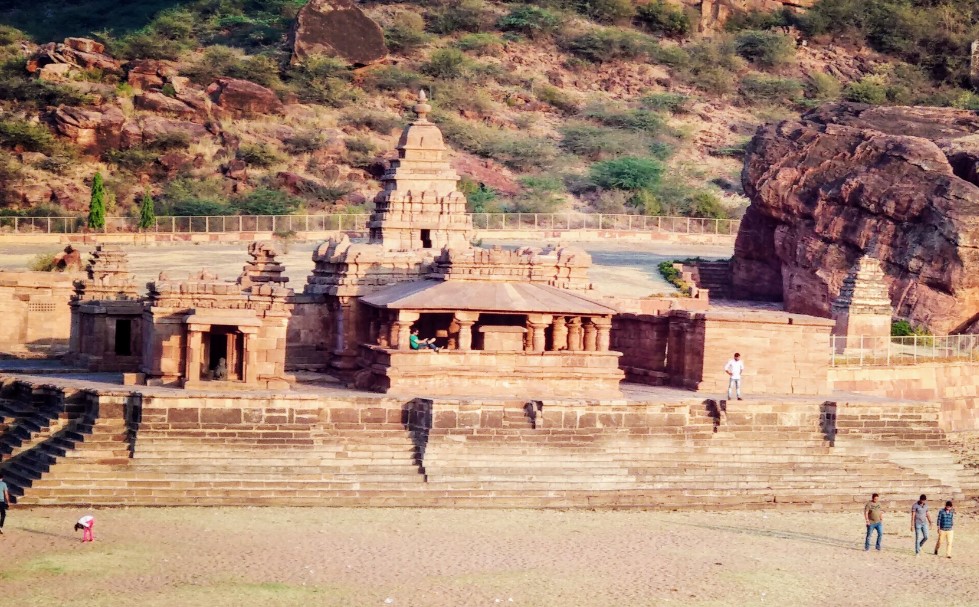 Day 4: Visit Aihole (37 km, 1 Hr) and Pattadakal
Aihole is considered to be "School of Architecture", Badami a "Degree College" and Pattadakal "University of Architecture". Having visited the Degree College (Badami) on Day 3, Day 4 plan was to visit the "School" (Aihole) & then the "University" (Pattadakal).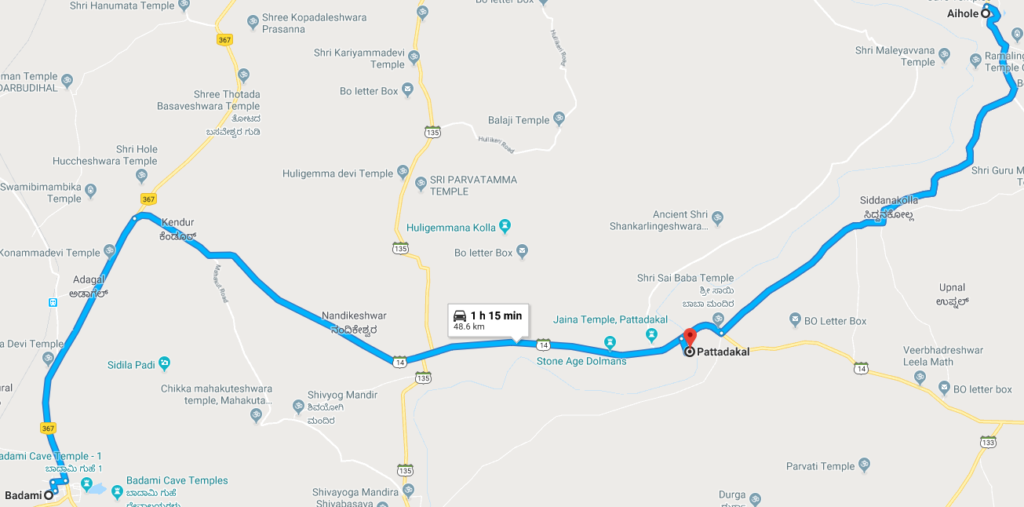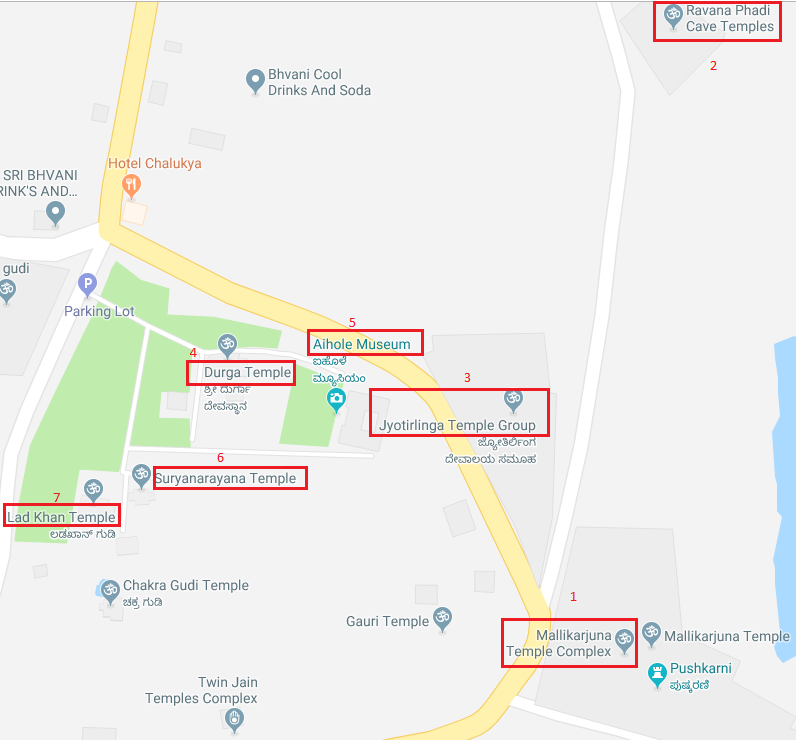 Pattadakal is on way to Aihole from Badami. Unfortunately, there are no good restaurants in Pattadakal. So we decided to first visit Aihole and after having lunch at the KSTDC hotel there, explore Pattadakal on way back to Badami. We had breakfast at our hotel's restaurant and left for Aihole. The roads seemed to have been freshly laid and were in a perfect condition. We passed Pattadakal and left behind beautiful sunflower fields and reached the first temple of Aihole – Mallikarjuna temple. This is one of the first temple groups which comes into sight as you pass through Aihole village towards Durga temple complex. On the left is the sequence in which we visited all the sites in Aihole.
Mallikarjuna temple complex has 5 temples and were built during 8th century. Most of the temples have "phamsana shikara" (roof is composed of several slabs that gently rise to a single point)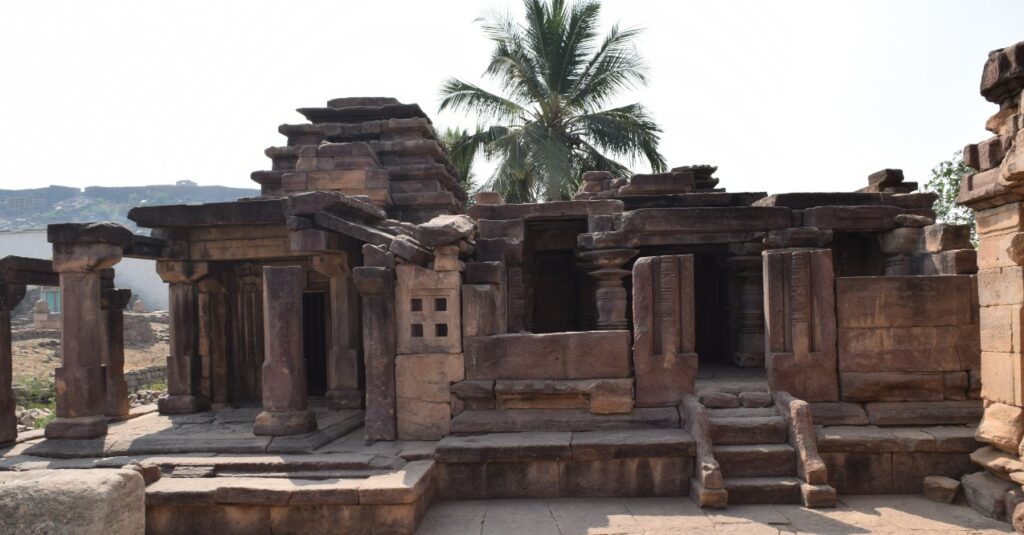 Ravanphadi caves: There is a narrow concrete road next to Mallikajuna temple which leads to Ravanphadi caves. Since the road was pretty narrow, we decided to walk. This rock temple dates back to the 6th century. It is dedicated to Lord Shiva. It has got images of Parvati, Vishnu and other gods and deities.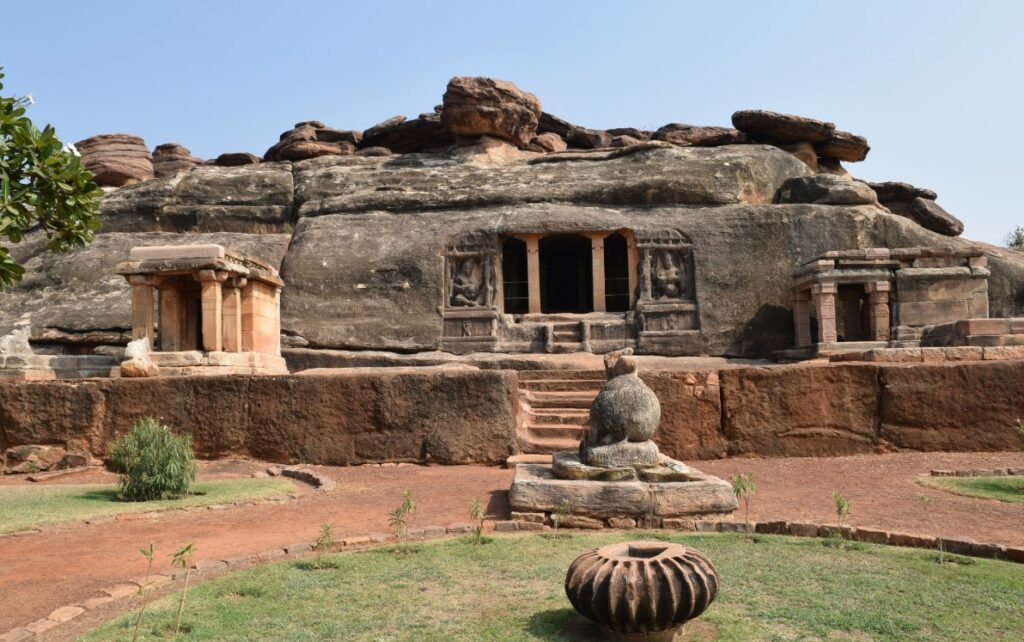 Jyotirlinga Temple Group: We walked back to the next temple complex – Jyotirlinga Temple Group. This complex comprises of some 16 big and small temples and most of them are in ruined condition. Most of them date back between 8th to 12th centuries.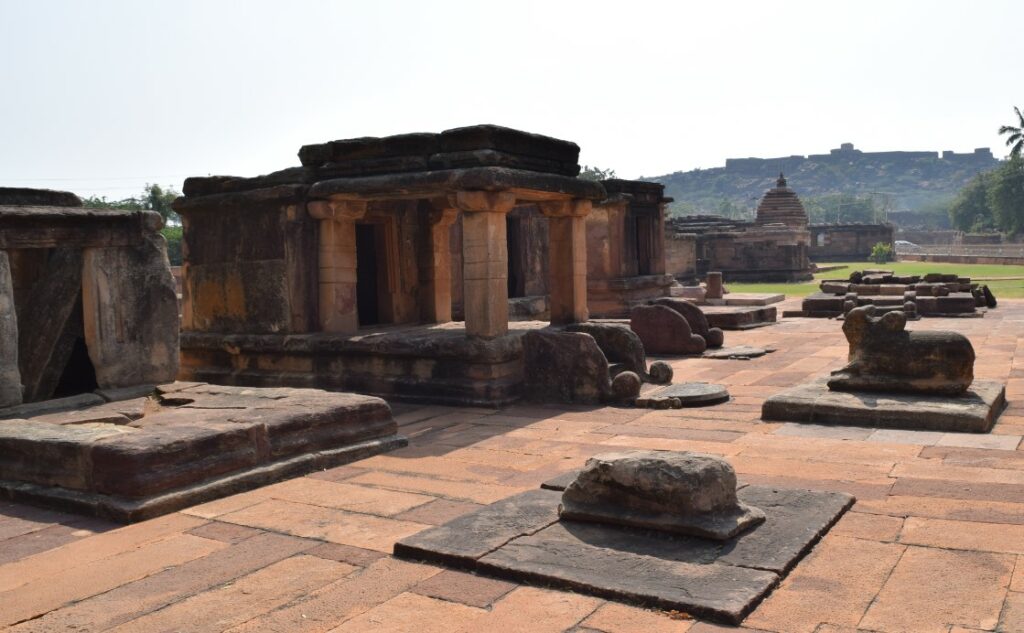 Durga Temple Complex: We drove to the Parking lot outside the Durga Temple Complex. There is an entry fee of Rs. 25 to enter the Complex which comprises of Durga, Suryanarayan & Lad Khan temples. It also houses a small museum.
Durga temple is dedicated to Lord Vishnu. This temple is the most elaborately decorated monument in Aihole. The temple dates back to Chalukyan times and its architecture is of Dravida style. ASI run museum is located inside the Durga temple Complex. Though small, the museum houses inscriptions, antiques and a number of other fascinating exhibits.
Suryanarayana Temple: After visiting the museum, we walked down to the Suryanarayana Temple. It's a small temple which houses a statue of Surya Dev (Sun God).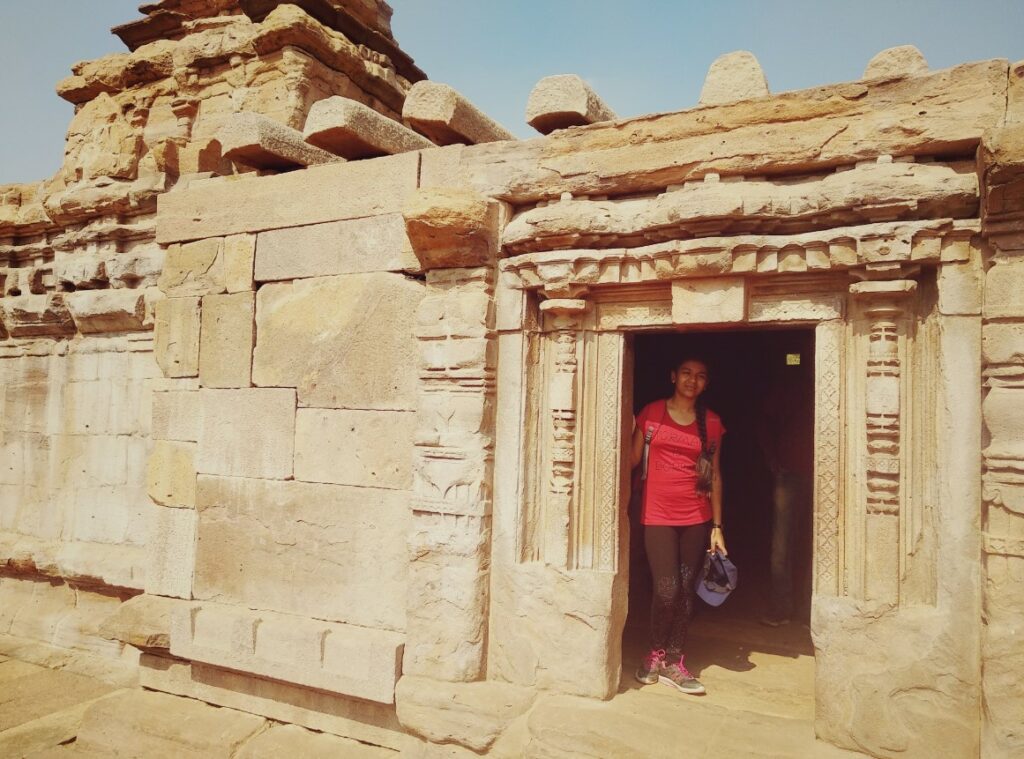 Lad Khan Temple: The last monument to visit in Aihole was the Lad Khan temple. This was built by the Chalukyas and is named after a Muslim prince who converted it into his residence. This temple has got two sanctums (most of the temples have one). The main sanctum contains a Shiva Linga and a Nandi, whereas the second sanctum has carvings on the outer wall.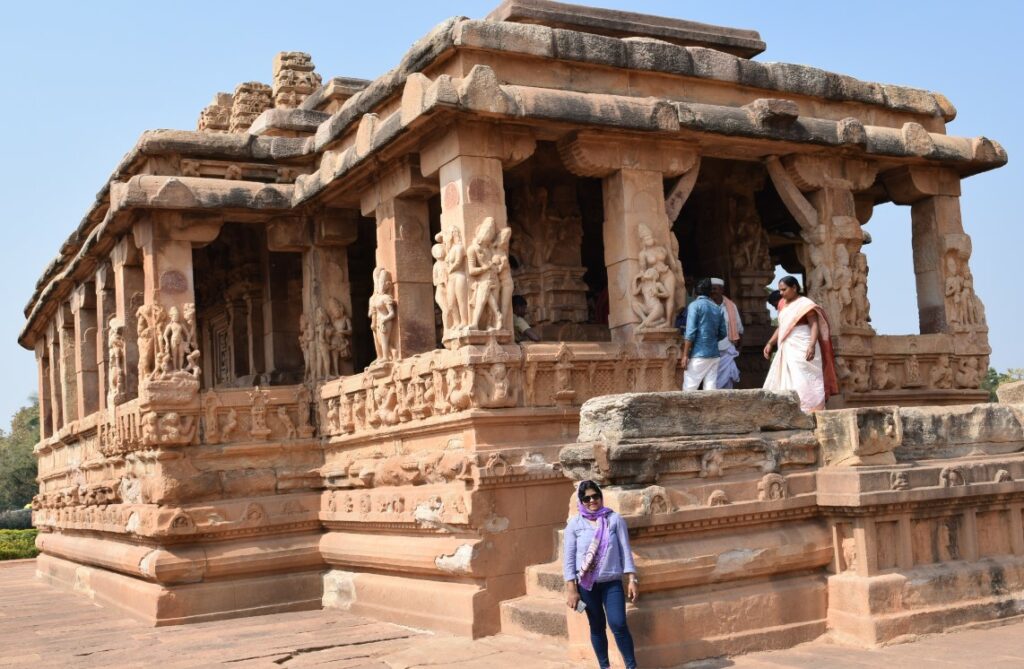 By the time we finished exploring the Lad Khan temple, it was time to have lunch. We drove to the KSTDC hotel, which is approx. 1.5 km from the Durga temple complex. The only option available there was a veg. thali. The food was simple. After having lunch, we headed back to Badami and visit Pattadakal on the way.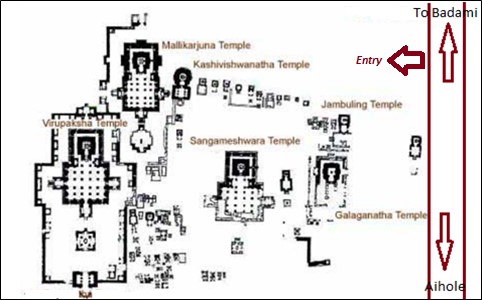 Pattadakal is 14 km from Aihole and takes approx. 20 minutes of drive. It is situated at the banks of Mahabrabha river and consists of ten temples, built in Dravidian and Nagara style in the below layout.

Jambulingeswara Temple – This is a small 8th century Shiva temple built in Nagar (North Indian) style. There is a figure of Nataraj on the east face of the tower
Galganatha Temple – This is again a Shiva temple built in 8th century in Nagara style. Unique feature of this temple is a pedestal path built around the sanctum and curvilinear tower with small horse shoe shaped recesses.

Sangameshvara Temple: This is the oldest temple of Pattadakal built by Chalukya's during AD 696 -733. This Dravidian style temple has a sanctum, navaranga and an inner passage.
Chandrashekhara Temple : This is a small temple situated on the left side of the Sangameshwara temple. This temple is unique in the sense that there is no "Shikara" (dome) over the shrine.

Virupaksha Temple: This is the largest temple built during the 8th-century. It was built by Queen Lokamahadevi to honour her husband Vikramaditya's victory over the Pallavas. The temple has a massive gateway and a sanctum where the Shiva Linga is installed. A large stone bull is located inside the four pillared Nandimantapa.
Mallikarjuna Temple : It is the smaller version of the Virupaksha Temple, built by second queen of Vikrmaditya, Trilokyamahadevi during AD 745. This temple was also built to honor victory of King Vikramaditya over the Pallavas. Pillars in the navaranga are decorated with figures from Mahabharata, Ramayana and other epics. The ceiling has figures of Shiva and Parvati.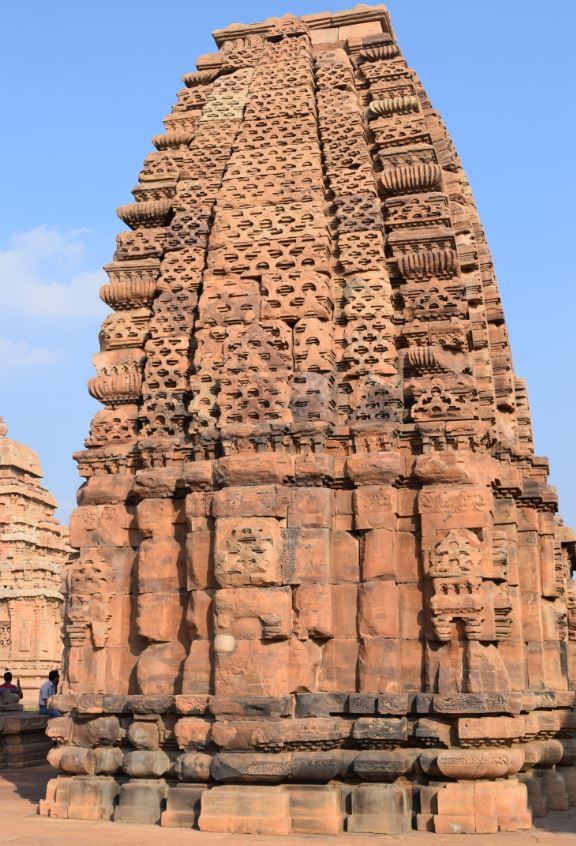 Kashivisvanatha Temple : Built in the 8th century. The temple was built by the Rashtrakutas, in the Nagara style of architecture.
We visited all the temples by 5 pm. While driving back to Badami, the car's fuel gauge pointed the half mark, so we got fuel topped up for the next day's journey to Bangalore. The rest of the evening was spent relaxing at the hotel.
Tolls paid: There are no tolls on the Badami-Pattadakal-Aihole route.
Day 5: Badami to Bangalore (540 km, 10 Hrs)
Day 5 was set for travelling further south to Bangalore (Rayasandra). Our GPS suggested below options:
Route 1: Via Gadag – Harpanahalli route which is 480 km
Route 2: Via Nargund – Navalgund.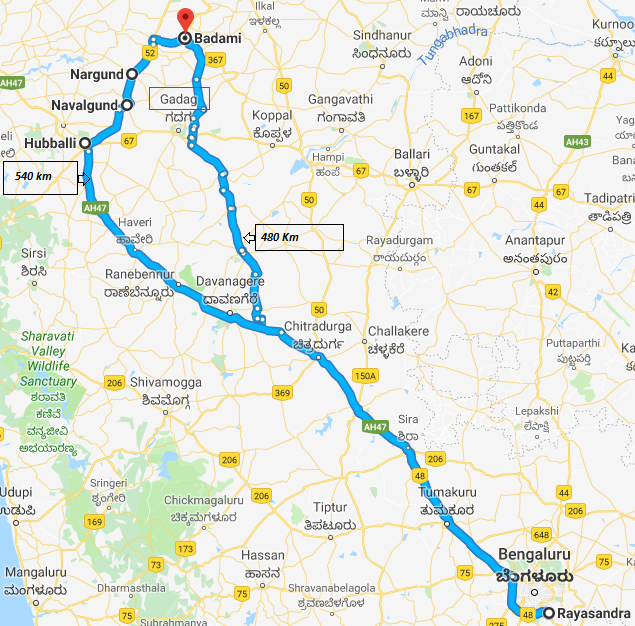 Having used NH-48 (Pune-Bangalore expressway) in past, we decided to take NH-52 via Nargund – Navalgund (route 2) and join NH-48 at Hubballi. Though this route was an additional 60 km but keeping in view the smooth 6 lane drive on NH-48, it was worth it.
We left early at 7 am and targeted to hit Bangalore by 5 PM considering breaks for breakfast & lunch. Badami till Hubballi is a 2 lane highway and was in good condition. We touched Hubballi by 9 am joined the Bangalore expressway. We stopped for breakfast at Kamat and continued with the journey. Took another break for lunch at Davangere. We touched Bangalore at 4 PM and took the NICE toll road to reach Electronic City. The NICE toll road charges Rs. 180 for approx. 40 km stretch, but is a good option to avoid Bangalor's traffic jams. We reached Rayasandra by 6 PM.
Tolls paid: 8 tolls costing Rs. 570 (80+75+55+60+20+35+65+180)
Day 6 & 7: Bangalore
Day 6 & 7 was spent relaxing at home with my sister-in-laws family at Rayasandra in Bangalore. On day 7, after detailed calculations, we got a 15 liter refill of petrol in our car for next days drive. The refill was targeted to get us till Goa and get a full top up there as petrol prices in Goa are cheapest in India.
Day 8: Bangalore to Davanagere (290 km, 5 Hrs) & Visit Chitradurga Fort
We had plans to spend the New Year eve in Goa. Distance from Bangalore to Goa is 600 km and takes approx. 12 hours by road. We decided to break the journey at Davanagere which is 300 km from Bangalore (Rayasandra) and visit the Chitradurga Fort on the way. We left Bangalore at 10 AM after having breakfast. Took a break for lunch on the way and reached Chitradurga by 3 PM.
Chitradurga Fort is surrounded by seven layered walls. This fort was built and expanded by different rulers such as Chalukyas, Rashtrakutas and Hoysalas. The fort came into prominence during the reign of the Nayakas, who were the local chiefs and ruled under the patronage of Vijayanagara Empire. There is an entry fee of Rs. 15 for adults above 15 years.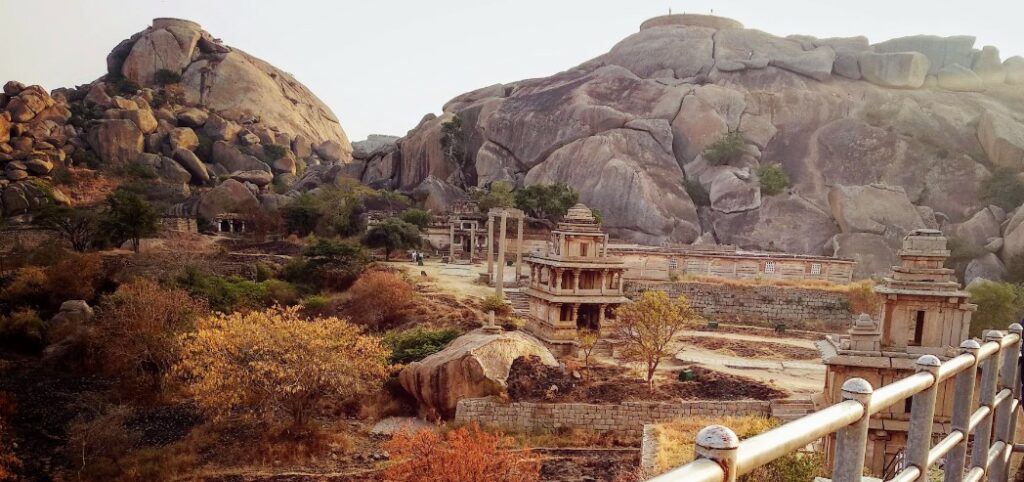 It took us about 2.5 hours to explore the fort. After having some refreshments and tea, by 6 PM we left for our hotel (Hotel Shoven) in Davangere which was 70 km from Chitradurga. The hotel is 5 km from the highway inside the Davangere city. We checking in to our hotel at 7:30 PM. We had dinner at "Ocean Park Family Restaurant" which is at walking distance from the hotel. The restaurant has an open garden setup and nice ambience. The food is good and moderately priced.
Tolls paid: 8 tolls costing Rs. 570 (180+65+35+20+60+55+75+80)
Day 9: Davangere to Goa (323 km, 8 Hrs)
Day 9 was scheduled for travel to Sernabatim (South Goa). There are 2 routes which can be taken to reach Goa from there.
Route 1: Via Darwad – Ramnanagar – Anmod. (323 Km from Davangere & 583 from Bangalore)
Route 2: Via Bankapur- Yellapur – Karwar. (331 Km from Davangere & 595 from Bangalore)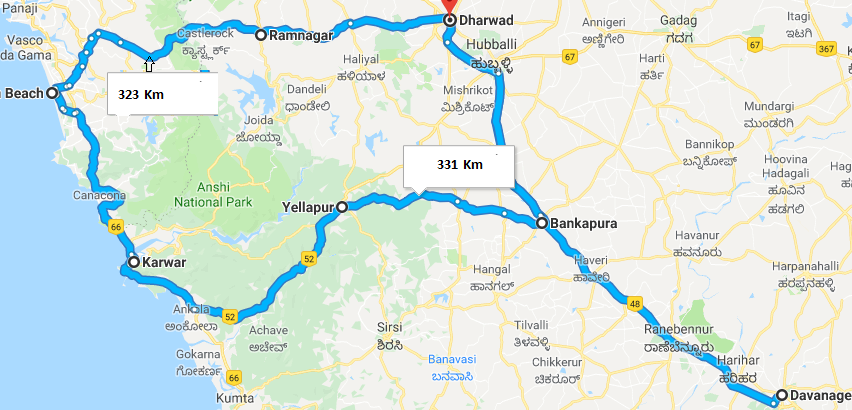 Route 2 (via Yellapur), is about 10 km longer than the first route but is a good option if you want to visit on the way – INS Chapal warship museum in Karwar. But one has to be mindful of the timings of the museum, which are 9 am–12:30 pm & 4–7pm.
We wanted to visit the museum but found it difficult to make it before 12:30 pm. So we dropped the idea and decided to take the Darwad – Alnavar route to Goa. The estimated time to cover this distance was 8 hours. We checked out from the hotel at 7 am and were back on NH-48 (Pune-Bangalore Expressway). Stopped for breakfast at Hotel Kamath and continued with our journey. From Darwad, we took SH-34 to reach Ramnagar. At Ramnagar, SH-34 joins NH-748 (Belgaon-Goa highway, old name NH-4A). Road repair was ongoing on several stretches between Ramnagar and Anmod (Dec '18) which slows down the vehicular traffic. We entered Goa by 2 PM. The fuel gauge of the car by then had crossed the reserve mark. We got the car topped up as soon as we saw the first petrol station. We stopped at restaurant Amigos for lunch in Ponta. Though the service was slow the food was good. In another 2 hours, we checked in our hotel – Furtados which was on the Sernabatim beach. We spent the evening relaxing & took a walk along the beach after having dinner at the restaurant run by the hotel.
Tolls paid: 4 tolls costing Rs. 255 (55+70+55+75)
Day 10: Goa
Day 10 was the last day of the year. We drove to German Bakery for breakfast and visited nearby Colba beach. After spending a few hours at the beach we returned back to our hotel and headed out to Sernabatim beach. We spent the rest of the day lazing around the beach. Had a sumptuous dinner in the evening. The hotel had organized fireworks at midnight and DJ which played throughout the night. There couldn't have been a better way to welcome the New Year.
Day 11: Goa – Pune (484 km, 9:00 Hrs)
Last day of the trip was for travelling back to Pune. Google map suggests the below 2 routes from Goa till Pune:
Route 1: Via Amboli Ghat (Goa – Amboli – Ajara – Pune). 470 Km.
Route 2: Via Chorla Ghat (Goa – Chorla Ghat – Belgaon -Pune). 478 Km.
Route 1 (via Amboli Ghat) is preferred when you are visiting North Goa from Pune. Since we were in Southern part of Goa, we instead took NH-748 (Belgaon-Goa highway) via Ramnagar (Goa – Anmod – Ramnagar – Belgaon) which is 488 Km till Pune. Though this is approx. 18 km additional from route via Amboli ghat but having read good reviews on NH-784 between Ramnagar and Belgaon, we decided to go for it.
We checked out from our hotel early morning at 8 AM. Stopped for breakfast at a highway restaurant in Mollem. We reached Ramnagar by 11:30 AM. The road from Ramnagar till Belgaon passes through a scenic green forest and was in an excellent condition with a minimal vehicular movement. We entered Belgaon at 1 PM and joined the Pune-Bangalore Highway (NH-48). We had identified Hotel Opal in Kolhapur to break for Lunch. Opal is a well-known restaurant serving authentic Kolhapuri cuisine. We reached the restaurant by 3 pm and ordered lunch. The mutton preparations accompanied by Pandhara and Tambada rassa were delicious. The restaurant is located inside the city and is 3 km from the express way. We were back on the expressway in an hour. Carried on with our journey and reached Pune by 10 pm.
Tolls paid: 6 tolls costing Rs. 380 (90+25+55+60+75+75)