60 Best Weekend Excursions from Pune & Mumbai
Pune and Mumbai are the two biggest cities of Maharashtra. Both of the cities are blessed with proximity to the Arabian sea and Western Ghats. This offers access to several attractions in form of beaches and hill stations.  In this blog in have listed 60 best attractions close to Pune & Mumbai which should be in the travel list of every travel enthusiast. All of these locations are within Maharashtra and I am still in process of exploring them. I have published my travelogues for the places I have already visited and shared the link against the location in the below table. I will continue to share my experiences for the remaining places in my travel-list.
Since I am currently located in Pune, I have classified these destinations as per their proximity from Pune but these are easily accessible from Mumbai as well. These destinations has been classified into two groups – The ones which are in the range of 130 kms from Pune and can be explored easily in a day. The second category has destinations within the range of 130 – 400 km from Pune and would require 2 days to explore. If you have time, you can extend the trip by a day or two to make it a more relaxed and enjoyable.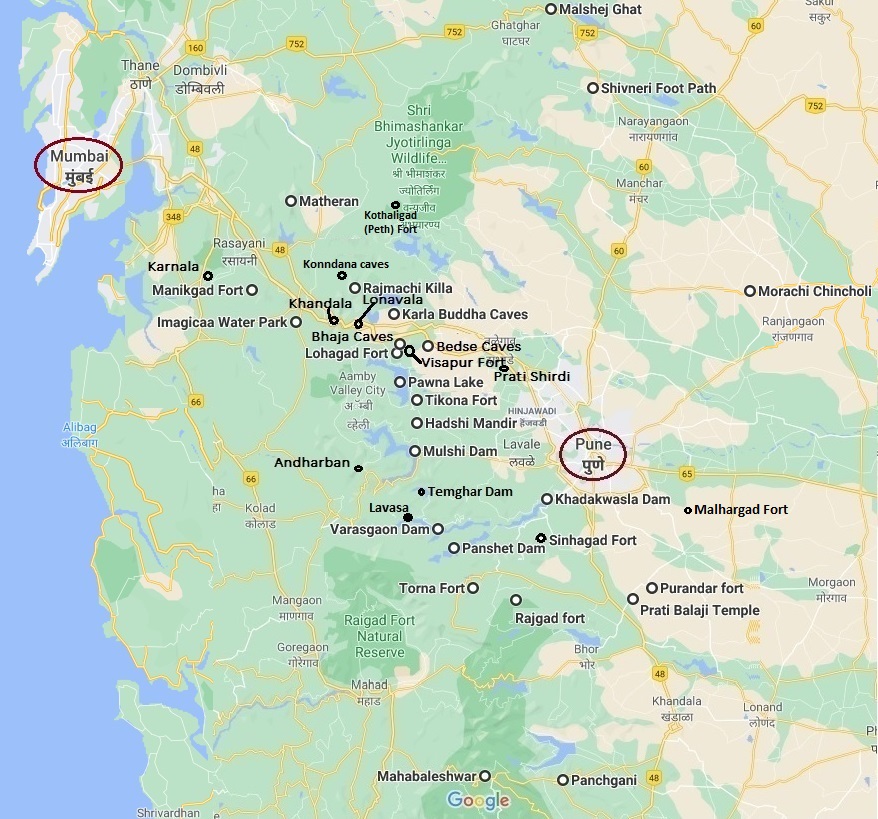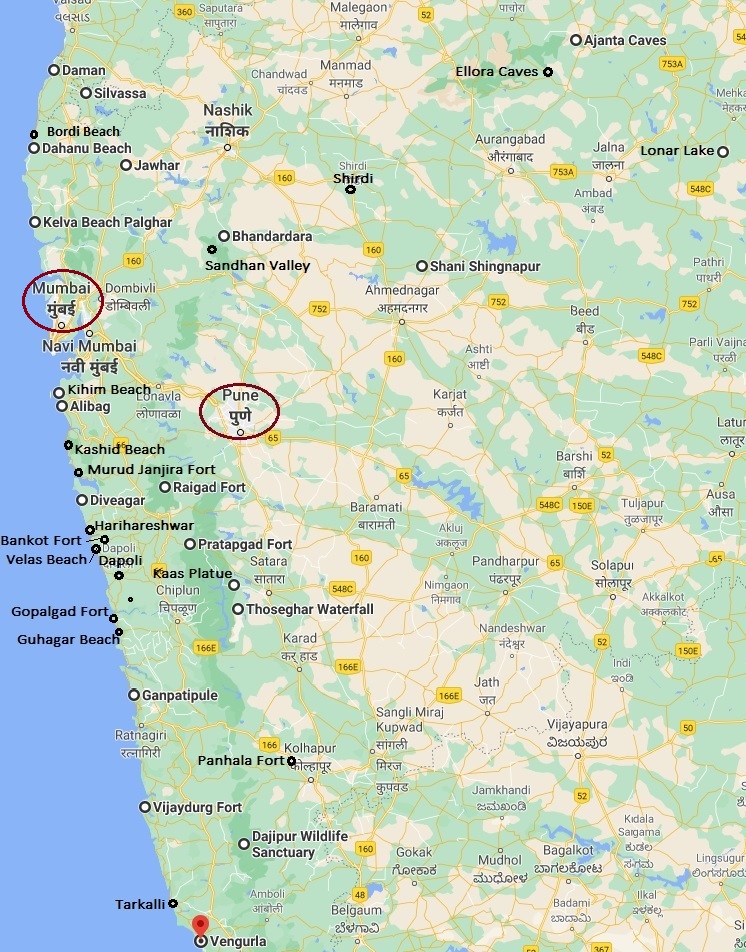 Single Day Excursions (Within 130 Km from Pune)
Destination
From Pune
From Mumbai
Description
Read More
Pune
0
160
Sitting atop the Deccan Plateau it is the second largest city in Maharashtra. Also known as the 'Queen of Deccan', the hilly city has a royal history of being home to the Rahstrakuta Dynasty and mighty Chhatrapati Shivaji. Some of Pune's popular tourist places are Chaturshringi temple, Ambedkar museum, Parvati temple, Rajiv Gandhi Zoological Park, Dagaduseth Halwai Ganpati temple, rock carved Pataleshwar temple, Aga khan and the famous Shaniwar wada.
Khadakwasala Dam
16
156
There are 4 dams which are primary source of drinking water for the majority of the regions in Pune - Panshet , Temghar, Varasgaon, and Khadakwasla. Constructed over river Mutha the water from the dam flows into Khadakwasla Lake which is a pleasant weekend getaway. This can be clubbed along with the visit to Singhad Fort, which is on the way.
Prati Shirdi
25
122
Located on old Bombay - Pune highway is Shirgaon, popularly known as Prati Shirdi where you can find a replica of Shirdi's Sai Temple. Every ritual followed in Shirdi is followed here as well.
Malhargad Fort
30
185
It is the last fort built by Peshwas on the Bhuleshwar range. The fort is believed to be built to keep watch on 'Dive' ghat along the Pune-Sasvad route. It is a relatively small fort and can be seen completely in 30-45 mins. There are two temples inside the fort - Khandoba (Malhar) temple & Shiva temple.
Sinhagad Fort
35
180
Its a 2000 years old Fort atop a plateau of Sahyadri mountains. Now in ruins, this is where famous battle of Sinhgad was fought by Shivaji's general - Tanaji Malusare. This fort does not require trekking and can be driven directly till the main gate.
Purandar Fort
41
195
Located in the Western Ghats, it is southeast of Pune and close to Prati Balaji temple. It is the birthplace of Chatrapati Sambhaji Maharaj, the son of Shivaji. The fort requires a 40 minutes easy trekking.
Prati Balaji temple
42
186
Also known as 'Balaji Temple of Ketkawle', is copy of the Tirumala Venkateswara Temple in Andra Pradesh.
Temghar Dam
44
173
One of four primary dams of Pune, it is on way to Lavasa just before starting of Dasve ghas. Can be clubbed along with the visit to Lavasa.
Mulshi Dam
45
175
It is built on the Mula river. Adjoining areas have been developed as a tourist destination, adding accommodation for leisure guests
Hadshi Temple
45
130
Close to Mulshi Dam, this temple is run by the Sathya Sai trust and has idols of Pandurang (Krishna) and both the Sai Babas. The temple is surronded by a well mintained garden and is an idea, place to have a picknick with your family.
Panshet Dam
50
196
It's one of the four primary dams of Pune and is built across Mutha river. It is a popular family outing destination. In 1961, breach in the all of this dam had caused a massive flooding in Pune.
Torna Fort
50
256
It is the highest hill-fort in the western ghats of Maharashtra. Torna fort was the first fort captured by Chatrapathi Shivaji in 1646 when he was 16 years old. This requires a trekking of 1 to 1.5 hrs to reach the top.
Pawna Lake
52
117
It is a reservoir turned artificial lake formed by the Pavana Dam across the Pavana River. The reservoir is close to Lonavala, Lohagad & Tikona Forts and is popular picnic and camping site.
Morachi Chincholi
55
184
Promoted as a Agri tourism destination, the name means 'village of tamarind trees and dancing peacocks'. It is situated in a village, which is 10 km from the Pune-Ahmednagar Highway.
Lavasa
56
185
Located in the Western Ghats it is billed as "India's first privately planned hill city". It is a beautiful project inspired by Italian town Portofino. Spreading across 7 hills, covering an area of 25000 acres, Lavasa is a perfect blend of beauty and infrastructure.
Karla, Bhaje and Bedse Caves
58
94
It is a triangle of Buddhist caves near Kamshet. If time allows you can club Lohagad & Visapur Fort along with your visit.
Rajgad Fort
60
207
Rajgad (meaning Ruling Fort) is a hill fort and was the capital of the Maratha Empire under the rule of Shivaji for almost 26 years, after which the capital was moved to the Raigad Fort. The trek to the fort takes 1.5 hours on average to climb up the to the top. Torna Fort is nearby but trekking to both the forts is too difficult to be done in one day.
Varasgaon dam
60
192
Varasgaon is a dam on the Mula river which supplies water to city of Pune,
Lohagad & Visapur Fort
62
98
Lohagad (Iron Fort) is one of hill forts. The fort is connected to the neighbouring Visapur fort by a small range. Lohagad is a very easy trek of around 1 to 1.5 hours and Visapur fort takes about 2 hours of trekking.
Lonavala & Khandala
65
 83
Lonavala is easily the most visited hill station in Maharashtra especially because of easy accessibility and proximity Mumbai and Pune.

5 km ahead for Lonavala is Khandala whcih is another popular hill station in the Western Ghats on the highway connecting Mumbai with Pune. Though the place itself does not offer much but is a gateway to several attractions like Rajmachi Fort, Bhaja and Karla caves.
Tikona Fort
66
 121
Tikona fort is a triangular shaped mountain fort and takes approximately 1 hour to reach the peak from where one can enjoy exhilarating and panoramic views of Pawna lake and the surrounding region.
Andharban
67
 151
It means 'Dark Forest'. It is a trail through forests, with beautiful views of waterfalls and valley.
Rajmachi Fort
80
 94
Rajmachi Fort lies in the mid of Mumbai Pune route. It is a historical fort dating back to the time of the great Maratha ruler Shivaji. It is medium level trek. From base village Udhewadi, it generally takes around one hour to reach the top.
Shivneri Fort
91
 156
It is the birthplace of Shivaji. The spot where Shivaji was born was reconstructed in 1925 and is known as the Shiv Mandir. There are around 400 steps to climb which is not difficult.
Adlabs Imagika
92
 68
The park located on the Mumbai - Pune Expressway (NH4) and is almost equidistant from Mumbai and Pune. The theme park spread over 130 acres, is the largest park with many rides.
Pachgani -Mahabaleshwar
100
 244
Mahabaleshwar is the most popular largest hill station in the Sahyadri range of Maharashtra state. Once a summer capital of the British, the hill station comprises of ancient temples, boarding schools, manicured and lush green dense forest, waterfalls, hills, valleys. Panchagani is again a hill station on the way to Mahabaleshwar and is renowned for many premier residential educational institutions.
Kondhane Buddhist Caves
105
 97
The Kondhane Caves are located in the small village of Kondana, 33 km north of Lonavala and 16 km northwest of Karla Caves. This cave group has 16 Buddhist caves.
Kothaligad (Peth) Fort
127
89
It is a small fort (3100 ft) situated to the east of Mumbai-Pune highway. It is a famous trek in the Karjat area, because of its small height and easy climbing. It requires 2 hour trekking from based village.
Manikgad Fort
109
61 
Situated on a hill in North Konkan while travelling on Mumbai - Pune Highway. The fort was built to look upon the trade route from Maval (Pune) to the coastal ports. It takes about 2 hours to trek till the fort which is not difficult.
Karnala Fort and Bird Sanctuary
120
20 
Karnala fort lies within the Karnala Bird Sanctuary. It was a fort of strategic importance as it overlooked the Bor pass which connected the Konkan coast to the interior of Maharashtra (Deccan Plateau) and was the main trade route between these areas. This structure was used as watchtower when the fort was occupied however now it is in a ruined condition. You need an hours trek from the bottom to the top of the hill to reach the fort
Malshejghat
120
126 
It is a mountain pass and a popular hill station, nestled in the Western Ghats of Maharashtra. This place is especially beautiful during the monsoons with lush green hills, mesmerizing waterfalls to beautifully structured dams and steep, lofty forts. Harishchandragad Fort, Pimpalgaon dam and Ajoba Hillfort are some of the other attractions here which will be spellbinding for any tourist.
Matheran
120
83 
Often referred as 'Cutest little hill-station of India', it is nestled amidst the Sahyadri range on the Western Ghats. Matheran does not allow any vehicles, so the moment you step into this little town, you will be transported back to an idyllic old-world era of red-soiled roads, automobile-free pathways, and lush green hills all around. It has a total of 36 viewpoints from where you can enjoy alluring views of the Sahyadri mountain range.
2-4 Days Excursions (Within 130-400 Km from Pune)
Destination
From Pune
From Mumbai
Description
Read More
Pratapgad fort
125
208
It is a mountain fort built by Shivaji. The fort is at a distance of 24 km from the hill station of Mahabaleshwar. The historic battle between Chhatrapati Shivaji and Afzal Khan, the commander of the Bijapur Sultanate took place here at Pratapgad.
Kaas Platue & Thoseghar waterfall
130
279
Kaas plateau is a World Natural Heritage site located near Satara. The plateau turns into a 'valley of flowers' during monsoon season, particularly from August to early October. It has more than 150 or more types of flowers, shrubs and grasses which bloom here for a period of 3–4 weeks during this season.

44 km from Kaas, Thoseghar waterfall drops through a series of cascades with a total height of about 500 meters. This is a seasonal waterfall which is only seen in monsoon and drops into a deep gorge.
Bhandardara
135
166
Situated in the Ahmednagar district on the banks of River Pravara, it is a hill station nestled in the Sahyadri. The Arthur Lake and Wilson Dam are the most famous tourist attractions here. The monsoon season paints the entire hill station green and various waterfalls break out from the hills.
Alibaug
140
94
Located just below the border of Mumbai, it is a coastal town. It's known for its beaches like Alibag Beach and Varsoli Beach. Situated in the sea at a distance of 1.2 km from the shores of Alibag is Kolaba Fort which was once chief naval stations during the reign of Shivaji Maharaj
Kihim beach
145
122
At a distance of 11.5 km from Alibaug, Kihim Beach is a beautiful beach situated at Kihim village on Mandwa - Alibag road in Raigad district of Maharashtra. Kihim Beach is one of the popular beaches on the Konkan coastline and also one of the top places to visit in Alibaug.
Raigad Fort
153
165
It is a hill fort that is based in the Raigad district in the Shayadri mountain range and is one of the major spots of tourism. Shivaji had made this fort the capital of his empire in the year 1674. A rope-way facility is available to reach at the fort from ground in few minutes.
Diveagar
160
180
Located in the Raigad district it is just like any other small sleepy Konkan village with beautiful beach, traditional homes surrounded by Coconut, Banana and Supari Garden which makes it an ideal weekend getaway away from city crowd. Blessed with a long 5 km beach, it is a perfect weekend destination. We visited Diveagar in Jan 2021 and clubbed visits to Harihareshwar, Bankot Fort & Murund Janjira Fort
Read More
Mumbai
160
0
Capital of Maharashtra and popularly known as - 'the city of dreams', the city which never sleeps offers several attractions like Gateway of India, Museum (Chhatrapati Shivaji Maharaj Vastu Sangrahalaya), Marine Drive, Hanging Garden, Mahalakshmi Temple & Haji Ali, Bandra-Worli Sea link, Science Museum (Nehru Science Center), Juhu.
Shani Shingnapur
160
292
Located at a distance of 65 km from Shirdi in the Ahmednagar district, its a Temple dedicated to Lord Shani. Apart from the temple, Shingnapur is a small village which is also famous for the fact that in the whole village no house has doors and despite this no theft has been reported in the village. This place is often clubbed with visit to the famous Shirdi temple.
Harihareshwar
171
192
35 km south from Diveagar, Harihareshwar is a coastal town on the Konkan coast. It is surrounded by four hills and is home to the Harihareshwar temple dedicated to Lord Shiva. It has two beaches - first one is in front of Harihareshwar Temple, and the other one is next to MTDC Resort.
Kashid
180
126
This beach town located towards the North Konkan region. It is a popular tourist destination and remains one of the few beaches in the country that has not lost its beauty even with a high number of visitors. The clear blue water of the Arabian Sea, with white, sandy beach is perfect for a weekend getaway.
Shirdi
190
247
The home of great saint Sai Baba, Shirdi is a religious site in Ahmednagar district. Shirdi holds a strong importance as a holy and pilgrim place by Sai Baba devotees. The small town is filled with religious spots and activities which will soothe and calm your soul on its visit.
Velas Beach
193
180
Located in the Ratnagiri district, Velas is famous for its Turtle festival. Every year, usually in the month of March-April Olive Ridley turtles visit the Velas beach to lay eggs. It's a spectacular view to watch thousands of newly hatched Olive Ridley turtles take their first steps towards the big blue sea.
Murud Janjira
195
149
Located in district Raigad, close to Diveagar, Janjira is derived from the Arabic word 'Jazeera' which means Island. The fort is located on a rock island in the Arabian sea and can be reached via sail boats from the ferry point. Now in ruins, the fort in its heyday was a full-fledged living fort with all the necessary facilities, e.g., palaces, quarters for officers, mosque, two big fresh water tank, etc. We visited this Fort during our visit to Diveagar in Jan 2021
Read more
Sandhan Valley
198
183
Sandhan Valley is a water carved valley formed in the Sahayadri Mountains in Ahmednagar district. It is close to the Bhandardara dam. The valley is stretched as 1.5 km long and 200 ft deep in the rocky terrains. It is also referred as 'Valley of Shadows' as it never experience sunlight. The trek route is one of the most challenging and enjoyable treks of the Sahyadri region. First-time trekkers should not attempt this trek without a guide or a trekking operator. The trek tests your stamina to a great extent. Avoid if you have a medical condition.
Bankot Fort
200
210
The Fort is believed to have been established with the motive of guarding the trade route which ran along the Savitri River. Bankot fort is about 45 km South from Diveagar and is situated on a hill where river Savitri meets the sea. Though most of the Fort is in damaged condition but it is the view from the top which is amazing. We visited this fort as part of our journey to Diveagar in Jan 2021.
Dapoli
200
214
Dapoli lies in the Ratnagiri district of Maharashtra and is one of the popular tourist destinations in the Konkan belt. Dapoli is located at an altitude of 800 ft and is often referred to as "Mini Mahabaleshwar" because of its relatively cooler weather. I would recommended to stay in Dapoli only if you plan to spend some time in cool weather. If you want to spend time in sand and sun, it is better to look for an accommodation near any of the several sea beaches. Some popular tourist spots near Dapoli are - Murud, Karde, Anjarle and Ladghar beaches. Harnai port & Fish market, Kadyavarcha Ganapati, Panhalakaji Caves, Unhavare Hot springs.
Read More
Panhala Fort
230
408
This fort is located 18 km from Kolhapur. It is the largest of all the Deccan fort and is strategically placed where it can help to keep a vigilance over the pass in Sahyadri mountain ranges. This pass happens to be one of the main trade routes from Bijapur to the coastal areas. Due to this strategic position of the fort, it has been witnessing many wars and struggles between the Mughals, the Marathas and also the East India Company over the decades.
Read More
Gopalgad Fort
235
253
It is a sea fort Located in Anjanvel village in Ratnagiri district. Anjanvel was the primary center for ship building industry and cloth weaving. Gopalgad was built at the mouth of Dabhol creek to keep a check on the trade route on the river Vashishti. This was a significant port during Maratha regime. A trek for about a mile through the hilly trails takes you to the top of the ruined fort. Visit to this fort can easily be clubbed with visit to the Guhagar beach which is 12 km from here.
Guhagar beach
240
257
Situated in the Ratnagiri district, this Konkan beach town boasts of white sand beach that stretches over 6 km and is between two hillocks. It is close to Chiplun which is a beautiful town in itself. Known as the temple town of Maharashtra, Guhagar has many temples in and around. Like Vyadeshwar, Talkeshwar, Udaleshwar, Velneshwar, Balkeshwar and more.
Read More
Kelva Beach
240
104
It is popular weekend gateway for tourists from Mumbai. The beach is about 8 kilometers long and is lined with Suru trees. Good place to spend the entire day with family. Can visit nearby Shitladevi temple.
Ganpatipule & Jaigad Fort
245
323
Ganpatipule is a small pilgrimage & beach town located in the Ratnagiri district on the Konkan coast. It is known for its 400 years old Ganapati temple where West facing idol of Ganesha is believed to have sprung up from the soil. Ganpatipule is one of the only two white sand beaches in Maharashtra, the other being Kashid Beach.

Jaigad Fort, should be included in your itinerary if you are visiting Ganpatiphule. 14 km from Ganpatiphule, it is built on a cliff and it overlooks a bay formed where the Shastri river enters the Arabian Sea. It has a commanding view of the bay, the nearby power plant and the open sea. Although in ruins, most of the fort's outer wall and ramparts still stand. In the middle of the fort lies ruins of a palace, a Ganpati temple and wells to store water.
Jawhar
250
134
Located in the Sahayadri mountain range, Jawhar has got picturesque setting and a vibrant cultural heritage. Pleasant climate and scenic beauty of this little hill station evokes comparisons with the popular hill station - Mahabaleshwar. It is one of the few remaining tribal regions of Maharashtra and is known for its vibrant Warli painting that are a characteristic landmark of this place.
Dahanu & Bordi Beaches
260
137
Dahanu & Bordi are 2 adjacent beaches ahead of Mumbai towards Gujarat. Both are connected beaches with black sand and usually low tides.The beach is lined with Suru, Palm and Coconut trees and is great place to play around on sand, Ideal for a day picnic and also for overnight camping
Radhanagari (Dajipur) Wildlife Sanctuary
285
431
Located in Kolhapur district, it is nestled in the southern end of the Western Ghats, it is home to several species of animals. Tourists can explore the jungle either through a wildlife safari or by trekking through various narrow trails with their guide. The best time to visit the sanctuary is during winter. The sanctuary remains closed between June and October.
Read More
Silvassa
300
167
Silvassa name comes from the Portuguese word 'Silva', meaning - wood. Once a Portuguese colony, it is now Capital of the union territory of Dadra and Nagar Haveli. It lies between Gujarat and Maharashtra and is known for its scenic beauty, wildlife sanctuaries and facilities for water sports. Few other attractions include Tribal Culture museum, Vanganaga Lake, and Hirva Van garden.
Daman
310
171
Once a Portuguese colony, Daman boasts of a coastline that stretches 12.5 km along the Arabian Sea. It attracts visitors who wish to commune with nature and rejuvenate in its laid back, friendly ambience. The town is divided by the Damanganga River into Moti Daman (Big Daman) and Nani Daman (Little Daman).
Ajanta & Ellora Caves
325
425
Ajanta and Ellora caves, considered to be one of the finest examples of ancient rock-cut caves, are located near Aurangabad. Ajanta Caves, located north of Aurangabad, are mostly Buddhist sites and were used as a retreat by Buddhist Monks. Ellora is west of Aurangabad and has a better mix of Hindu, Jain, and Buddhist sites. These hand-carved caves were built and sponsored by the Indian rulers of those periods and almost buried by thick forests. These rock-cut caves containing carvings are some of the best examples of ancient Indian architecture and sculpture.
Lonar Lake
373
501
Lonar Lake is located at Lonar in Buldhana district. It was created by a meteor impact approx. 35,000 - 50,000 years ago. The water in the lake is both saline and alkaline. Standing at the lake one can only imagine the turn of events which would have happened when the meteor would have hit this region years ago. There is an old temple at the periphery of the lake and can be accessed by climbing down stairs.
Read More
Tarkarli
410
530
Tarkarli is a village in Sindhudurg district. It is a narrow stretch of beach which is situated at the convergence of the Karli River and the Arabian Sea. This beach is famous because of its transparent clear water. The beach offers abundant underwater beauty such as coral reefs, exotics fishes, sea plants, dolphins, and much more to be explored through scuba diving.
Read More
Vengurla
415
544
Vengurla is beach town, located on the southern most end of Konkan coast. Just 110 km north of Goa, Vengurla is popular for its long stretch of clear white sand beaches ringed by high mountains. Vengurla boasts of five stunning beaches. Of these, Nivati and Shiroda beaches are highly recommended as they are blessed with crystal clear water and offer great opportunities for water sports. Though not a shopping destination, roasted cashew nuts and sweets made from cashew are worth trying and are found in shops all around the town.
I have tried to cover all the interesting places to explore within Maharshtra in this blog. Feel free to suggest in case I have missed any destination. I will try to include it in my 'bucket list' and share my experiences whenever I visit it.